"We're spiritual but not religious."
It's a familiar refrain among engaged couples everywhere.
Christopher Shelley hears it so often as a celebrant, he filled a book with ceremony dilemmas — and creative solutions to help couples have the "Best. Ceremony. Ever."
The paperback ($16.95, The Countryman Press/W.W. Norton) is chock-full of advice on "How to make the serious wedding stuff unique" and erase stigmas that give ceremonies a bad rap.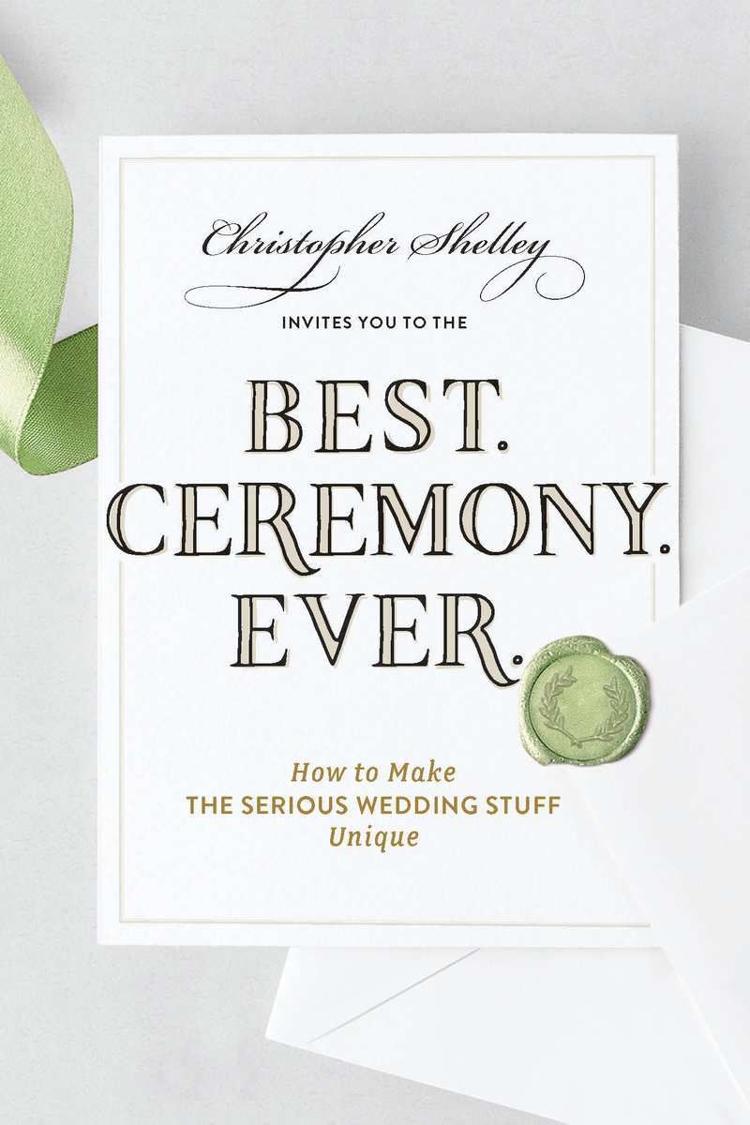 "We've all attended dreadful ceremonies. We've all found ourselves sitting, looking at our watch, longing for it to end," Shelley says.
The best ceremonies in his experience are meaningful and entertaining — not just for the wedding couple but for guests as well. "It's possible to be respectful of the serious side and still have a little fun," he told us by phone.
Don't worry. Grandma will love it.
"It doesn't have to mean a wholesale departure from tradition. Simply alter one or two small things here and there," Shelley says.
As a certified Life-Cycle celebrant since 2011, Shelley has officiated at hundreds of personal ceremonies that honor and celebrate all varieties of cultural beliefs, spiritual beliefs and world views. At the heart of each: love and commitment, of course. But also humor and fun. "Make your guests — and yourselves — laugh and cry."
It's the secret to a memorable ceremony.
"Ultimately, wedding ceremonies are guided by love," Shelley writes in his book. "A ceremony designed with love, to showcase love, to explain love, to celebrate love, to delight in love and to give thanks for love will have a long effect on anyone lucky enough to observe or be part of it."
Don't get caught up in keeping things short and sweet. It's more important to be unique and inspiring, Shelley says.
"When people say 'short and sweet,' they don't really know what a ceremony could be. They know more about what they don't want — long and boring — than what they do want."
His book helps couples figure it out. And still have a meaningful, spiritual ceremony in 20 minutes or less.
Other guiding nuggets in "Best. Ceremony. Ever."
On the officiant's role: Ceremonies are a team effort between the couple and their officiant. Strive for a romantic narrative strategically laced with anecdotes and humor to keep guests engaged.
On announcing your wedding: Use your website to tease to things that will make your wedding ceremony different. People will be intrigued. Be playful and hint: "If I were a guest ... I would make sure I showed up on time."
On the ceremony space: If you're getting married in a setting other than a church, look at how the chairs might be arranged. There's no law that says chairs should be squared up on either side of an aisle. Consider a wedding in the round. Bring in sofas for your parents and attendants. At a super-casual venue, ask guests to bring their own lawn chair and place it anywhere they like for the ceremony.
On attendants: Involve them. Your maid of honor and best man are the only people in the wedding party who serve a practical purpose during the ceremony. Give the others something special to do, starting with the processional. "One couple after another walking in separately is so boring," Shelley says. Inject some lighthearted fun into their entrance. Have them walk to the beat of an uptempo song. Or send in the groom with the bridesmaids. But stop short of anything too complicated. "It always has to be easy."
On parents: Acknowledge them in some way, even if the relationship is awkward or strained. "Parents deserve to be thanked, even if the most positive aspect of your relationship with them is simply that they showed up for your wedding."
On processional music: Rethink that solemn parade of family members and friends underscored with Pachelbel's "Canon in D." Jazz up the music — even just a bit — and inject excitement into the room. Think Christina Perry's "A Thousand Years" or U2's "Beautiful Day."
On tributes: Honor the departed. Connect those generational dots. "Do it briefly and then move on to your love story. Keep it positive."
On your vows, exchange of rings: "I'm always a little disappointed when couples choose traditional, canned vows. Make your vows genuine to you and say them aloud. Don't be embarrassed if you get emotional. Your guests will respond favorably to witnessing something so genuine." If you decide to use often-used vows, still personalize them in some way.
On blended families: Make vows to the children; tell them how important they are to you as a couple and pledge a lifetime of love and devotion to them.
On the pronouncement of marriage: The Kiss is the moment in the ceremony that launches the party. It's the perfect opportunity for your officiant to present you to the guests with a funny detail linked to the moment: "I present to you the most recently married couple in the room …"