Hannah Sunderman's decision to have a color consultation before her wedding made planning her special day easier and more enjoyable.
Like a domino effect, nearly everyone in her wedding party got a personal color assessment.
"I am a huge advocate," Sunderman says. "It totally changes your life."
Hannah's three-hour consultation revealed that she's a "summer" in the four-season color guide. With her hair, eye and skin tone, she looks best in what her consultant calls "sweet pea" hues. Think smoky grays, soft pinks, light blues, lilacs and soft whites.
Sunderman used that knowledge to pick out an ivory wedding dress, soft purples and blues for the wedding party, and lots of greenery for her decorations.
"It really simplified the whole process," she says. "The flowers went with the bridesmaid dresses, which went with the ties, which went with the programs. It allowed me to create a cohesive look; everything flowed together."
Karen Blanc, who did Sunderman's consultation, is one of seven House of Colour advisers in Nebraska. She says the process is often an eye-opener for brides-to-be, who don't realize how even the colors of the bridesmaids impact their look.
"Those women are around her all day," Blanc says. "They are her accessories."
Sunderman uses her color consultation to guide her entire wardrobe. A color analysis changes your closet — because now everything goes together. Your slacks coordinate with all your jackets, which look great with all your sweaters and blouses. All the colors in your closet want to play together, allowing you to create numerous outfits by changing up the combinations. She now wears soft pinks, something she didn't have in her closet before. She adores a soft blue-gray.
"It has saved me unbelievable amounts of money by knowing what looks best on me," she says. "You feel confident that everything you are buying goes together."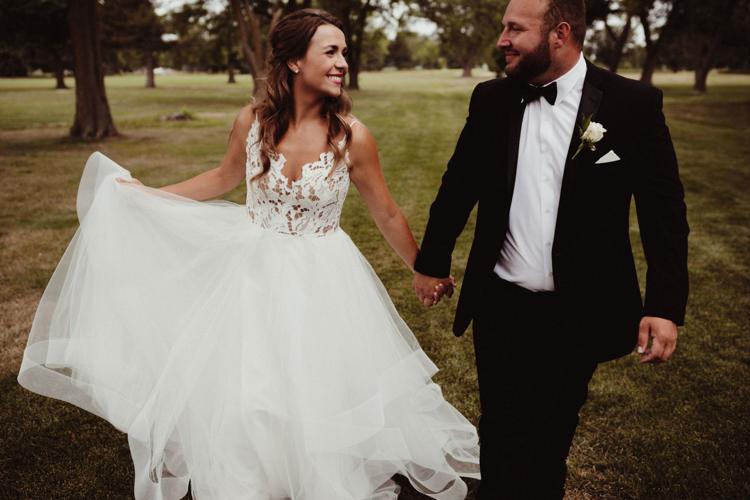 How a color analysis can work for you
Picking your wedding dress: A visit to a bridal shop can be overwhelming. You're flooded with dress color options, from bright white to oyster. A dress in a shade of white may have you twirling with joy while the same dress in an ivory leaves you feeling underwhelmed, even drab. "A beautiful dress can look dingy and cheap if the color doesn't harmonize with the bride's skin tones," Blanc says. Knowledge from a consultation allows you to narrow choices to your best colors before that first visit to a dress shop.
Choosing your wedding colors: Hannah Guenther, Blanc's daughter, says her color consultation was a guiding light in selecting everything from her table linens to her white gold engagement ring and band. She even asked her photographer to avoid trendy orange undertones in the final editing of her pictures.
Makeup matters: Blanc says that after a consultation, you'll even know what lip and nail colors are right for you. "You don't want your lipstick to walk down the aisle before you," Blanc says. "It's got to reflect your personal coloring to light up your face."
Black isn't always best: Black is slimming and fashionable, yes. Unfortunately, only about one-fourth of the population looks really good in black, Blanc says. "Black is in only one of the season palettes. It's not the best color for many people. Black and white are not universally good colors for everyone." But everyone has their best neutrals. If black is not in your palette, you will discover your "better than black" neutral, which might be navy or dark olive, for example.
Look your best: Knowing your wow colors can give you confidence and make you feel like a million dollars, Blanc says. And who doesn't want that on their wedding day? "Everyone owns a set of wow colors that makes you look your best," she says.