September 8, 2018, Happy Hollow Country Club
CHRISTMAS SURPRISE Sarah Lukas and Kevin McMahon met online, and after a year of dating, Sarah suspected that Kevin might propose on Christmas Day. He gave her a pair of sunglasses, then asked if she had looked in her stocking. When she found nothing, she started to tear up. But then she turned around, and Kevin was down on one knee. "I guess there is one more gift," he said, pulling the ring from his pocket. The rest of the day was spent sharing and celebrating their happiness and good news with family and friends.
WEDDING VISION Sarah wanted a classic, elegant, timeless event with a touch of English countryside charm and country club sophistication. Kevin's dad, Mike, made her wedding day dreams come true by building a greenery backdrop for the reception.
DETAILS MATTER Every element was important, from the engraved invitations, to the hand-calligraphed seating cards, to the greenery backdrop. "Branding and coordination were highly important to ensure that this was one of the best events I've ever produced," says Sarah, a wedding planner. Kevin thought she did an amazing job. "She has a great sense of style, and on our wedding day it really showed." Sarah says they hit the jackpot with their goals. "We wanted our guests to enjoy themselves, and we wanted to soak up everyone's love and support. It was everything we'd ever dreamed of."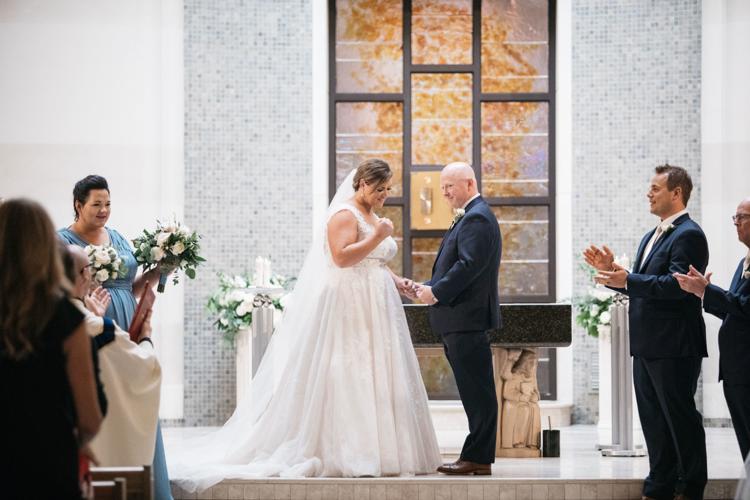 SPECIAL MOMENTS They wanted a fun way to engage with their guests at the reception so instead of doing a dollar dance they tended bar for tips. The best man's speech was one of the funniest moments of the day, and Sarah said the sweetest was the speech by her dad. The priest who married them is a good friend of Sarah's, and "aired Kevin and Sarah's dirty laundry" during the homily. They had taken dance lessons to ensure that their first dance was perfect, but everyone got their groove on by the end of the night. "The band was amazing."
SWEET TREAT White favor boxes, tied with blue ribbon and sealed with a wax "M," contained the couple's favorite cookies from Eileen's and a note that said: "How sweet it is to be loved by you." The guestbook was a matted caricature of the couple, which everyone signed.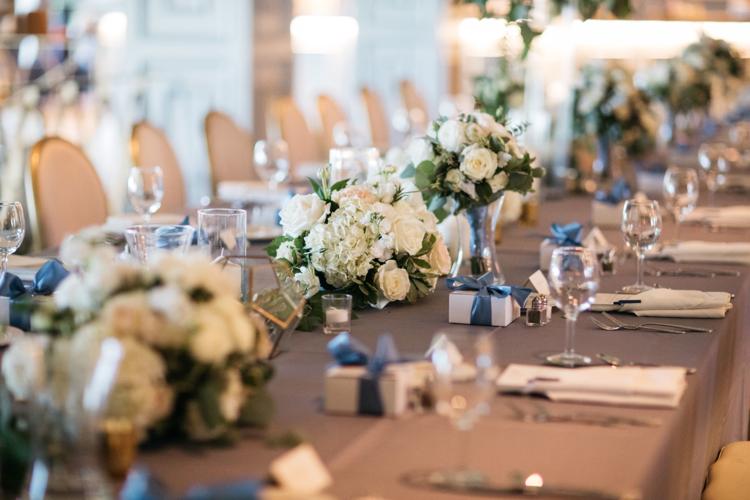 LATE START Since they married later in life, they've had to learn to compromise and communicate and include each other in big decisions. Sarah doesn't relax often, and Kevin has had to get used to her busy social calendar. One of their favorite gifts was a gift certificate for a cooking class. "We love this because it gave us a chance to learn something new together." Kevin gave Sarah diamond earrings; she gave him a bottle opener made from a baseball bat used at a Cubs game.
GREAT DOG DAD Sarah says Kevin is always making her laugh when she least expects it. He reminds her not to take life so seriously. "He's so sweet and caring, too — which shows in how he takes care of me and our new puppy, Obi."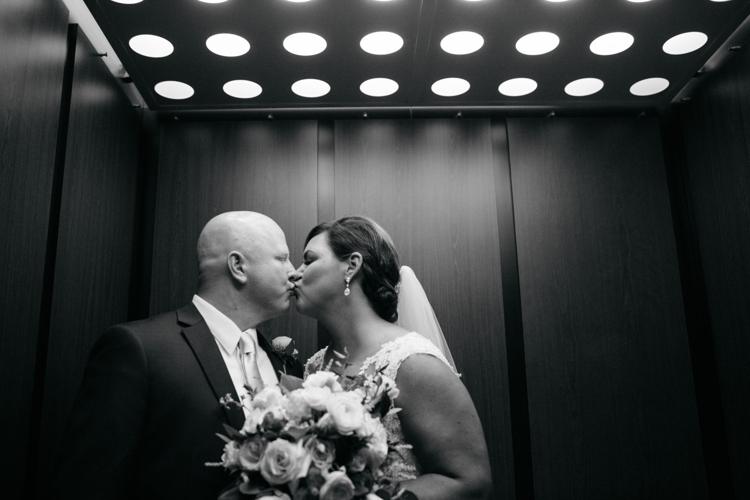 Essential details
THE COUPLE Sarah Lukas and Kevin McMahon
PHOTOGRAPHER Dana Damewood
WEDDING DATE September 8, 2018
REHEARSAL DINNER Lo Sole Mio Ristorante
CEREMONY St. Robert Bellarmine Catholic Church
RECEPTION Happy Hollow Club
VIDEOGRAPHER The Silver Screen
BRIDAL GOWN Essense of Australia, Bridal Traditions
ACCESSORIES Nadri, Nordstrom
HAIRSTYLIST Katie Hoke Harrower/Hank & Ax A Salon
MAKEUP ARTIST Christine Danderand/Blush Makeup Artistry, Katie Ham/Elle Rêve
BRIDESMAID DRESSES MoriLee, Bridal Traditions
MEN'S ATTIRE Jerry Ryan Clothing & Sportswear
RINGS Borsheims
FLORIST Flowers for Special Occasions
CAKE, CATERER Happy Hollow Club
MUSIC Ceremony, Karly Jurgensen and Natalie Thomas; reception, eNVy
TRANSPORTATION Creighton Bluejay Shuttle, Ollie the Trolley, Old Market Limousine
INVITATIONS/PROGRAMS Dana Osborne Design
GUEST ACCOMMODATIONS Omaha Marriott Regency
HONEYMOON Great Exuma Island, Bahamas, Kara Allen/Define Travel
Real Wedding: Sarah Lukas and Kevin McMahon
Sarah Lukas and Kevin McMahon were married September 8, 2018.