August 4, 2018, Omaha Design Center
LONG-DISTANCE ROMANCE
Paige Longwell and Chris Forfar met through mutual friends in Las Vegas. They dated long distance for two years before Paige made the move from Omaha to Chicago to be with Chris.
WEEKEND WHIRL
Chris took Paige to dinner at Bavette's Bar & Boeuf and then to Alder Planetarium, where he proposed. Her best friend was there to take pictures, and then other close friends popped out from behind the building to surprise Paige. "We then went back to our apartment where my family, his family and his friends were waiting," the bride says. "We all celebrated together, and then he played a video for me that had everyone attending the engagement celebration and those who couldn't attend congratulating us. It was very special.'' The rest of the weekend was filled with dinners, brunches and nights on the town for everyone there.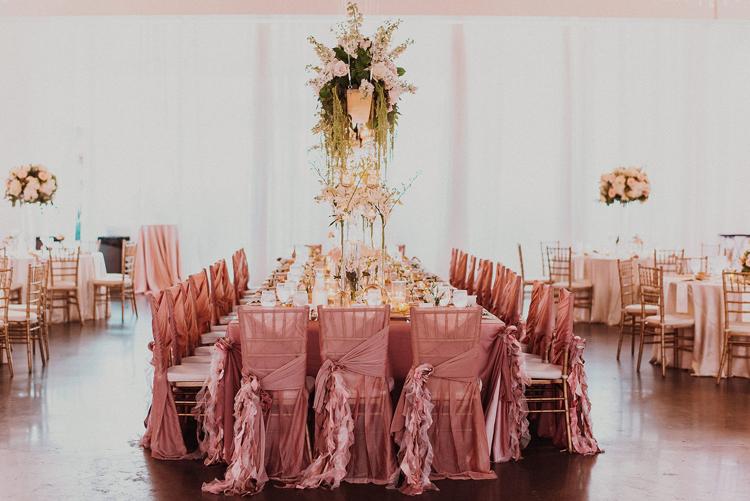 PERFECT PLAN
Paige wanted an elegant, warm and inviting wedding. She says her wedding planners and designers captured her vision perfectly. "I still get compliments about my head table design and how amazing it was. People comment that they have never seen anything like it. People were honestly blown away. I caught people taking pictures of it all night long."
NO RUSH
Paige says the day-of scheduling went great. They had plenty of time to get ready and take pictures, and to enjoy their wedding party on the trolley and everyone's company at the reception. Still, the day flew by. That's why she tells future brides not to stress the small stuff on their big day. "Sit back, relax and take in every single moment you can because the day is over in a blink of an eye."
BIG MOMENTS
Paige will always remember how their best man sprayed a bottle of champagne for his entry "dance" into the reception. The newlyweds' first dance (which included a lift!) and the father-daughter dance were special moments, too. "I also really enjoyed my dad's speech."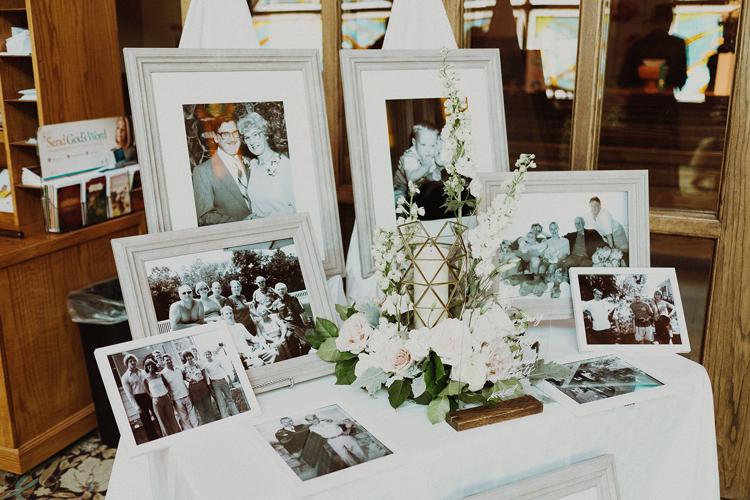 TOUCHING TRIBUTE
Chris loved what Paige did with their memory table. She used a picture of Chris' grandmother Rose, which surprised his dad. "He was extremely moved and humbled that she took the time to have his mom represented at our wedding. It was a moment that I won't forget," he says.
SHEDDING PUPPY
They love the vacuum cleaner from Chris' mom because they recently got a lab puppy. "I am such a clean freak," the bride says. Chris loves the coffee grinder from Paige's aunt. "I love my coffee and have always wanted the ability to make French roast coffee at home," he says.
WHAT HAPPENS IN VEGAS
Chris can't believe how a trip to Vegas with the boys has changed his life. He found the love of his life. "She is extremely loyal and caring, charismatic, driven, adventurous, the list goes on! Oh, and did I mention, gorgeous?" Paige says she's just as lucky to find someone she can trust and who makes her laugh every single day. "He is my best friend, and I couldn't imagine doing life with anyone else."
Essential details
THE COUPLE Paige Longwell and Chris Forfar
PHOTOGRAPHER Brett Brooner Photography
WEDDING DATE August 4, 2018
REHEARSAL DINNER Sullivan's Steakhouse
CEREMONY St. Paul's Lutheran Church
RECEPTION Omaha Design Center
VIDEOGRAPHER Prairie Dust Wedding Films
BRIDAL GOWN "Diana" by Israeli designer Alon Livne, Bella Bianca Bridal Couture, Chicago
ACCESSORIES Bella Bianca Bridal Couture, Haute Bride, Maria Elena
HAIRSTYLIST Emily Klingemann
MAKEUP ARTIST Jasmine Smidt
BRIDESMAID DRESSES Hayley Paige
MEN'S ATTIRE The Black Tux, Chicago
RINGS Altobello Fine Jewelers, Wheaton, Illinois
FLORIST Creating Atmosphere
CAKE Grainolia
CATERER Attitude on Food
RENTALS Creating Atmosphere and United Rent-All
MUSIC Lost Wax, Kansas City
TRANSPORTATION VIP Limo and Ollie the Trolley
INVITATIONS/PROGRAMS Dana Osborne Design
GUEST ACCOMMODATIONS Hilton Omaha
EVENT PLANNER Basic Bash events
HONEYMOON Australia and Bali
Real Wedding: Paige Longwell and Chris Forfar
Paige Longwell and Chris Forfar were married Aug. 4, 2018.