June 15, 2019, Happy Hollow Club
BRUNCH DATE Maddie Jensen and Rich Stemm met through mutual friends at Cedar in Omaha, but their bond started over brunch at Mula. "I talked about my love of corned beef hash and across the table Rich said, 'You like corned beef hash? So do I.' He had the cutest smile about it," Maddie says. The couple were at a friend's lake house in Okoboji, Iowa, when Rich popped the question on the dock with a custom ring from 14 Karat.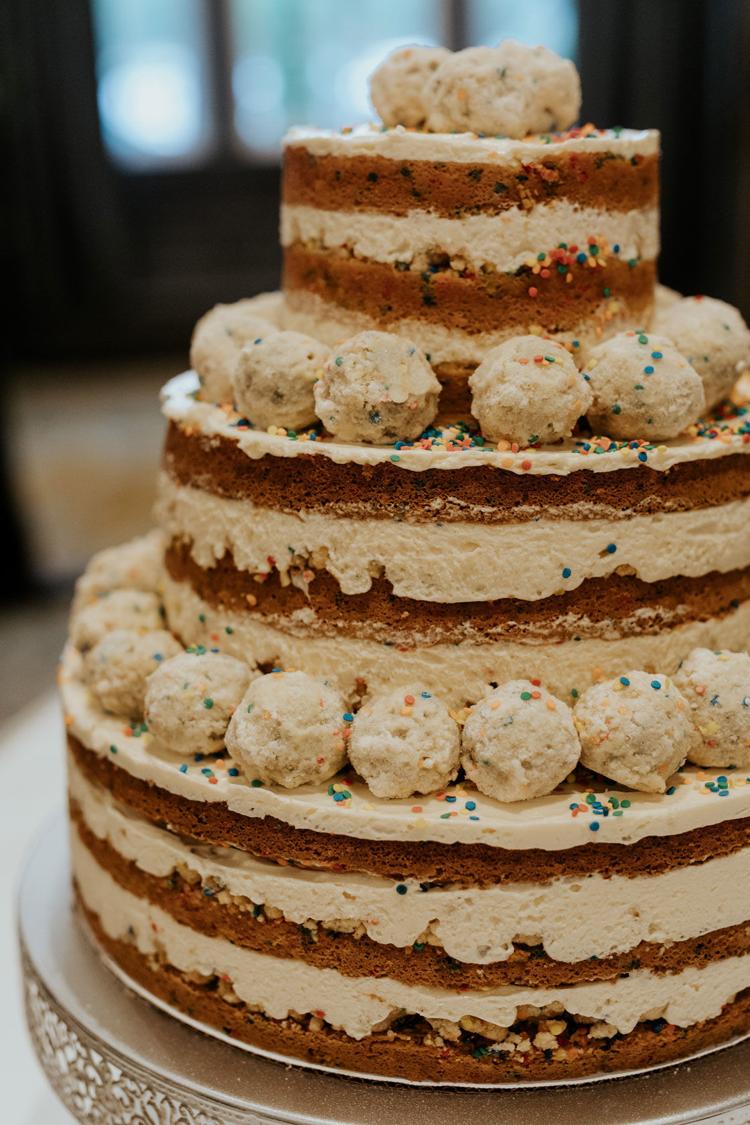 MIDDAY MERRIMENT The couple planned a noon wedding of 250 guests, followed by a mimosa/bloody mary cocktail hour and brunch reception. Maddie envisioned an elegant and romantic summer wedding, complete with fixings for the couple's favorite meal. The doughnuts on the doughnut wall went fast. A "bubbly" exit added to the theme. "Brunch and bougie was what we kept calling it," the bride says. A highlight of the reception was the cake, inspired by one the couple enjoyed from Milk Bar.
TAKE ME OUT TO THE BALLGAME The morning photo session felt rushed in order to start the ceremony on time, Maddie says. But having the ceremony and reception at the same venue, plus having set-up and tear-down help, made the day go smoothly. Exchanging letters and having a first look before the ceremony was the sweetest moment, and the bride and groom didn't leave each other's side for the rest of the day. Since the festivities were over by midafternoon, Rich, Maddie and some friends bar-hopped around Omaha, with a final stop at that evening's College World Series game at TD Ameritrade Park.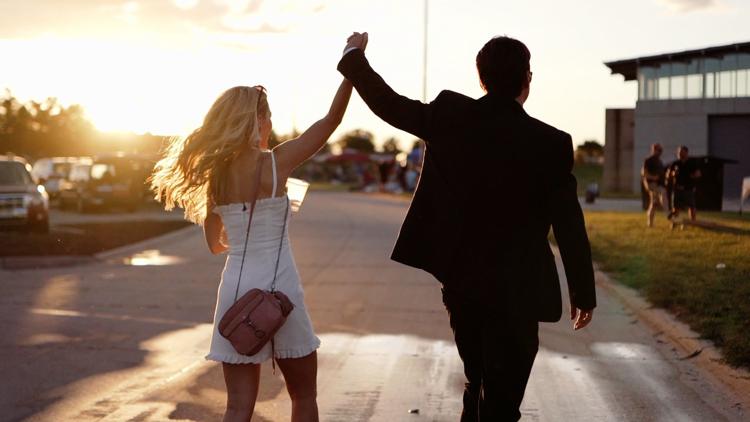 EN GARDE Rich surprised Maddie with a pair of Christian Louboutin heels for her walk down the aisle, and she gave him a handkerchief from Colorado embroidered with the saying "Love you to the mountains and back," a nod to their favorite vacation spot. Their favorite gifts include a Nespresso machine, a saber and two bottles of their favorite champagne, which they opened with the saber!
HOUSE TO HOME Maddie and Rich's life hasn't quite settled down since the wedding; they bought a house before the wedding and are currently in the middle of renovations. Still, Maddie looks forward to cooking, traveling and starting a family with Rich. "I can't wait to walk through life together," she says. Rich says that Maddie is always ready for an adventure, and that their love has grown since getting married.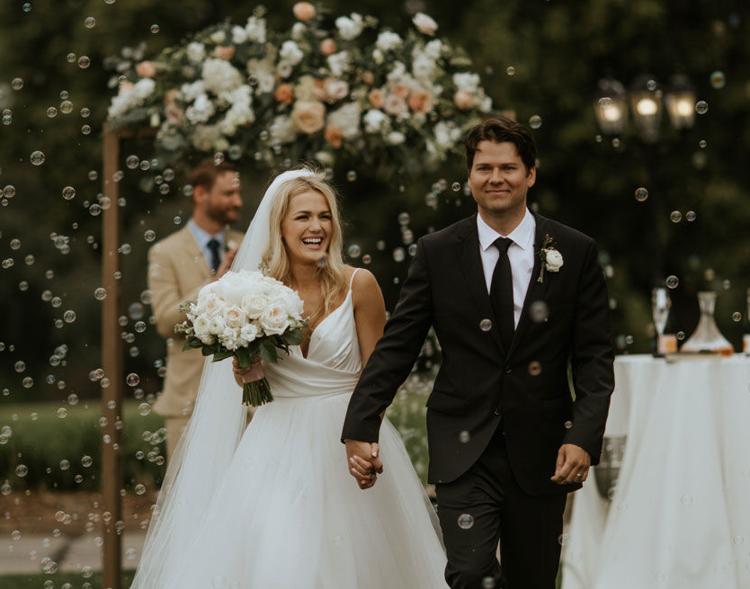 Essential details
THE COUPLE Maddie Jensen and Rich Stemm
PHOTOGRAPHER Trin Jensen Photography
WEDDING DATE June 15, 2019
REHEARSAL DINNER Pitch Pizzeria Dundee
CEREMONY & RECEPTION Happy Hollow Club
VIDEOGRAPHER Glory Visuals
BRIDAL GOWN Hayley Paige, Gown Gallery, Kansas City
ACCESSORIES Shoes: Christian Louboutin
HAIRSTYLISTS Connor Rensch, Alisha Madej
MAKEUP ARTIST Renne Himberger
BRIDESMAID DRESSES Lulu's
MEN'S ATTIRE Hugo Boss, Cole Haan, Brooks Brothers, J. Crew
FLORALS & EVENT DESIGN Creating Atmosphere
CAKE David Updike/Happy Hollow Club
CATERER Happy Hollow Club, Krispy Kreme
RENTALS Honeyman Rent-all, Rental City, Creating Atmosphere
MUSIC Ceremony: Melanie Nielsen, Emily Gilbert; Reception: Huston Alexander
TRANSPORTATION Ollie the Trolley
INVITATIONS/PROGRAMS Basic Invite, Natalie Jensen Photography
GUEST ACCOMMODATIONS Magnolia Hotel Omaha
WEDDING COORDINATOR Kelly Smith
HONEYMOON Cabo San Lucas, Mexico
Real Wedding: Maddie Jensen and Rich Stemm
Maddie Jensen and Rich Stemm were married June 15, 2019 at Happy Hollow Club.