August 11, 2018, Blatt Beer and Table
High school sweethearts Kyleigh Smart and Desmond Austin had been dating since they were 15 ("Is it really dating if you don't yet have a driver's license?" Kyleigh jokes). Their August wedding celebrated seven years of being together.
Dez asked Kyleigh to be his wife at the fireplace near the Village Pointe movie theater — the same spot where he asked her to be his girlfriend. That day, Kyleigh thought they were just going to dinner with Dez's parents, until as they were walking toward the fireplace, she saw a group of people across the street with signs that said, "Kyleigh will you marry me?"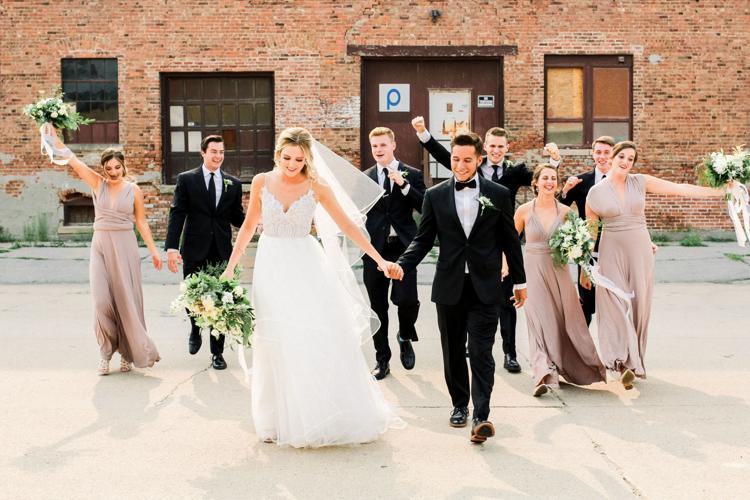 They wanted a simple, yet elegant wedding. The ceremony was at The Omaha Healing Arts Center with 120 guests. The skylights and exposed brick gave the space "the most beautiful ambience," Kyleigh says.
The bride built the copper flower arch backdrop, and Bloom Works provided the floral arrangement, peonies and greenery. Kyleigh's bouquet was also peonies and greenery — 2½ feet worth!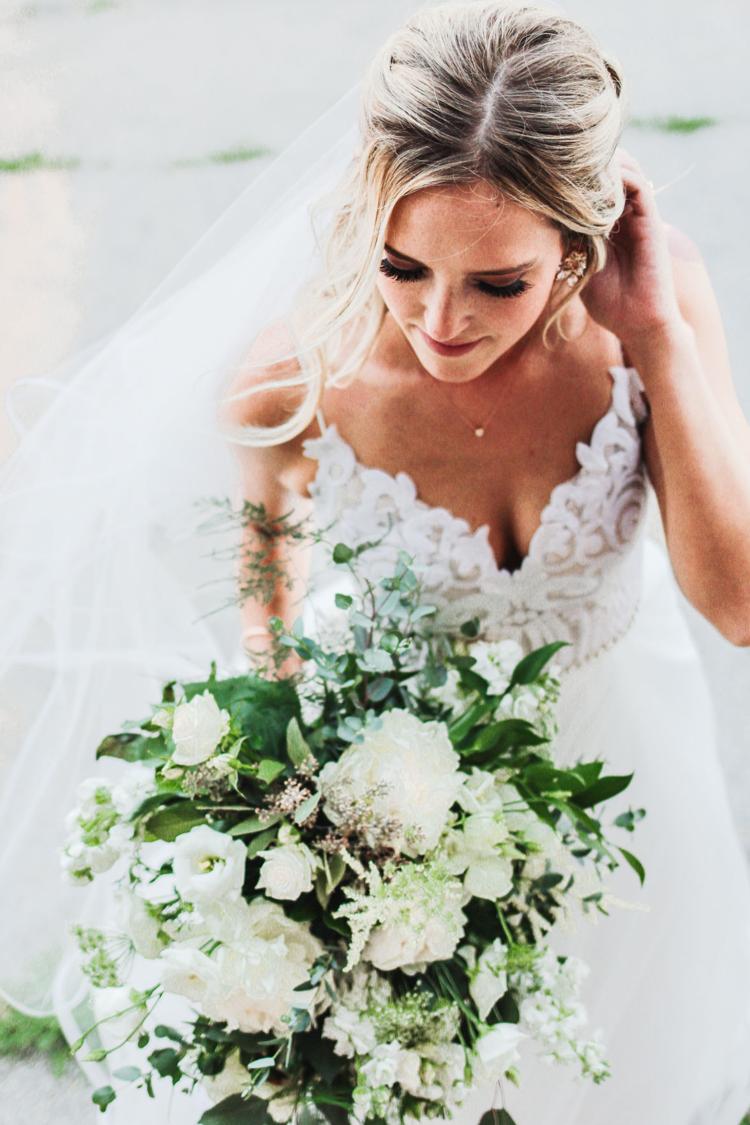 A close friend sang Jason Mraz's "Lucky" during the ceremony. The couple asked guests to "unplug" during the short-and-sweet ceremony. "When we walked down the aisle, we saw our guests — not a sea of iPhones," the bride says. "We wanted our closest family and friends to be present with us for one of the most important moments of our lives."
It helped the wedding photographer, too, to get the best shots without interference.
The reception followed on the rooftop of Blatt Beer and Table in downtown Omaha—Kyleigh and Dez's favorite place in Omaha. Kyleigh says that option saved them on rental and catering fees.
An almond wedding cake and various smaller cakes baked by a family friend/pastry chef let guests choose their preferred flavor. The signature drinks were Infusion's Vanilla Bean Blonde Ale and Nebraska Brewing Company's IPA — more of the couple's favorites.
Amidst the dining and dancing, Kyleigh shared a special dance with her younger brother, Alex. "I'm grateful for those few minutes I got to spend with just him," she says.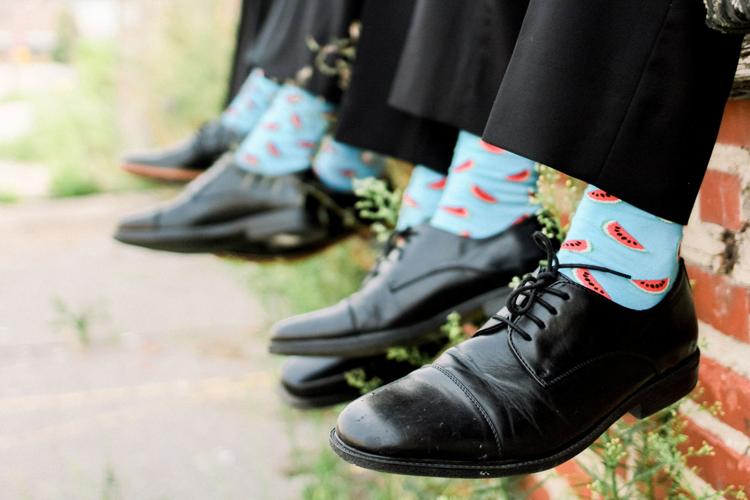 The couple heard again and again how the day was "true to themselves." Rose gold décor accents, a reception at their favorite restaurant, their favorite local beer, and a Modelo beer bottle-shaped groom's cake all represented parts of the couple and what they love.
Kyleigh attributes the smoothness of the day and success of planning to the help she had from her mom and best friends. At the end of the night, Dez and Kyleigh were starving; they had forgotten to eat! The two ordered a pizza — but fell asleep before it arrived.
Dez says Kyleigh is fun, supportive, a great planner, and most of all, a great partner. Kyleigh calls Dez her rock, and says that he's the hardest-working person and always up to tackle a project together. Their favorite wedding gift is a fully stocked rose-gold bar cart, which "doubles as a décor piece in our kitchen," she says.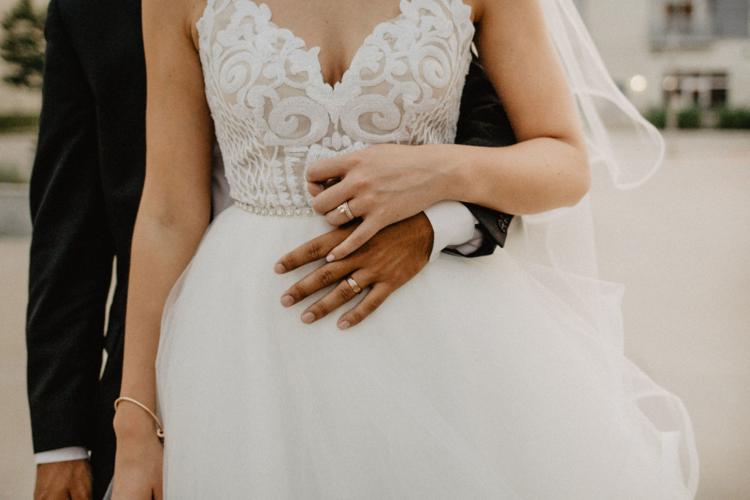 Essential details
The couple Kyleigh Smart and Desmond Austin
Photographer Jody Eckman Photography
Wedding date Aug. 11, 2018
Rehearsal dinner Biaggi's Ristorante Italiano
Ceremony The Omaha Healing Arts Center
Rentals Gibbs Rental and Sales
Reception and catering Blatt Beer and Table North Downtown
Videographer MGL Creative
Bridal gown Hayley Paige, Rhylan Lang
Accessories Rhylan Lang, Etsy, Badgley Mischka
Hair stylist Sarah Poderys, Victor Victoria
Transportation Elite Party Bus
Wedding stationery Minted, Basic Invite,  Etsy
Accommodations Marriott Downtown at the Capitol District
Honeymoon Dominican Republic, Destinations Travel Center
Real Wedding: Kyleigh Smart and Desmond Austin
Kyleigh Smart and Desmond Austin were married Aug. 11, 2018