May 19, 2018, Henry Doorly Zoo & Aquarium
NOISE COMPLAINT Adam Schmidt and Kristen Szymborski met at Creighton University, when they lived in the same dorm. Kristen knocked on Adam's door because he was playing his guitar too loud. "We've hit it off ever since,'' Kristen says.
ANOTHER TEST The week before finals, Adam proposed with a scavenger hunt around their favorite places in downtown Omaha. He popped the question on the rooftop of Old Market Lofts. "It was very romantic!''
PART OF YOUR WORLD They dreamed of an elegant under-the-sea theme. "We wanted it to be enchanting, formal, fun and unique. It's not every day you get to dance with the fish.'' The best part was walking around in the zoo in their wedding attire and receiving congrats from visitors. They said hello to the giraffes and elephants and even had a porcupine, tortoise and macaw at their cocktail hour. They set up lounge furniture in the shark tunnel for guests who wanted to sit and visit.
SEA THEME The invitations featured a coral motif in gold foil. Table assignments were by sea creatures instead of numbers. The escort cards were seashells with white chocolate covered cherries in the middle. The dessert bar had clam-shaped macaroons and sea horse s'mores, and the cake had seashell and bubble details. Their signature drinks included the Mermaid Margarita and Great White Whiskey. Each bridesmaid got a matching sea turtle tote bag.
SPECIAL PLACE Neither of them are from here originally, but Omaha and Creighton's campus will always hold extraordinary memories. "It's where we grew together as a couple,'' Kristen says. "Standing on the altar in front of God at the place we met with all of our family and friends as witnesses. It's just too magical to describe.''
WELCOME, GUESTS Because so many in the wedding party were from out of town, the couple had cute welcome bags and maps of the zoo for everyone. They also had a reception after the rehearsal dinner so people had extra time to socialize.
FANCY FOOTWORK The couple went to Omaha Ballroom for dance lessons before the wedding. It was a fun weekly date night. "It also saved us the stress of having all eyes on us while we swayed awkwardly back and forth,'' Kristen says. "Neither of us knew how to ballroom dance.'' Instead of a bouquet toss, they had an anniversary dance and gave the toss bouquet to the couple married the longest.
VIDEO TREASURE They didn't want to miss a minute of the wedding, and they enjoy looking back on their big day. Creating Atmosphere transformed the space beyond their wildest dreams and took care of every detail, leaving them to enjoy friends and family. "It is easy to get caught up in all the small details of wedding planning and lose sight of the vows you are making to each other,'' Kristen says.
BUSY LIVES Kristen is finishing pharmacy school so things are hectic. "Adam has picked up the slack in every way,'' she says. "I couldn't imagine a more loving, giving husband.''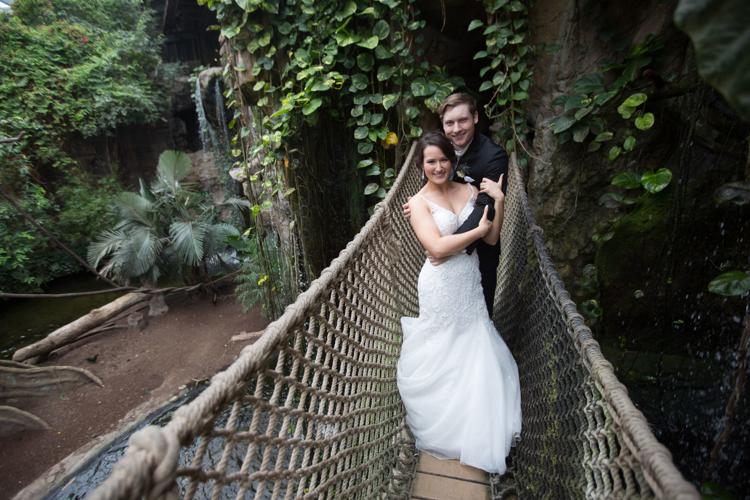 Essential details
THE COUPLE Adam Schmidt and Kristen Szymborski
PHOTOGRAPHER Lane Hickenbottom of Lane Weddings
WEDDING DATE May 19, 2018
REHEARSAL DINNER Blue Sushi, catered by Roja
CEREMONY St. John's Catholic Church at Creighton University
RECEPTION Henry Doorly Zoo & Aquarium
VIDEOGRAPHER Kriha Films
BRIDAL GOWN Martina Liana, Bella Bianca Bridal in Oakbrook, Illinois
ACCESSORIES Martina Liana, Bella Bianca Bridal
HAIRSTYLIST Updo.toyou, Lindsey Waldron
MAKEUP ARTIST Model Perfect Airbrush
BRIDESMAID DRESSES Azazie
MEN'S ATTIRE Men's Wearhouse
RINGS Helzberg Diamonds
FLORIST Creating Atmosphere
CAKE The Cake Gallery
CATERER Attitude on Food
RENTALS Creating Atmosphere
MUSIC Karlyn Music, ceremony; Jesse Swanson, Chaos Productions, reception
TRANSPORTATION VIP Limo
INVITATIONS/PROGRAMS Hadley Designs
GUEST ACCOMMODATIONS Embassy Suites Downtown and Residence Inn Downtown
WEDDING COORDINATOR/EVENT PLANNER Creating Atmosphere
HONEYMOON Disneyland, Oahu and Maui
Real Wedding: Adam Schmidt and Kristen Szymborski
Adam Schmidt and Kristen Szymborski were married May 19, 2018 at St. John's Catholic Church at Creighton University, with a reception at the Henry Doorly Zoo & Aquarium.