September 15, 2018, Lauritzen Gardens
INSTANT ATTRACTION
George Parizek's sister, Bridget, is one of Kathleen Connor's closest friends. Bridget unintentionally set them up one night when she and her then-fiance, Zach Clark, invited them out. "Little did she know that we would immediately hit it off,'' Kathleen says.
SURPRISE!
George surprised Kathleen with a series of little gifts for coming events (like running socks and sunscreen for the Lincoln Half Marathon) and concluded with a big surprise — a ring. "He also had La Casa pizza hidden in our oven to enjoy (after proposing)," Kathleen says.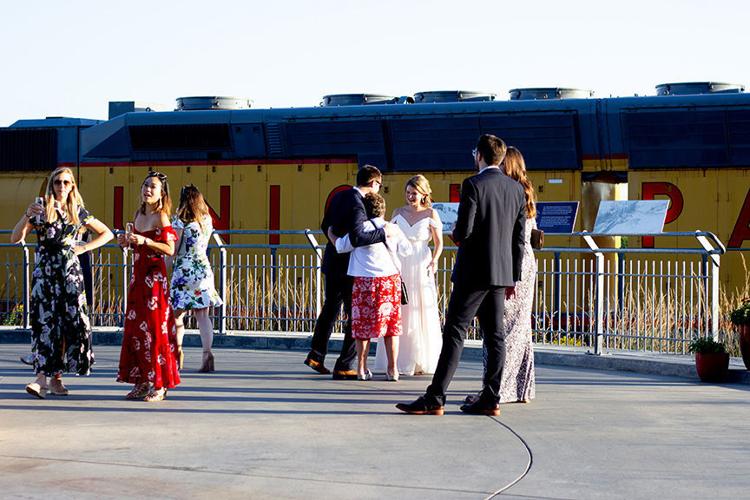 FAMILY CONNECTION
Kathleen's grandfather was John Kenefick, the namesake of Kenefick Park, and she had always dreamt of getting married there. "When George and I were lucky enough to get squeezed in at Lauritzen Gardens, we asked close friend and then-Lauritzen director Spencer Crews if we could make that happen. Luckily, Spencer is very sensible and advised against conducting the ceremony there due to almost constant wind," Kathleen says. Crews suggested a short champagne toast there after the ceremony instead.
IN SEASON
Kathleen skipped choosing wedding colors and asked her florist to use whatever was locally in season. The couple also used as many local small businesses as they could. "We wanted our wedding to be as comfortable and enjoyable as possible for ourselves and our guests," she says. "We kept it casual and focused on important details like really great food and a fun band."
SPECIAL MOMENTS
When Kathleen's mother walked her down the aisle and handed her off to George, they unconsciously kissed. "Of course, everyone laughed at our wedding faux pas," she says. During the ceremony, they recited a classic Mister Rogers poem together, alternating lines. "It was really special reciting that together and a little surprise for our guests. We were told that poem really started the floodgates in the crowd."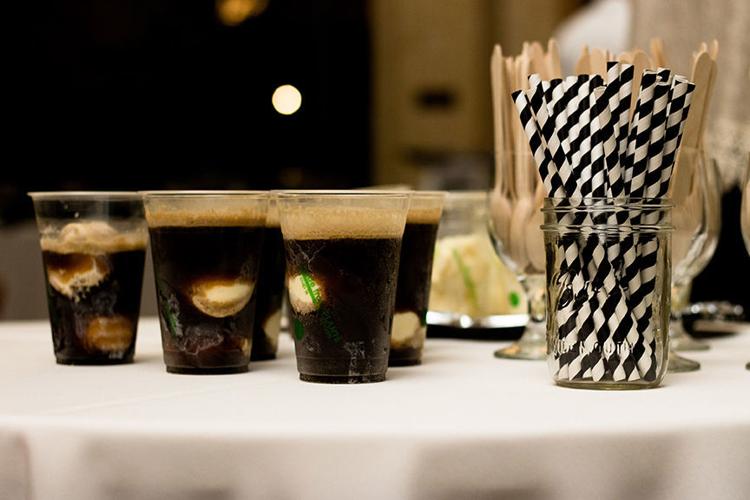 FLOATS, ANYONE?
They passed on traditional wedding cake in favor of root beer floats. They ordered kegs of fresh root beer from Upstream Brewing Company and hired Coneflower Creamery to dish out vanilla ice cream. "The floats were fun and portable for taking to the dance floor."
A LITTLE HELP FROM FRIENDS
Don't hesitate to ask for help, Kathleen says. Many of their decisions on food, décor, etc., were influenced by friends' weddings. "We found the best resources by word of mouth." Also, Kathleen advises if you do not have a wedding planner, hire a "day of" coordinator. "I hired a friend of a friend to keep track of all of the little things on the day of the wedding so that George and I and our family didn't have to worry," she says. "I was so much more relaxed on our wedding day because I knew I could trust her to keep all of our vendors informed and on schedule." She couldn't believe how fast the day flew by.
SHARING DECISIONS
Approaching everything as a team, down to the thermostat, has been an adjustment for both, but at the same time they feel stronger with a partner at their side. George says he's so lucky to have Kathleen. She says he's the most encouraging, supportive and thoughtful partner. "His actions and opinions remind me daily how lucky I am to be his partner."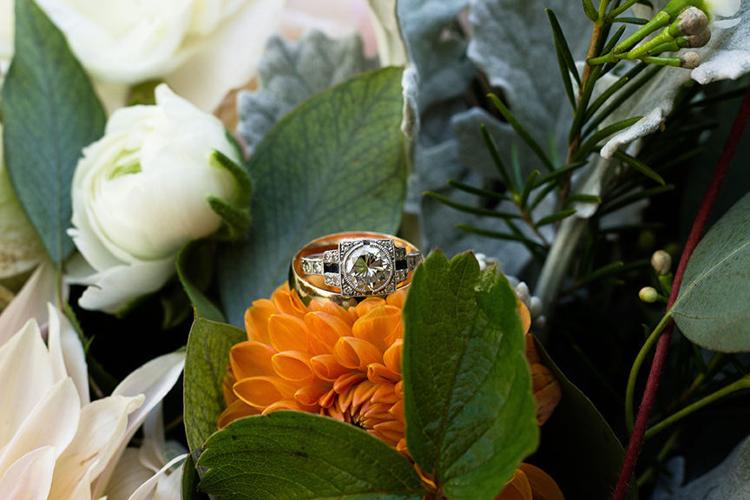 Essential details
THE COUPLE Kathleen Connor and George Parizek
PHOTOGRAPHER Pine + Prairie
WEDDING DATE September 15, 2018
REHEARSAL DINNER Midtown Crossing Penthouse/Rooftop, catered by La Casa Pizzaria
CEREMONY + RECEPTION Lauritzen Gardens
BRIDAL GOWN BHLDN
ACCESSORIES Borrowed necklace and earrings
HAIRSTYLIST Sam Blackwell/Parlour 1887
MAKEUP ARTIST Vienna Diaz/Parlour 1887
GROOM'S SUIT Jerry Ryan Clothing & Sportswear
RINGS Mark Edward Private Jeweller. Kathleen's engagement ring features stones from George's maternal grandmother. Her wedding band, vintage Tiffany's, belonged to her maternal grandmother. George's wedding band belonged to Kathleen's father.
FLORIST Sheila Fitzgerald/A New Leaf
CAKE Sweet Magnolias Bake Shop, decorated by Sheila Fitzgerald
CATERER El Basha grill
RENTALS AAA Rents
MUSIC Ceremony,the Maloley Family string trio; reception, local band Twinsmith
INVITATIONS/PROGRAMS VistaPrint.com
GUEST ACCOMMODATIONS Airbnb.com, Element Hotel, Magnolia Hotel, Hotel Deco
HONEYMOON Delayed
Real Wedding: Kathleen Connor and George Parizek
Kathleen Connor and George Parizek were married Sept. 15, 2018.