September 23, 2018, Stirnella Bar & Kitchen
Jessica Luna and Jordan Jackson met in 2007 at a friend's house and talked all night. "That was it," Jessica says. Jordan proposed on a trip to the Northeast. They were driving from Boston to Acadia National Park when they stopped for the night in Rockland, Maine. A visit to Breakwater Lighthouse was on Jessica's list of things to do before dinner at Primo, a restaurant known for its farm-to-table Italian cuisine. As the couple walked the breakwater, they stopped to look at the moon, and Jordan popped the question. "A full moon on one side and a setting sun on the other," Jessica recalls. "After he proposed, a woman with a camera walked up and took our photo; it was perfect. We both were in our road-tripping gear so we looked a bit rough but perfectly relaxed at the same time. Such a great memory!"
The couple ran out of time to change for dinner so they went directly to the restaurant. At the table was a floral arrangement from Jordan. "I was so over-the-moon excited that I wasn't hungry, so he ate and I had a martini. I still want to go back and try the food; it looked really good."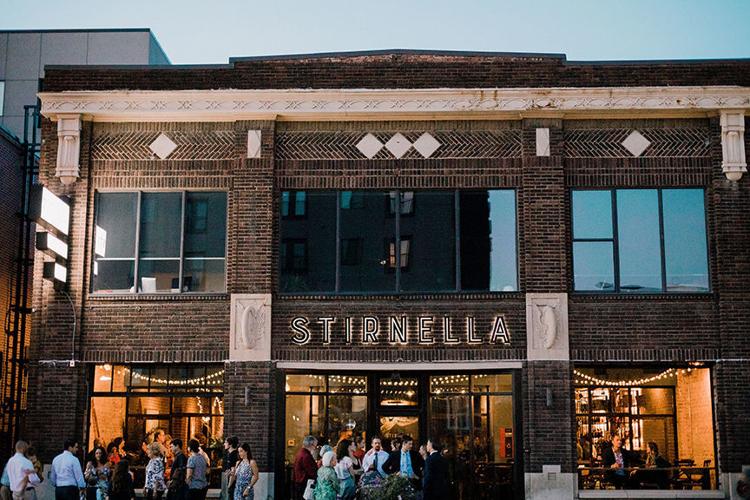 The couple had an intimate ceremony and reception at Stirnella in the Blackstone District. Their best friends stood up for them and another friend, Christina Pierce, officiated. "The day of our wedding was so joyful," Jessica says. "The sun was shining in the space so perfectly, and the energy was so wonderful." After dinner, the couple went into the street for photographs against a golden setting sun.
Jessica's niece played guitar and sang as Jessica and Jordan walked down the aisle. Friend and Stirnella head chef Matt Moser prepared a Spanish-style meal with the bride's favorite starter, shrimp bisque. The tables were decorated with boho shibori-dyed table runners made by the bride, her mother and an aunt. Small paintings by Jessica served as place cards and favors for guests. Songs the newlyweds listen to at home while cooking together played in the background.
The bride wore custom-designed earrings by Heather Kita using heirloom pearls gifted to the bride from her grandmother, who died a month after the wedding.
Jessica's uncle had guests in stitches during his speech about the couple while the groom brought tears with his touching toast.0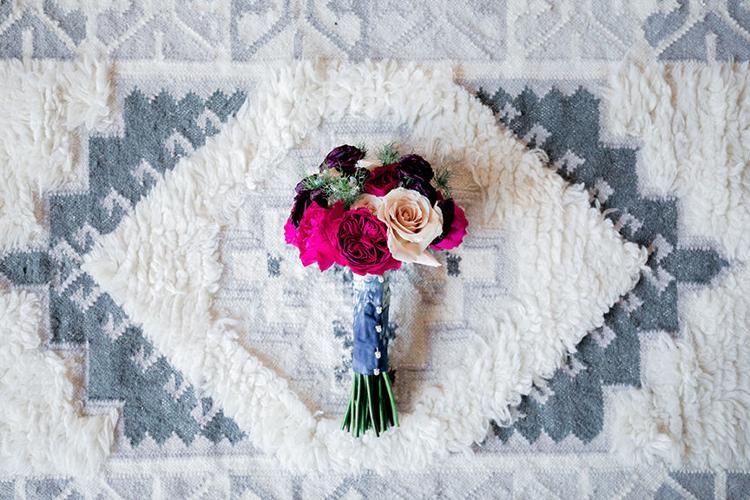 Jessica's uncle made a large brass triangle as a backdrop of their vows. The rug the couple stood on was a gift from Jessica's mom. And aunts and uncles provided the wine for the party. "They know good wine so that was awesome."
Jessica and Jordan have been together a long time, so there were no shocks after the wedding. He says Jessica is smart, beautiful and the sweetest person he knows. "He has a big heart, makes me laugh and is darn good-looking," Jessica says.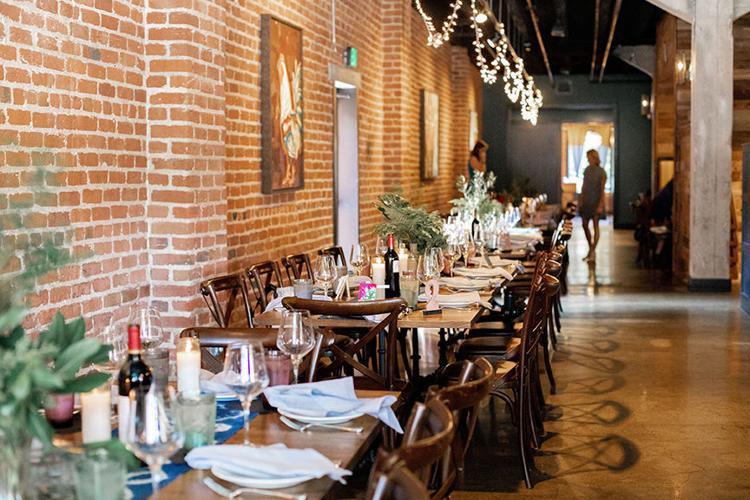 THE COUPLE Jessica Luna and Jordan Jackson
PHOTOGRAPHER Pine & Forge
WEDDING DATE September 23, 2018
REHEARSAL DINNER Backyard BBQ at the couple's home
CEREMONY AND RECEPTION Stirnella Bar & Kitchen
VIDEOGRAPHER Wiese Productions
ACCESSORIES Heather Kita Jewelry Design
HAIR AND MAKEUP Kali Rahder
MEN'S ATTIRE Men's Wearhouse
RINGS Heather Kita Jewelry Design, Borsheims, Goldsmith Silversmith
FLORIST Jon Taylor, The Bachelor's Button
CATERER Stirnella Bar & Kitchen
TRANSPORTATION Military escort arranged by the bride's uncle
INVITATIONS/PROGRAMS Méldeen
GUEST ACCOMMODATIONS Element Hotel
WEDDING COORDINATOR/EVENT PLANNER Kaleigh Wiese & Nicole Stanford
HONEYMOON Big Sur, California
Real Wedding: Jessica Luna and Jordan Jackson
Jessica Luna and Jordan Jackson were married Sept. 23, 2018.