June 8, 2018, Founders One • Nine
Caitlin Gillespie and Jonathan Richter met during homecoming week their freshman year at the University of Nebraska-Lincoln. They were both involved in Greek life, and their houses were building a float together. They didn't exchange phone numbers until an ugly Christmas sweater party. "We spent the entire break texting back and forth, went on our first date after arriving back on campus and were officially dating that spring," Caitlin says.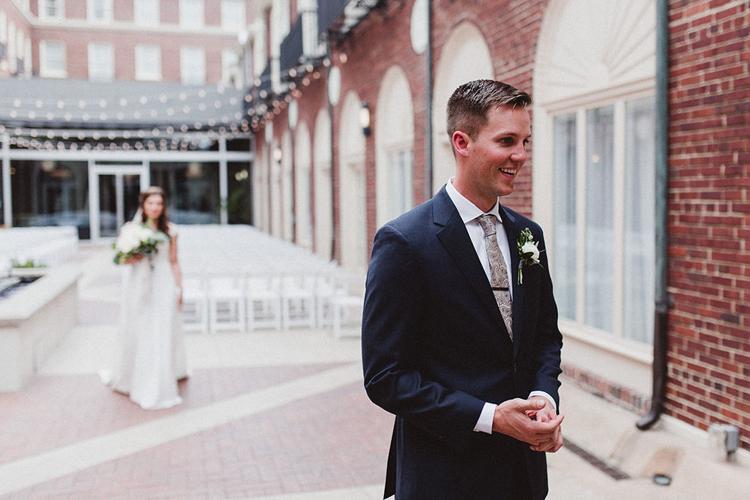 After college, Caitlin lived in Des Moines for medical school. Jon had an apartment in the Old Market, and their weekend ritual was to grab coffee and go for a walk in downtown Omaha. One Saturday in January they took their usual route along Gene Leahy Mall toward the riverfront. When Caitlin spotted a sorority sister who is a photographer, she put it all together. "Jon had every little detail planned out, including a mini engagement photo shoot right there on the spot, drinks at a brewery with some of our closest friends that night and brunch with our parents the next day. It was the perfect start to this new chapter of our lives."
Their reception space was more industrial, so Caitlin wanted to soften it with romantic décor. She chose garden roses, peonies and hydrangeas in white, ivory and blush; greenery and candles. "As we arrived at the venue and prepared to make our entrance, I was blown away by how light and romantic everything looked," Caitlin says.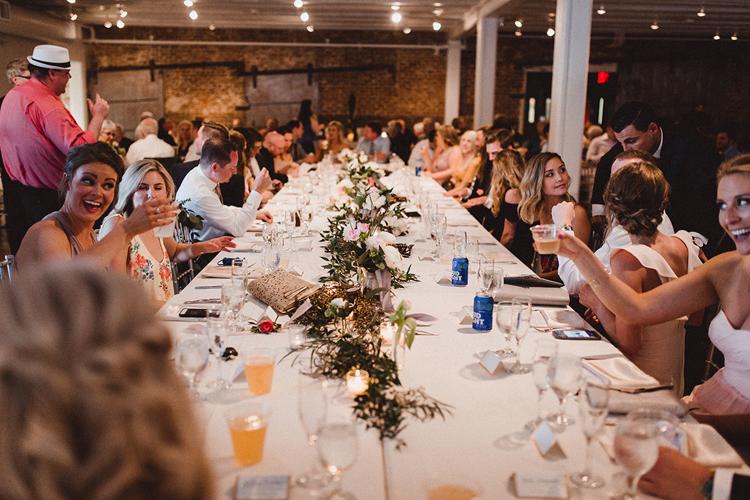 Caitlin's dad sings and plays guitar. As a surprise, he coordinated with the DJ to perform "Can't Help Falling in Love With You" before the main dance. "Not only was it a beautiful performance that gave Jon and I an extra chance to share the dance floor together, but it was the song that my parents danced to at their wedding, and that made it all the more special to me."
Ollie the Trolley made the transportation to and from the ceremony a breeze for the large wedding party. Dante's Pizzeria and its traveling wood-fired pizza oven was a hit as a late-night snack.
Caitlin recommends starting the planning process as early as possible and being realistic about your budget. "Decide which major things are really important to you, then make sure they are planned exactly as you want them. If there are things you can delegate to people you trust, then definitely do it."
Caitlin's parents gave them season tickets to the Omaha Community Playhouse, the same gift her parents received from her dad's sister when they were married. If they are too tired to go out, they love sitting in their new sectional, a gift from the wedding party. Living together has been an adjustment. "Since we've each been doing things our own way in our own places for the past few years, we both have needed to be flexible and communicate a lot. But it's been really fun to live together and to figure things out as we go along." Jon said they have fun no matter what they are doing, even if it's hanging out on the couch. Caitlin says Jon is kind, loyal, intelligent and handsome. "Everything you would want in a partner."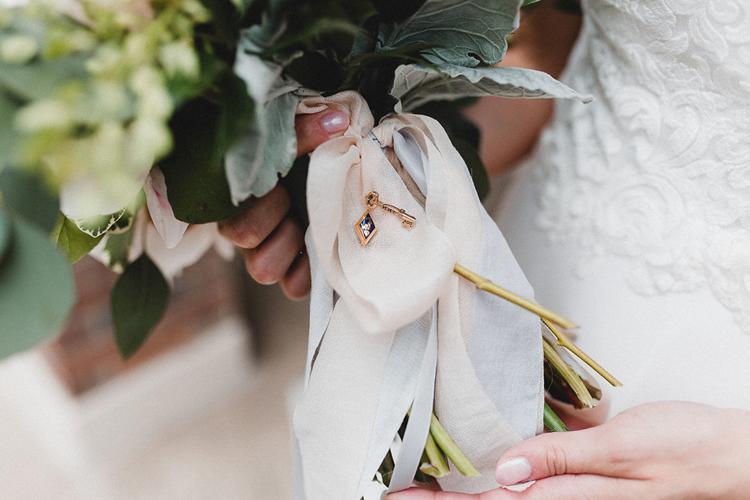 THE COUPLE Caitlin Gillespie and Jonathan Richter
PHOTOGRAPHER Kayla Failla Photography
WEDDING DATE June 8, 2018
REHEARSAL DINNER The Matt Bar & Grill
CEREMONY St. James Catholic Church
RECEPTION Founders One • Nine
VIDEOGRAPHER COMPLETE Weddings + Events
BRIDAL GOWN Allure Bridals/Romance Collection, Perry Bridal, Des Moines
ACCESSORIES USABride, Von Maur
HAIRSTYLIST Alexandra Tague
MAKEUP ARTIST Andrea Sortino/Airbrush by Andrea, Kristal Wheelock/Makeup by Kristal
BRIDESMAID DRESSES David's Bridal, Lulu's, Weddington Way, Show Me Your MuMu, Forever21
MEN'S ATTIRE Men's Wearhouse
CATERER Catering Creations
MUSIC COMPLETE Weddings + Events
TRANSPORTATION Ollie the Trolley
INVITATIONS/PROGRAMS/SIGNAGE Minted, Etsy, Miranda Griffith/MirandaWrites
GUEST ACCOMMODATIONS Magnolia Hotel Omaha, Hilton Omaha, Residence Inn Omaha Downtown/Old Market
Real Wedding: Caitlin Gillespie and Jonathan Richter
Caitlin Gillespie and Jonathan Richter were married June 8, 2018.