November 10, 2018, Omaha Design Center
HOW IS THAT SPELLED? Amy Spilker attended one of Anthony Bemboom's baseball games with a friend. His last name is so unusual, she looked him up on Facebook. "I sent him a quick message that simply said hello and wished him well with his season," she says. He replied, and the rest is history. The two dated six years, mostly long distance due to Anthony's baseball career. He's currently playing for the Tampa Bay Rays, so they split their time between Florida and Nebraska.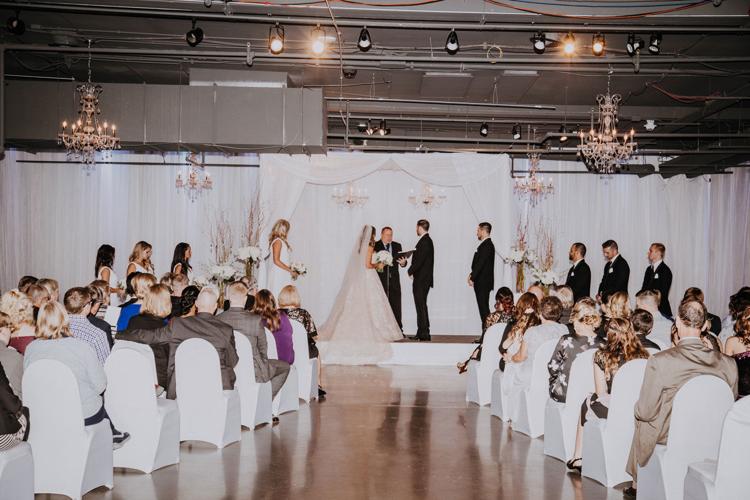 IT HAS TO BE Amy had done a modeling job at the Omaha Design Center and fell in love with the location. She told Anthony it would be the perfect spot for their wedding. A few months later, they drove by the center on the way to dinner, and Anthony insisted they visit, even without an appointment. "We had a wonderful tour of the space, and at the very end we walked into a room where a stage was set up, and that's when I knew," Amy says. "Anthony walked me up to center stage and got on one knee. It was absolutely perfect." They enjoyed a quick champagne toast before calling their parents and heading to dinner. "It made our wedding day even more special because we got to say our 'I do's' in the exact spot we were engaged," Amy says.
MODERN TWIST Amy wanted their décor to be timeless and elegant. Autumn is their favorite season, but instead of doing a traditional fall palette, the bride opted for a clean and fresh mix of white, gold, cream and neutral tones. For a modern touch, Amy used marble and acrylic table accents and contemporary fonts for the stationery and wedding day signage.
BLUSHING BRIDE Amy fell in love with a blush gown with head-to-toe sparkle. "Once I finalized my gown, I wasn't quite sure what color my bridesmaids should wear since I wanted to keep the overall look very light and airy. I ordered some fabric swatches, and once I saw the ivory next to my blush gown, I knew that was the color."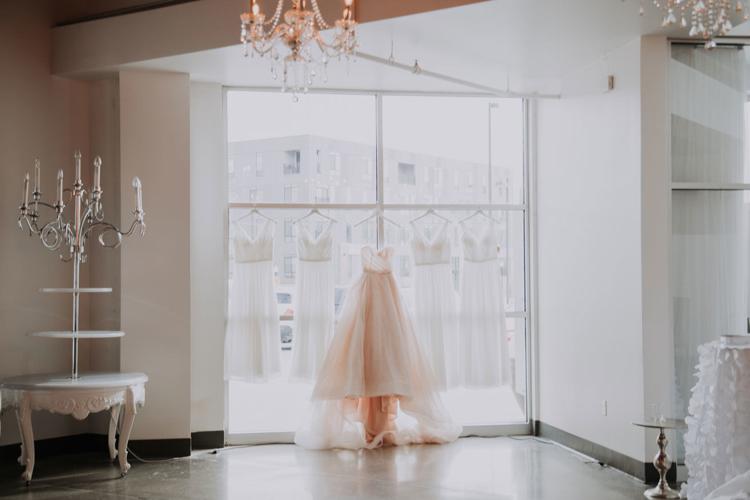 TOUCHING MOMENTS They exchanged letters before their first looks. "I couldn't wait to see him, and getting to read a special handwritten note from him was the best way to start the day," Amy says. Their two flower girls and ring bearer walking down the aisle hand in hand also stands out. "They did such a great job, but their little faces looking a little confused/scared make us smile every time," they say. It was also the first time the two families met. "I love looking back on our photos and seeing our families having such a blast together," she says. Quality photos and video were the most important thing to Amy.
BEMBOOM BELLINI The two created their own custom cocktail, and it was a huge hit. "By the time we came back from snapping a few photos they were all gone! It's a fun way to kick off your reception, and guests really enjoyed having something that was easy to order."
SEW PERFECT Anthony's grandmother made them a quilt that represents them perfectly. "She put so much time and effort into it, and it is something we will cherish forever."
TOGETHER AT LAST Living together and no longer doing a long-distance relationship has been a big change. He says Amy is his best friend, and she says he's her rock. "I am traveling with Anthony now as he pursues his baseball career. So far in our married life, we have lived in Nebraska, the Dominican Republic, Florida and North Carolina. I have learned that anywhere we get to be together is home."
Essential details
THE COUPLE Amy Spilker and Anthony Bemboom
WEDDING DATE November 10, 2018
REHEARSAL DINNER TD Ameritrade Park Omaha
CEREMONY, RECEPTION Omaha Design Center
VIDEOGRAPHER MGL Creative
BRIDAL GOWN Lazaro, Schaffer's Bridal, Scottsdale, Arizona
ACCESSORIES Shoes from Betsey Johnson, Macy's
BRIDESMAID DRESSES Kennedy Blue
MEN'S ATTIRE Men's Wearhouse
CAKE Cake Creations Omaha
CATERER Brandeis Catering
RENTALS United Rent-All; Grand Illusions Event and Party Decorating
TRANSPORTATION Ollie the Trolley
INVITATIONS/PROGRAMS Basic Invite
GUEST ACCOMMODATIONS Fairfield Inn & Suites by Marriott
WEDDING COORDINATOR/EVENT PLANNER Mindell Rethwisch
HONEYMOON Western Caribbean cruise, Royal Caribbean 
Real Wedding: Amy Spilker and Anthony Bemboom
Amy Spilker and Anthony Bemboom were married Nov. 10, 2018 at the Omaha Design Center.