December 8, 2018, Magnolia Hotel Omaha
Brandon Whiting and Hannah Lundell met as UNL students at a game night with mutual friends. He proposed on the beach in Siesta Key, Florida, on their first dating anniversary. Despite their near-tropical proposal, they decided that a "Winter Wonderland" wedding was the way to go — with all festivities neatly nestled during Hannah's winter break from college.
Because they were planning December nuptials, the couple wanted to keep the events within one area, in case bad weather limited guests' ease of travel. Everything — from the rehearsal dinner and hair and makeup to the ceremony and reception — was at the Magnolia Hotel Omaha. That took care of some of the decorations too. "The hotel was already decorated so beautifully for the holidays, so it was Christmas from the moment you entered."
The halls were decked with Christmas greenery and pinecones and navy, desert rose and gray accents. Hannah's mother, her mother's friend, and a bridesmaid (whose winter wedding inspired Hannah's) assembled bouquets and centerpieces from artificial flowers from Hobby Lobby.
The funniest moment came in the best man's speech at the reception, Hannah says. Brandon's identical twin brother Alec gave a heartwarming toast, but added some humor as well: "For my guys out there, it is a sad day. There is officially not another Hannah on the market. For every girl out there, don't be sad quite yet — there is another Brandon left."
For the only part of the day away from the Magnolia, the couple went to Frosty's Pines Christmas tree farm for portraits before the ceremony. "I think it took me a good half an hour to stop shivering after our portraits, but I wouldn't change a thing. We are in love with every one of our bride and groom portraits," the bride says.
The day went smoothly with everyone all in one place, but Hannah chalks part of that up to planning: "One of the most important details, when talking logistics with the entire day, is to assign specific tasks to certain people, and to have a schedule and share it."
In marriage, Brandon values Hannah's self-worth and self-confidence, as well as her confidence in him. She says he "truly makes life so sweet, whether he's making me belly laugh or simply doing everyday life with me."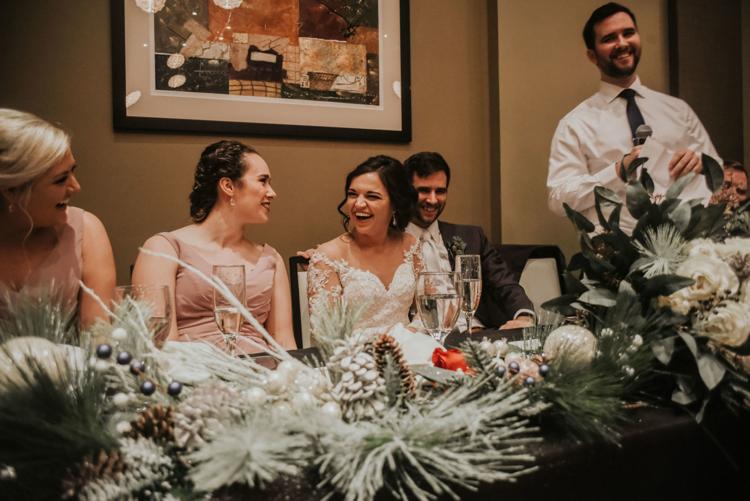 Essential details
THE COUPLE Hannah Lundell and Brandon Whiting
WEDDING DATE December 8, 2018
PHOTOGRAPHER Hope Tolbert/Hope Renae Photography
REHEARSAL DINNER Magnolia Hotel Omaha
CEREMONY AND RECEPTION Magnolia Hotel Omaha
PORTRAIT LOCATION Frosty's Pines
VIDEOGRAPHER Glory Visuals
BRIDAL GOWN Morilee By Madeline Gardner, Bridal Isle, Loomis
HAIRSTYLIST Jillian Kottich, friend of the bride
MAKEUP ARTIST Amanda Lee/Amanda Lee Artistry
BRIDESMAID DRESSES Bridal Isle
MEN'S ATTIRE JoS. A. Bank
FLORIST Artificial flowers from Hobby Lobby, arranged by Dawn Lundell, mother of the bride, and Cindy Blauvelt and Laura Oswald, friends of the bride
CATERER Magnolia Hotel Omaha
RENTALS Magnolia Hotel Omaha
MUSIC Chris Phipps/PhippaEnt.
INVITATIONS/PROGRAMS Minted
GUEST ACCOMMODATIONS Magnolia Hotel Omaha, Hyatt Place Omaha/Downtown - Old Market
WEDDING COORDINATOR/EVENT PLANNER Maria Czechut/Magnolia Hotel Omaha
HONEYMOON Fiji, coordinated by the groom
Real Wedding: Hannah Lundell and Brandon Whiting
Hannah Lundell and Brandon Whiting were married Dec. 8, 2018 at Magnolia Hotel Omaha.