I can't tell you the last time I planned an event where a Facebook invite or a Google calendar request didn't suffice.
But as a self-proclaimed "old soul," there is something timeless and intimate about mailed wedding invitations. They are, after all, your first interaction with your guests, and essentially serve as a wedding day preview.
Sure, at first the many beautiful stationery options bring excitement and inspiration. However, those emotions can quickly turn into an anxious, overwhelming headache when you factor in addressing the invites, with the proper etiquette to everyone on that lengthy guest list you created months ago.
If you're a fellow bride-to-be who has yet to tackle this project, allow me to offer a short list of do's (and don'ts!) to make the process as smooth as possible.
Find a template. I went the Internet route and found a ton of websites —  Shutterfly, Zazzle and Minted for starters — with pre-designed invitation templates. Scour your options, and select one that best fits the color palette of your wedding. I found the perfect white invite with gold foil and greenery accents on Etsy.
Consider other stationery elements you'll need down the line. Search for a design suite that includes templates for the invitation, RSVP card, table numbers, menu and ceremony program. I purchased and downloaded my templates and edited them on my laptop — from the comfort of my couch. And the best part? It made me look like a professional graphic designer. In just a couple of hours, I created my invitation, detail card, and RSVP card. I uploaded the completed files to Vistaprint, and before I knew it, the pieces were being shipped to my doorstep. Not only was this process easy, fast and high quality, it was also very budget-friendly. Who doesn't love that?
Take a shortcut. If you go the digital route, you can get help with another daunting task: addressing those invites! I've never been known for my beautiful penmanship, and the hand-cramping and time-consuming task of addressing more than 200 envelopes was less than appealing. The solution is to have your envelopes addressed and printed for you.
For that, I used Minted. Once you create an account , you can upload your guest list and addresses, then pick from an array of colors, designs and specialty themes for envelopes to complete your look. I found exactly what I was looking for in a simple and clean design with gold accents similar to those on my invitation. My order arrived within a couple of days, pre-printed with the addresses of everyone on my guest list!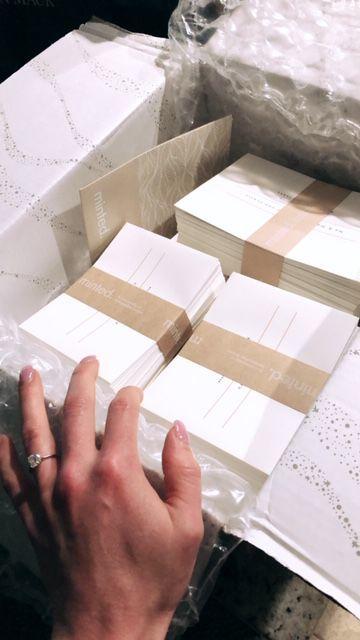 And last, but certainly not least, ask for help! Admittedly, I am the worst at this when it comes to all things wedding planning. But once you've gotten this far, all you need is a couple of extra sets of hands to assemble, stamp, and double check your work.
The wedding invite is a major part of the regalia leading up to the big day, and with all the options out there, every couple can find one that compliments a style and look all their own. These options can also make things quick and cost-effective, which is a welcomed stress reliever for any bride.
No matter if you opt for digital printing or a graphic designer or a calligrapher, remember that your wedding stationery is a reflection of your style and your guests' first indication of what your day will be like. Plus, it's sure to be a cherished family keepsake for years to come.