To do wedding favors or not to do wedding favors — that is the question.
It's been haunting me since the beginning of wedding planning. I LOVE receiving party favors. I love creating party favors. So you would think this would be an obvious "YES" from me.
However, two factors have me all kinds of stressed and conflicted:
People leaving their favors behind
The cost of creating a special wedding favor
I have been to multiple weddings over the last six months; each one provided favors, and I watched in horror as more than half of the guests left their favors behind. The brides and grooms had spent time, effort and money on these gifts.
I know weddings can get crazy and chaotic, but to me, it's pretty simple to remember to take the gift that was left just for you. Maybe it's the Southern hospitality side of me.
The cost factor adds to this stress. At the start, I had BIG plans. With my fiancé Alex being a former college football player, I wanted to do personalized, gold football-shaped stress balls with our wedding date and hashtag on them. Then I thought about little champagne bottles since our venue was so glamorous. Both of those ideas priced out between $3.50 to $5 per favor. Pretty costly for a 200-person guest list, in my opinion.
When deciding on wedding favors, I ask you to consider the following items:
1. Budget
If you have a large budget, the sky is the limit. Get on Google and go crazy. There are some beautiful and/or extravagant options that will leave your guests in awe. Try Etsy or an event planning service.
If you have a small budget, Amazon or DIY projects are probably your best options, if you don't choose to just omit the favors or do a little thank you card at each seat instead.
2. Time
If you have a budget that allows, order your favors to save yourself time and energy. 
If you are doing a DIY favor, think about picking something that can be done far ahead of the wedding itself, instead of the week of. If the contents are perishable, it will be a bit more challenging.
A friend made s'mores favors for their wedding guests. It was adorable, but they had to do it the night before the wedding to keep the contents fresh and intact. There were so many left behind at the wedding, but my first grade students and a few other lucky classes ended up getting them as treats the following Monday.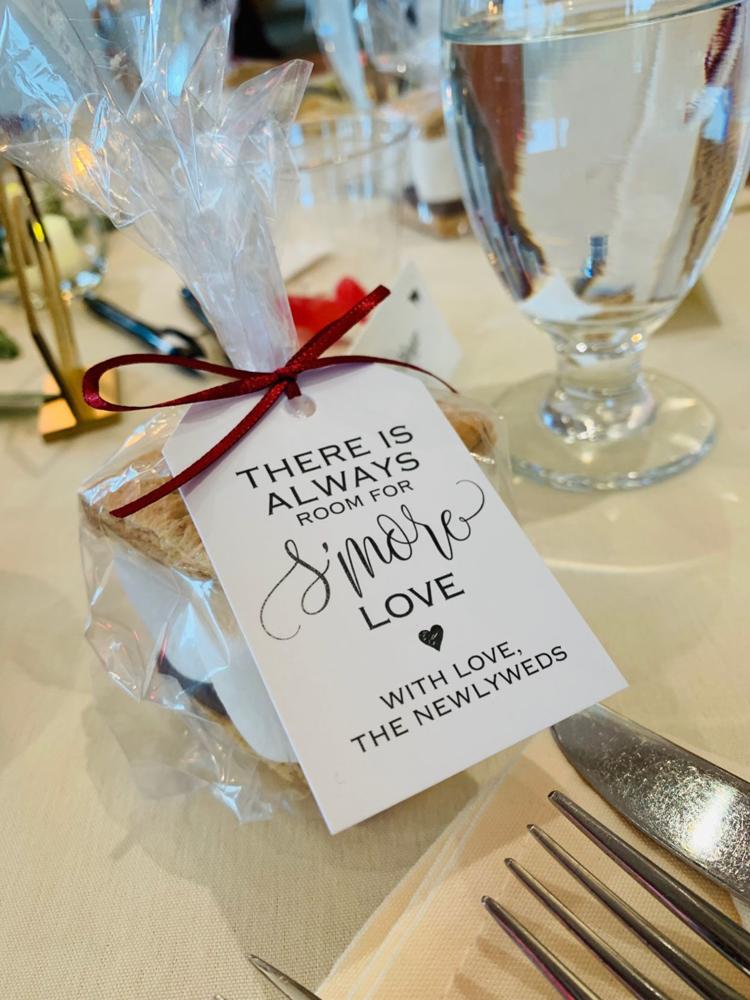 3. Guest count
If you have a big guest list, think simple no matter what your budget. If you have a more intimate affair, you can make it as personalized as you wish. It's really all about your style!
So here I am, five months out from the big day. My Southern heart will not allow me to forgo a favor, but my plans on what to give have changed greatly.
I wish you luck in this battle. And if you're looking for a "favor bouncer" to make sure your gifts aren't left behind on your big day, I volunteer as tribute.