Adventure is out there, and boy, do I know how to find it.
My bride squad and I have just returned from five days in the Sunshine State. We experienced the happiest place on Earth arm-in-arm, preparing me for my own happily ever after. To say it was meaningful and memorable is an understatement. It was practically perfect in every way.
When I started planning my bachelorette party, Disney seemed like a perfect option. I knew it would be pricey and a bit challenging to make it a reality, but that didn't stop my pursuit of the magic.
Wednesday
We arrived in Orlando to find our room had been upgraded at Disney's Art of Animation Resort. We settled into our "Cars"-themed suite then jaunted off to  Magic Kingdom.
Skipping down Main Street, U.S.A., we marveled at the magic that surrounded us: balloons, music, characters, tasty treats, and the majestic purple glow of Cinderella Castle.
Since we were there later in the evening, crowds were sparse, and we were able to ride three rides in less than an hour.
We did some late-night snacking at Pecos Bill Tall Tale Inn & Café in Frontierland, including a strawberry lemonade slushie that was life-changing.
With slushies in-hand and Disney joy exuding from our every pore, we headed back to the hotel to meet up with the last arriving member of the bride squad. It was as if we were at a third-grade slumber party with no rules and no cares.
Thursday
With the sun already beaming down on us at 8 a.m., we realized our time in matching monogrammed sweatshirts would be short-lived.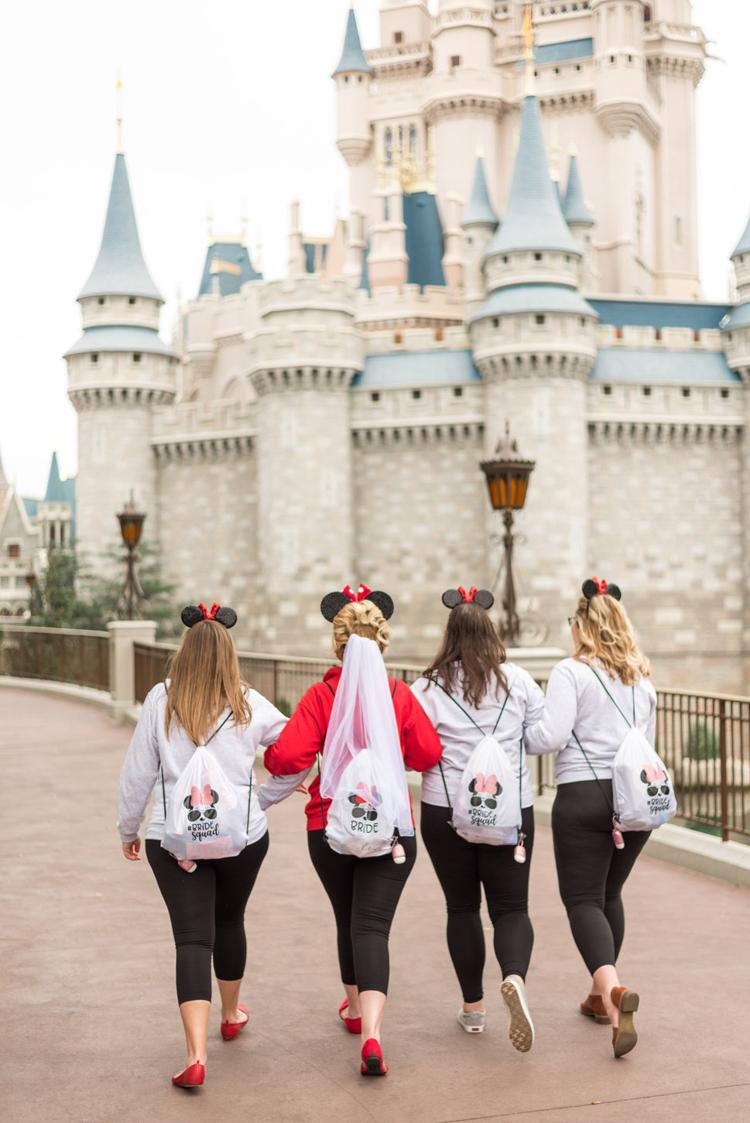 The lovely Jennifer Pierce, an Orlando photographer, met us at the Main Street Confectionery in Magic Kingdom to snap a few photos as we played around the park, to preserve our fairy tale for years to come.
The park was quiet and pristine, like something out of a storybook, but we took the castle by storm, jumping around in our sequinned Minnie ears, turning our "fake photography laughter" into true, wholehearted belly laughs. We waved goodbye to Jennifer as the clock struck 10 a.m.
After a quick costume change, we were ready to brave the Florida heat and catch a ride on the Jungle Cruise. Big kids with Dole Whips in hand, we explored Adventureland then made a quick stop in Liberty Square at The Haunted Mansion to hang out with the ghosts .
In Fantasyland, we cozied up to Gaston, who is just as handsome and brutish as you'd imagine. We grabbed sweet treats at the beautiful, turn-of-the-century-style Plaza Ice Cream Parlor on Main Street. "Bicycle Built For Two" played as we devoured vanilla and chocolate delights.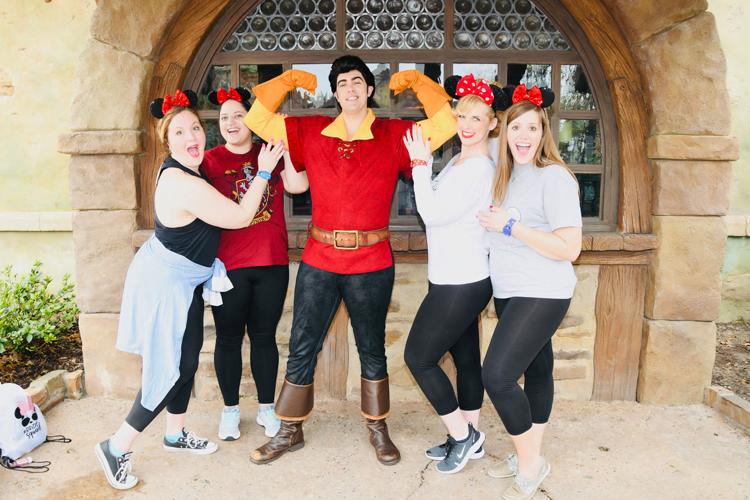 With our feet needing a break, back to the hotel we flew. Clad in our red suits — not planned, yet Nebraska strong — we took in the sunny rays and southern breeze. Recharged, we strolled back to Magic Kingdom.
After losing my veil on Space Mountain (#TRUTH), we dashed off to our reservations at Tony's (based on "Lady and the Tramp") and filled our bellies and our souls with Italian delights.
Back on Main Street, the crowd for the Happily Ever After fireworks show was overflowing, so we enjoyed the music and fireworks, but were unable to see the light show magic on the castle.
After 22,000 steps that day, sweet dreams awaited us.
Friday
Disney's Hollywood Studios, Animal Kingdom
Apparently, winter arrived in Florida overnight. Even with sweatshirts, the cold chilled us to the bone, blowing right through our coordinating rose gold outfits.
Hollywood Studios was already booming when we arrived at 8:30 a.m. This park houses the new Star Wars: Rise of the Resistance ride and reaches capacity quite early in the day.
We set off for Toy Story Land; the movie has always been near and dear to my heart. Sentimental to a fault, I just had to meet my favorite deputy.
We queued up in Sheriff Woody's character line and made a new gal pal from Colorado (we Midwesterners just seem to make friends wherever we go). She graciously captured the moments of my bride squad and me with our childhood heroes. My face in each and every photo reveals the true magic of Disney and how we never really grow up.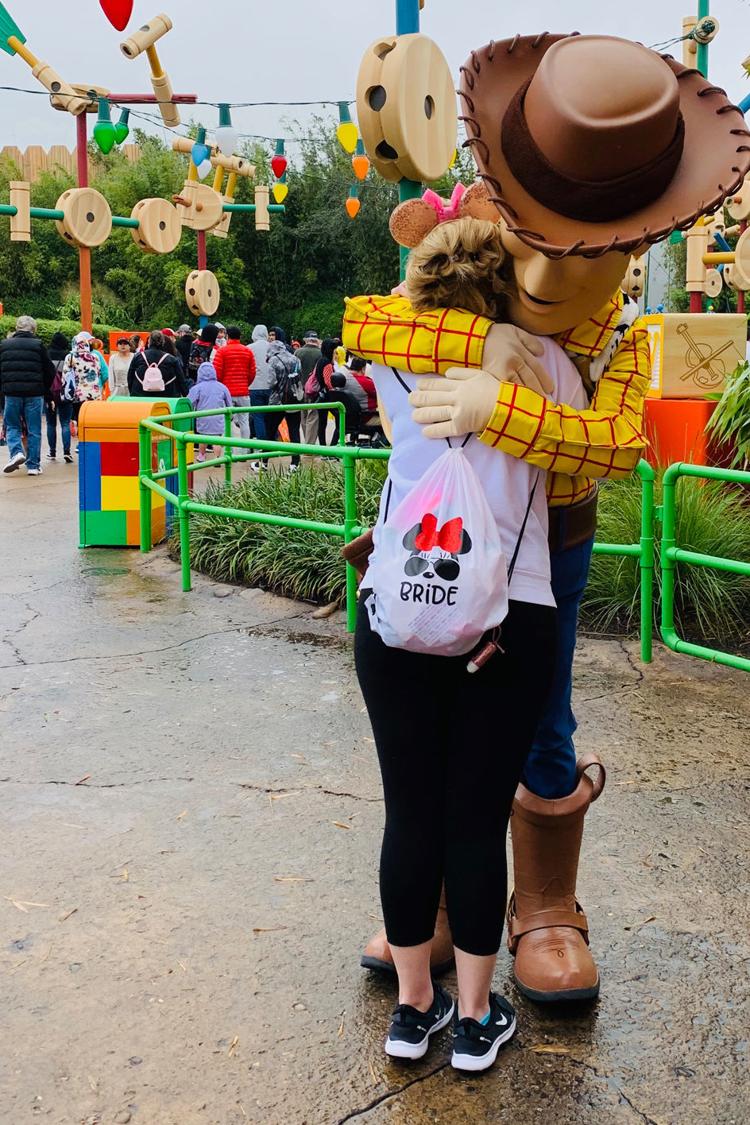 We grabbed shots of espresso at the Trolley Car Café and shopped for souvenirs on the main drag. The stores were filled with all things Star Wars and Pixar. My friend Sidney donned a Jedi robe and light saber, fulfilling her own childhood dreams. She continued her ride on Cloud 9 as we met Chewbacca, BB-8 and Darth Vader.
Cold to the core, we opted to have an afternoon warming up in the hotel room with snacks and naps.
By nightfall, we were on our own wild adventure at Animal Kingdom. Dinner at Pizzafari and the illumination of the famous Tree of Life were the highlights of this park. As Nebraskans, we are so spoiled with our own Henry Doorly Zoo that Animal Kingdom really reminded me of home.
Saturday
A day of sunshine and good vibes. Warm weather had returned, and we caught the monorail over to Disney's Contemporary Resort for our character breakfast at Chef Mickey.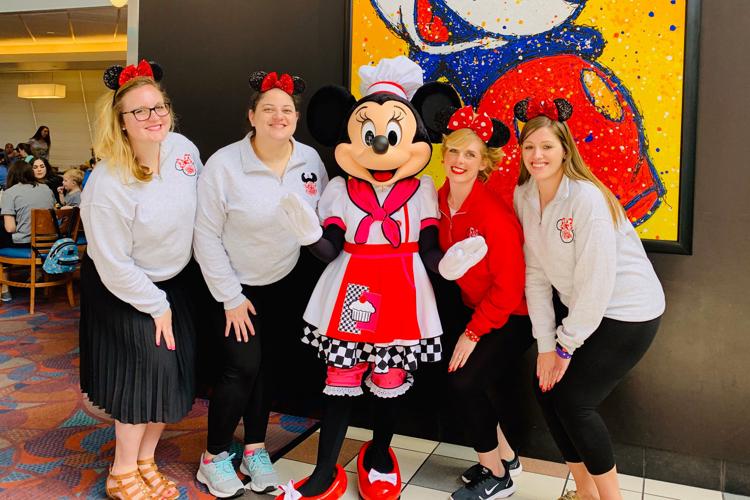 Alongside whipped cream, chocolate chips, syrup, sprinkles, cherries and Mickey-shaped waffles, we mingled with Pluto, Donald, Minnie, Goofy and Mickey. A delicious and delightful morning together.
After breakfast, our travels began at Epcot. We spent the day traveling from country to country, experiencing the culture, music, art and food of various regions of the world, and "partying like a princess."
Anna and Elsa liked my "ice" (#diamondring); Mulan told us that Mushu was up to something again; Snow White whistled us a happy tune; Aurora wished us pleasant dreams; Belle wanted us to get lost in a book; and Jasmine told us that Aladdin's cooking was tough to stomach (#familiar).
We ended our Epcot day on Soarin', my absolute favorite ride. You feel the wind, smell the sea, interact with nature, and dangle your feet in the clouds through it all.
We then hightailed it back to Magic Kingdom, to grab one last scoop of ice cream and get better seats for that evening's Happily Ever After show.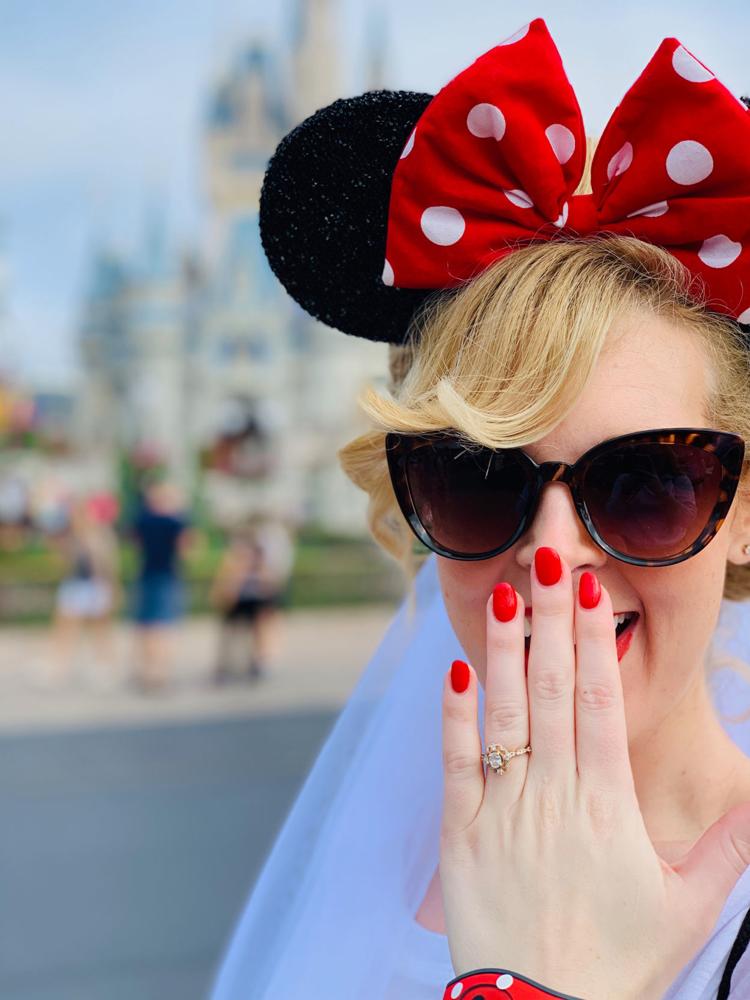 Those moments in the glow of the castle, ice cream in hand, surrounded by my nearest and dearest will always be favorite memories of our grand adventure.
The next morning, our trip ended poolside with my last tale before the veil.
To see this trip come to fruition was such a humbling experience. These girls have been my everything on the long, winding road to finding my very own Prince Charming.
Now, this future bride is ready for her happily ever after. What a fairy-tale life! And this trip will always be one of my favorite chapters.
Photos: Midwest Magnolia's Disney bachelorette trip
Wedding Essentials bride blogger Lauren Brandt, AKA The Midwest Magnolia, and her bride squad jetted off to the happiest place on Earth on a bachelorette weekend.