I'm not your Pinterest-perfect bride.
I'll admit to dusting off the dormant old account to look for inspiration, but I'm not tackling any DIY projects.
Still, I wanted to find a cute way to ask my bridesmaids to be part of the big day.
All three of them knew I would be asking, but the gesture seemed like fun.
I saw boxes full of goodies, personalized champagne flutes, cards and puzzles, jewelry and hair ties. But none of that seemed spot on for my future 'maids — Katherine, Kristen and Rachel.
Then I stumbled upon the perfect way to ask: enamel pins.
Between the four of us, we easily have more than 100 pins. The pins depicting popular characters, food, pets and emojis dot our jean jackets, bags and scarves.
I lucked into a pin that says "Maid of Honor" and two others that say "Bridesmaid" from LottieShoppe on Etsy.
I paired them with mini bottles of champagne and white stemless flutes from my favorite water bottle manufacturer, Corkcicle.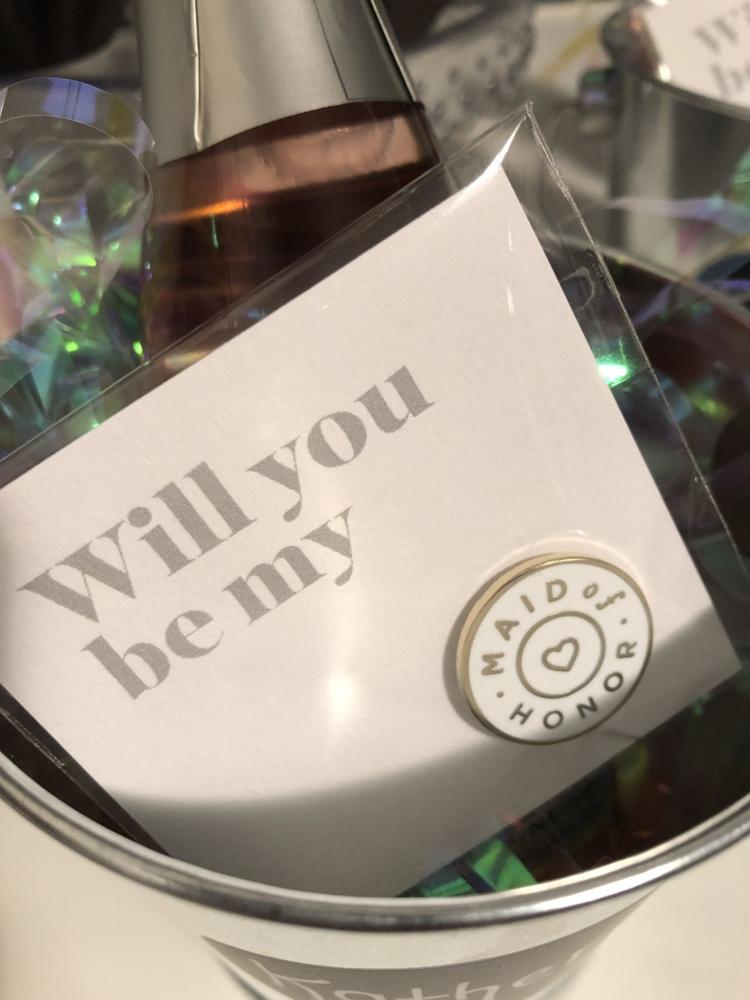 And, because I can't be stopped when it comes to creative gift wrapping, I tucked them into little silver buckets stuffed with shiny filler to look like ice.
They all said yes. (Thanks, ladies!)
I liked giving them each a personal and practical token of my appreciation. My fiancé, on the other hand, opted for simplicity.
He put his three groomsmen on a group text and asked if they'd be in the wedding. "It's OK if you say no," he added. Oh, and there might have been a line in there saying I was "nagging" him to get this squared away.
David's straightforward ask worked, too. They all agreed. 
It's a huge relief to have our wedding party — including ushers, special helpers, a flower girl and ring bearer — all on board for the big day.