Yes, cars are grimy, and furnaces have been working overtime in this abundantly cold and snowy winter.
But for those who seek out winter's landscape — people like Tod Smith, Lisa Hacker Nelson and Eli Hassler — the season affords gifts that can't be found in any other season.
Serenity. Simplicity. Silence.
"Winter can seem bleak at times, but it is one of my favorite times of year," said Hassler, who heads outside with his camera any chance he gets. Snow has a way of muffling sound that makes the outdoors especially peaceful, he said.
"There's kind of a hush on everything," Hassler said.
Hassler, a passionate hobbyist photographer, said the winter landscape is special.
"The snow and ice transforms what looks familiar to us," he said. "You can focus on different details — the way the snow lays across the landscape, the way it clings to the branches. Things you normally don't see."
Smith, a Council Bluffs resident, snowshoes on the trails at Lewis & Clark Monument in Council Bluffs. The steep ravines of the park provide shelter from winter's wind.
"It's hilly up there, and when it's windy out, you don't even feel the wind," he said. "You feel like you're in a different country when you're up in the valleys."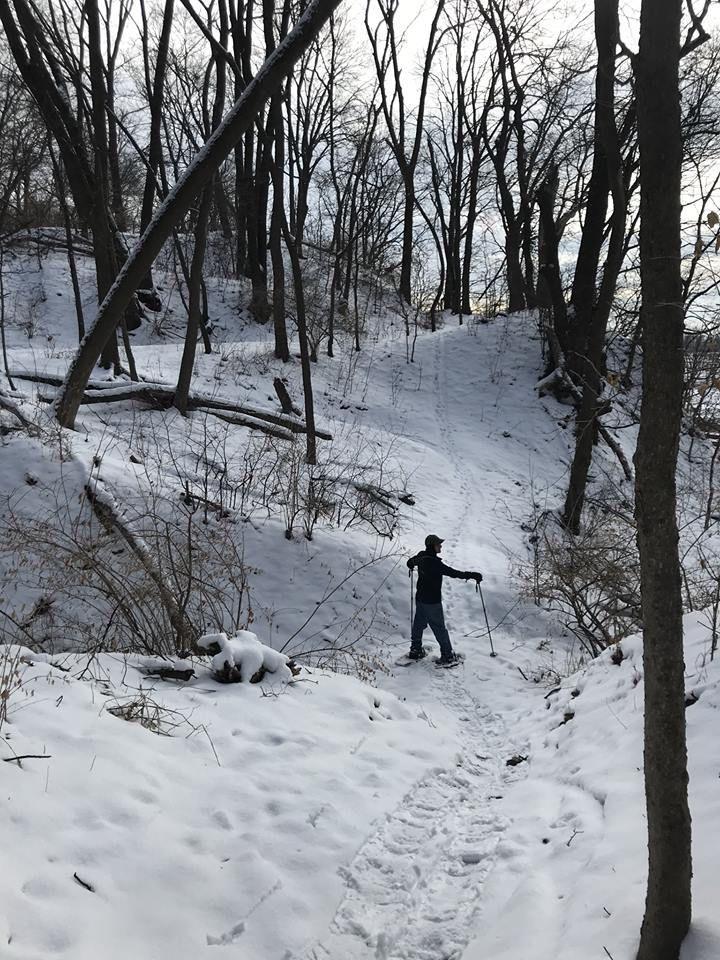 On Sunday, Smith and a group of friends, including Hacker Nelson, headed to Neale Woods for a change.
"The snow was great, weather was about perfect for the sweat we worked up," Hacker Nelson said. The group trouped through about 8 inches of snow and gained about 850 feet of elevation during their hike in the hilly park. Hacker Nelson said outings like Sunday's have made this winter more enjoyable.
"The fresh air is good for the soul," she said.
Omaha's golf courses are popular venues for cross-country skiing.
Elmwood Park Golf Course is a perennial draw. It offers a wide, hilly expanse. For those seeking a more gentle landscape, the cross-country skiing also is good at the Miller Park Golf Course in north Omaha.
It's been a long winter, for sure. The first snow arrived in October — one of the earliest starts to snow season on record. And since the start of January, the region has seen triple its normal snowfall.
The key, say those who head outdoors in the winter, is to bundle up and get out. Like-minded friends help.
"Just get out and do it," Smith said. "It will change your whole attitude."
Once you start moving, you won't notice the cold, Hassler said.
"After you've been cooped up indoors for days at a time, it's refreshing to get out," Hassler said. "And once you get out, you get over your apprehension about the cold. It's worth it every time I get out."