As if Nebraska's supercharged weather hasn't thrown the state enough curveballs over the past year, now comes something completely out of left field.
A river full of ice balls.
Jeni Kellum of Page, Nebraska, discovered the phenomenon on Dec. 31 while she was out for a drive with her husband and kids.
The photo that she posted to a Facebook group called "Nebraska through the lens" was shared more than 3,000 times as it captured the imagination of the group's followers.
"Super cool … pun intended," "Nature is amazing," followers responded.
Ice balls are a rare phenomenon, and many regional and national river experts have never seen them. Some were even skeptical of the photo. But Dennis Schueth, general manager of the Upper Elkhorn River Natural Resources District, drove out to the Elkhorn and saw a few.
Sign up for World-Herald news alerts
Be the first to know when news happens. Get the latest breaking headlines sent straight to your inbox.
Kellum said a solid mass of ice balls remained on both sides of the 867th Road bridge between Inman and Page (about 8 miles south of O'Neill). That's the only place along the river where she's seen them.
Initially, the ice balls grew in size over several days — some reached the size of cantaloupes, she said. Then they began to shrink. A layer of water has settled over them and frozen them solid, she said. In some places they're covered in a dusting of snow.
Jason Lambrecht, assistant director of the U.S. Geological Survey's Nebraska Water Science Center, said only one USGS water technician had ever seen them in Nebraska, on the Verdigre Creek, probably a couple of decades ago.
But as Kellum's photo shows, ice balls do happen in Nebraska. And Kellum and at least one other person say they saw ice balls piled up following the catastrophic March bomb cyclone. She saw them on the edge of a flooded cornfield near Page, and Mike Petersen said he saw piles of them along the Minnechaduza Creek a mile west of Valentine.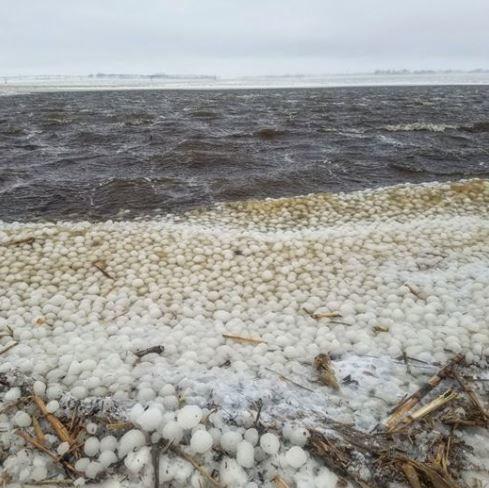 The key to forming ice balls is a combination of the right temperature and wave action, said Jessica Corman, an expert in rivers and lakes at the University of Nebraska-Lincoln School of Natural Resources. The temperature either needs to be super low, plunging or bouncing above and below freezing. On rivers, winds are critical to creating waves, she said.
Both the March storm and late December weather generated extreme winds. According to the National Weather Service, winds gusted in excess of 50 mph during the March bomb cyclone, and reached nearly 50 mph in the O'Neill area on Dec. 29, two days before Kellum saw the ice balls.
Temperatures also were fluctuating in late December, according to the weather service: generally above freezing during the day and below that at night. That meant it was cold enough for the river to begin freezing, but not so cold that it froze rapidly into slabs. The wave action would have knocked ice chunks together and rounded out the edges, Corman said.
"It's that Goldilocks sweet spot," she said.
Corman also said she suspected that high river levels were a factor. The sandy-bottomed Elkhorn has been carrying about five to seven times its normal amount of water on this stretch, according to the USGS. It's nearly bank full in the area.
"(A high river) may have had something to do with the unique conditions that led to these," she said.
Kellum said folks who drive out to the bridge this week will still be able to see the ice balls.
"They're strange, beautiful," she said. "Everyone should see them."
Photos: Major flooding hit Nebraska and Iowa towns in March 2019