The record number of holiday travelers hitting the road this week are getting an early gift this year: mild weather across the central U.S.
Bob Larson, a meteorologist for AccuWeather Inc., The World-Herald's private weather consultant, said the forecast is for "tranquil" weather in the days leading up to Christmas and relatively decent weather after the holiday.
No major storms are forecast across the central U.S., which includes just about anywhere within a day's drive of Omaha, he said.
"Does that mean we'll be 100% OK?" he said. "No, we always put an asterisk on it."
Sign up for World-Herald news alerts
Be the first to know when news happens. Get the latest breaking headlines sent straight to your inbox.
One significant potential worry, given current conditions, is fog, either on its own, or worse, freezing fog and the potential for a thin veneer of black ice. This can happen when warm, moist air from the Gulf of Mexico flows north and encounters cold conditions at the surface.
Other wintertime factors also contribute to fog formation. People should take care stepping outdoors, and travelers should check conditions if they're planning early morning departures. Drivers should be especially careful on bridges, which freeze up easier than roadways.
"I don't think we'll see anything widespread, but that's the kind of thing that can go awry," he said. For example, southeastern Kansas and much of Oklahoma were under a dense fog advisory Sunday night into Monday morning.
Thick fog and ice may have contributed to a massive pileup in Virginia on Sunday. At least 69 vehicles collided and dozens of people were injured, according to the Associated Press.
AAA estimates that 115.6 million people are traveling this holiday season, which started Saturday and runs through Jan. 1. That's the highest number since AAA began tracking holiday travel in 2000. The vast majority, an estimated 104 million, will be driving, according to AAA.
In the Omaha metro area, unseasonably warm weather is forecast the rest of the week, but no record highs are expected, Larson said. Highs all week are expected to be in the 40s and 50s; the normal high for this part of December is 33. Lows are forecast in the 20s.
Thursday into the weekend in the central U.S., there's a chance of rain or snow, according to Larson and the National Weather Service. But so far, those systems aren't looking like major outbreaks, Larson said. In Omaha, the chance for precipitation arrives Friday afternoon, based on early forecasts.
---
Photos: 1948-1949 blizzards
Aerial view of Harrison in January 1949.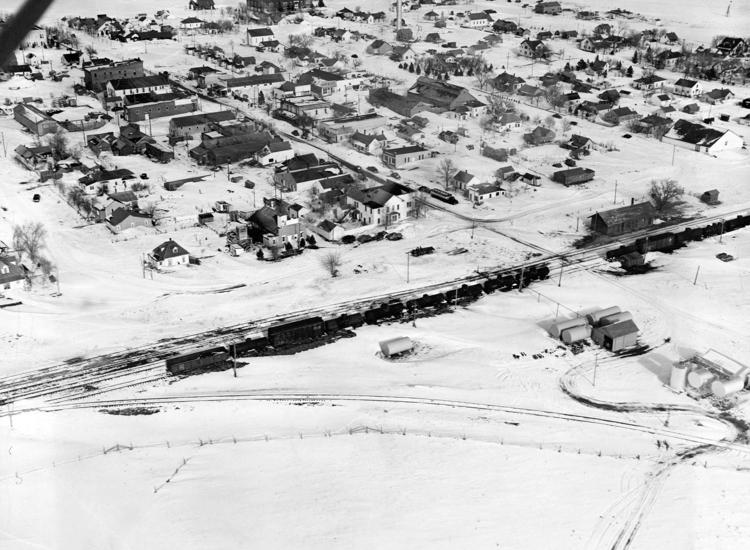 War Department inspectors look over the wreckage of a Civil Air Patrol plane which struck a high tension wire and ran into a house in Alliance while returning from a flight to deliver emergency rations and mail to snowbound ranchers. Pilot Clarence Kirkpatrick and observer John Huff died in the crash. February 9, 1949.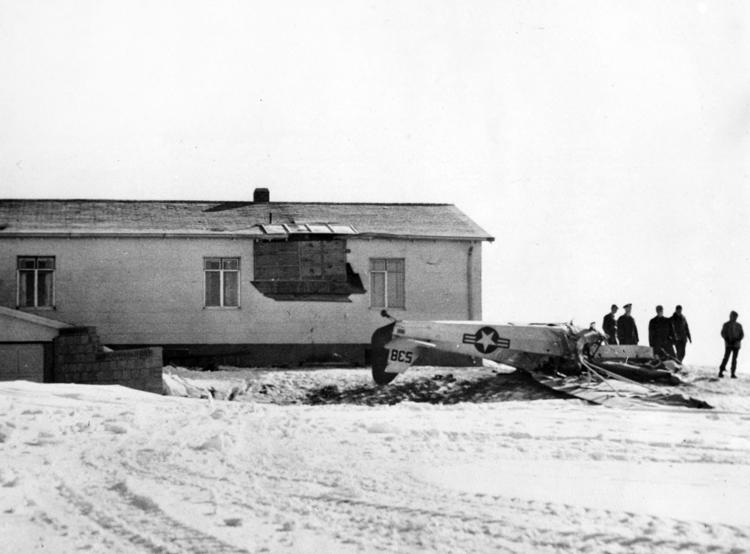 Manager Dixon K. Grassman of the Western Air Lines office at Alliance, Neb. has his finger on the keyhole which he said admitted all the snowdrift seen in the foreground. Published Feb. 8, 1949.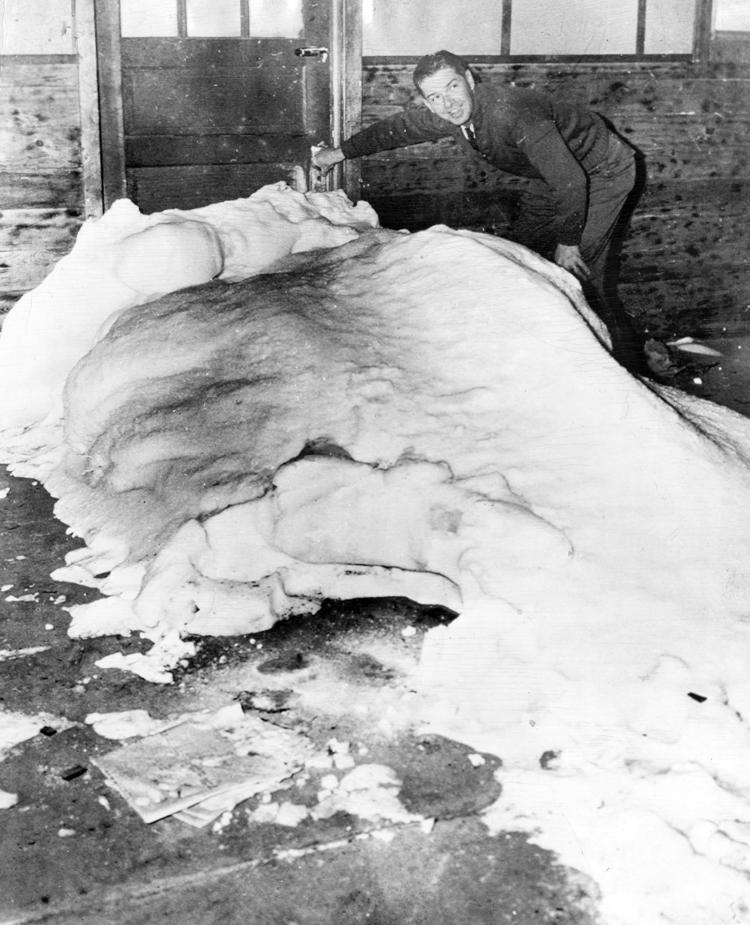 J.J. Ganney of Ashby, an agent-operator for the Burlington, stands on top a 10-foot drift talking over a portable telephone to report a cave-in to the division office.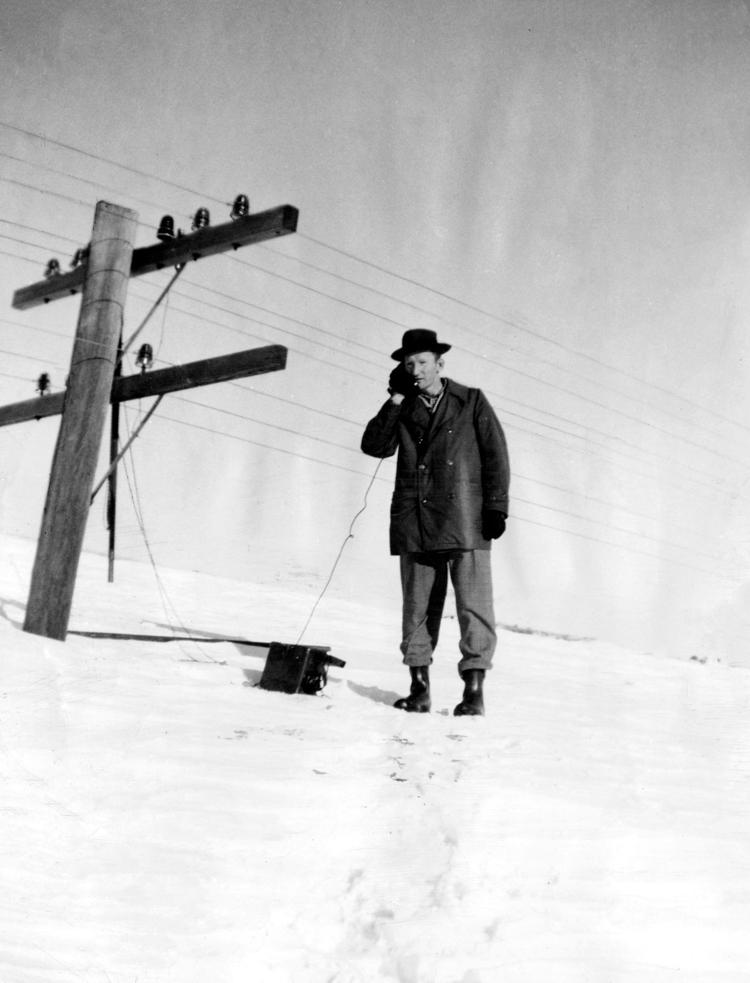 This big Army rotary snowplow actually growled as it attacked huge drifts on Highway 212, near Faith, South Dakota US Army photo. Published in February 1949.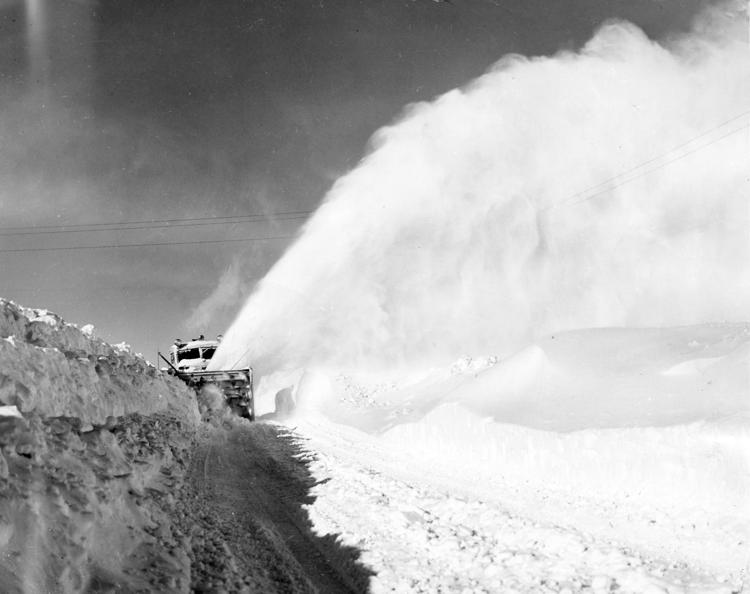 The farm home of W.H. Fisher located 12 miles north of Scotia. The drifts piled around his house completely buried the outside toilet and shed. Mr. Fisher had to cut steps down the snow pile to access the buildings. Published Feb. 15, 1949.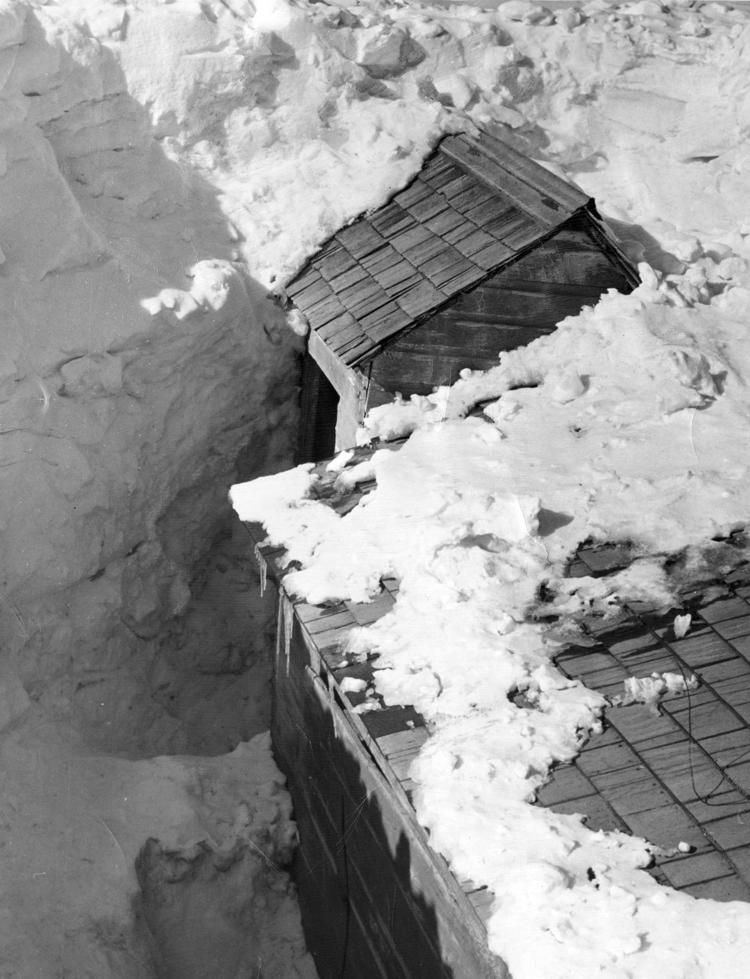 Howard Saferite, left, shakes hands with reporter John Koffend after Operation Snowbound. Saferite brought the 14 ton bulldozing tractor named Henriette from Kansas City to help with snow removal and Koffend was the reporter who followed Henriette's experiences in blizzard country. Published Feb. 20, 1949.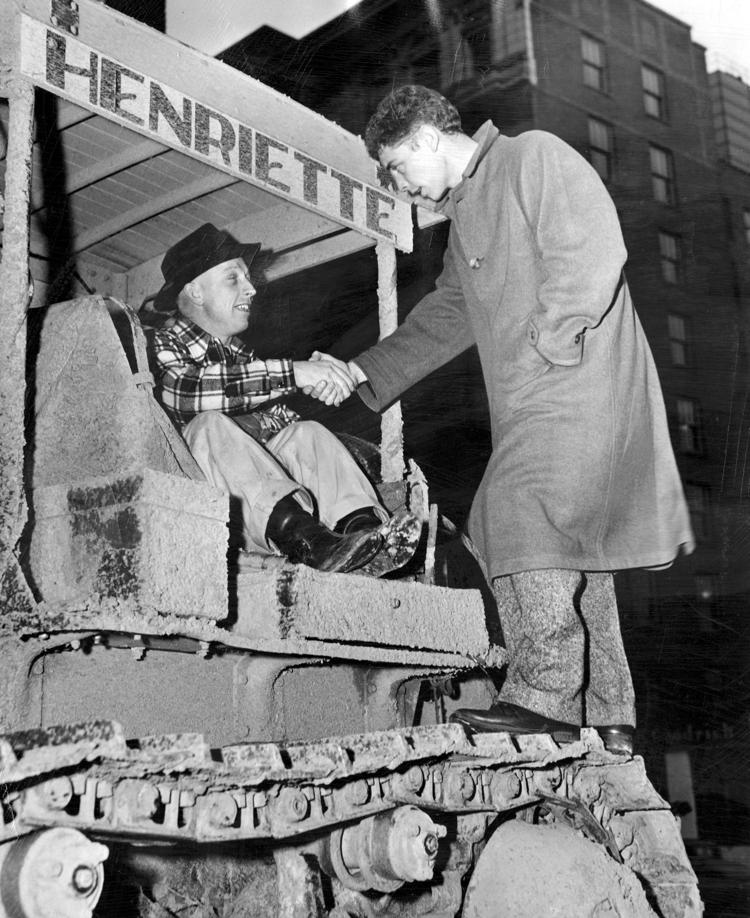 Cover of special section blizzard of 1949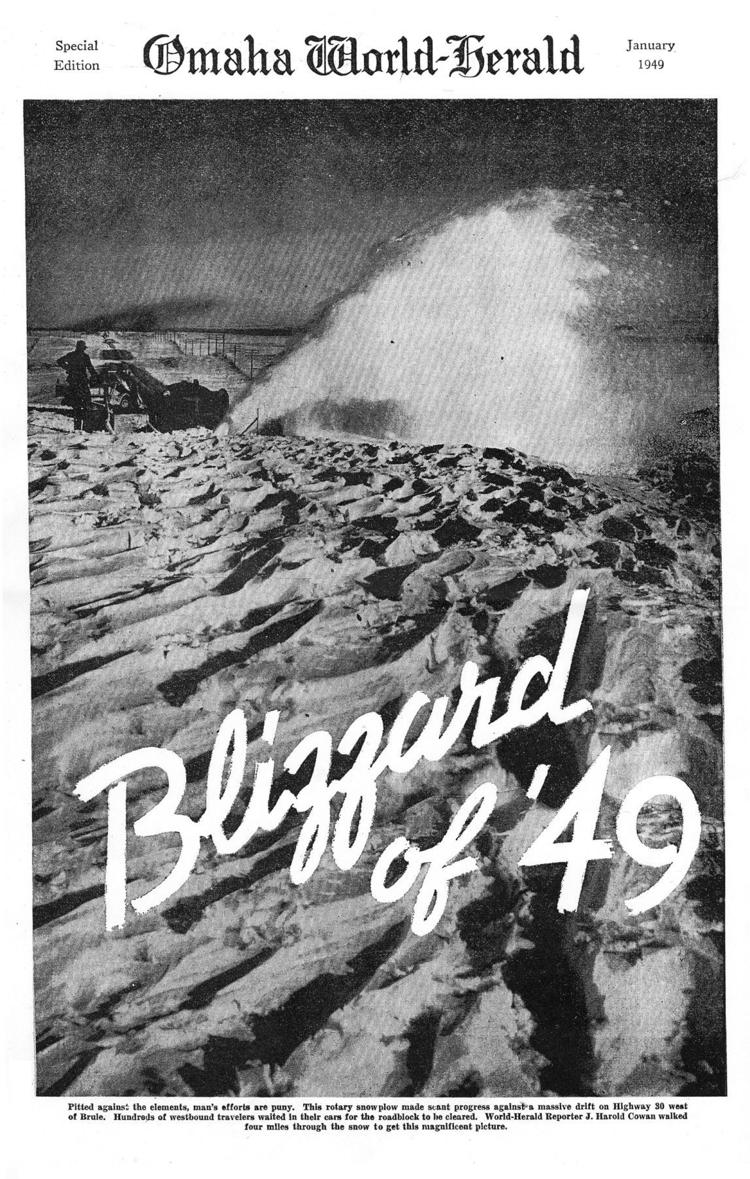 These huge drifts in Harrison were partly man-made by shovelers who cleared a path. Virginia Davis was one of the many World-Herald carriers who had no papers to deliver for several days. Published in January 1949.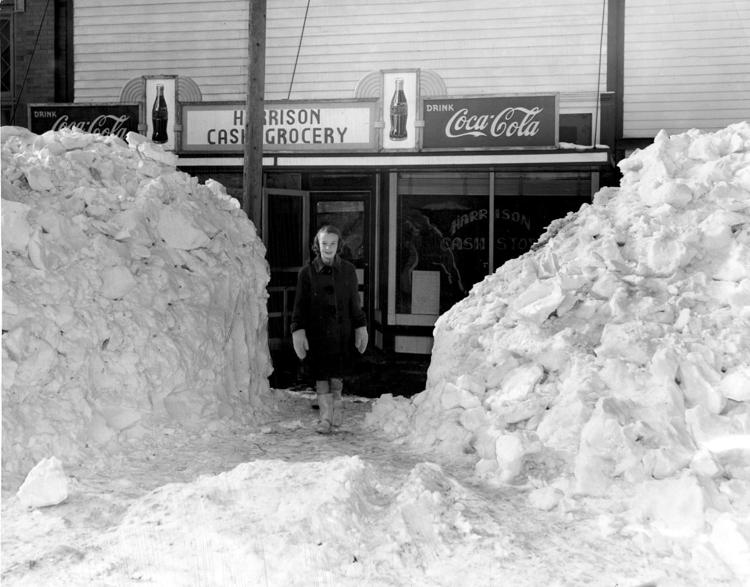 William Lamprecht, a farmer near Bloomfield, drove this herd of hogs 3 1/2 miles to market. He said there was no way to get feed out to them and no way to truck them to town. Published Feb. 6, 1949.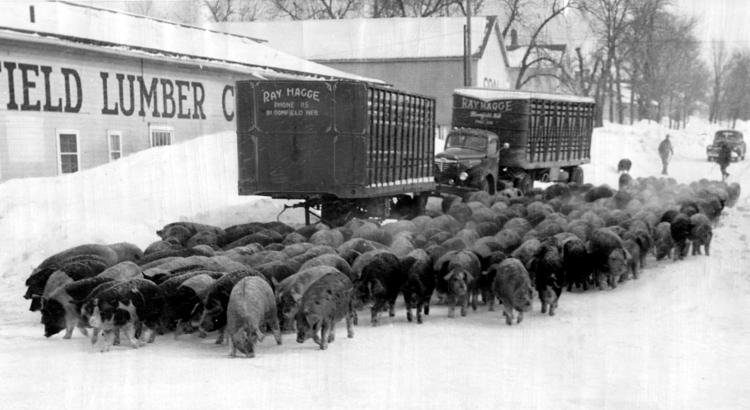 Chadron was deserted at the height of the blizzard on Jan. 4.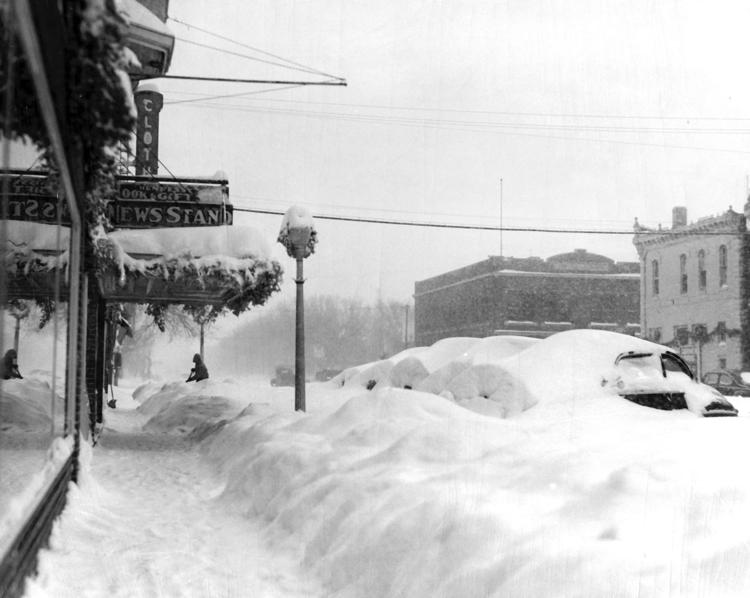 A streamliner snowbound at Kimball, Neb., in early January 1949.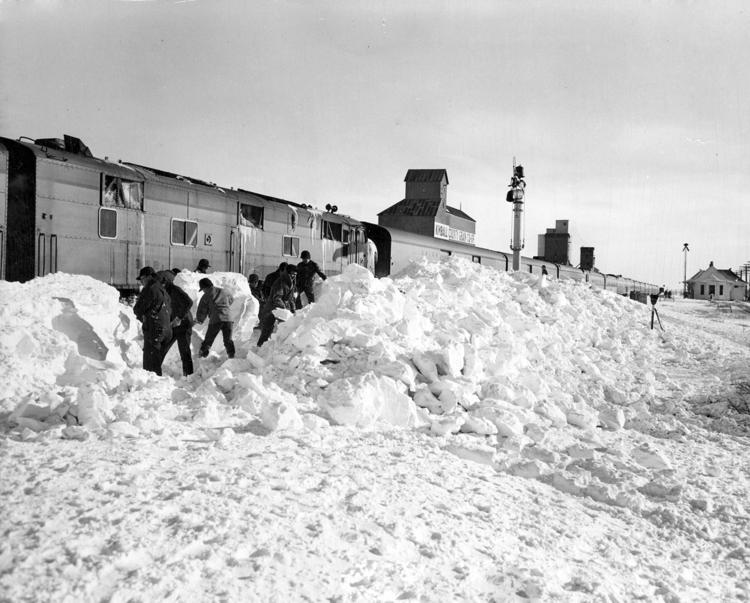 Tekamah-Oakland highway 3 1/2 miles east of Oakland. Published January 1949.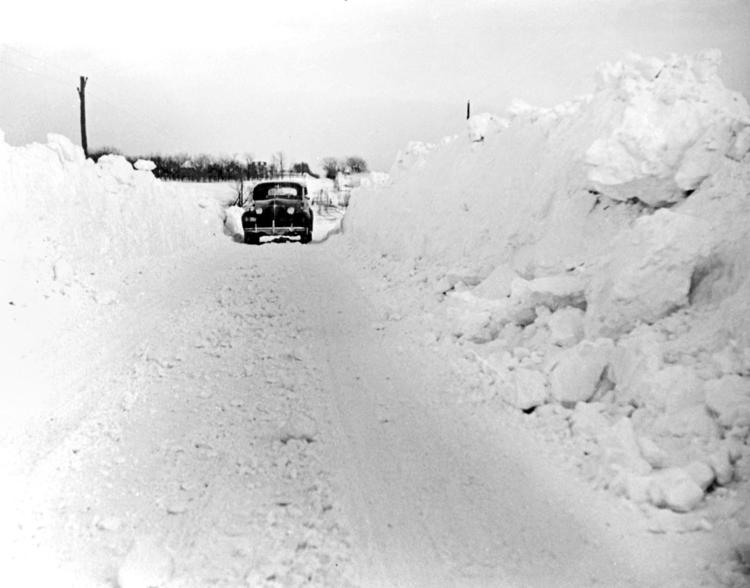 A group of weasels, with Fifth Army men driving, roll down the main street of O'Neill. The servicemen and their caterpillar treaded vehicles took food and supplies to hundreds of isolated families. Published Feb. 4, 1949.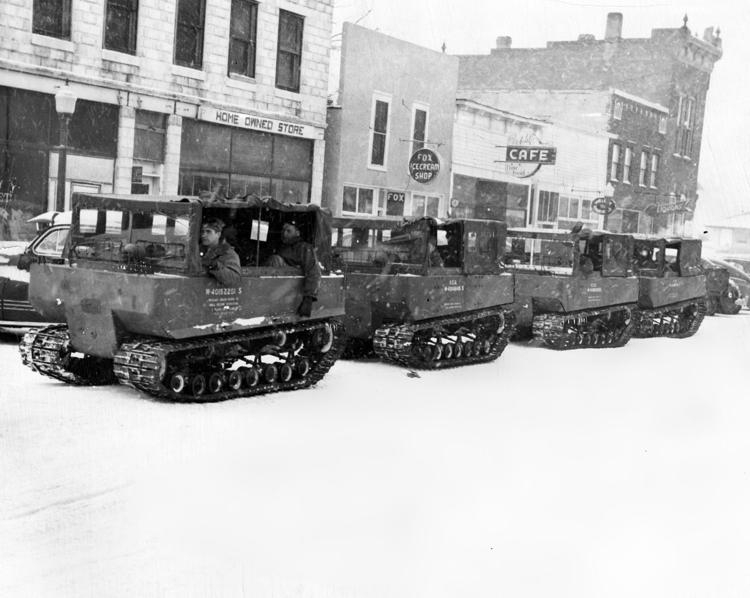 Pilot Joe M. Poland landed his plane on this hilltop to carry supplies to the stranded Harold Anderson family. Published Feb. 6, 1949.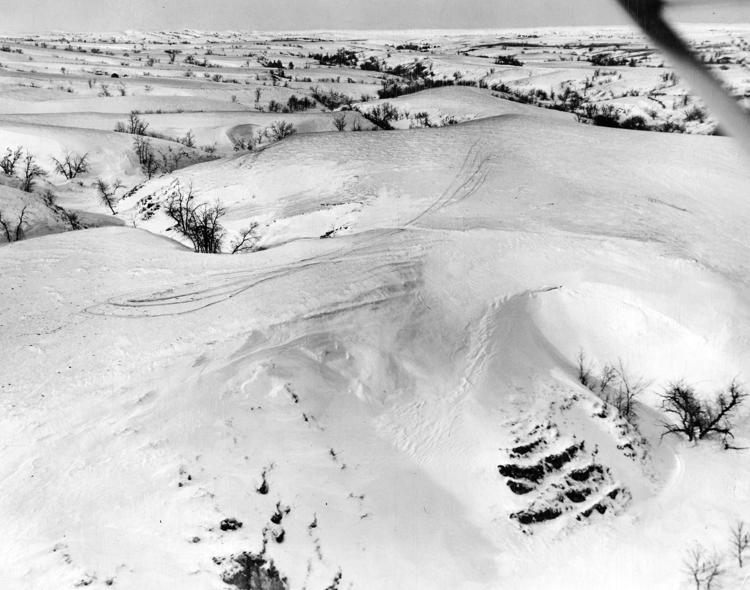 A ground crew assisted by Kearney Civil Air Patrol members load baled hay into a plane for emergency haylift in early 1949.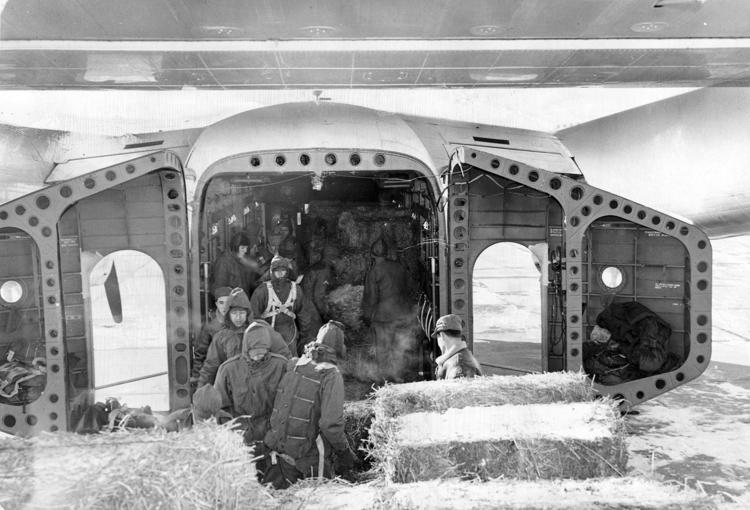 Operations tent and light planes used in rescue at at the Halley airport in Rapid City.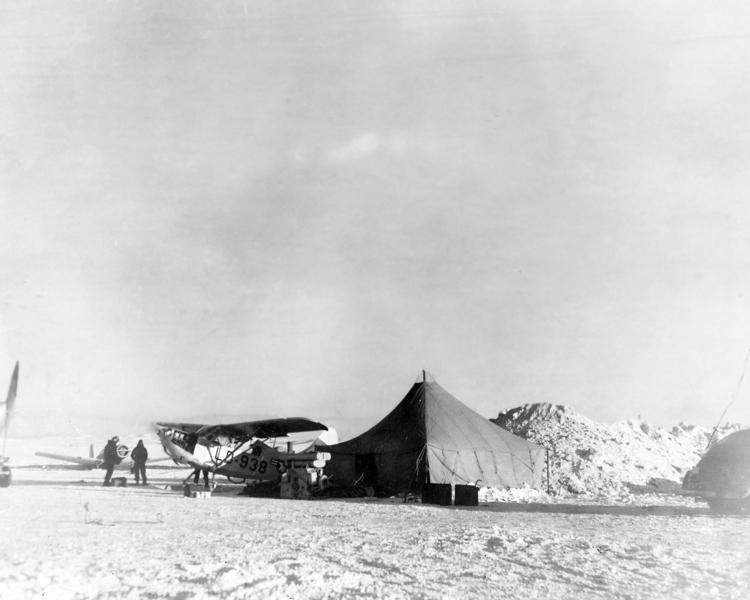 The E.F. Goransen farm, 8 miles west of Gurley, Neb. Miss Marie Goranson took the photo from the roof of the corncrib (shingles shown in foreground.) The hole dug in the drift is several feet above the ground and leads to the window of another building where coal is stored. Mr. Goranson is standing on the top of a brooder house. Only a pipe remains above the snow. Published Jan. 25, 1949.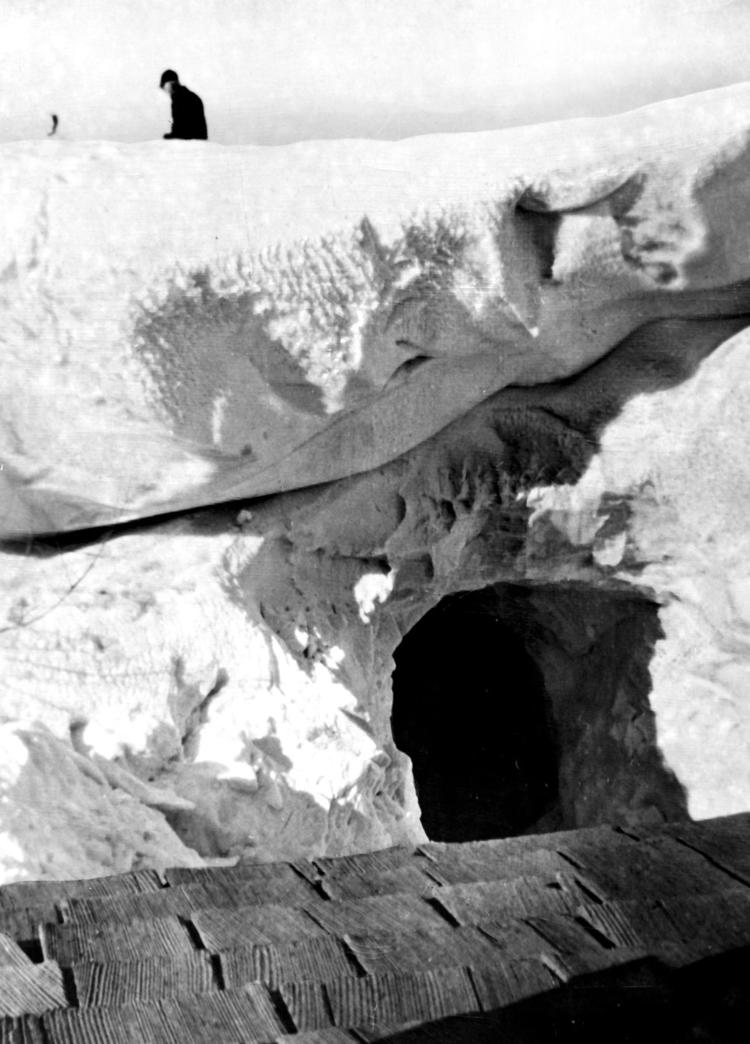 The World-Herald mailing crew trying to catch up with orders for copies of the special editions "Blizzard of '49" and "Operation Snowbound" on March 17, 1949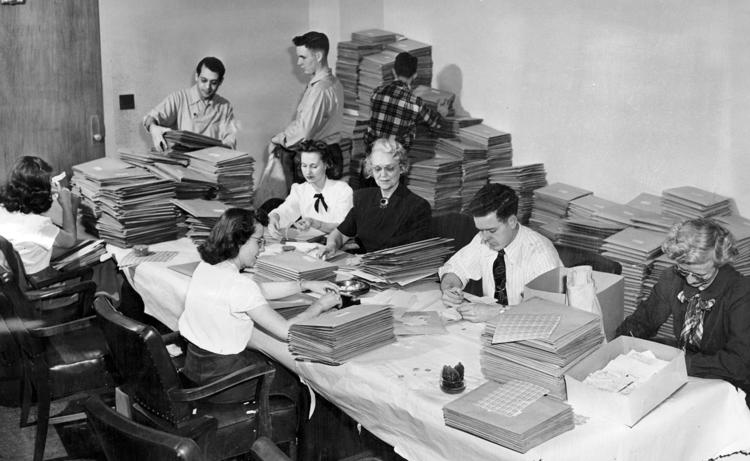 Dean Davis (left) and Red Meiners load milk into a plane at Ogallala for delivery to Grant, which had no dairy. Both men have flown many aid missions to ranches and isolated farms. Miners, manager of the Ogallala airport hauled in the body of an elderly man who died a natural death in Arthur County. Published Jan. 10, 1949.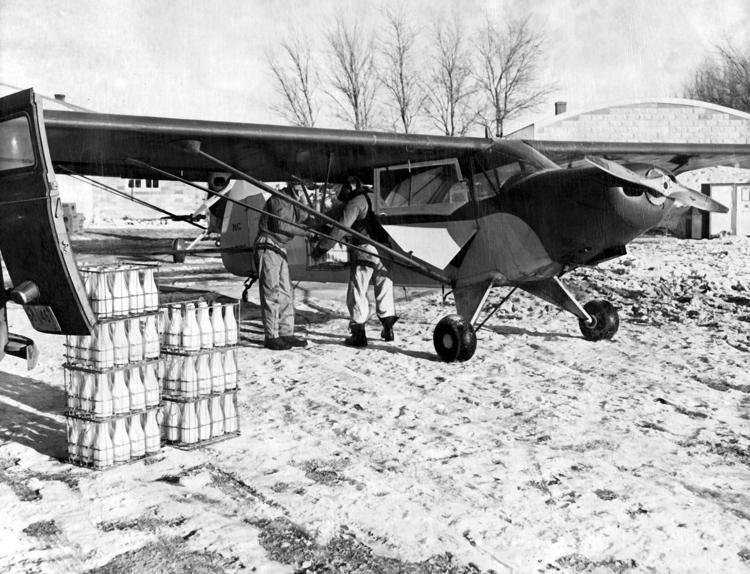 E.L. Redman, Union Pacific brakeman from Kearney, Neb. was killed in this snowplow accident seven miles east of Stapleton Tuesday. The photo shows how the wedge snowplow, after smashing into a 14-foot drift, overturned and slashed into the second engine of a doubleheader pushing the plow. It was hours before workmen could cut away the wreckage and remove Mr. Redman's body. Published in January 1949.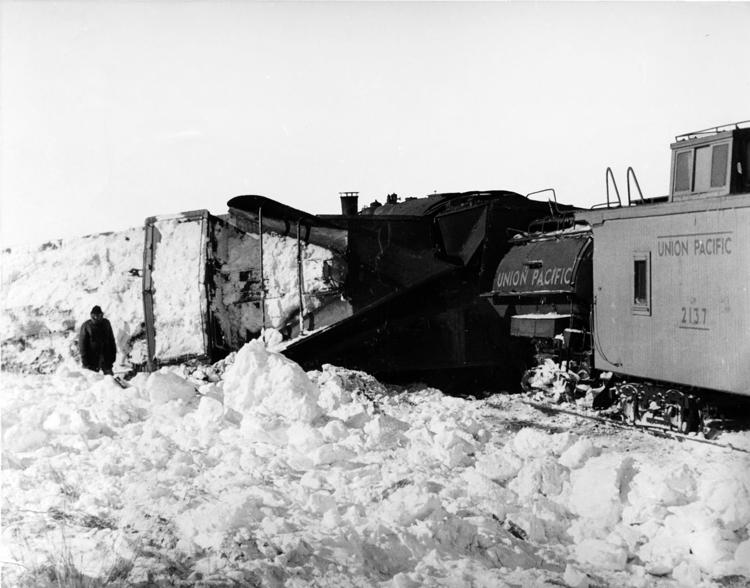 Pilot Leonard Abart of Bassett was lucky to find a landing spot among the snow-banked hills near Amy Jordan's house 35 miles south of Bassett. Published Feb. 5, 1949.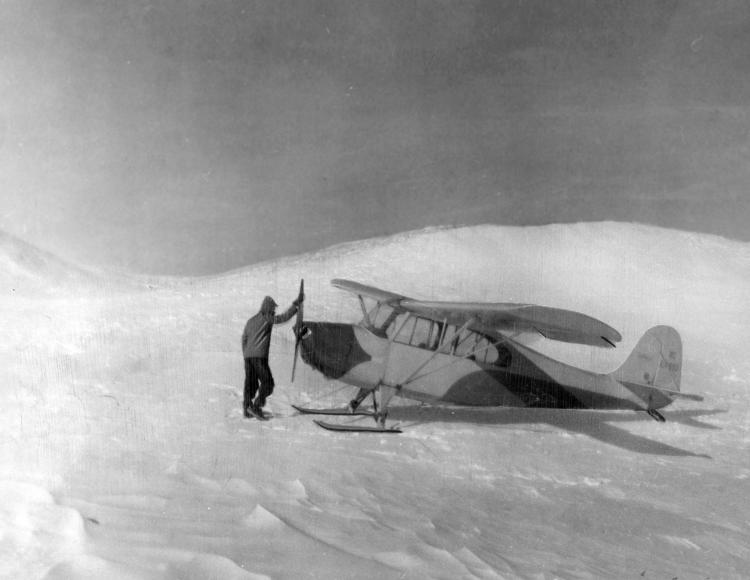 North Platte trucker N.O. Smith, left, stands by his ditched semi-trailer. He followed a fence to a house after he slid into a ditch during the blizzard. Published Jan. 8, 1949.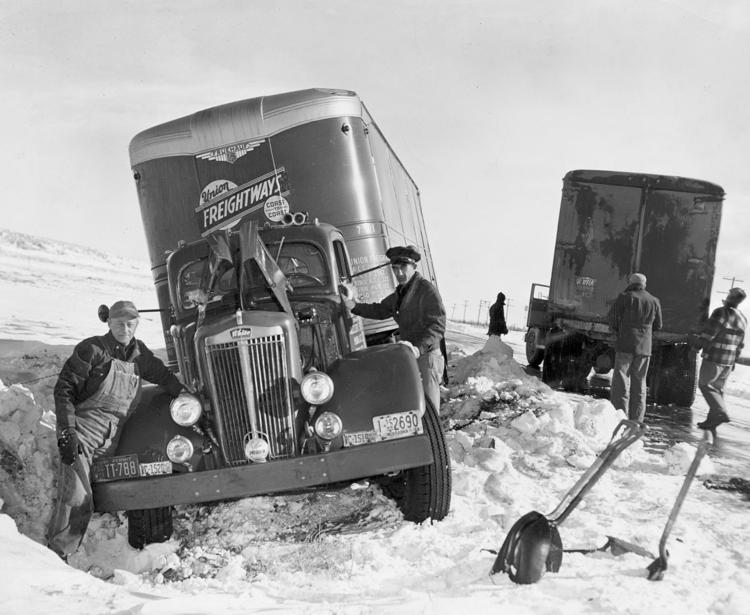 Planes line up at the Kearney airport for Operation Haylift, in which tons of hay were dropped on farms in the blizzard stricken area north and west of Kearney. Published in February 1949.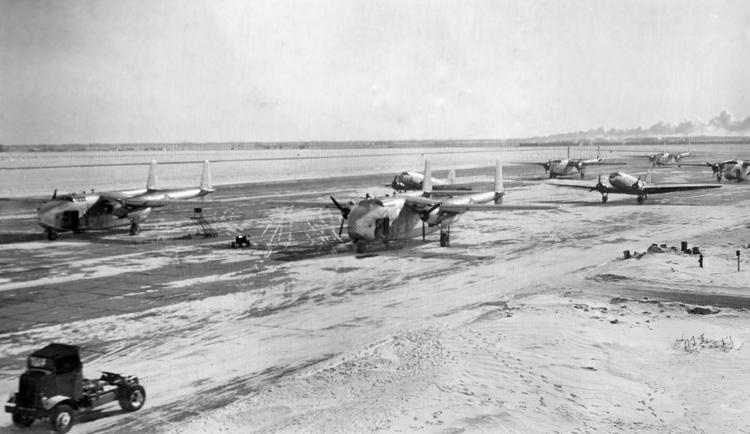 Eight flatcars of bulldozers, two per car, are headed for the storm-struck areas of Nebraska. This photo was taken at the Council Bluffs Union Pacific yard. Published Jan. 30, 1949.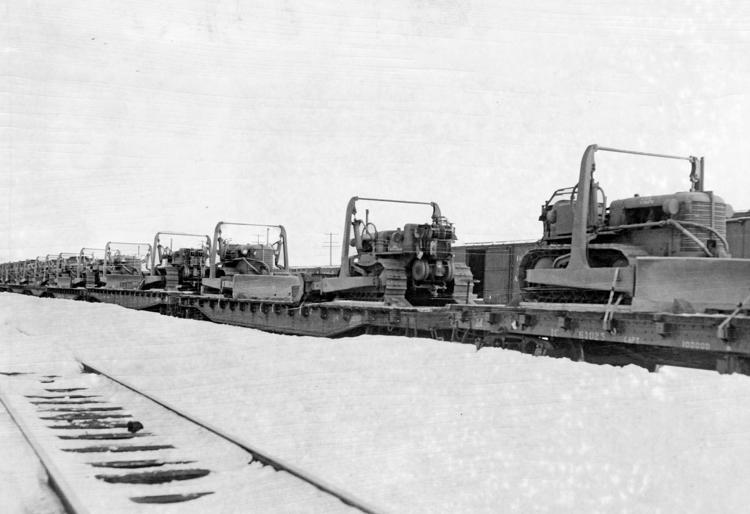 The main highway is not apparent in this photo of cars winding across the plains north of the road block on Highway 30, five miles west of Brule. Many of the cars headed west apparently got through to Big Springs by taking off through the fields for a distance of about 9 miles. Published Jan. 8, 1949.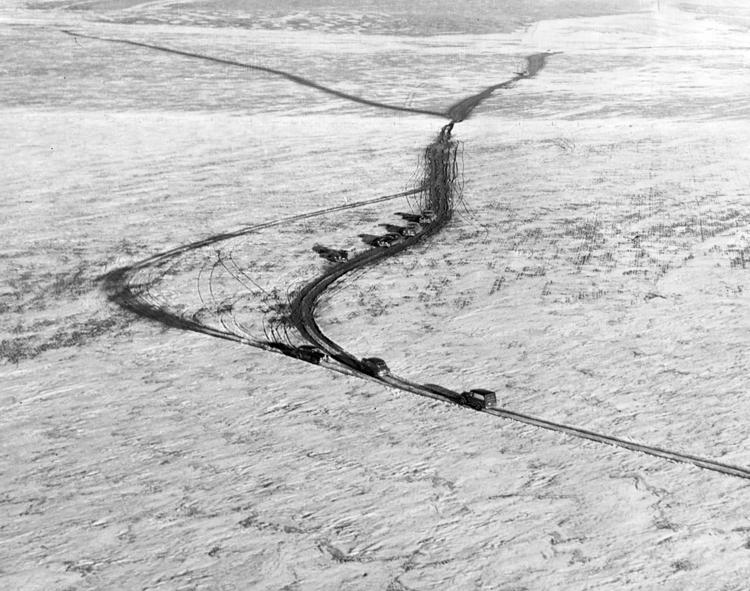 One of the planes loaded with feed for thousands of cattle. Published Jan. 31, 1949.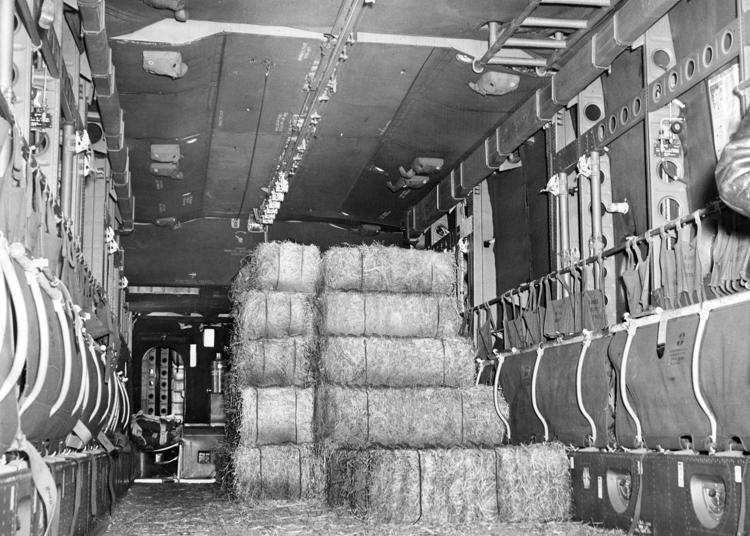 Three Army Engineer bulldozers arrive at O'Neill. Published Jan. 30, 1949.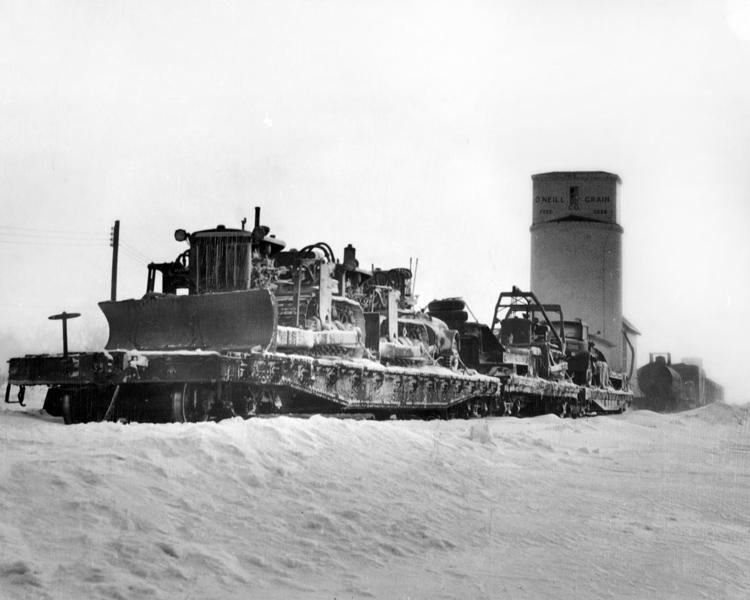 Frank Finley, left, a farmer along the weasel's mercy route, pokes his head in to study the strange vehicle. Soldier at right is Pfc. M.E. (Buck) Hardwick of Camp Carson, Colo. Published Feb. 6, 1949.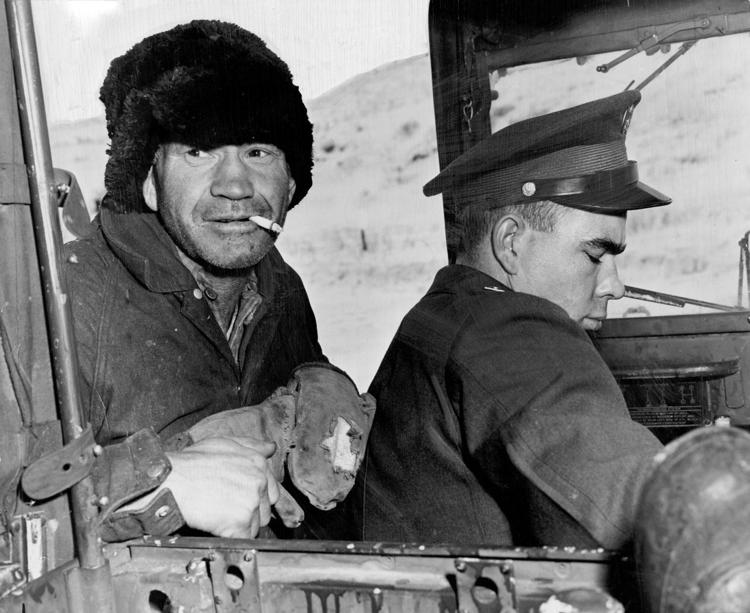 Many difficult road conditions became less hopeless after the Army bulldozers went to work. Published in February 1949.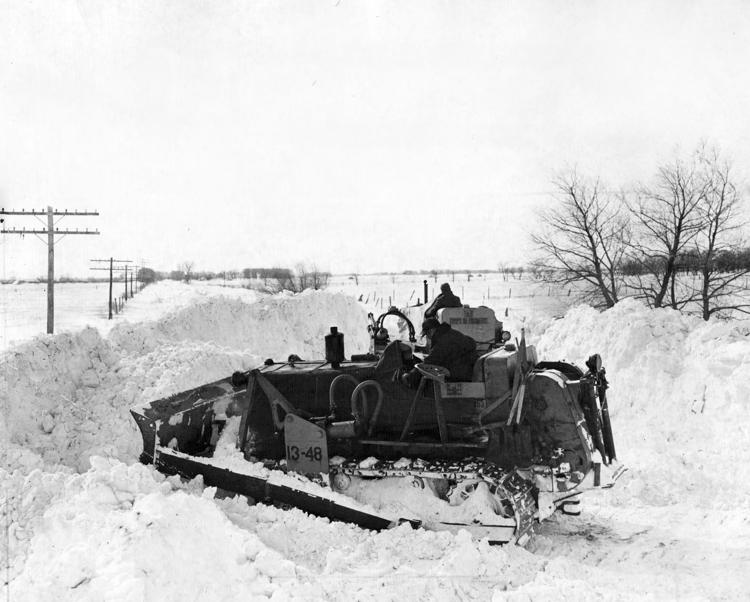 Digging out the family car at the Price ranch west of Horn. Drifts were almost 18 feet. Published Feb. 12, 1949.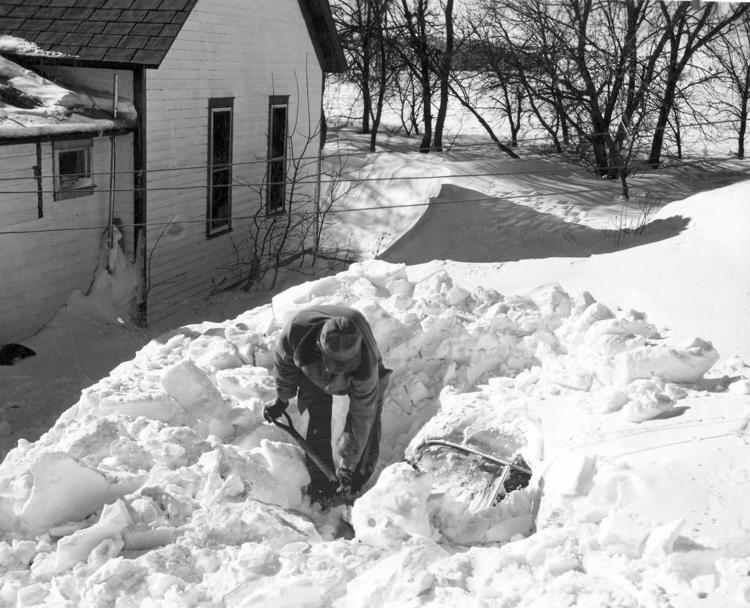 Dallas Morris, a truck driver from St. Petersburg florida thinks Iowa's winters for the birds. His truck spun off Highway 34 north of Glenwood and he spent the night in the cab waiting for snowplows to fee his truck. Published Feb. 10, 1949.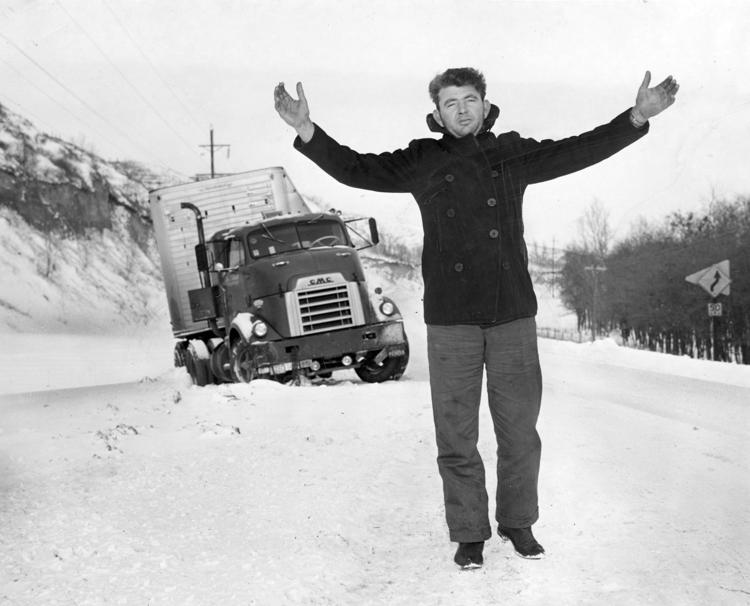 How the Martin Landis ranch 45 miles south of Burwell looked when John McWilliams of the Nebraska Flying Service flew over in a relief mission. Published Feb. 12, 1949.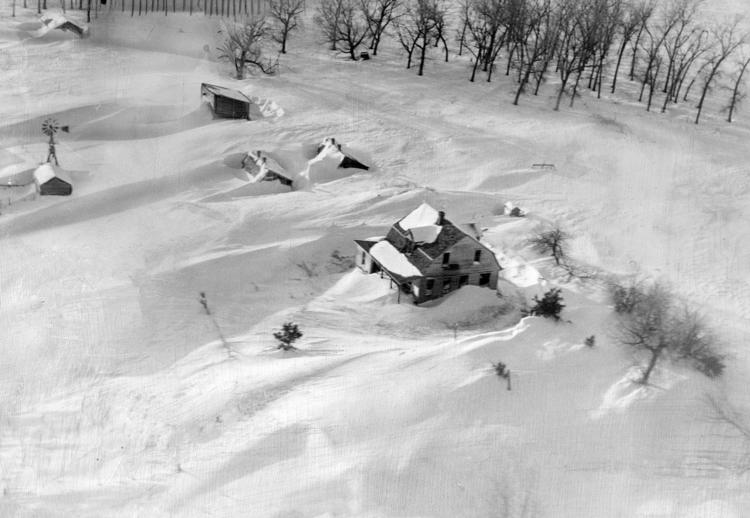 Harris Harmon (left) and Dick Tomlinson helping neighbors at 3 miles an hour in O'Neill. Published Feb. 5, 1949.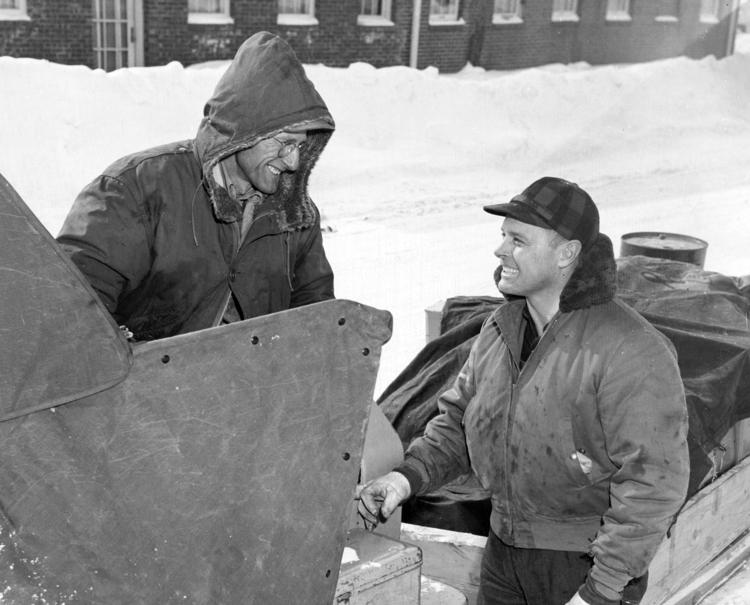 A weasel being loaded at O'Neill for shipment to Creighton, Neb. Published Feb. 5, 1949.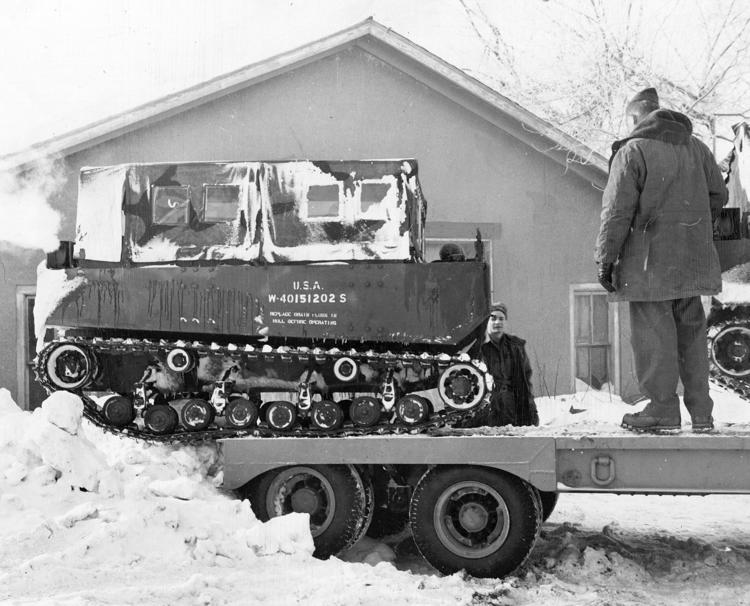 Ed Geisert had to receive medication by air drop at this farm 8 1/2 miles southeast of Ogallala on Jan. 8, 1949.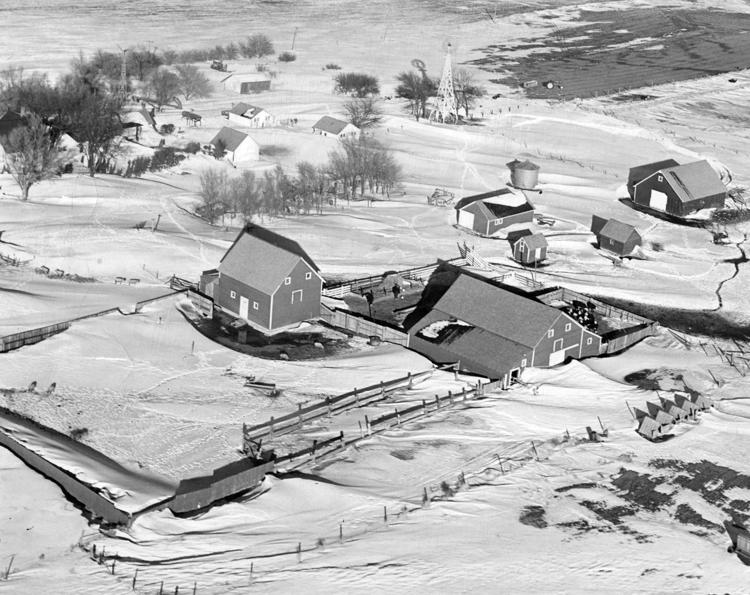 Farmer E.F. Eberly stands above the tunnel he made through 15 foot snowdrifts on his farm 2 miles southeast of Norfolk. The tunnel was 15 feet long and 7 feet high which he could walk through without stooping to get from the house to the barn to feed his livestock. Published Feb. 17, 1949.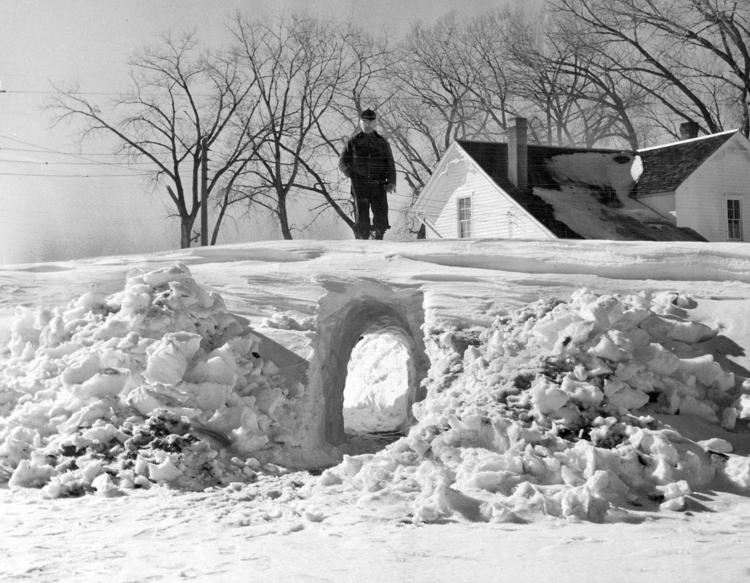 The small community about 20 miles northwest of Ainsworth became "ghost town" overnight when the residents left before the last of Nebraska's blizzards. Published Feb. 3, 1949.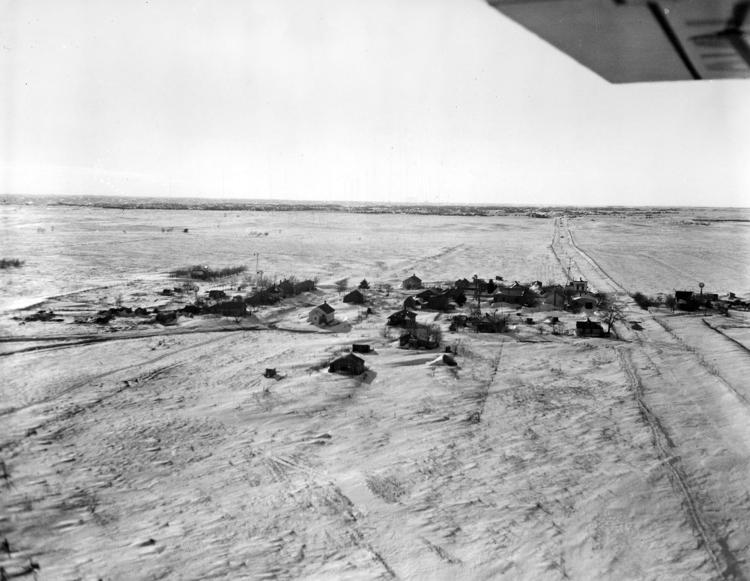 At the Carl elder farm, 8 miles from O'Neill, a Fifth Army relief group traveling by weasel found the family in a bad plight. The Belzers were low on food and had been burning brush to supplement their meager fuel supply. Mr. Belzer (left) is shown chatting with Capt. William Tanski (right.) World-Herald reporter Paul Williams is interviewing Mary Belzer (hidden behind unidentified soldier.) Published Feb. 4, 1949.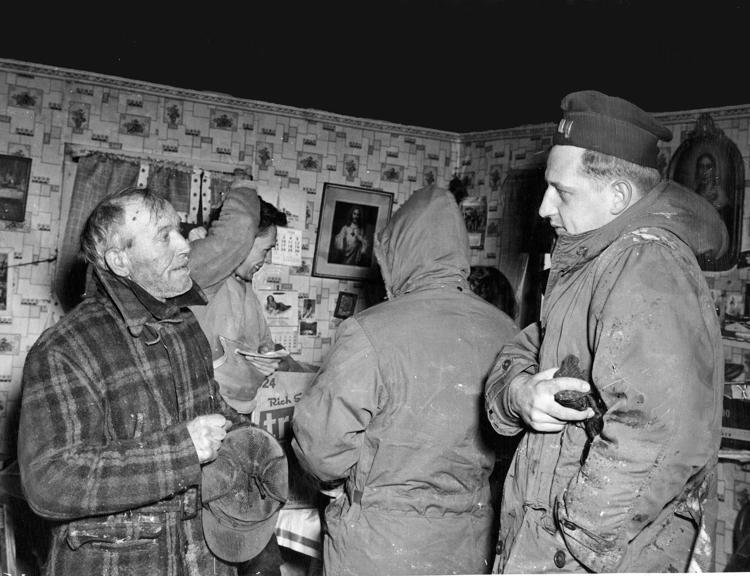 A car belonging to W.H. Sherwood of Imperial provided the framework for this unusual product of heavy snow. Published March 31, 1949.
One trainman was killed and another injured in the snowplow wreck seven miles east of Stapleton, Nebraska. The two engines were pushing the wedge plow when it struck a hard packed drift. The blade swung around, ripped along the first engine and plunged into the second engine, killing brakeman E.L. Rodman of Kearney. Published Jan. 20, 1949.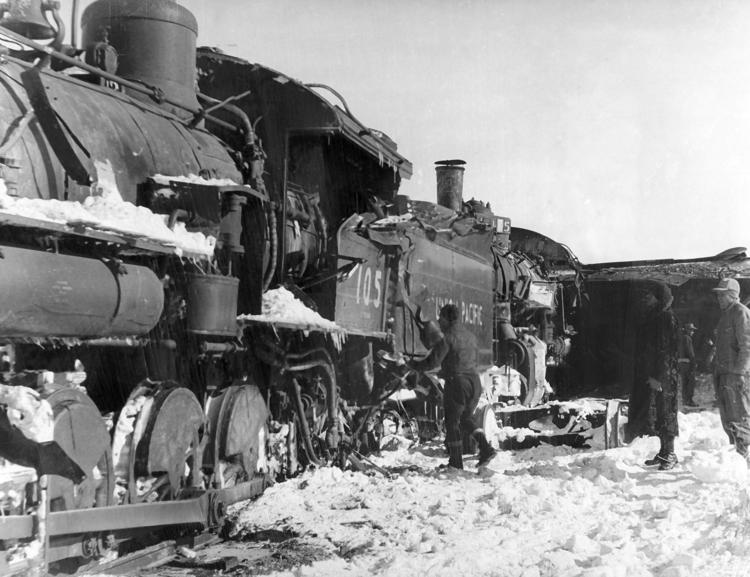 Cattle moving around after nearly being frozen at the Neal Hartford ranch near Central City.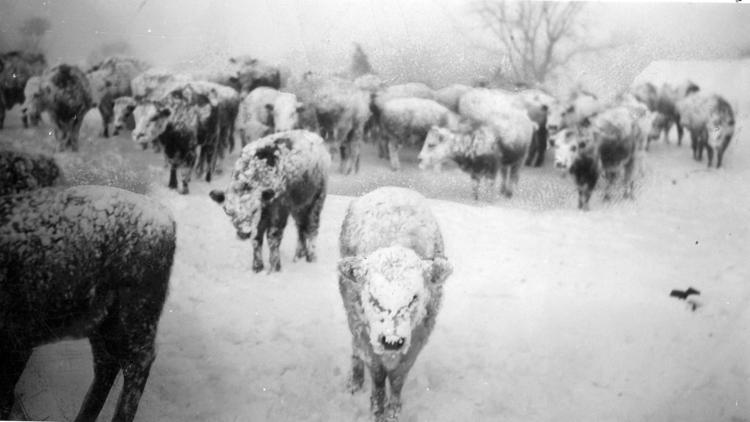 Soldiers unload sacks of coal from a weasel at the home of Mrs. Troy Howard near O'Neill. The grinning youngster is Joseph Howard. He has a reason to smile, Corp. Richard J. McDaniels is handing him a box of food. Published Feb. 4, 1949.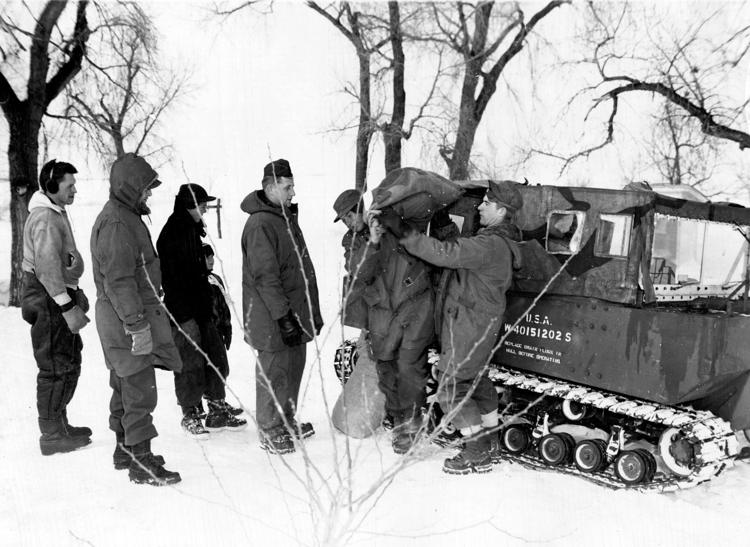 The rear of a work train in a deep drift. The train worked most of the way through the drift, but got stuck and returned to Callaway. Published Jan. 20, 1949.