Expect another round of slushy snow Thursday, and perhaps again next week.
Brett Albright, a meteorologist with the National Weather Service, said 1 to 3 inches of snow is possible Thursday.
Tackling the snow before going to bed will probably be a good idea. Any slop left on streets and sidewalks Thursday night will probably freeze by Friday morning because temperatures are forecast to drop well below freezing. The morning low on Friday is expected to be in the 20s.
About 3 inches of snow fell Wednesday, Albright said. Temperatures have mostly been above freezing since Tuesday evening, which accounts for the wet, messy nature of the snow, according to the weather service.
Sign up for World-Herald news alerts
Be the first to know when news happens. Get the latest breaking headlines sent straight to your inbox.
The odd thing about Wednesday's snow is that it was falling even though temperatures at ground level were above freezing. Cathy Zapotocny, a meteorologist with the weather service, said that happened because temperatures higher in the atmosphere were low enough for snow to form. The snow didn't have time to melt before reaching the ground.
Sgt. Jason Menning of the Omaha Police Department said police had responded to 34 crashes between midnight and about 5:30 p.m. Wednesday.
No snow is forecast over the weekend.
The next round of wintry weather is expected to move in Tuesday, Albright said. The long-term outlook favors a chance for above-average temperatures, so it's possible that next week's snow also will be sloppy, he said.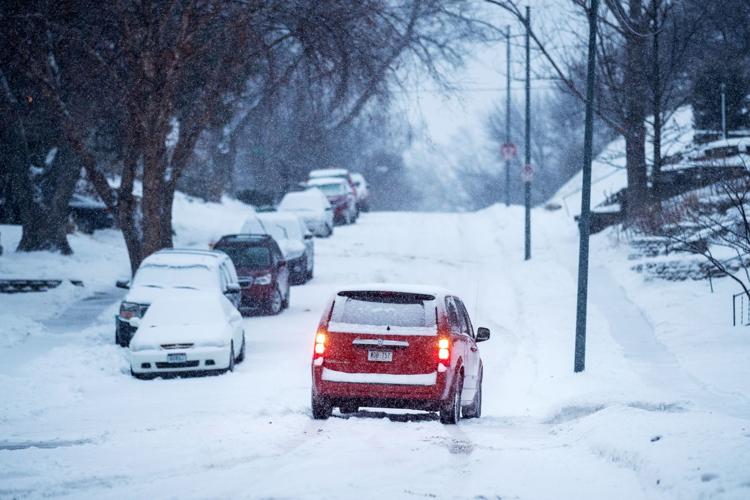 ---
The 10 biggest single-day snowfalls in Omaha history