Rose Shires turned UNO volleyball into a perennial NCAA Division II power before guiding the program through its transition to Division I and the cusp of its first D-I NCAA tournament berth.
The veteran coach strongly believes that day will come, too, for the Mavericks — perhaps even next season. But she's ready to let someone else take her team on the rest of that journey.
Shires informed her staff and team at practice late Thursday afternoon that she is retiring. Assistants Elena Pietro and Micah Rhodes will coach UNO through its spring season until Shires' successor is hired.
"At some point, it becomes the right time," Shires said. "There's just been a few things, personally, that have led me to believe that I'd better start enjoying some of my life instead of putting it off. I just feel that it's time.
"And, honestly, this team is set. I'm leaving this program in a very, very good position."
Sign up for World-Herald daily sports updates
Get the headlines from Creighton, Nebraska, UNO, high schools and other area teams.
The coach, who took over the program two years after arriving in Omaha as a 26-year-old assistant, said she expected that her announcement would come as a surprise. But after 29 seasons at the helm, she's comfortable with her decision, noting that saying "goodbye" would be hard.
"I just, literally, two days ago made the decision that this is what I'm doing," Shires said. "I love these kids and I love this team. And I could foresee continuing to go and go with them. The team is going to be in the NCAA tournament. I firmly believe that. (Leaving it) saddens me, but I know it's time for me."
Shires amassed 510 victories at UNO, taking the Mavs to 11 D-II tournaments and their first national championship in 1996. In Nearly two decades later, she had her program incredibly close to a D-I NCAA berth in its first season of full eligibility. UNO had a four-point lead over Denver in the deciding set of the 2015 Summit League title match with an NCAA bid on the line. Then lost.
"Ah, dang, those four points," Shires said. "Those four points still haunt me."
That team and her last one both went a program-best 12-4 in the Summit, a conference Shires thinks is on the rise. The 2018 Mavs were built on young talent that will return this fall.
"This team is in a great position, and whoever they hire is going to be in a phenomenal position to challenge for a Summit League championship," Shires said. "And I firmly believe, whether it's going to be in this coming fall or the next few years, our conference will be a two-bid lead."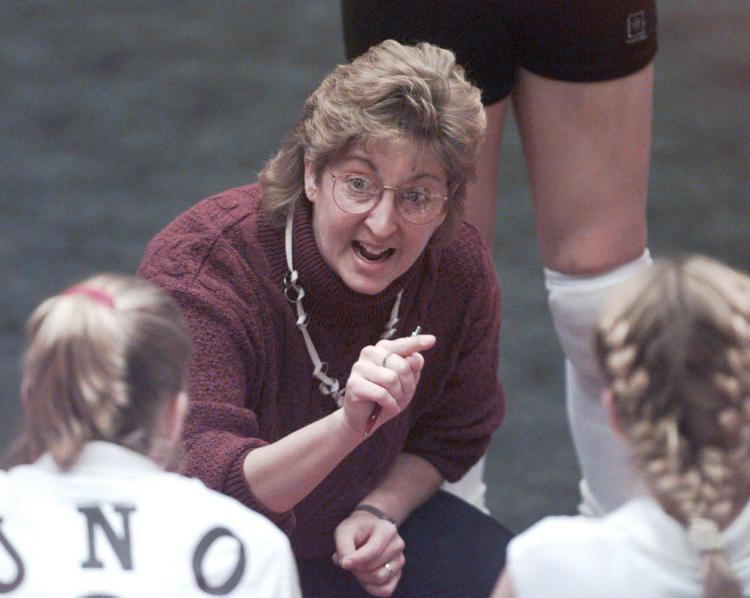 While her name will be in the UNO record book as its all-time wins leader for a long time, Shires said plenty of others deserved credit for her program's success, beginning with Connie Clausen. UNO's Athletic Director Emerita started the volleyball program, hired Shires then mentored her.
She also said former A.D. Don Leahy and longtime Chancellor Del Weber were always in her corner.
"As the chancellor, (Weber) had the foresight to put women's athletics at a very prominent point at a time when it just wasn't cool," she said. "He, Connie and Don Leahy worked toward making that happen."
Shires was happy to have former associate head coach Karen Povondra by her side for 26 of her 29 seasons, stating that UNO volleyball wouldn't have become a power without her. And she credited Pietro and Rhodes for recruiting the team's current talent.
"Micah and Elena have done a great job," she said. "We have built a very, very good Division I volleyball team. And I think the surprise would be that I'm choosing to step down when everything is great.
"I've got a young team of freshmen and sophomores who are playing at a very high level and who have a great future. We have a tremendous 2019-20 class coming in. The future of this program looks great."
Shires was fully behind UNO making the move to D-I, praising current A.D. Trev Alberts for having the vision and courage to make tough decisions that were in the best interest for the school's future.
"When we made this transition, I 100 percent believed that becoming a Division I university was the right thing for the university as a whole and for this athletic department," she said. "In this athletic department, every program could compete in Division I. We're knocking on the door a lot of places."
Alberts said Shires will be missed.
"To say how fortunate we have been to have Coach Shires in our Maverick family is an understatement," he said in a press release. "She has given 31 years of 100-percent effort into making Maverick athletics, the volleyball program and the student-athletes into the best they could be.
"It is never easy when a person who has built this great program into what it has become retires. Her tireless effort and success that spanned the Division II era and into the transition to Division I is something that cannot be measured." 
Shires will stay in Omaha until the fall before retiring to Arizona. She said she'll remain nearby, in case there are any questions or concerns, until a coach is hired. She expects a lot of interest in the job.
Shires reiterated that there is some sadness in leaving something she's been a part of for such a long time. UNO grew up around her in her 31 years in Omaha, and she grew up with it.
"I feel confident that it's the right decision for me," she said. "I feel confident that the program is going to be in good hands, and I feel very confident that Trev has the best interest of this program in mind. He wants to see every program here compete on a national level. He will hire the right person for the job."
Photos: Former UNO volleyball coach Rose Shires through the years