They come from exotic places like South Africa and France, Peru and Colombia, Trinidad and Tobago and — of course — North Dakota.
But on Thursday, they stepped into the afternoon sun at splendid Caniglia Field looking as uniform as possible. Socks pulled to the knees. Hair just right. Matching black shirts spelling out the thing that unites them.
It was picture day for the University of Nebraska at Omaha men's soccer team, a welcome break from the practice grind, a chance to goof around before the postseason.
Players lined up in front of the south goal, 6-footers in the back with the goalkeepers, little guys up front clasping their hands. Those in the middle row hunched over, threw arms around one another and cracked jokes in their second or third language — English.
There was the all-conference forward from Nigeria who grew up kicking balls through bamboo sticks. The standout midfielder from Chicago who spent 10 days in a hospital in 2015 with post-traumatic stress. The South Omaha kid whose cheering section includes an immigrant father and a 5-year-old son.
In this stadium that once housed a Division II football power, a Division I soccer upstart tried to look as tough as it plays.
"No smiles," they said as the photographer started clicking. "No smiles."
Seven years ago, UNO soccer didn't exist. Six years ago, UNO went 1-11-1. But since 2014, Jason Mims' team has begun checking off a series of firsts: first national ranking, first MLS draft pick, first conference regular-season title, first Top 10 appearance.
Today the Mavericks host the Summit League championship game hoping to check their biggest box yet: qualifying for the Division I NCAA tournament. Their opponent is nemesis Denver University, the league's best program. But the Mavs have already done the hard part.
"We're not a team that gets handed things," senior Michael Jaime said. "We all have a story and we all want to win something, but we're not going to take anything for granted on the field."
Said classmate Jacob Weiler: "We have a lot of diamonds in the rough. You can see it the way we play."
On game days, 10 world flags hang from a chain-link fence west of Caniglia, mirroring Nebraska's most diverse campus. One-third of the roster comes from Omaha and another third from within 500 miles. Mims assembled the final third from soccer outposts far and wide.
They mesh well, players say, largely because they feel fortunate to be here. Few were recruited by major Division I schools. And most come from low-income homes.
When the program launched in 2011, UNO was able to provide only three or four scholarships — the Division I limit is 9.9 — so Mims sought kids capable of receiving academic and financial aid.
"Those two things don't always come together," Mims said. "But we got lucky. We've had kids that do really well in school who didn't come from much."
When the team pictures ended, UNO's seniors lined up for a class photo. Most of them signed when the Mavs were playing off campus without a locker room. Now they were standing on one of college soccer's best surfaces.
Look tough? They didn't even try.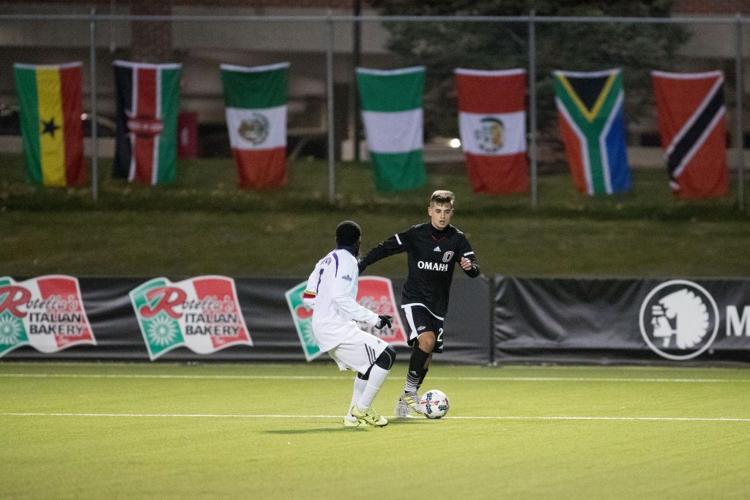 Sure, they can launch a ball 60 mph with either foot. They can bend a shot over a line of defenders and around a diving goalkeeper. But to fully appreciate Division I soccer skill, it helps to see the "Toilet Bowl."
Twenty-four hours before a game, a UNO practice ends with a small-sided tournament. Coaches mark out a grid — maybe 20 by 20 yards — and place small, portable goals at the corners. Team A attacks two; team B attacks the other two. First score wins.
The action is so frenetic, it feels more like laser tag than soccer. Players absorb high-speed passes and redirect them with the soft touch of a grandmother. As Mims rotates four-man teams into the fray, coaches and teammates stand outside the plastic cones laughing and hollering, waiting to see who will drop the fanciest pass or score through the tightest window. (The winning teams advance to the "championship"; the losers play in the Toilet Bowl.)
The ball is on the move again, springing from one Adidas to the next, landing on the foot of a mop-top grad student from North Dakota.
Wait, timeout. North Dakota? "I didn't even know they had soccer up there," Mims said.
But Jacob Weiler, his state's two-time high school player of the year, wanted to show that hockey and football weren't the only sports in Fargo.
"Being from North Dakota, coaches are not going to come find you," Weiler said. "You have to find them."
So Weiler, who'd set a goal to play at a top 50 program, sent emails and highlights. He drove to Omaha for a showcase. Even as UNO recruited him, Mims told Weiler he may never play. His skill wasn't good enough, nor was his athleticism. Mims offered to pass him on to another coach.
"I wasn't really willing to accept that," Weiler said.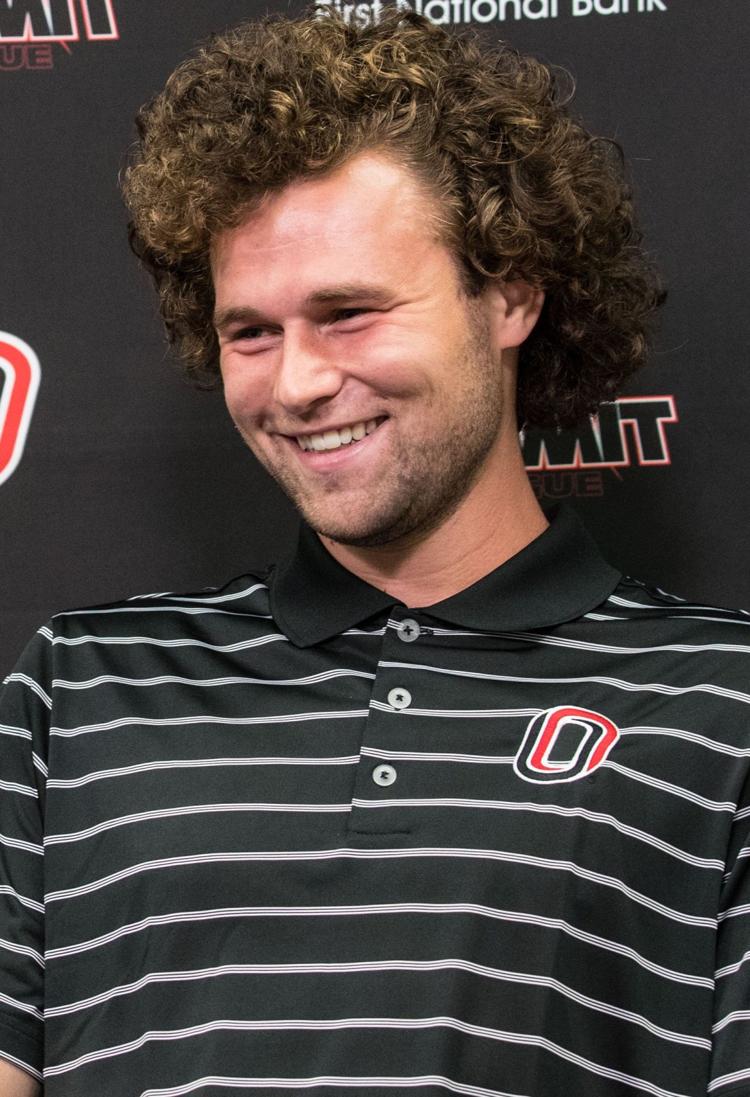 He graduated from high school early and arrived in Omaha in January 2013, just after UNO's second season. He redshirted his first year and barely saw the field in 2014. Mims worried that his great attitude would sour after three or four years on the bench. After every semester, Mims offered to find him a home in Division II or NAIA if he wanted to play more.
You can be an All-American at Bellevue or Hastings, he said.
Year three, Weiler finally broke through, earning a starting spot. Now he's a co-captain and first-team All-Summit defender.
"I wanted to play against Stanford, Creighton, UConn," Weiler said. "I wanted to prove to myself and prove to people from my hometown that I can play at the highest level."
OK, time in. Action resumes. The ball scoots across the turf to Weiler's roommate, the goalkeeper who was born in the shadow of Pablo Escobar's drug cartel.
Joseph Ghitis was 2 when his parents decided that Bogotá, Colombia, was no place to raise a family. They joined Joseph's grandma in Miami, where he played on one of the best club teams in America.
But Ghitis' development stalled in high school. As his buddies were signing with Division I schools, he received just one walk-on invitation — coach Mims knew his club coach.
Ghitis visited Omaha in February 2013, the night of a snowstorm — "I was like, 'Oh my God.' " Mims worried it was a deal-breaker, but Ghitis didn't have any choice.
"I knew it was a new program," Ghitis said. "If this is the only school that will take me, I'll show up and let's do it."
There was just one problem. Ghitis showed up out of shape and flunked the fitness tests. Coaches assumed he'd be a career backup.
But he learned what it means to be fit — "I gotta run" — and made the All-Summit team in 2016. Now the graduate student has the body to match his skill. Mims said he may be picked in the MLS draft.
"He's one of the best goalies in the country."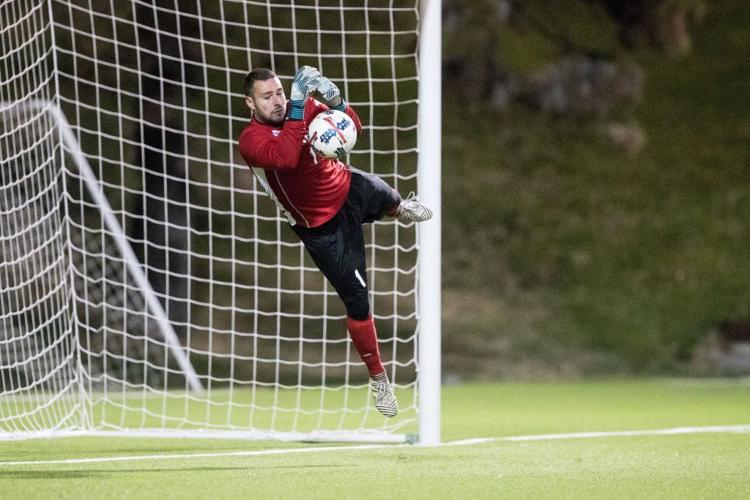 But small-sided soccer isn't for keepers; it's all about scorers like Xavier Gomez, who's putting on a show at the moment. Finding openings in the defense. Pounding shots into the little nets. No wonder coach Mims calls him UNO's best player.
But in August 2015, Gomez wasn't sure he'd play college soccer again.
After two solid seasons in Omaha, he was in his UNO dorm when he got word from home that his stepfather had died. Drowned off a boat in Lake Michigan.
"I went back to my room and locked myself inside," Gomez said. "I just stared into space."
For weeks, he wouldn't talk to anyone — and had no interest in soccer. He had nightmares. He accused coaches and teammates of plotting to harm his family. The coach summoned Gomez's father to Omaha, who pulled him out of classes and took him back to Chicago.
Gomez spent more than a week in a hospital. Doctors treated him for post-traumatic stress. In September 2015, the Mavs played at DePaul and Gomez attended the game, but he barely looked like the same guy — former teammates could tell he was on medication.
His family wanted to get him back to Omaha, but Gomez wasn't sure he could — or even if he wanted to. Slowly, with the help of counseling, he improved.
On Nov. 12, 2015, UNO was playing Oral Roberts in the Summit League tournament. The Gomez family was watching online. Dad went upstairs for a moment when he heard screams. It was Gomez celebrating a goal. He returned to the room and heard his son say the magic words.
Back at practice, between the cones, teams rotate again and the ball finds another senior who knows the sound of bad news.
Emmanuel Hamzat grew up on a half-grass, half-sand field in Lagos, Nigeria, kicking a ball through a bamboo goal — no net. He and his friends only had one ball, so they played until it unraveled, then pooled their money for a new one.
By high school, he'd become a prospect. His father knew a guy who knew a coach at a California junior college. Hamzat applied for a student visa and came to America, where he attended West Valley College.
The same West Valley where Mims' first goalkeeper came from. Mims got a call from the coach: "I know you're getting better, but I think I have a kid for you."
In 2016, "Manu" scored six goals for the Mavericks, sending highlights home to Nigeria via social media. This season, Manu has seven goals, good enough for the All-Summit team. One stands out.
In September, undefeated UNO was preparing to leave for Utah when Manu got a call from home. His father had gotten sick and gone to the hospital. He died there.
"Very sudden," Manu said.
The team was boarding a plane to go west, but Manu considered going east to Africa instead. Did he have enough money? Would his student visa allow him to return to Omaha? He decided to stick with the team.
On a Sunday afternoon in Orem, Utah, he slipped past a pair of defenders and tapped a perfect pass into an open net.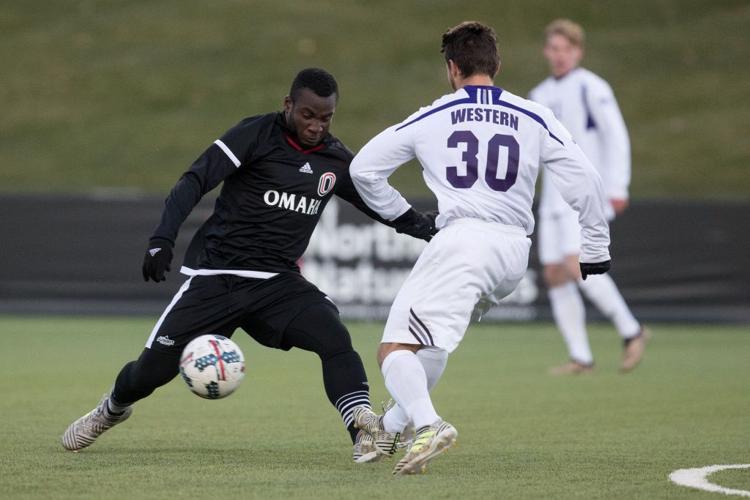 The ball is on the move again, stopping on the foot of Ray Barajas.
Teammates call him "Grandpa," but he was just a kid the first time he came here.
Born in Mexico City, Barajas moved to Los Angeles at 13 years old. Four years later, he was good at soccer and better at academics — No. 1 in his class at a private L.A. high school. Mims emailed him.
All Barajas knew was that Air Force One had landed there on 9/11. But he and his parents packed their two-door Hyundai for a 1,500-mile drive.
They spent just one day in Omaha, talking to Mims and touring Offutt Air Force Base. The kid signed instead with Loyola Marymount. Mims figured it was the last he'd hear of Ray Barajas.
Three years later, the coach got a phone call from Barajas' dad. LMU wasn't working out. Could Ray get another chance?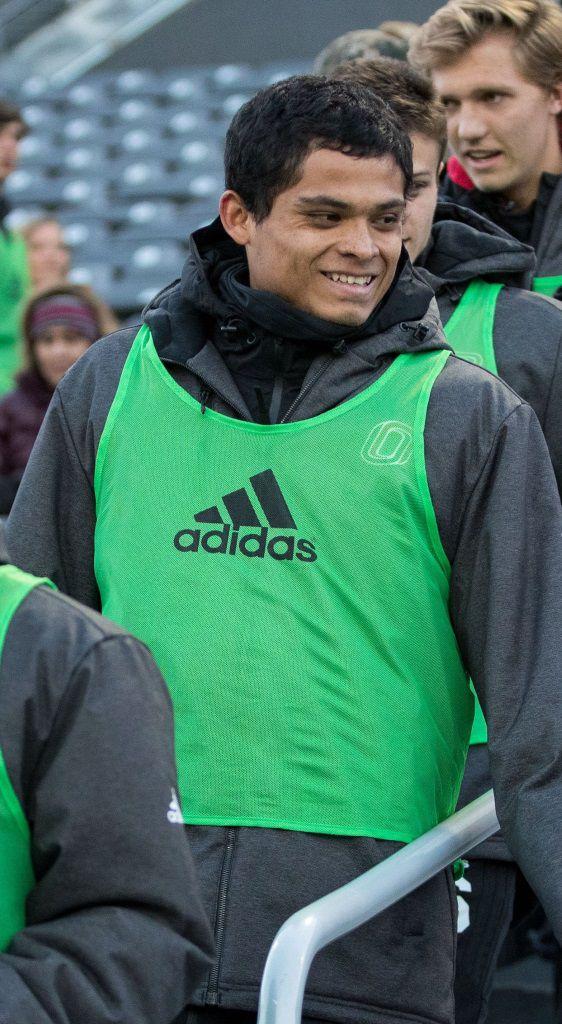 It's not easy being so far from home, especially because his father has frequently been out of work.
"We come from a background where we don't have much," Barajas said.
He receives scholarships and financial aid — student loans cover the rest. Barajas works in the cafeteria and sends money back home to help his parents.
He's played only 18 minutes his senior season, but he's "everyone's favorite player" because of his work ethic, Mims said. On Senior Day, coach put him in for the last three minutes.
Finally, the ball finds a local hero. Michael Jaime grew up playing club soccer for Mims in South Omaha.
Jaime's family had bigger goals.
His father, a first-generation Mexican immigrant, is part-owner of a construction company in South Omaha. Over the years, Ruben Jaime hammered the idea into his son's brain: Go to college so you don't have to work as hard as I do.
The mission nearly veered off track when Michael's girlfriend got pregnant in high school. They stayed together and Michael earned a Buffett scholarship to UNO. He juggled school, soccer, fatherhood and helping his dad with the business.
"I used to not care," Michael said. "I could do whatever I want. But now I think about it. I have a family that I have to support."
As UNO has improved the past two years, Jaime's playing time has decreased. His commitment hasn't.
Thursday night, during UNO's tournament semifinal win, Michael was on the sideline. His girlfriend, Leslie, was behind him 10 rows up in her usual seat. And in the aisle was their 5-year-old son, bundled in a red coat, hood pulled over his eyebrows.
As the clock ticked away, the boy — also named Michael — climbed a railing and slid down, over and over, until grandpa came and grabbed him.
When Michael became a father, Ruben didn't think his son would be able to do it all. But Michael is on track to be the first in his family to earn a college degree — and he might be part of the first UNO senior class to make the NCAA tournament.
"A lot of guys he works with," Michael said, "they say he always talks about me. I'm just happy to make him proud."
By the end of Thursday's 2-0 semifinal win at Caniglia, the temperature had dropped below freezing. Didn't faze Jacob Weiler, the mop top from North Dakota, who huddled his team on the sideline and reminded them what a crazy season it had been. A 6-0 start. Five losses, all by one goal. And now, a final kick.
"We never panicked. We stayed together. And I am so proud of Fred (expletive) Frimpong!"
The team roared, hailing the Ghana-born, Iowa-raised sophomore midfielder who scored his first two goals of the season in a must-win game. Yes, the seniors lead UNO, but there's plenty of followers. Including a small but boisterous student section that came down on the field and joined the Mavs for a group picture.
One celebration remains. One game. Ninety minutes for an NCAA tournament bid. The Mavs were in the same spot a year ago at Denver, leading 1-0 with 15 minutes left in the championship game. They lost 2-1.
It feels different this time, coach Mims says. Why? Because this time, his melting pot of a soccer team gets to play its biggest match in a place they spent years trying to find.