An infusion of young talent has Mike Gabinet excited about the upcoming season.
The Mavericks will have 12 freshmen on the roster heading into Gabinet's third year as coach, giving UNO one of the youngest teams in the eight-team NCHC.
"We are going to be young, but I like the work ethic I've seen," the coach said. "And we've got some great role models for them to follow."
Sign up for World-Herald daily sports updates
Get the headlines from Creighton, Nebraska, UNO, high schools and other area teams.
Gabinet and team captain Dean Stewart represented the Mavs at Thursday's annual conference media day in St. Paul, Minnesota.
The freshmen infusion on the 27-player roster includes five forwards, four defensemen and three goalies. Gabinet said UNO will need to rely on a solid defense to offset much of the team's inexperience.
"We'll have to take care of our own end first," he said. "It's really going to take a team effort this season, and I really emphasize the word team."
The three goalies on the roster — Isaiah Saville, Jacob Zab and Austin Roden — are all freshmen.
"We do have a big freshman class," Stewart said. "But I feel as though every one of them has made an impact already."
Stewart, a senior defenseman who played in all 36 games last season, said the team has to enter each game with a single thought.
"We have to have the mindset that we can compete with anyone," he said. "We're not going to be intimidated."
Gabinet said he is confident that players like Stewart and the team's three alternate captains — seniors Ryan Jones and Zach Jordan and junior Kevin Conley — will help show the way.
"We have excellent leadership, and that's going to help solidify us," Gabinet said. "The young players have great role models to follow."
The coach added that the recent media poll predicting UNO to finish seventh in the league also will help fuel the fire.
"I think our guys will use that as motivation," he said. "We'll be excited to take on the top teams and we're going to work hard to be ready for them."
Stewart said he'd prefer to downplay the preseason prediction.
"I'm not reading too much into it," he said. "But I do think it will motivate us."
Stewart, from Manitoba, said he enjoyed Thursday's media day that featured all eight conference coaches and one player from each school.
"This is my first time being here," he said. "It was a neat experience and it made me even more excited about the start of the season."
The Mavs open with an exhibition Oct. 7 against Manitoba at Baxter Arena. The regular season begins at home against Alabama Huntsville on Oct. 11.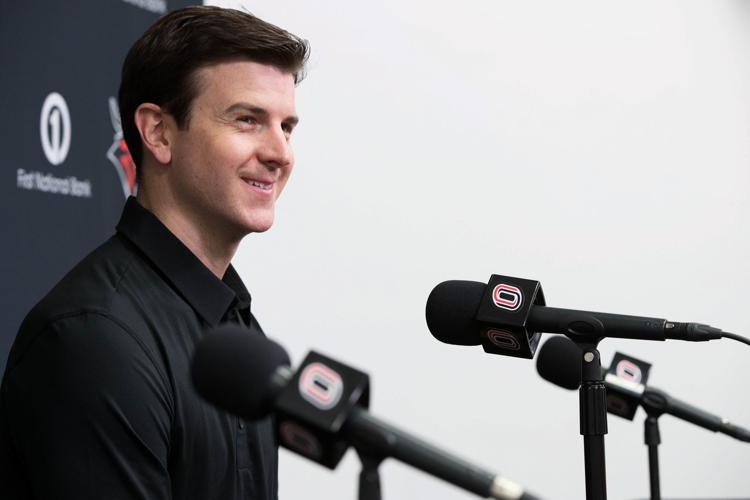 Mavs seventh in preseason poll
For the third straight year, UNO was picked to finish seventh in the NCHC preseason media poll.
The Mavericks received 53 points, putting them behind Colorado College and ahead of Miami of Ohio.
Two-time defending NCAA champion Minnesota Duluth was picked to win the league, earning 218 points and 23 first-place votes. Denver was chosen second with 178 points and two first-place votes.
Western Michigan earned three first-place votes and 156 points for third.
1, Minnesota Duluth, 218 points (23 first-place votes). 2, Denver, 178 (2). 3, Western Michigan, 156 (3). 4, North Dakota, 143. 5, St. Cloud State, 138. 6, Colorado College, 81. 7, UNO, 53. 8, Miami (Ohio), 41.
Duluth leads All-NCHC team
Four Duluth players were named to the preseason all-conference team.
The four are goalie Hunter Shepard, defenseman Scott Perunovich and forwards Justin Richards and Nick Swaney. Shepard was a unanimous selection, earning all 27 votes.
Other players on the team are forwards Hugh McGing and Wade Allison of Western Michigan and defenseman Jack Ahcan of St. Cloud State.
League announces TV slate
The NCHC and CBS Sports Network announced a schedule of 11 nationally televised conference games this season.
UNO's appearance will be Jan. 31, when it hosts Western Michigan.
The schedule is the first half of a new two-year deal between the league and CBSSN, the NCHC's TV partner for the seventh straight season. It features eight regular-season games, with one originating from each of the conference member's home arena.
The schedule concludes with both Frozen Faceoff semifinals and the NCHC championship March 20 and 21 from the Xcel Energy Center in St. Paul. The schedule:
January: 17, North Dakota at Miami, 5:30 p.m. 24, North Dakota at Minnesota Duluth, 7:30 p.m. 31, Western Michigan at UNO, 7:30 p.m.
February: 7, St. Cloud State at Colorado College, 8:30 p.m. 14, Denver at North Dakota, 7:30 p.m.. 21, Minnesota Duluth at Western Michigan, 6 p.m. 28, Denver at St. Cloud State, 7:30 p.m.
March: 7, Colorado College at Denver, 9 p.m. 20, Frozen Faceoff semifinals, 4 and 7:30 p.m. 21, Frozen Faceoff championship, 7:30 p.m.
Photos: 2019 UNO fall sports media day