SIOUX FALLS, S.D. — Maybe next time, Kentucky. See you down the road, Coach K.
UNO will dance another day. Book it. The program is going places. But that day will not be next week.
That sound you heard was a fantastic season ending with a thud.
Sign up for World-Herald daily sports updates
Get the headlines from Creighton, Nebraska, UNO, high schools and other area teams.
The stage was set for UNO. The Mavs had rolled through the winter, finishing second in the Summit League, on the backs of seniors Mitch Hahn and Zach Jackson. Something special was brewing.
And then magic happened on Saturday night: No. 1 seed and nemesis South Dakota State was upset by Western Illinois. UNO was now the favorite.
As usual, if something looks too good to be true, it is.
This was the second time in three years that coach Derrin Hansen's team had knocked on the NCAA's door. Two years ago, the Mavs came within a shot of beating SDSU on this court.
Is it possible that what happened here on Tuesday night hurt worse?
The cars started in the morning, hundreds and hundreds of Maverick fans and Omaha supporters headed up I-29. They drove through the thick fog looking for a rainbow in Sioux Falls: history.
They had every right to expect it. UNO had swept the Bison during the season. Heck, the Mavs had lost only twice in 2019 and three times since Dec. 8. No matter who or where, they always found a way to win. They made winning close games almost an art form.
The UNO band was here. A student section. Lots of black and white in the stands chanting "U-N-O!"
You'd think with all that juice, the Mavs would have come out smoking.
Instead, they stumbled onto the biggest stage. Matt Pile picked up two quick fouls and was on the bench. NDSU made 15 of 31 shots in the first half and 7 of 14 from 3. Hahn took only three shots in the half, and didn't score.
With Pile out, the Bison put the clamps on the UNO perimeter offense. It was like a vise.
It was all very un-UNO-like. At the worst possible time.
The Mavs were down 14 at the half. This would not be easy. But here they came, like clockwork, determined to make a game of it.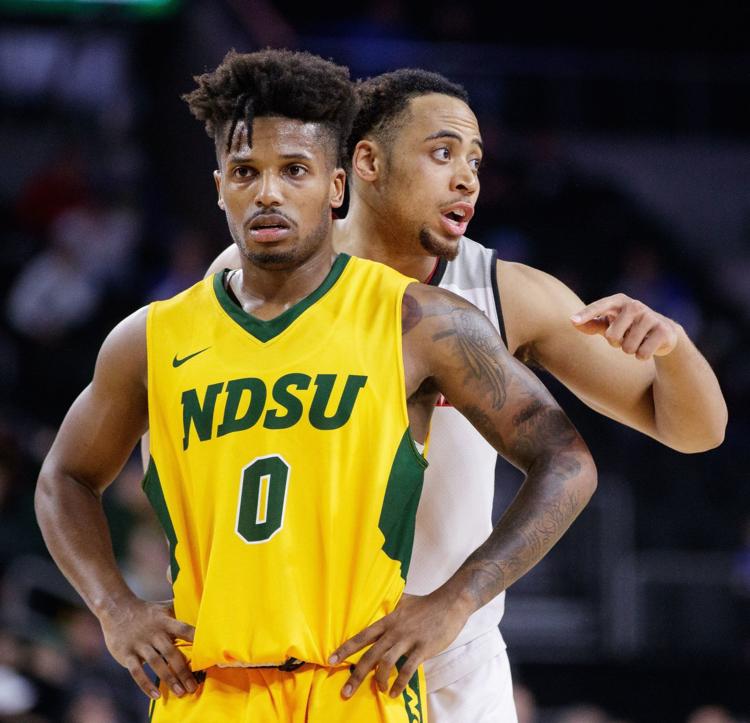 They went on a 12-2 run to cut the NDSU lead to four. Pile had come to life, and the sophomore inside brawler put the cap on it with a spectacular offensive rebound, when he was under the basket and somehow reached out and clawed the ball and put it back in.
The UNO faithful came to life.
Finally, it was Hahn Time. He hit a shot, then another one on a drive, and finally seven straight points. NDSU kept answering, and the Mavs kept clawing back until they tied it at 51 and had the momentum.
But with guard Vinnie Shahid leading the way, the Bison wouldn't stop, either. Shahid kept driving and the Bison kept firing in big 3-pointers. The Mavs just couldn't keep up, couldn't get Hahn going and seemed to lose track of Pile inside in the last 10 minutes.
There's no easy way to lose this kind of big-stakes game. But there can't be a tougher way for a team to lose on this stage than to not bring its A game, not show the national audience what it had been doing week after week, game after game.
It happens. But with a tough loss came some classy perspective from UNO's seniors.
"It's going to hurt for a while," Jackson said. "But all the great people I met the last four years, people who helped me along the way — I would do it all again, and feel like this again, if I could meet all the wonderful people I met the last four years."
Hahn said, "We made some great memories this year. We had as much fun playing basketball this year as I have in a long time."
Painfully, the fun had to come to an end. One game short.
UNO will be back on this stage. There's young talent and Pile looks like a future star and leader. Meanwhile, UNO Athletic Director Trev Alberts said he and Hansen will meet after the season to discuss an extension for the coach, who has one year left on his contract.
Brighter days are ahead. But this missed chance will hurt, all the way home, through the fog.
Photos: UNO faces North Dakota State in Summit League finals
UNO looks for a trip to the big dance, taking on North Dakota State in the Summit League finals on March 12, 2019.