Tra-Deon Hollins built an on-court reputation of being an instinctive and tenacious defender who wreaked havoc on opposing offenses during his high school and college basketball days in Omaha.
The former Omaha Central and UNO star remains that same nuisance to this day. But Hollins has also transformed into one of the better true point guards in the game among those playing outside the NBA.
The second-year pro entered the weekend ranked No. 2 in the G League in assists per game, averaging 8.3 over 26.5 minutes of playing time per night. Those numbers put him atop the NBA's developmental circuit in a pair of advanced metrics — assist percentage and assist ratio — at the midway point of the year.
Assist percentage estimates the percentage of teammate field goals a player assisted on while he was on the court. Assist ratio is the percentage of a player's possessions that end with him dishing out an assist.
Hollins has recorded an assist percentage of 39 and an assist ratio of 45.2, meaning he's been incredibly efficient in setting up his Fort Wayne teammates. He leads the G League by a wide margin in both stats.
"I'm more relaxed, and I let the game come to me," he said. "I think I'm poised. I feel like I'm an actual point guard now. Before, I felt like I was still trying to learn the position. Now, I'm different mentally."
Hollins broke in with the Mad Ants last year after being drafted by the franchise. Fort Wayne is the G League affiliate for Indiana, but the Pacers don't own Hollins' rights. He can be picked up by any team.
Most of the players in the developmental league fall into that category. Some have NBA contracts and have been assigned to the affiliate and others are among the two-way players who play in both leagues.
For players like Hollins, every night is an audition. Scouts from NBA teams are always in the arena.
"Me and a couple of my teammates joke that this is grown-man AAU," he said. "How we go about things is how you were trying to get recruited for college. You want to go about things the best way possible."
Hollins starred in the Summit League while at UNO. He was twice the conference's defensive player of the year and led the nation in steals as a junior. But the jump to the pro game was still a big one for him.
"The Summit League is completely different from the G League," he said. "(Pro) guys are 10 times bigger and faster. That was the biggest adjustment for me — just adjusting to the length and the game speed."
Hollins got a good taste of the level of play in the G League, which features a mix of some of the best athletes from high-major and mid-major programs, during his rookie year after making the Mad Ants roster through a post-draft tryout camp. While still only 23, he returned this year knowing the situation.
"This is the second-best basketball league in the world, and that's only under the NBA, in my opinion," said Hollins, fully appreciative of the opportunity he's getting. "I felt I was good enough to showcase the things that God blessed me with. This is the best place for me to do it so I felt like I should come back.
"Where I'm from, people don't get these opportunities. It's very humbling, and I'm glad. I got my mouth wet, and I want more. I know I belong in this league. I think I belong in the league above this one. I'm going to keep working and doing what I need to do. I've got the best staff in the G League helping me."
Hollins credited the Fort Wayne coaches for the job they have done with his development. He's a difference-maker at the pro level, impacting the game on both ends of the floor as soon as he checks in.
The Omaha native is a guard who routinely stuffs the stat sheets, but his jump shot still needs work.
"That's how it's always been," he said. "I've been making a few. I've just got to be more consistent."
Hollins attempts only six shots per night on average, connecting at a 37.5-percent clip. He's shooting only 15.2 percent from 3-point range, but he is continually working on long-distance shots. In a recent game in Des Moines, Iowa often sagged off of Hollins — almost tempting him to shoot instead of passing.
"It does bother me because this is a make-or-miss league, and you want to make shots," he said. "It also doesn't (bother me) because point guards are judged by wins and losses. If we don't win, I don't care if I had 39 turnovers or 50,000 assists. I just want to win and want to help my team get in that win column."
Hollins has always been a winner. He was a member of four Class A championship teams while at Omaha Central and played on a UNO team that was a bucket away from an NCAA tournament berth as a senior.
Learning to accept the regular-season losses that come in a pro setting was a big adjustment for him.
"I feel so bad for even saying that because I'm so competitive," he said. "But you're not going to win all the games in this long season, especially with how the rosters shift. You've just got to control what you can control and wish for the best."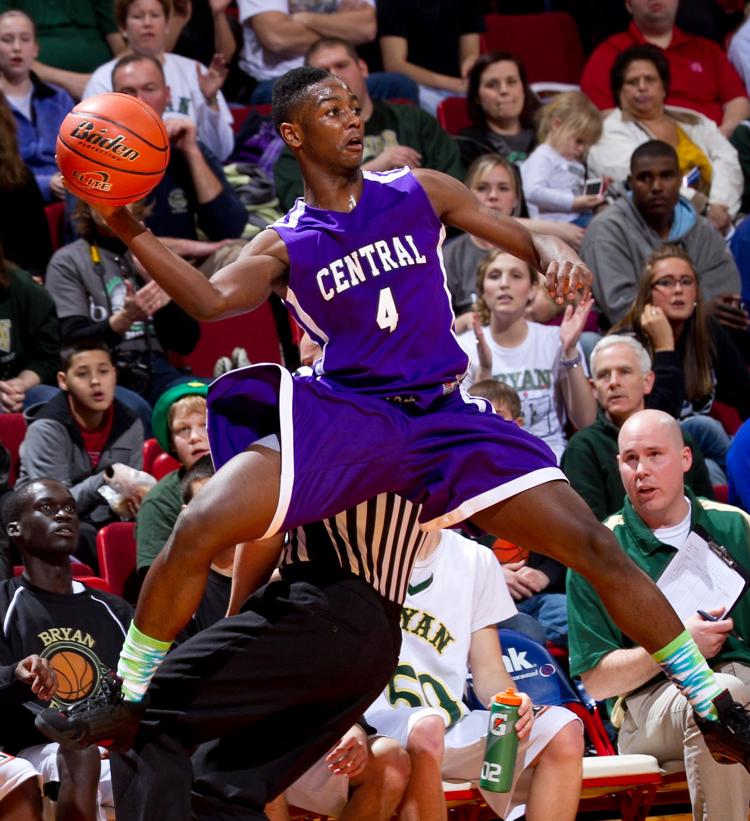 Hollins said one thing he's learned early in his pro career is the need to take care of his body. Travel in the G League "is not the best," he said. Teams play, hop on an early flight the next day then play again.
"It sounds crazy, but this is the life," Hollins said. "You've actually got to get rest and sleep (to be at your best). In college, I didn't have the best diet. And I'm not saying I have the greatest diet now, but I ate fast food and didn't sleep back then. Now if I don't sleep or I don't eat right, it's going to show in my game."
His game has been fairly consistent, outside of his long-range shooting. Hollins has connected on only one of his last 21 attempts from 3-point range since the start of December, but he scored in double figures in consecutive games for the first time since the beginning of the season earlier this month.
In a recent home win over Erie, Hollins finished with 10 points and a career-high 15 assists. Still the defensive pest, he also recorded six steals that night, his highest total since last year's season finale.
His Fort Wayne team entered Saturday night's home game with Lakeland having won five of its last seven . The Mad Ants are currently tied for sixth in the Eastern Conference in the 27-team league.
Hollins loves the situation he's in and believes, with a little more seasoning, his game will continue to improve.
"It's different everywhere. But I'm with the right guys, I feel like," he said. "The coaching staff is doing a great job of developing my game. And, yeah, it's a blast."
Sign up for World-Herald daily sports updates
Get the headlines from Creighton, Nebraska, UNO, high schools and other area teams.
Hollins not the only Omahan to find success in G League
Tra-Deon Hollins entered this weekend ranked second in the G League in assists (8.3 per game) and third in steals (2.4), but isn't the only Omahan to have found success on the NBA developmental circuit.
Former Creighton and Omaha Benson star Khyri Thomas averaged 19.9 points per game in seven November outings for Grand Rapids before joining Detroit's NBA roster on a full-time basis at the end of that month. He has played 11 games with the Pistons this season, recording a 13-point effort at Milwaukee on Jan. 1.
Thomas, unlike Hollins, is on an NBA contract. He can be assigned to and recalled from his team's G League affiliate an unlimited number of times until he reaches three years of service with the Pistons.
He was shuttled back and forth between the teams throughout November.
Minnesota did the same last season with Omaha North and Creighton product Justin Patton before trading him to Philadelphia in November.
Patton, who hasn't played this season because of a broken foot, would still be eligible to be assigned to the G League upon his return. He played 38 games with the Iowa Wolves, and one in the NBA, as a rookie.
Hollins, who plays for Indiana's Fort Wayne affiliate, is not on an NBA contract and, thus, could be picked up by any of the league's teams. The UNO grad saw action in 41 games last season in his first pro year.
Omaha South product Buay Tuach, who played collegiately at Loyola Marymount, is in his second season with the G League's Westchester Knicks. A fractured foot, however, sidelined him after only two games.