UNO coach Derrin Hansen sat down with his four most experienced players for a dinner a few days ago.
They chomped on burgers and shared some jokes. The Mavs' 15-year coach laughed before a Thursday workout as he recounted all of it.
Said Hansen: "I try to talk like a 20-year-old, which is hard for me to do, right?"
But eventually that night he started speaking to his guys like a coach.
Sign up for World-Herald daily sports updates
Get the headlines from Creighton, Nebraska, UNO, high schools and other area teams.
Because Hansen sees these four vets as the linchpins to what could be yet another season where the Mavs challenge for the top spot among their Summit League peers. UNO lost its two best scorers (Zach Jackson and Mitch Hahn) from a year ago, but it's grooming a promising sophomore class and it's built some internal optimism about its newcomers.
Guard KJ Robinson, guard JT Gibson, forward Matt Pile and guard Ayo Akinwole are the keys, though. They'll have to score and make plays defensively, certainly — they combine to account for 83% of the team's returning points and 79% of its returning minutes.
But they also have to lead. Because the Mavs will need more than their four-man core to reach their end goal.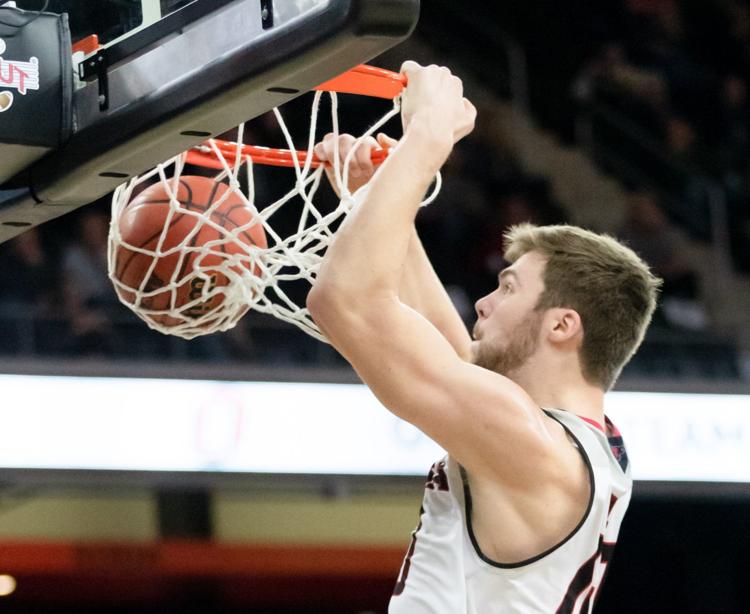 That was Hansen's message.
"I told them, fellas, the head coach can never have a bad practice, and you four can never have a bad practice," Hansen said. "And here are the things that have to happen not only in practice — but pre-practice, and post-practice, and in the dorms, and in the weight room. You've been doing them. Now let's get them concrete."
As it stands today, the UNO roster has two seniors and two juniors. The four who nodded their heads and agreed with Hansen as they sat around a dinner table the other night.
Everyone else? Freshmen and sophomores. None of whom have started a game.
There are offensive philosophies to ingrain. There's a defensive tenacity that needs cultivated. The integration process begins in earnest when practice starts on Sept. 24.
But Robinson said there's a tone he wants to be set now.
"We have to go hard in everything we do," the point guard said. "We're just trying to get guys accustomed to the way we do things and trying to jell and bond together as a team."
Robinson said they're not even talking about the end goal yet.
Soon, they will. As a matter of fact, he's certain everybody knows.
The Mavs were so close to achieving new milestones last year. They couldn't hold a late lead at Oral Roberts — costing them a share of the regular-season title. They reached the conference tournament championship game for the second time in three years, but fell to North Dakota State.
"Knowing how close we are to finally getting over the hump, I think that's motivation in itself," Robinson said.
But they need guys like sophomores Wanjang Tut and Zach Thornhill to take the next step. They'll likely ask a lot of their newcomers, like UMKC transfer Marco Smith, junior college transfer Marlon Ruffin and freshman Darrius Hughes.
Hansen thinks he could conceivably form a rotation of 10 or 11 guys in November.
He'll just need help to get everybody ready. Gibson said he and his fellow leaders are ready to answer the call.
"It's been challenging, having new faces," Gibson said. "But that's every team. You start fresh. We lost a lot of pieces from last year. So we'll get together and be ready for the season, for sure."
Photos: UNO basketball coach Derrin Hansen through the years