With the power play leading the way, UNO began its hockey season on a positive note Friday night.
The Mavericks scored five goals with the man advantage to defeat Alabama Huntsville 6-1 in the season opener at Baxter Arena. The teams will play again Saturday at 7:07 p.m.
"We've had good success on the power play the last couple of years,'' UNO coach Mike Gabinet said. "It's a momentum builder.''
The Mavs scored four of those power-play goals after a Huntsville player was whistled for a five-minute major penalty late in the second period. That extended UNO's lead from 2-0 to 6-0 and all but assured a winning start to the season in front of 5,150.
Freshman goalie Isaiah Saville was the recipient of all that offense. The Mavs outshot the Chargers 35-15, including a 14-1 advantage in the second period.
"It was really an honor to get the start,'' Saville said. "The guys played spectacular in front of me.''
Saville lost his shutout with 7:10 left in the game when Tanner Hickey scored on the power play.
"It's not about shutouts,'' Saville said. "So long as we win.''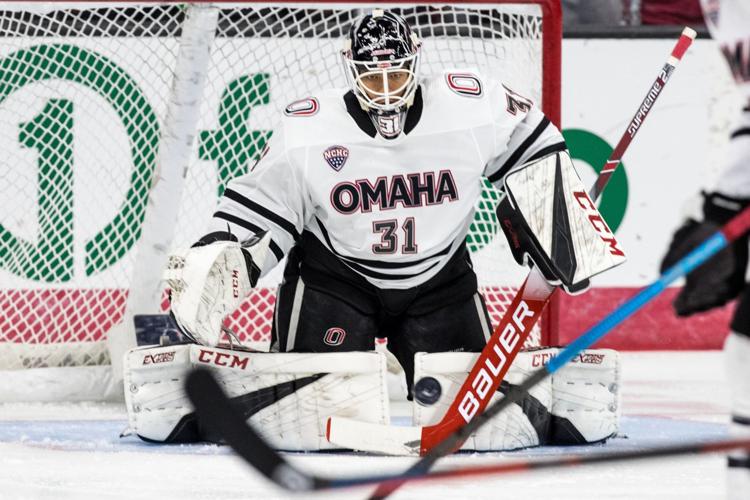 The Mavs set the tone early, scoring twice in the first seven minutes. Josh Boyer, one of 12 freshmen on the roster, netted the first goal of the season by firing home a shot from the slot.
Two minutes later, the Mavs made it 2-0 on their first of five straight power-play goals. Teemu Pulkkinen was alone at the side of the net and tapped a shot past Huntsville goalie Mark Sinclair.
It went from bad to worse for the Chargers with 1:11 left in the second period when forward Jack Jeffers was whistled for a five-minute boarding penalty. The major infraction meant that he would stay in the penalty box for the full five minutes — and the Mavericks took advantage.
Zach Jordan and Chayse Primeau scored in the final minute of the period to make it 4-0. With Jeffers still serving the penalty when the third period started, Tristan Keck and Jason Smallidge scored.
"We work on our power play quite a bit,'' Primeau said. "We kept pushing and with each goal we got more confident.''
Saville said he enjoyed seeing those power-play goals pile up.
"That was crazy,'' he said. "I like to watch our team go to work.''
Gabinet said he didn't mind that Saville faced several shots in the final period after UNO forward Tyler Weiss was called for a five-minute major for interference. Huntsville had five shots on goal over the first two periods but 10 in the third.
"He got tested,'' Gabinet said. "It was unfortunate he gave up that goal because that shot went off one of our player's stick.''
Gabinet added that it also was a positive to see so many players score for the Mavs.
"It was nice that different guys contributed,'' he said. "It's exciting when they share the scoring like that.''
Saville said it was a great start to the season.
"We've all been training so hard for this,'' he said. "Coach has emphasized that if you work hard, you'll get rewarded.''
UAH (0-3).....0  0  1 — 1
UNO (1-0).....2  2  2 — 6
First period: 1, UNO, Josh Boyer 1 (Tristan Keck), 4:32. 2, UNO, Teemu Pulkkinen 1 (Taylor Ward, Ryan Brushett), power play, 6:31.
Second period: 3, UNO, Zach Jordan 1 (Dean Stewart), power play, 19:22. 4, UNO, Chayse Primeau 1 (Tyler Weiss, Brandon Scanlin), power play, 19:52.
Third period: 5, UNO, Tristan Keck 1 (Ryan Jones, Kevin Conley), power play, 1:44. 6, UNO, Jason Smallidge (Tristan Keck, Travis Kothenbeutel), power play, 3:30. 7, UAH, Tanner Hickey (Connor James, Bauer Neudecker), power play, 12:50.
Saves: UAH, Mark Sinclair (29). UNO, Isaiah Saville (14).
Power-play conversions: UAH, 1-4. UNO, 5-8.
Three stars: 1, UNO, Tristan Keck. 2, UNO, Teemu Pulkkinen. 3, UNO, Josh Boyer.
NOTES: Team captain Dean Stewart was a starter for UNO. The senior defenseman missed Monday night's exhibition game against Manitoba because of a lower-body injury ... Former Mavs Jeff Hoggan and Greg Zanon were honored before the game. They were inducted into the Omaha Hockey Hall of Fame earlier in the day ... The Mavs tied last year's single-game high for goals. UNO scored six in three games last season ... The five power-play goals tied a school record originally set in January of 2011 at North Dakota ... The best hit of the game was delivered by Teemu Pulkkinen, who leveled Huntsville defenseman Connor James midway through the first period.