LOS ANGELES — To be sure, UNO's 24-6 loss to Baylor on Saturday was ugly. The defeat means UNO has two losses and is out of the double-elimination NCAA tournament.
There was no crying from UNO coach Evan Porter. Instead, he had an attitude of gratitude.
"You can't put a season's stock in one game," Porter said. "Nobody likes getting crushed, but I like the way our players conducted themselves on and off the field."
The Mavericks played very credibly Friday in a 5-2 loss against UCLA, the top-ranked in the nation. There was reason for hope against Baylor, an at-large selection from the Big 12. The Bears had scored a total of three runs in the three previous games.
They made up for lost offense.
The Bears, who have a team batting average of .309, scored in every inning except the eighth, and managed 10 or more runs for the 17th time in 2019.
"That was an impressive offensive showing," Porter said.
It was a considerable understatement.
Baylor catcher Shea Langeliers hit three home runs, had five hits in six at-bats and set an NCAA postseason record with 11 RBIs. Josh Bissonette had four hits in seven at-bats, while teammates Richard Cunningham, Andy Thomas and Nick Loftin each collected three hits.
Cunningham had a first-inning double, and Langeliers followed with a home run to right to lift Baylor to a 2-0 advantage.
UNO answered with a run in the bottom of the first when second baseman Breyden Eckhout hit a leadoff home run.
"I hit a fastball, which was right down the middle of the plate," said Eckhout, who had also homered against UCLA on Friday.
Baylor got that run back in the top of the second when Loftin doubled home a run. The Bears missed an opportunity to score more when UNO center fielder Thomas DeBonville made a leaping catch at the wall.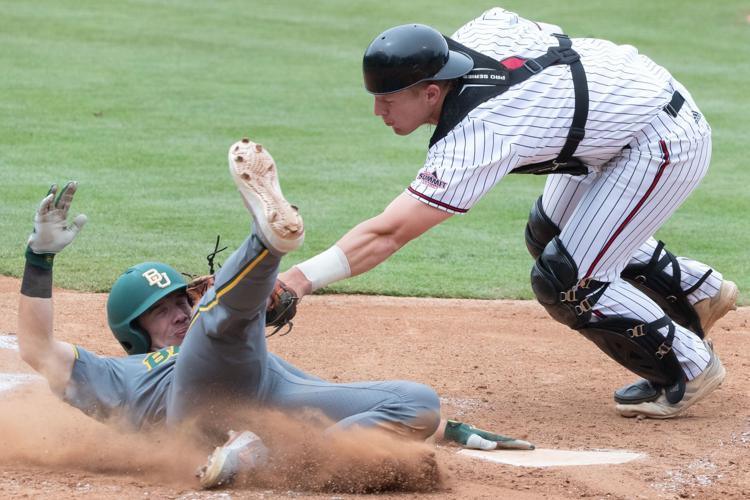 In addition to Eckhout, left fielder Parker Smejkal hit a two-run home run in the fifth inning. Smejkal doubled and scored on Grant Suponchick's single to left in the seventh inning.
"We are proud of our effort and resilience," Eckhout said. "We started off well and had a slowdown before winning our conference tournament."
UNO starting pitcher Joey Machado was removed in the second inning. A member of the UNO athletic training staff came out to see Machado, and Porter confirmed that Machado had an arm issue.
"Our next goal is to get him better," Porter said.
Porter believes the program can build on this year's success. He's hopeful construction on a new stadium can start soon.
"We should be near the top of the fielding percentage in Division I, and that is a tribute to our defense," he said.
Los Angeles Regional
Sunday: Baylor (35-18) vs. LM-UCLA loser, 2 p.m. Championship: LM-UCLA winner vs. TBD, 8 p.m.
Second championship, if needed, 9 p.m. Monday
Photos: UNO defeats Oral Roberts to win Summit League tournament title