Here, we expand our places and our minds – raising our voices and our structures, forming thoughts into thoroughfares, breathing art into architecture.
Home to the nation's No. 2 "hottest ZIP code" (68144, according to Realtor.com), and headquarters to Berkshire Hathaway (No. 2 on the Fortune 500), abundant resources make Greater Omaha right for catalyzing, growing and expanding.
From such icons of industry as Union Pacific, Peter Kiewit Sons' Inc., Mutual of Omaha, TD Ameritrade and more, to the Silicon Prairie's fastest-growing startups, we have the foundation to invent the future.
In it for the long haul
"If I were in charge…"
Tim Craft and Niki Ford traded "ifs" for action in 2008, when they ventured out on their own and founded TiNik Inc., a custom truck equipment company in Oakland, Iowa.
The Pottawattamie County firm supplies and installs truck equipment and accessories, from safety kits to cranes.
"A majority of our product gets shipped throughout the country," says Ford, vice president and lifelong resident of Oakland. That's where the company has been based and expanding since 2009, after outgrowing its original Council Bluffs location.
"We hoped our decision would encourage other Oakland development," says Ford.
In June, TiNik celebrated the grand opening of a larger headquarters and showroom on Main Street.
A web of expansion
Omaha and LinkedIn first connected in 2007, and we've been growing together ever since.
The tech company's Omaha workforce has mushroomed from 11 to about 450. That number could jump to 1,000 or more by 2021 when LinkedIn completes its two-building complex in southwest Omaha.
Omaha was home to LinkedIn's first office outside Silicon Valley. Today, it's the web-based firm's main hub for customer support, says Kelli Pilgrim, LinkedIn's senior director and top executive in Omaha.
"People are recognizing it's a great place for hiring great talent," she says of Omaha. "The work ethic has been very, very good, and our attrition tends to be lower than we would expect in other parts of the country."
Upon completion of the 200,000-square-foot facility, the Omaha office will be LinkedIn's sixth-largest globally in terms of space, Pilgrim says.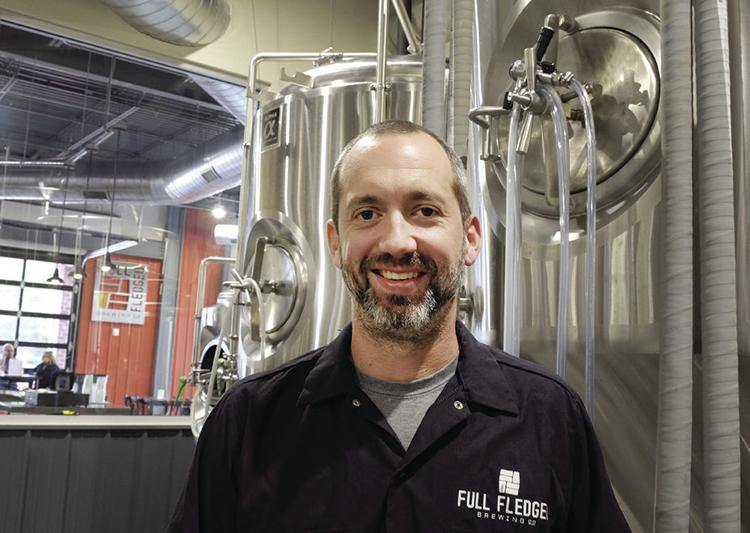 It's the real thing
Raise a glass! Full Fledged Brewing Co., billed as Council Bluffs' first craft microbrewery, is serving its style of suds near the city's bustling Mid-America Center.
Owner and brewmaster Marshall Redmond spent the summer brewing craft beers for 20 available house taps. With 15 running in August, he was looking forward to a less-frantic autumn and winter.
"By the end of October, I'll be getting some sleep," he says, only half-teasing.
Full Fledged has an annual brewing capacity of 1,800 barrels (the equivalent of 3,600 kegs). "We want to max that out and expand in the near future," the brewmaster says.
Redmond and his wife, Dessie, moved to the area to be closer to family and saw that the Pottawattamie County community was "untapped."
Full Fledged's summer opening was the culmination of a 2½-year dream for Redmond and his 15 business partners. "It's amazing," he says, "We all love beer."
Mission security
Terry Reinert served five years in the United States Marine Corps; a span that included tours in Operation Southern Watch (1999-2000) and Operation Enduring Freedom (2001-2002).
Almost two decades later, he still specializes in defense and protection – as co-founder of Red Berry Innovations, a mission-focused cyber security and artificial intelligence research and development company.
Based in Springfield in Sarpy County, Red Berry Innovations serves the federal government and companies of all sizes across multiple industries.
Reinert says he started in the cyber-world at a young age, teaching himself how to find, exploit and patch vulnerabilities in applications and digital communication protocols.
A 2002 recipient of the Navy and Marine Corps Achievement Medal, his post-marine career included high-profile jobs at Raytheon SI Government Solutions and Nebraska Applied Research Institute.
Reinert and Courtney Grayson, Ph.D., co-founded Red Berry Innovations in 2018.
Top jobs in Elkhorn
Merck Animal Health, which has offices in more than 50 countries, has targeted its Elkhorn-area manufacturing and warehouse facility for a $100 million technology upgrade.
The investment reportedly will increase manufacturing volume and add 50 or more full-time jobs (paying at least $99,444 per year, according to the Nebraska Department of Economic Development).
"We are excited about the opportunity to bring capital improvements, expansion in our manufacturing capacity and capabilities, and advanced technology to our Elkhorn facility," says Darin Tompkins, director of the Elkhorn operation.
The investment, he says, will strengthen Merck's footprint in Nebraska and increase its ability to fulfill customer demand for its products.
Merck Animal Health develops vaccines for dogs, cats, poultry, swine and other animals.