When my oldest son said "yes" to a West Coast trip with me last May, he fulfilled a longtime dream to explore the entirety of the Oregon Trail with one of my children.
In many ways, it was a quick tour. The first significant wagon migrations in the 1840s needed four months — at least. The late trail expert Gregory Franzwa recommended taking a month to explore the route. He also offered a 10-day "speed trip" in his popular book "The Oregon Trail Revisited."
Jonathan and I had five days.
That was enough for a memorable experience as we celebrated his college graduation and promotion from Union Pacific Railroad intern to full-time employee by taking the Oregon Trail Auto Tour Route, laid out and marked by the National Park Service.
We ran out of daylight a time or two but still managed to visit 45 trail landmarks — some well-developed, others still nearly pristine.
And we were able to "touch ruts" at least once in each of the seven states along the Oregon Trail's most commonly accepted route, explored and mapped by John C. Frémont's military expedition of 1842. It was traversed for the first time a year later by more than 1,000 people seeking prosperity along the banks of the Willamette River.
For me, who grew up near Ash Hollow State Historical Park and later worked in the shadow of Scotts Bluff National Monument, it was a thrill to see where the pioneers had come from — and to finally see where they went beyond the Nebraska Panhandle's seemingly endless horizons.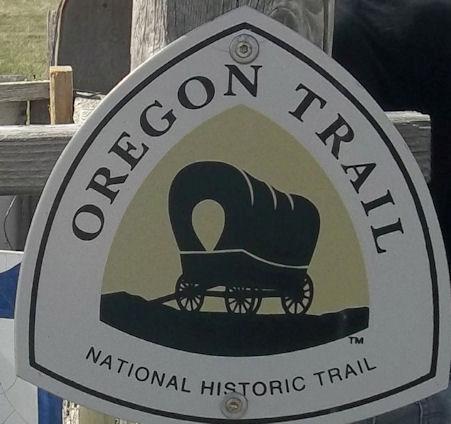 How we did it
Historic markers, excellent museums and other recreation facilities abound along the Oregon Trail, which shares parts of its route with the California Trail to the "Forty-Niner" gold fields, the Mormon Trail to the Great Salt Lake and the Santa Fe Trail to New Mexico.
Our trip omitted most "cutoff" shortcuts and historical sites tied to the latter years of the trail era (1843-66). Southeast Nebraska, for example, has several trail markers noting Indian attacks during the 1860s.
Tourists have many trail guidebooks from which to choose. We relied mainly on the 1997 edition of Franzwa's book, which includes detailed directions to sites well-known and obscure, and the Park Service's maps and state-by-state guidebooks for the Auto Tour Route. The latter are available in PDF files here or in print at various Park Service trail sites. The Park Service guidebook for trail sites in Oregon itself has not yet been issued. Basic information and individual maps for that state are available here.
The primary sites we visited are bulleted from east to west by state, with our "touching ruts" experiences described at the beginning of each section. Locations are briefly described by address or key roads.
Trail's beginning: Independence, Missouri
Upper Independence Landing, north end of North River Boulevard, Independence (via I-435, Exit 59, and U.S. Highway 24); National Frontier Trails Museum, 318 W. Pacific Ave., Independence.
After driving to and staying overnight in the Kansas City area, we began where Franzwa's book and the Auto Tour Route both begin: Independence, the older of the region's two major trail launching points along the Missouri River. The other is Westport Landing, which is closer to downtown Kansas City, Missouri.
One cannot drive to the river site of Upper Independence Landing, but a small park offers an overlook of the general location beyond a clump of trees. As you leave the park, you'll notice the first Auto Tour Route signs (if you didn't see them on your way in). We followed the signs south to the National Frontier Trails Museum in Independence, which offers an excellent historical introduction for trail followers who are just starting out.
Missouri
Santa Fe Trail City Park, 900 Santa Fe Road, Independence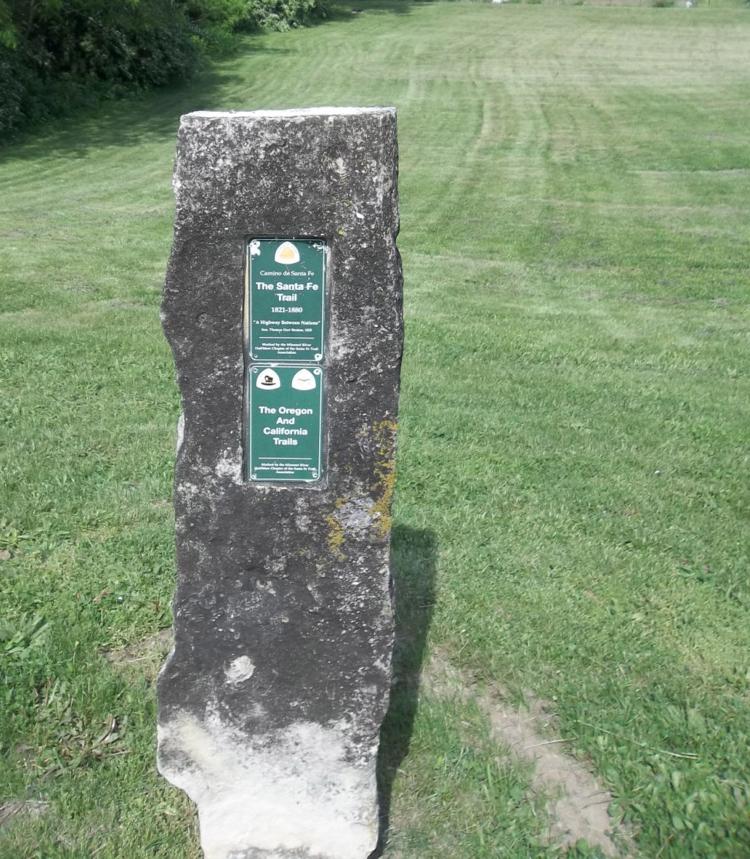 After stocking up in Independence, migrants bound for Oregon (and later California) started south and then west along the established Santa Fe Trail. A modern marker sits in open sight in Santa Fe Trail City Park, and one can see a pair of bare indentions in the modest hillside leading up to the drive.
But this first opportunity to "touch ruts" is one of the more obscure examples we encountered. Were the indentions formed by 2010s riding lawnmowers or 1840s wagons? We leaned toward the latter, but the site is more safely referred to as a "swale" — a broad depression eroded into the hillside over decades by hundreds of wagons.
Take a few minutes, however, to explore the trees between the marker and the wire fence. Franzwa wrote that a ramp from trail days once extended from the creek enclosed by the trees. The setting suggests the untamed landscape the pioneers saw.
Kansas
Oregon Trace Trail, Green Memorial Wildlife Park, south edge of Willard (via I-70, Exit 346, and Carlson Road)
Some of the best Oregon Trail remnants are in somewhat obscure locations. The Auto Tour Route likewise includes such less-traveled (though still well-paved) highways as Carlson Road, which runs through the tiny town of Willard (population 92) northwest of Topeka.
Herbert Reinhard Green Memorial Wildlife Park, on the south edge of Willard, features a walking "Oregon Trace Trail" near a creek that feeds into the Kansas River. The rolling prairies and forested river and creek bottoms proved typical of the Oregon Trail route through northeast Kansas and southeast Nebraska.
Though wagon tracks aren't visible, the walking trail is mowed into the tallgrass prairie so one can imagine the experience of navigating wagons, oxen and walking families through such high growth. The meandering nature of the path strengthens its identity as a trail remnant, since migrants would have sought the flattest path possible while staying close to the wood and water along the creek.
Trail sites visited:
» Parting of the Trails: This mini-park is the first major trail site outside the Kansas City area. It sits just south of a farm field within which the Oregon-California Trail left the Santa Fe Trail on its long northwest course all the way to Casper, Wyoming. Location: U.S. Highway 56, west of Gardner.
» Scott Spring: A roadside wagon-and-oxen monument signals this place of rest and refuge for the wagon trains. Location: Off Kansas Highway 99, south edge of Westmoreland.
» Alcove Spring: Another well-known watering hole near the trail's Big Blue River crossing was named for a rock outcropping along a walking trail. The site also features the first of several collections of "I was here" trail carvings. J.M. Reed, a co-leader of the California Trail's doomed Donner Party, carved his name near the alcove on May 26, 1846. Location: About six miles west of U.S. Highway 77, south of Marysville (via county roads).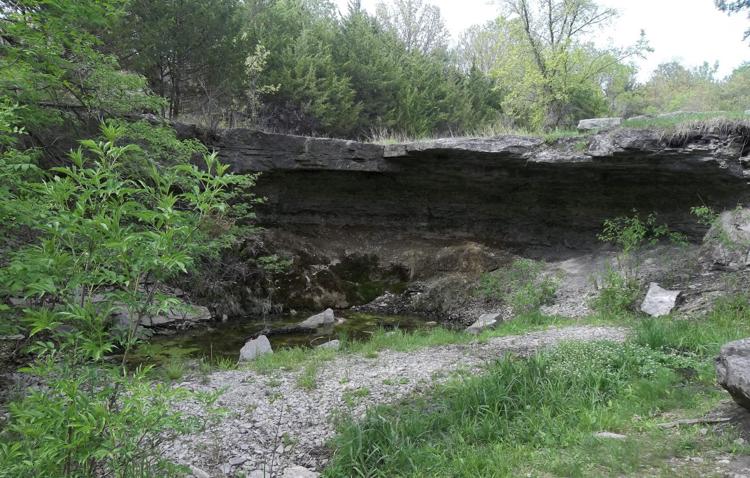 Nebraska
Windlass Hill, Ash Hollow State Historical Park, off U.S. Highway 26 (three miles south of Lewellen and 28 miles west of Ogallala)
My first formative Oregon Trail experiences took place here as I grew up in Ogallala in the 1970s. A paved, steeply ascending path leads visitors past two prominent remnants of the pioneers' passage from the hills between the two forks of the Platte River.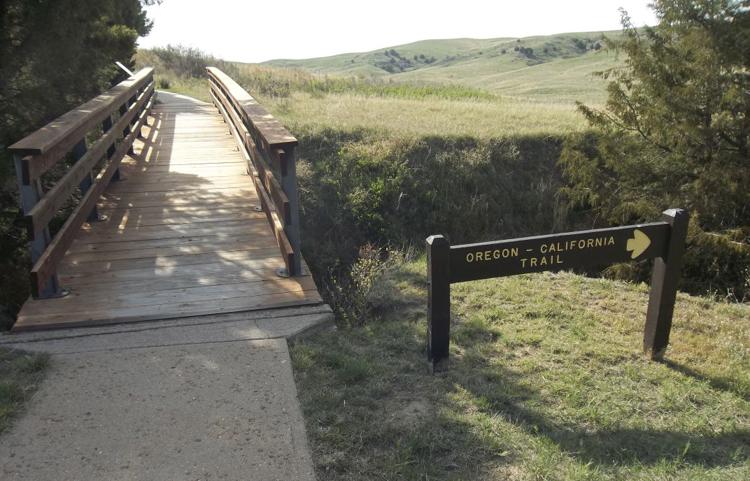 A pedestrian bridge crosses a deep ravine that grew (due to erosion) from the many hundreds of wagons dragged down the hill with the aid of ropes. The term "Windlass" Hill was erroneously applied by later settlers. A century-old historical marker farther up the path lines up with the ravine below and trail ruts slightly to the right.
The trail's path was more definitive in the 1970s than it was last spring. But one can still see bare tracks in the sandy hill and variations in plant colors and growth patterns denoting the tracks left by the wagon wheels. One can stand still, listen to the wind, see for miles and imagine the increasingly desolate conditions as the wagon trains kept moving west.
Trail sites visited:
» Rock Creek Station State Historical Park: Though it wasn't more than another fine camping spot for the 1840s pioneers, this site developed into one of the trail's many "road ranches" serving 1850s and 1860s travelers. This was our final stop on the first day. Location: North of Nebraska Highway 8, east of Fairbury (via County Road 710).
» Fort Kearny State Historical Park: Our second day began at the Nebraska Game and Parks Commission's partial reconstruction of the fort, from which the U.S. Army protected civilian and freight wagon trains and Union Pacific construction crews from 1849 to 1870. Trail registers kept at Fort Kearny (as well as at Fort Laramie farther west) helped document traffic levels on the Oregon, California and Mormon Trails, which peaked at roughly 50,000 annually in the late 1840s and early 1850s. Location: South of Kearney (via I-80, Exits 272 or 279).
» O'Fallon's Bluff rest area, Interstate 80: The next 150 miles west of Fort Kearny still form the heart of the "Great Platte River Road." It's worth a slight eastward backtrack on I-80 to this rest area, which marks the trail's path with the aid of steel hoops and rows of brick built into a paved path east from the restrooms. Location: Off eastbound I-80, east of Exit 158 (turn east at Exit 158 to rest area, then turn west again at Exit 164 at Hershey).
» Chimney Rock National Historic Site: We ended our second day at perhaps the trail's most famous natural monument. We arrived too late in the day to check out the Nebraska State Historical Society's visitor center, but sunset views at Chimney Rock are beautiful nonetheless. Location: One mile south of Nebraska 92, southwest of Bayard.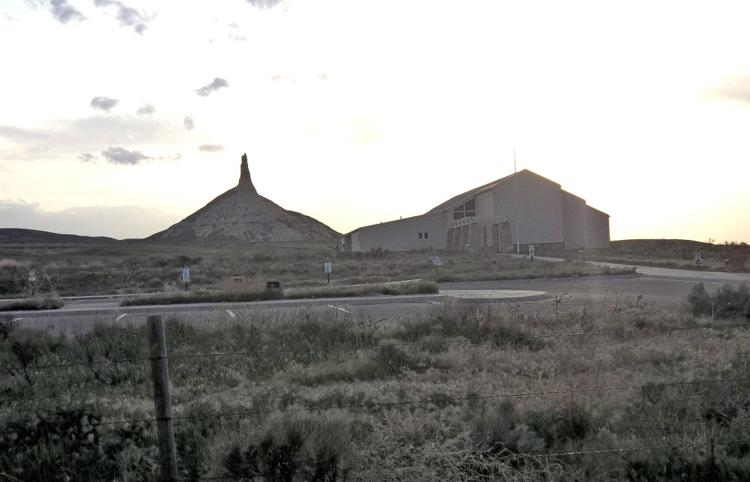 » Robidoux Pass and Scotts Bluff National Monument: We started our third day at and near the 4,500-foot-high Scotts Bluff, the key feature of the national monument designated in 1919. The 1840s migrants passed south of the monument through Robidoux Pass, named for the trader who served those first wagon trains. Several markers and a pioneer cemetery in the pass testify to the trail's original route. The monument's visitor center houses a series of watercolors by Western photographer William Henry Jackson, who traveled the trail in 1866. A walkway from the visitor center to Jackson's campsite incorporates trail ruts, but these date only to 1851, when the U.S. Army leveled out Mitchell Pass between the two main bluffs for trail traffic. Location: Robidoux Pass Road (through the pass) and Old Oregon Trail Road (through the monument), both south of Gering (via Nebraska Highway 71).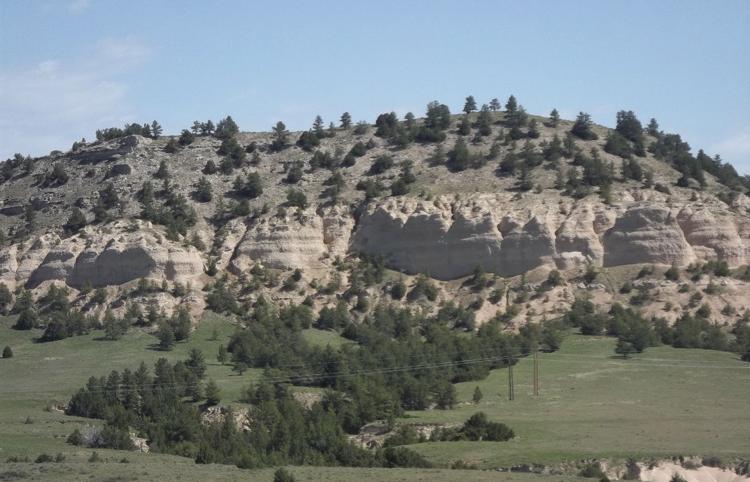 » Other sites visited: California Hill, north of U.S. 30, four miles west of Brule (via I-80, Exit 117); Ash Hollow Cemetery and grave of Rachel Pattison (Oregon Trail cholera victim), along U.S. 26, north of Windlass Hill; Narcissa Whitman state historical marker, along U.S. 26/Nebraska Highway 92, nine miles west of Lisco; Amanda Lamme state historical marker, along Nebraska 92, near junction with U.S. 385; Courthouse and Jail Rocks, five miles south of Bridgeport (via Nebraska Highway 88); Horse Creek Treaty Ground historical marker, U.S. 26, about four miles west of Morrill.
Wyoming
Oregon Trail Ruts National Historic Site, south of North Platte River bridge, Guernsey
Turn left (south) off U.S. 26 onto Wyoming Avenue and drive through downtown and past Camp Guernsey. Turn left (east) to Register Cliff or right (west) to Oregon Trail Ruts.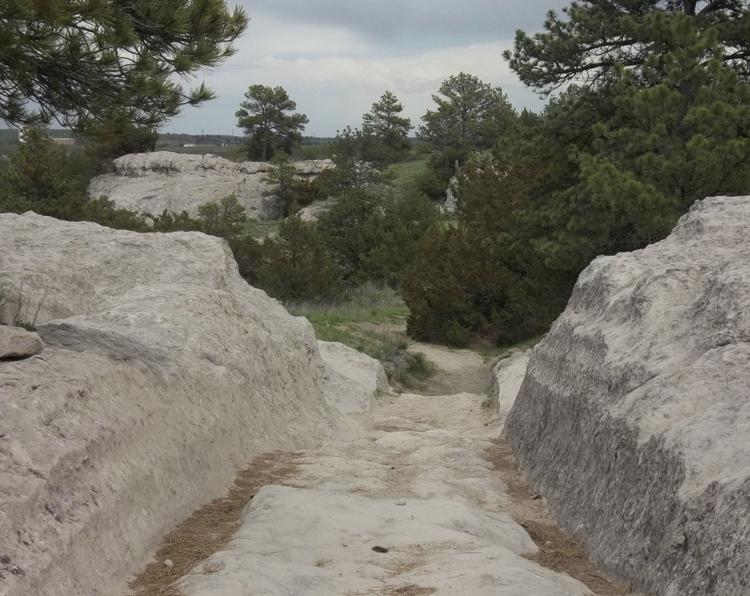 This site, just west of the equally famous Register Cliff, takes the prize among trail-ruts locations. So many wagons drove through this sandstone formation that they gouged deep wounds in the rock that are continuous and walkable for many hundreds of feet. One need only stand inside the ruts and look in both directions to imagine the migrant experience.
Migrants followed the North Platte from here for a few more days, but the flatness of the river valley was giving way to evergreen-lined foothills. They would skirt Laramie Peak (elevation 10,276 feet), first visible on clear days from Scotts Bluff, on their way to the desolate but flat South Pass, which spared them from mountain travel until they reached Oregon.
Before visiting the ruts, tourists should spend quality time at Register Cliff. Of the several trail locations where pioneers left "I was here" carvings, this one probably contains the most names in the most easily accessible location.
Trail sites visited:
» Fort Laramie National Historic Site and Old Bedlam Ruts: Founded in the 1830s as a fur-trading post, Fort Laramie was an active U.S. Army base and major emigrant resupply post from 1849 to 1890. Tourists can gain a sense of life at the old post when the great battles with the Lakota and Cheyenne were underway. Two areas with the more subtle types of Oregon Trail ruts lie northwest of the fort, including Old Bedlam Ruts, where one can see traces of the wagons' path through vegetation growth patterns lined up with a historical marker. Location: Three miles south of present-day village of Fort Laramie (via Wyoming Highway 160).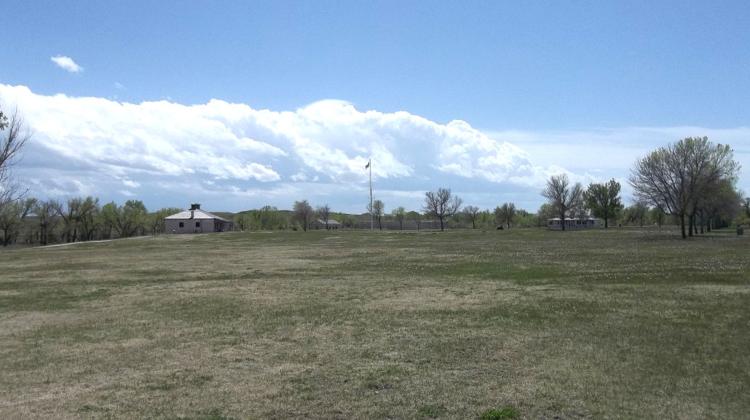 » Independence Rock State Historic Site: West of Casper, the Oregon Trail leaves the North Platte River to follow the Sweetwater River through South Pass. Independence Rock got its name because wagon trains needed to reach this point by the Fourth of July to reach their destinations before winter set in. A paved path around the rock leads visitors to another set of "I was here" pioneer carvings. Location: Rest area south of Wyoming Highway 220, 55 miles west of Casper.
» South Pass: Discovery of this area by John Jacob Astor's fur trappers, traveling east in 1812 from present-day Astoria, Oregon, enabled the eventual white settlement of the West Coast. We entered this most critical section of the trail at sundown on the third day, so we missed seeing significant trail ruts in the area. But South Pass was less a location than a flat place to cross the Continental Divide between present-day Yellowstone National Park and the Colorado peaks of the Rockies. Location: Generally along U.S. Highway 287 south and east of Lander.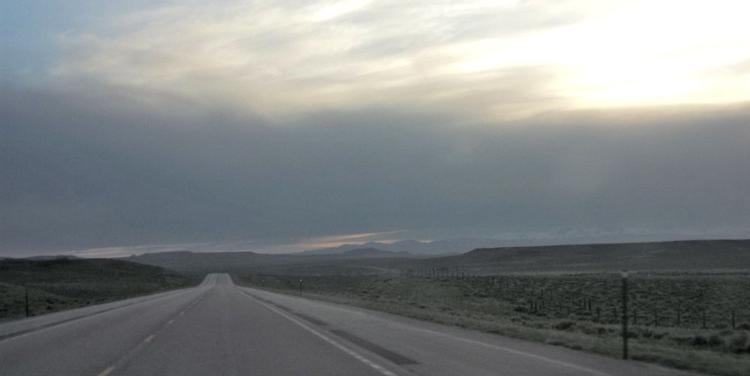 » Fort Bridger State Historic Site: After leaving South Pass, the earliest Oregon migrations angled southwest to rest and refit at Jim Bridger's fur-trading post, later an Army post from 1858 to 1890. We started our fourth day at the visitor center, located in one of the old Army buildings, and at the reconstruction of Bridger's rustic stockade nearby. Location: Along I-80 business loop in city of Fort Bridger (via I-80, Exit 34).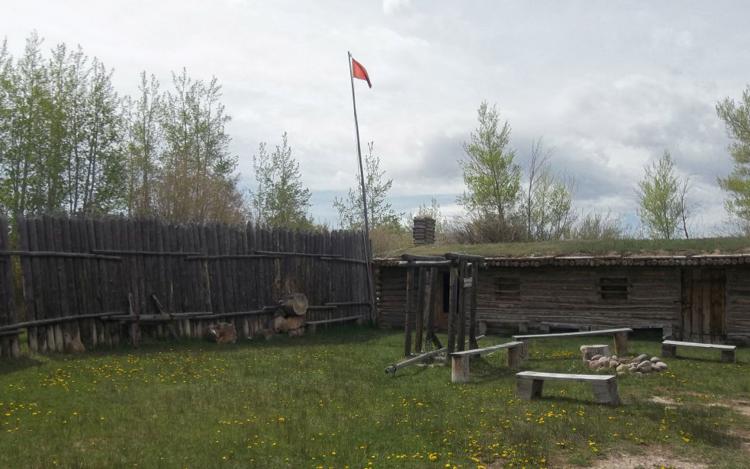 » Other sites visited: Fort Caspar Museum, 4001 Fort Caspar Road, Casper (via I-25, Exit 188); Devil's Gate, visible from historical marker along Wyoming State Route 220, about 5.5 miles west of Independence Rock.
Idaho
Massacre Rocks State Park, west of American Falls (via I-86, Exit 28)
After leaving Fort Bridger, the Oregon Trail veered back northwest to follow the Bear River into Idaho and then to the Snake River, which took emigrants across the future state into Oregon. U.S. 30 and Interstates 15, 86 and 84 generally follow this route.
Massacre Rocks got its name from an Indian attack on a wagon train some years after the first 1840s migrations. We left I-86 to enter the park on the north side of the freeway, then discovered a walking trail from the parking area to Oregon Trail ruts. The walk not only offered great vistas of the Snake River but also led us along and under I-86's westbound lanes, through the wide Interstate median and under the eastbound lanes.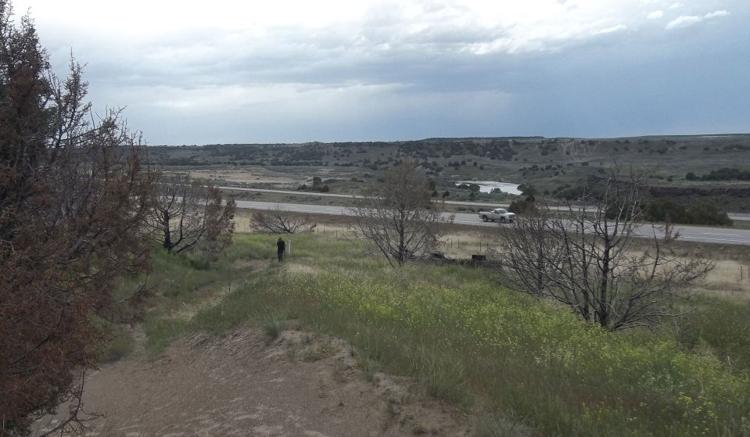 Our reward came when we looked up at a well-defined stretch of trail ruts descending from the hills. Walking up and down these ruts capped one of our most delightful opportunities to walk in the pioneers' footsteps.
Trail sites visited:
» Soda Springs: The wagon trains encountered a series of hot springs in the Bear River Valley, including this one now within a park in the city of the same name. Feel free to sample the naturally carbonated water. Location: City park on north side of Soda Springs (via Hooper Road off U.S. 30).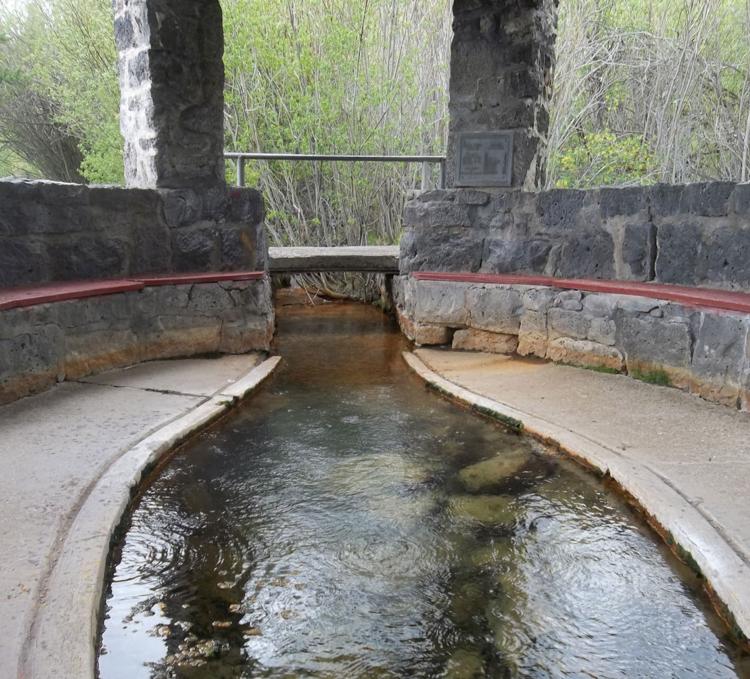 » American Falls: These waterfalls were imposing in the pioneers' day, but a dam built a century ago on the Snake River has robbed them of their 19th-century appearance. Location: City of American Falls (via I-86, Exit 40).
» Shoshone Falls Park: Situated within one of several marvelous Snake River Valley gorges, Shoshone Falls also has been dammed but regains its picture-postcard grandeur during the spring months. Location: Twin Falls (via I-84, Exit 208, U.S. 30 and Road 3300 East).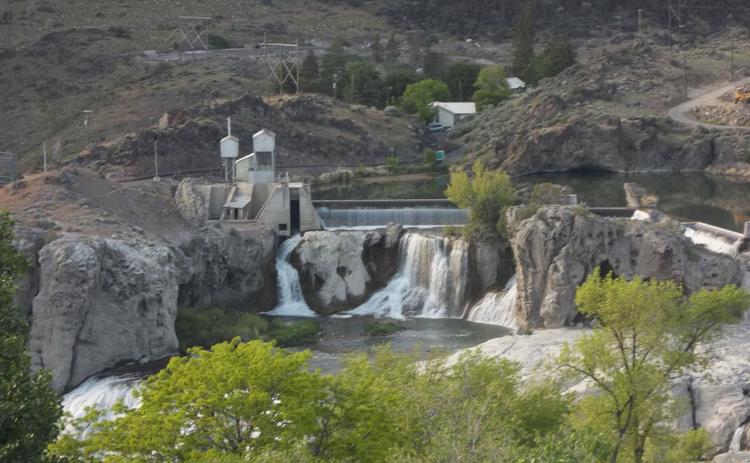 » Three Island Crossing: Our last stop on the fourth day took us near this Snake River crossing (depicted in one of Jackson's trail watercolors), where the wagon trains used islands in the river as safe havens while fording the river. The actual site is in a more rustic location than we could access at the late hour. Location: Glenns Ferry (via I-84, Exit 121).
» Fort Boise (replica and original site marker): Our final day began at a reconstructed replica of Fort Boise, another Hudson's Bay Company post originally along the Snake River. Unlike Fort Hall, the original Fort Boise site remains open to the public, though one has to drive on a rather bumpy road to reach the marker along the river's Idaho shore. Locations: Fort Boise Replica, 305 N. Third, Parma (along U.S. 20-26-95); marker within Fort Boise Wildlife Management Area northwest of Parma (west of U.S. 95).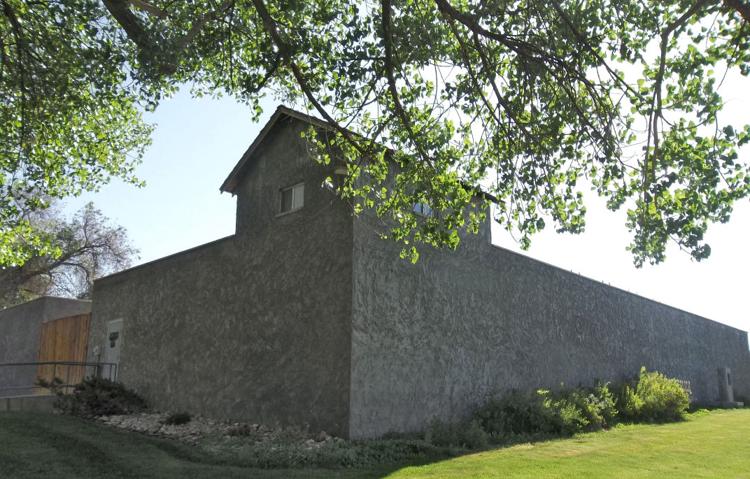 » Other sites visited: Thomas Fork Ferry historical marker, along U.S. 30, just west of Wyoming-Idaho border; Big Hill, visible from U.S. 30, west of Thomas Fork marker; Fort Hall (replica), Ross Park, 3002 Alvord Loop, Pocatello (via I-15, Exit 67).
Eastern Oregon/Washington
Whitman Mission National Historic Site, 328 Whitman Mission Road, Walla Walla, Washington (via I-84, Exit 216, and Oregon Highways 331 and 11)
Once across the Snake River at Fort Boise, migrants ascended foothills, left the river behind and traversed the Blue Mountains on their way to the Columbia River. After a winding descent of those mountains on I-84, we detoured at Pendleton, Oregon, to examine the fate of Marcus and Narcissa Whitman.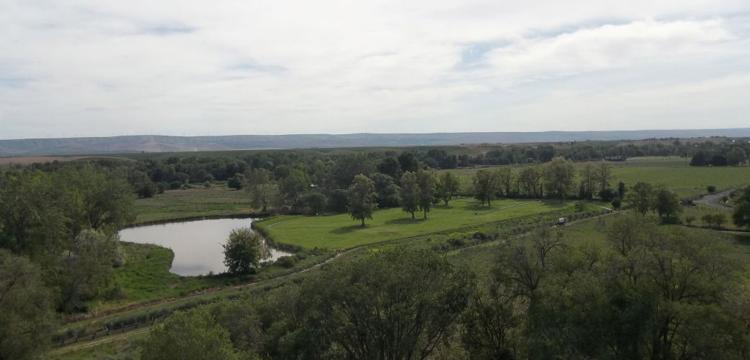 The missionary couple went all the way to Fort Vancouver on their original 1836 journey before returning to build their mission near present-day Walla Walla, Washington. They assisted Native American nations and Oregon Trail migrants there until Nov. 29, 1847, when Cayuse Indians frightened by the spread of disease (likely brought by later migrants) came upon the mission, killed 13 people — including both Whitmans — and burned the mission to the ground.
The site includes a mass grave and marker, as well as a spire monument to the Whitmans atop its highest hill. From there, one can see the wagon ruts left by trail travelers and descend the hill to walk in them.
Trail sites visited:
» Farewell Bend: This was the spot where the Snake turned due north to the Columbia while migrants kept traveling northwest. Location: Outside Huntington, Oregon (via I-84, Exit 353).
» Flagstaff Hill and National Historic Oregon Trail Interpretive Center: Before reaching the Blue Mountains, wagon trains descended Flagstaff Hill into the Grande Ronde Valley. Tourists can walk these ruts (though we didn't take the time) while visiting the National Historic Oregon Trail Interpretive Center atop the hill. Perhaps the most extensive of the trail's many museums, it greets visitors with a series of starkly realistic dioramas. Location: Off Oregon Highway 86, five miles east of Baker City (via I-84, Exit 302).
» Deadman Pass, Interstate 84 rest area: This location atop the Blue Mountains includes trail ruts within a forested area. We stopped to look for them but failed to find them within our available time frame. Location: I-84, Exit 228.
Western Oregon
Biggs Junction, Columbia River Gorge, off old U.S. 30, four miles west of Biggs Junction (via I-84, Exit 104)
West of Pendleton, I-84 (usually joined with U.S. 30) and the Union Pacific tracks finally meet the Columbia River. The railroad lines up along the river first. The freeway (sometimes with old U.S. 30 alongside) pulls into line. Then the cliffs arise from the sagebrush and hug the freeway on the south as painting-perfect hills line the river on the Washington side.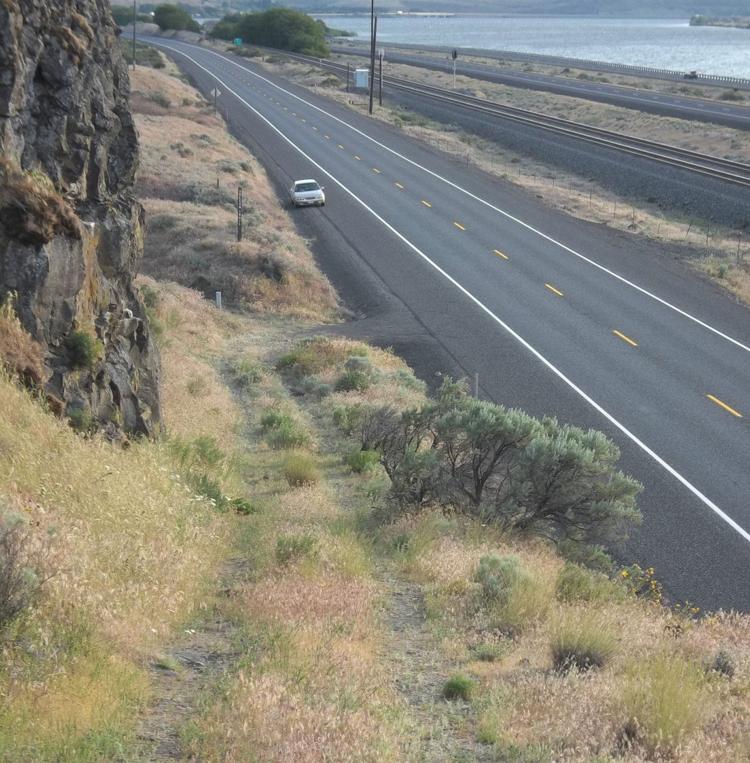 These last 150 miles to Portland feature some of the most spectacular Interstate driving in the country. It's along old U.S. 30, about 20 miles before reaching The Dalles, that tourists can see a tall "Oregon Trail" marker along the cliff face. It sits at the bottom of a long, descending pair of tracks left by the wagon trains as they reached the Columbia at last. After walking up the ruts and back down toward our car, we celebrated "touching ruts" in every state along the trail.
Trail's End: Willamette Valley, Oregon
The pioneers' final destination was undisputed: the valley of the Willamette River, which empties into the Columbia at present-day Portland. Where did the trail itself end? One can make cases for three different locations, all of which we visited.
» Columbia River landing, The Dalles: Several natural bays in the Columbia, on the west end of the current city, served as launching points for the first emigrants to take a treacherous flatboat ride to Fort Vancouver. Later migrants also could take the bumpy Barlow Cutoff, a toll road around Mount Hood. Location: The Dalles, Oregon (via I-84, Exit 84).
» Fort Vancouver: The first groups of emigrants often wintered here before moving south into the Willamette Valley. The Park Service's restoration includes a British flower and vegetable garden, as befits a post operated by the Hudson's Bay Company for many years before and even after the United States and Great Britain settled their division of the "Oregon Country" in 1846. Location: 1001 E. Fifth St., Vancouver, Washington (via I-5, Exits 1C-1D).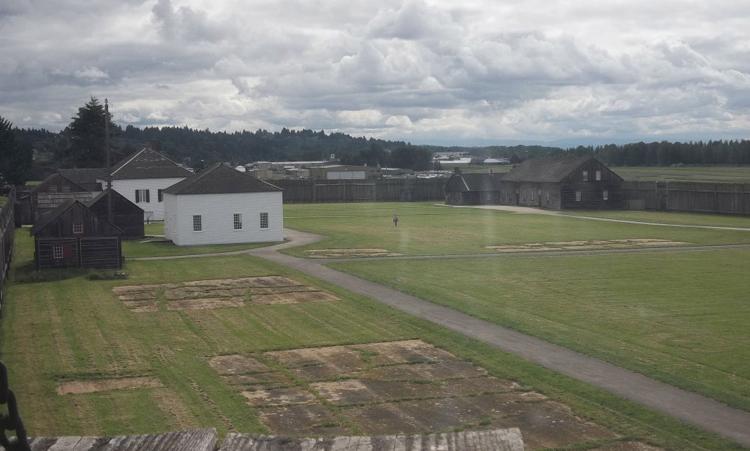 » End of the Oregon Trail Interpretive Center: Regardless of their final travel choice, the migrants' trail experience ended with the filing of their land claims in Oregon City (now a Portland suburb). This museum includes several indoor displays representing scenes the pioneers encountered as they began their new lives. Location: 1726 Washington St., Oregon City, Oregon (via I-205, 
Exit 10).