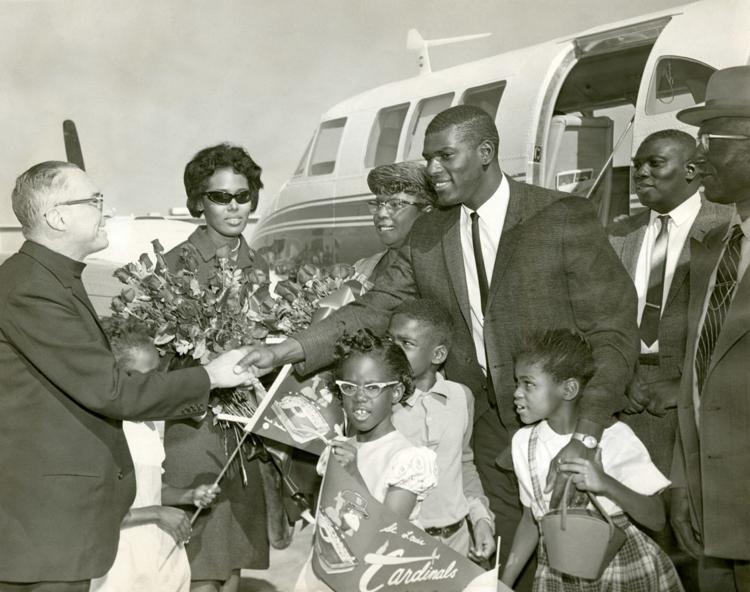 Bob Gibson's plane landed at Eppley Airfield just after noon.
When he stepped into the sunshine, his 5- and 7-year-old daughters were waiting for him. His wife and mother received bouquets of 31 roses — one for every Yankee strikeout. Tech High students presented him a Trojan pin.
Appearances on Johnny Carson and Ed Sullivan could wait. It was time for a homecoming.
Gibson climbed into a Buick convertible and rode down Abbott Drive. The festivities had been scheduled hastily for Oct. 16, 1964, but word traveled fast enough for spectators to ditch their day jobs and occupy the roadside.
How often do you get a chance to greet a World Series MVP?
Gibson had thrown 10 innings in Game 5, then started Game 7 on two days rest, holding Mickey Mantle and Roger Maris scoreless for five innings as the Cardinals built a 6-0 lead. It was 7-3 after eight innings when Gibson headed back to the mound.
Until that day, one of baseball's enduring racial myths was the fragility of the black pitcher. He wasn't smart enough. He couldn't be trusted in the clutch.
Cardinals manager Johnny Keane, who first coached Gibson as a minor leaguer in Omaha in 1959, knew his ace was so sore he couldn't straighten his arm. So why did Keane stick with him, even after Gibson gave up two solo homers in the ninth?
"I had a commitment to his heart," Keane said.
Gibson got the final three outs, becoming the first black player to win World Series MVP.
"Think about what the Yankees were in those pinstripes," said Gibson's best friend, Rodney Wead. "And here comes a kid from Omaha, Nebraska, beating them in Game 7."
Now Gibson stood in front of the Douglas County Courthouse, receiving a key to the city. Mayor James Dworak introduced Gibson's family — including big brother Josh — and then designated it "Bob Gibson Day."
But looking out at 5,000 people, in the same place where white rioters lynched a black packinghouse worker in 1919, Gibson must've wondered — he always did — how many would respect him if he weren't a big leaguer.
Back in the convertible, he rolled north into the heart of his old neighborhood. Past Kellom School and Logan Fontenelle projects. Past the two-bedroom shack where a rat bit his ear, and the rec center where he used to eat crawdad stew and listen to Joe Louis fights, and the old YMCA where he shot line drives in the basement, and thousands of faces he didn't know, but represented. Kids lined the streets with signs, their toes hanging off the curb.
"Kellom School is Proud of You!"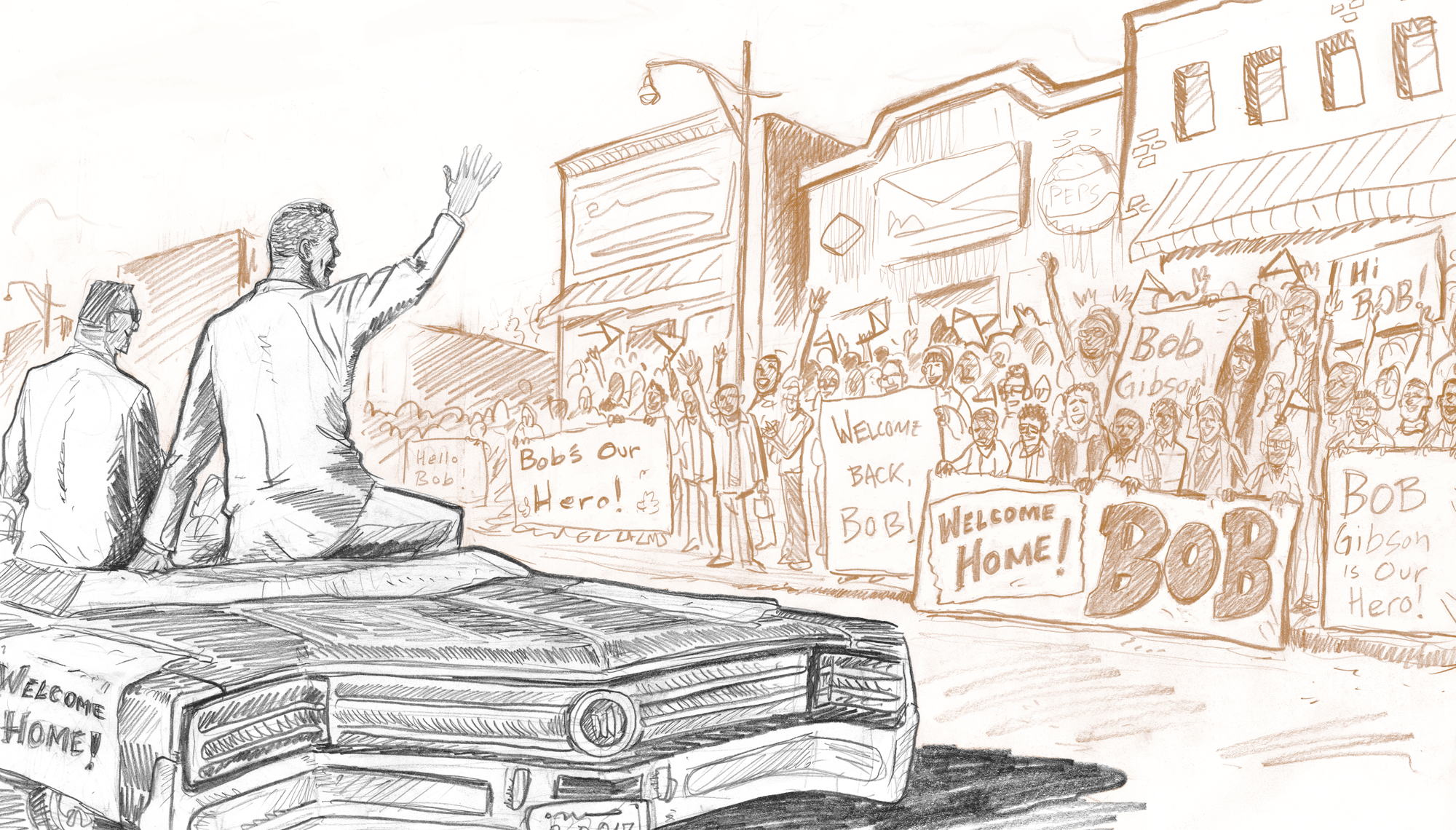 The city stopped that afternoon — just for a couple of hours — and united behind a native son. But the good vibes were a myth. The Near North Side, overcrowded and dilapidated, was losing patience with inequality. Whites accepted blacks on their TV screens. Even cheered them in parades. But living next to them? No.
Meanwhile, cracks within the black community opened, too. Old, cautious and nonviolent on one side. Young, progressive and militant on the other.
Within two years of Gibson's parade, the school kids and their signs would be replaced by National Guardsmen holding rifles. North 24th Street would never look the same.
* * *
Gale Sayers sat against a hallway wall in the Kansas University administration building, scrunched in a crowd.
It was March 8, 1965, two weeks after the Nation of Islam killed Malcolm X and just one day after 400 unarmed blacks attempted to march across the Edmund Pettus Bridge in Selma, Alabama, only to be beaten by police. Bloody Sunday.
Sayers had chosen KU over Nebraska partly because of its racial diversity. But that morning, he and 150 students protested discrimination in university housing and the Greek system. Sayers wasn't beaten, just arrested.
"They accept me as a football star," said the two-time All-American, "but not as a Negro."
As 1965 unfolded, black athletes felt more and more responsibility to stand up. On Aug. 12, the "Kansas Comet" made his professional debut for the Chicago Bears, a preseason win over the Redskins. The same day, inner-city Los Angeles erupted following an ordinary reckless driving arrest.
The Watts riots raged five days, killing 34 people, injuring 1,000 and leading to almost 3,500 arrests. Hundreds of white-owned businesses were destroyed.
Through the 1950s and early '60s, the South anchored the civil rights movement. Headlines came from Birmingham and Oxford, Little Rock and Greensboro.
Suddenly, Northern ghettos emerged as a battleground. Children of the Great Migration felt emboldened to express anger with violence. Sit-ins and protest marches had run their course. "We Shall Overcome" was soon drowned out by Stokely Carmichael's "Black Power."
Sayers didn't make any more headlines on the civil rights front. He was busy shattering standards of football showmanship.
In his third regular-season game, he totaled 184 yards rushing and receiving at Green Bay. Two weeks later in Minnesota, Sayers scored four second-half touchdowns and compiled 324 all-purpose yards on 22 touches, including a 96-yard, go-ahead kickoff return with 2:18 left.
Sayers vomited before every game in '65. Too nervous. But on the field he epitomized grace. During an era of three yards and a cloud of dust, he made football artistic. Tackling him was like catching a bird in midair. He made turns others didn't even see, at full speed.
"He took you by surprise even when you knew he was coming," Packers coach Vince Lombardi said.
Sayers saved his best performance of 1965 for sloppy Wrigley Field. On Dec. 12 against San Francisco, he produced 336 all-purpose yards and six touchdowns on just 16 touches. Mud stained his white pants but didn't slow him down. He scored on an 80-yard screen pass, a 50-yard run and an 85-yard punt return.
"That was the greatest game of football I have ever seen a man play," Bears coach George Halas said afterward.
"The greatest performance in National Football League history," Bears teammate Mike Ditka said decades later.
"I just wonder how many that Sayers would have scored if we hadn't set our defense to stop him," said Hall of Fame quarterback Y.A. Tittle, then a 49ers assistant.
Sayers finished his rookie year with 22 touchdowns, an NFL record. Back home in Omaha, his old friends were impressed but not terribly surprised. They'd seen Gale do the same things on Sunday afternoons at Kountze Park.
* * *
Bobby Bland played the blues one more time at the Dreamland Ballroom on Dec. 17, 1965.
Shortly after, North 24th Street's most famous music hub closed without much fanfare. North Omaha had deeper sorrows.
Meatpacking had fallen on hard times and the latest plunge came at Cudahy, which laid off 470 workers, including 300 blacks.
In 1955, when Omaha became the world's largest meatpacking center, the packinghouses employed 12,100. A decade later, it dropped to 7,200.
» New environmental regulations stymied old methods of waste removal. Packers came to Omaha in part because they could turn the Missouri River into a sewer drain. Now the government demanded that they stop.
» Old slaughterhouses cracked and crumbled after 80 years of use. Maintenance costs soared.
» Automation reduced the need for massive buildings and maximum workforces.
» The biggest problem was new competitors like Iowa Beef Packers, which recognized a better blueprint: smaller plants in smaller towns. They could get free land and tax breaks. They could access cheaper (often non-union) labor in more efficient facilities.
From 1960 to '65, 17 plants sprouted across Nebraska and southwest Iowa.
In Dakota City, Nebraska, IBP slaughtered four times as many cattle (per man) as Armour in South Omaha. Machines moved, sealed, weighed and stamped boxes, then transported pallets to trucks. One man at a control panel could operate an entire rendering plant, turning animal waste into soap and tallow.
The new way appealed to farmers, too. They didn't have to spend a day waiting in line on L Street. Nor did they have to share profits with commission agents — they cut out middlemen.
In 1925, 91 percent of cattle sales happened at terminal markets like Omaha's. By '64, it was 36 percent and plummeting.
"There no longer is a reason to pay the higher costs of having a meatpacking plant in a big city," IBP executive Maurice McGill said. "We foresee a day when thousands of head of cattle are fed in gigantic feed lots located near small, highly automated packing plants."
"The Davids," The World-Herald's Bob Dorr wrote, "are killing off the Goliaths."
As the Big Four — Armour, Swift, Cudahy and Wilson — strained to modernize, Omaha officials did their best to minimize doom and gloom. They called a 17 percent decline in total livestock receipts in '65 a temporary setback. "The future of the Stockyards will be greater than its past," said Charles O'Rourke, Union Stockyards Company vice president.
Some smaller visionaries remained bullish on Omaha.
"The finest meat in the world is in this market," said Lester Simon of Table Supply Meat Co. in South Omaha. "Steaks are more tender and have better flavor because the cattle are fattened on corn."
In May 1966, Simon, his three sons and 50 employees moved into a new (non-slaughtering) plant at 96th and I Streets. Sales immediately exploded, prompting a company name change.
You may have heard of it: Omaha Steaks International.
* * *
Nebraska beef gained worldwide fame, but North Omaha didn't taste the benefits.
Blacks suffered a disproportionate percentage of job loss and these were no ordinary jobs. The average packinghouse worker made $3 an hour, about $23 in today's money. Some highly skilled workers, like ham and beef boners, could make $10 an hour, or $78 today.
Cathy Hughes' 25-year-old husband supervised the kosher kill at Cudahy. His all-black crew worked without the benefit of a sledgehammer. They wrestled, shackled and hoisted conscious cattle upside down — "It was truly a rodeo," Hughes said. Then a rabbi slit the cow's throat.
Friday afternoon, her husband received his paycheck, stopped at the post office and purchased their new baby boy a $50 savings bond, purchased for $37.50. Week after week after week. Hughes eventually counted $2,000 to $3,000 worth.
"Who would've believed that was going to end?" Hughes said.
Most fired workers had no experience outside the packinghouse and no education. Eighty percent of Cudahy layoffs in '65 hadn't graduated from high school; 75 percent were 45 or older. They didn't want to go back to school, nor did they want to learn new skills. Even when they did, other manufacturing unions didn't hire blacks as equally as meatpackers did.
"It takes a great deal of counseling simply to get people to accept their plight," one labor official said.
North Omaha's "plight" was supposed to improve with civil rights. Instead, conditions further deteriorated. The non-violent 4CL lost influence as more aggressive voices, especially Black Muslims moving to the neighborhood, swayed youth.
"Omaha has a very explosive situation," a Human Relations Board member said. "I think any form of self-delusion is dangerous as hell."
The fuse lay waiting in a grocery store parking lot at 24th and Lake Streets. In 1964, a Safeway opened at the northeast corner to great fanfare: "The store of tomorrow … here today!" advertisements declared.
But the parking lot, which featured 180 stalls, soon became a popular after-hours hangout. Gamblers shot dice. Drunks broke bottles. Pimps and prostitutes conducted business.
To discourage loitering, Safeway stretched a single chain around the parking lot. Blacks protested the makeshift fence and the store removed it.
"Negroes hate chains," the Rev. General Woods said, "whether they are around a black man's legs on a Georgia chain gang or around a white man's supermarket in Omaha."
By '66, whites didn't feel welcome in the supermarket — or on 24th Street — after dark. But philosophically the neighborhood sustained its diversity.
When Mayor A.V. Sorensen lamented that blacks needed to "get together and agree upon what they want," a black writer named Douglass Hall called him naive:
The Negro is many: white and black, dirty and clean, diseased and healthy, beautiful and ugly, smart and lazy, sad and happy, brilliant and dumb, Democrat and Republican, Catholic and Protestant, sinner and saint.
He loves beer and iced tea, milkshakes and martinis, spare ribs and spinach, jazz and hymns, Bach and the blues.
He steals, begs, bleeds, fights, loves, feels, runs, jumps, works, prays and sings.
That Negro over there wants "Freedom Now" and this one here is willing to wait, and the Negro in the corner does not really care about freedom at all.
All true. But in '66, the neighborhood's most eloquent voice presented only the militant point of view. From his barbershop at 24th and Spencer, atheist Ernie Chambers preached the gospel of oppression.
When police meet white folks, he said, they smile and remove their hats. But on the Near North Side, he said, they approach every black woman as if she's a prostitute and every black man as if he's a thief.
Police brutality, Chambers said, isn't just physical head whipping. It's constant agitation and disrespect. How could North Omaha open the city's eyes to injustice?
"A bomb is the only answer," Chambers said. "Someone will have to blow up downtown Omaha to convince the white power structure that we mean business — that we are damn sick of imprisonment in this stinking ghetto."
* * *
The civil rights movement was spinning off its axis, but North Omaha still had a moral compass. A coach who regularly advertised for opponents on a World-Herald sports page.
Josh Gibson of Near North YMCA (341-9134) is anxious to schedule post-season games with Legion and midget baseball teams in Southwest Iowa and Eastern Nebraska.
Josh was feisty as ever, even if his catcher's mitt was older than his players. "He'd pounded that glove so much," said one of Gibson's players, Al Gilmore, "that thing was almost like a handkerchief." Occasionally after he crossed an umpire, Josh pulled his team off the field and forfeited. Once after a loss, he made his kids walk 6 miles from South Omaha's Brown Park, pointing north.
Just keep going straight. You'll make it home.
"South Omaha was a long-ass way," said a speedy center fielder named Johnny Rodgers.
The Sayers brothers. Marlin Briscoe. Ron Boone. They all played for Josh. They all experienced his wrath, his lectures and his lessons about conserving wooden bats.
Don't use the bats to smack mud off your cleats. Use these instead — popsicle sticks.
Sometimes Bob Gibson stopped by practice and pitched to them. Sometimes teen girls like Cathy Hughes stopped by and Josh pointed them home. "You all need to get away from here. Little fast girls!"
In the winter, Josh welcomed the new Husker football coaches to watch his YMCA basketball leagues. Bill Jennings never bothered, but Bob Devaney sat in the bleachers and looked for talent. Josh used it to motivate his kids: You're not forgotten here. Do the right things and you'll succeed.
After league games, Josh caught a ride home from his brother Fred, stopping the car when he saw familiar faces on the street corners.
"He would actually make them get in the car, ream them out and take them home," said his nephew Fred Jr., who watched it all from the back seat. "People loved him and hated him at the same time."
In the spring of 1966, a group of Gibson pupils took their popsicle sticks to Tech High, which had never won anything in baseball — they didn't even have a place to practice.
The best Trojan athletes opted for track and field, saving baseball for the summer.
Tech's 6-5 record entering the district final pleased coach John Morse. Then it clipped Omaha Westside 3-2 to earn a place in the state tournament bracket.
At Rosenblatt Stadium, Phil Wise's two-run triple in the fifth inning broke Lincoln Southeast and moved Tech into the state championship game against Benson.
Coach Morse, a white Benson grad, caught for Bob in semipro ball — his hand swelled so badly that he padded his mitt with a sponge. Morse graduated from college and landed at Tech in '58, teaching P.E. and history — "Josh should've probably got the job that I got."
As Morse prepared the Trojans for the state championship game, Bob sifted through memories at 3743 Maple St.
His new entertainment center had caught fire and spread to his family room. He got a call from his wife, flew home between starts and found his trophies and awards destroyed.
The ball from his first major-league win in 1959? Gone. The ball from Game 7 of the '64 World Series? Gone.
Gibson cleaned up the past, flew back to St. Louis and — one day later — pitched nine innings to beat the Cubs, 3-2.
He missed his alma mater's finest baseball moment. Roger Ulmar pitched a gem, Wise — the future NFL safety — went 4-for-4 and Bobby Griego's daring steal of home with two strikes and two outs in the fourth inning sparked a four-run surge. Tech beat Benson, 5-2.
* * *
Air Force One touched down at 12:03 p.m. President Johnson greeted Omahans along a fence line. He stopped for just one reporter, the Omaha Star's Charles Washington, who asked about the elusive piece of the president's civil rights package: open housing.
The president expressed confidence that Congress would pass his bill soon. He greeted Bob Boozer and Mildred Brown, the Star publisher, then headed via motorcade to the Missouri riverfront. Shortly before his arrival, the event took an ominous turn. The speaker's stand was engulfed in smoke from nearby trash fires.
It was 90 degrees when the Boys Town band played "Hail to the Chief." Johnson stepped to the microphone and delivered a major foreign policy speech.
"I'm convinced that after decades of wars and threats of wars, peace is more within our reach than at any time in this century." It was June 30, 1966, two years before the Vietnam War's darkest days.
"The Communists expect us to lose heart. They intend to wear us down. They believe political disagreements in Washington and confusion and doubt in the United States will hand them victory in South Vietnam — and then in Asia. They are wrong."
At 1:33 p.m., Air Force One returned to the sky, leaving behind the trail of smoke.
Two days later, a crowd of blacks — mostly late-teens and 20s — congregated Saturday night on Lake Street. The pop-pop of fireworks prompted a police call at 12:49 a.m., just as the bars emptied.
Two cruisers pulled into the Safeway parking lot, where about 150 people clustered. The cops attempted to break up the crowd with bullhorns. When they threatened arrests, the heckling started.
One member of the crowd threw a bottle. One tossed a lighted firecracker at the cops' feet. The officers retreated and called for backup. When they circled the block, a bottle smashed a cruiser window. The crowd spilled out of the parking lot to 24th Street, where three stores were looted.
Police returned with 12-gauge sawed-off shotguns and arrested eight people, dispersing the crowd by 3 a.m.
The next night, disturbances continued — Mayor Sorensen estimated 4,000 people on 24th Street just before midnight. On North 16th Street, an off-duty white cop came upon 20 kids looting the Gamble Store. They ran and he shot a 15-year-old kid in the leg.
Fortunately, just the leg.
Store owners camped out with rifles across their laps, awaiting looters. By dawn, the record showed more than 40 broken windows and 50 arrests. Fourteen black ministers condemned the uprisings, which "only lead to the total destruction of our community."
That night, July 4, the scene escalated again. As fireworks exploded around the city, about 100 helmeted officers and troopers dispersed the Safeway parking lot crowd without injury. But it didn't end there.
Within an hour, 44 National Guardsmen marched south down 24th Street in V formation from Maple to Lake — 500 more helmeted troops awaited call at the armory. The 44 marched in silence, their bayonets shining beneath the streetlights. When they arrived at 24th and Lake at 1:40 a.m., the intersection had already been cleared, so they turned west, where helmeted policemen pursued hecklers — "Whitey!"
Twelve policemen chased a single bottle thrower into an apartment. At another house, cops busted down the door and came out with a man bleeding from his head.
"Both sides are stupid," said a 24-year-old black man watching from his porch. "It won't help a bit."
The mayor tried to mend fences, meeting with black youths to hear their grievances: "Gestapo" cops, joblessness and lack of recreation spots.
Sorensen conceded that cops occasionally brutalized blacks. "Men have deeply ingrained attitudes," the mayor said, "and sometimes you don't change them with just a week's course in human relations."
He reminded citizens that of 30,000 blacks in Omaha, only 200 stirred trouble. Gov. Frank Morrison echoed Sorensen, hoping the situation would "shock the conscience" of Omahans who "neglected for many, many years" the Near North Side.
Truth was, the '66 riots — the city's first major disturbances of the civil rights era — only widened the gap between black and white Omaha. They also split the black community, old vs. young, moderate vs. radical, those who viewed a bottle half full vs. those who'd rather smash it half empty in the street.
In August 1966, Sorensen testified in Washington before a Senate subcommittee examining urban violence. He blamed "slumlords" and federal lawmakers for blocking urban renewal funds. He blamed Nebraska's "rural Legislature" and citizens of Omaha for ignoring blacks' problems.
Sorensen outlined a bold plan to "break up the ghetto," moving 1,000 families into all-white neighborhoods with subsidized rent and aid from churches and civic groups.
"Deplorable living conditions and social unrest go hand in hand. Substandard housing, high levels of unemployment and poverty incomes make family breakdown and social disorder predictable."
America, Omaha's mayor said in the nation's Capitol, should commit as much money to urban cities as it does to foreign aid.
"I would not hang my head in shame if we failed to be first putting a man on the moon but were able to find a cure for this cancer which bedevils our society."
* * *
On Sept. 11, 1966, Gale Sayers opened his second NFL season with 79 yards on 17 carries — he'd go on to lead the league in rushing. Back home, the state's biggest politicians — and Bob Boozer — gathered on North 24th Street for a public ceremony.
They read official proclamations and presented American flags to inaugurate the new Bryant Center, the finest outdoor basketball playground in Omaha, complete with five blacktop courts, lights, bleachers and an electric scoreboard.
Eat your heart out, Rucker Park.
St. Benedict's built Bryant Center on an empty lot at 24th and Burdette, right next to the Omaha Star. Prime real estate. Immediately it became a magnet for competition and socializing.
"That's where the boys were!" future state senator Brenda Council said.
"Your mothers would be looking at you strange because that's when we dressed up the cutest," future media mogul Cathy Hughes said. "We got our hair done to go stand out in that heat. On the fence. And watch the guys play. That was like watching the all-star game to us."
You never knew who might show up at Bryant Center. In 1969, Marlin Briscoe walked in with his new friend from the Buffalo Bills, O.J. Simpson.
"Biggest head I've ever seen in my life," said Council, who knew O.J. was trouble when he reeked of marijuana.
Bryant Center's biggest regular star was Ron Boone, who dribbled his ball from 25th and Sprague, where his single mother fed six kids. That was nothing — there must have been 60 kids on their dead-end street.
When an unknown car turned south down 25th Avenue, failing to recognize the dead end, kids playing baseball in the street grumbled and glared.
In high school, Boone hitchhiked to Tech, saving his bus money for a burger, fries and Coke at McDonald's — "All three of those things. 37 cents." After school, he dribbled his ball to Kountze Park, shoveling snow off the concrete when necessary. But Boone was no phenom. He rode the bench in '63 as Fred Hare carried Tech to the state championship.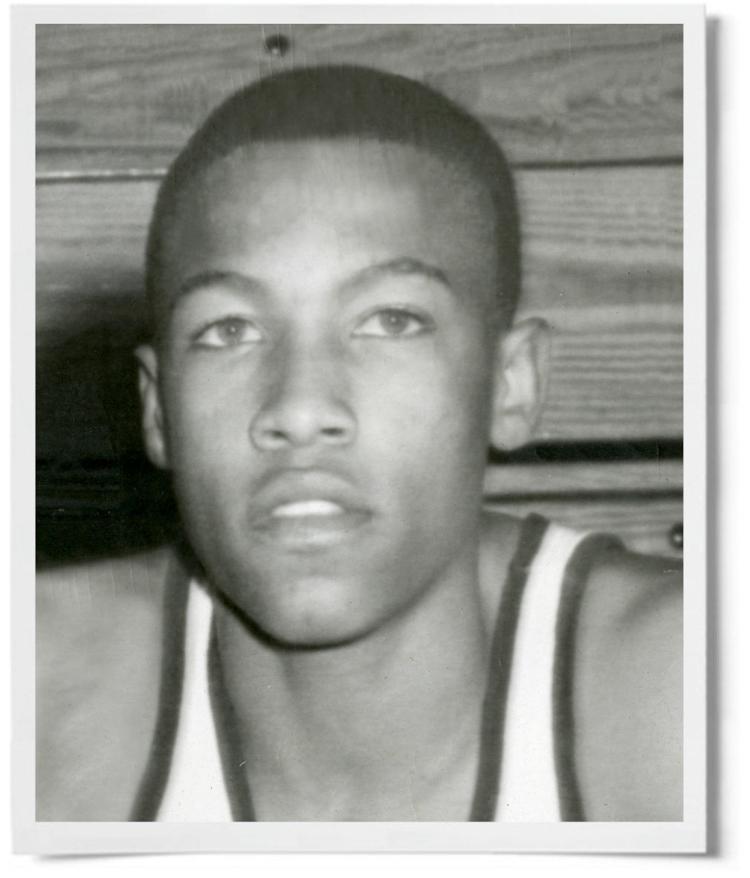 The next year, Boone averaged 12 points per game as a senior and landed in junior college. That's where he grew 4 inches. He earned a scholarship to Idaho State and blossomed into a pro prospect. But Boone always came home for the summer.
"One day at Bryant Center," Briscoe said, "he dunked on me like Blake Griffin. I couldn't believe it was the same little kid. He said, 'Now that's for all those years.' "
Basketball was Briscoe's first love, too. On Sept. 10, the day before Bryant Center's official grand opening, Marlin started his third season at quarterback for Omaha University, coasting through an exhibition win over Nebraska Wesleyan.
Then he drove to Bryant Center for a pickup basketball game. Briscoe was high above the blacktop when an opponent undercut him. Briscoe landed on the back of his head.
The following Saturday, Omaha U. opened at Idaho State. With Boone watching, Briscoe threw for 179 yards and rushed for 73 in a 28-20 loss. But a second hit to his neck knocked the senior captain out of the game and prompted a hospital visit. Doctors diagnosed a fractured vertebrae.
"They told me I was done," Briscoe said. "I was lucky I wasn't paralyzed."
He grabbed a clipboard and coached his teammates, who staggered to a 1-9 record. He rehabilitated on his own time, earned his degree and hoped for a second chance.
* * *
The mayor came home from Washington, D.C., and pushed reforms to help the Near North Side.
He pitched a summer camping retreat near Columbus, Nebraska, where policemen and black kids shared cabins, fishing poles and horse saddles. He hired Bob Gibson to help establish a police athletic league, and Bob Boozer to lead basketball clinics. He even hired black citizens to help patrol the Near North Side.
Through the list of ideas, a message cut between the lines: It took civil unrest to get the city's attention.
Sorensen's public safety director, Francis Lynch, criticized the mayor for going soft. He called the Near North Side "a jungle." The solution for 200-300 "hoodlums" wasn't stronger programs, it was a stronger hand.
"Diplomatic law enforcement is a euphemism for selective law enforcement," Lynch wrote. He accused Sorensen of submitting to blackmail.
Sorensen fired Lynch, but he couldn't restore faith on North 24th Street. For decades, segregation locked blacks inside the Near North Side as white consumers were free to come and go. They visited white-owned print shops, body shops, ice cream shops, even bars and restaurants. After the '66 riots, whites stopped coming down and stores like Tully's, which had been ransacked for $20,000 in merchandise, closed.
Said one remaining merchant: "We treat everyone who walks in as a potential customer and a potential robber."
Property values dropped. Insurance rates skyrocketed — some companies flat-out refused to write policies on the Near North Side. Shopkeepers let their leases expire and walked away, leaving good buildings vacant, their once-gleaming storefront windows covered in plywood.
"It was an eye-opener to what was going to happen in the future," Boone said.
He didn't see it coming. In the summer of '66, Boone had just finished his first season at Idaho State. His college coach was on the way home to Indiana and offered to drop off Boone in Omaha.
After 1,000 miles in the car, Boone was anxious to show Coach where he came from. Bad timing. They turned north on 24th Street, Boone said, and drove right into the sirens and smoke. The first riots. Needless to say, Coach didn't stick around for a tour, but he got a lot of mileage out of the experience.
"Every time he told the story, he'd say, 'I got Ron out of North Omaha. Otherwise he'd be dead by now.' "
Riveting stuff — if North Omaha wasn't your home.
Next up: Property rights
By 1966, Bob Boozer had acquired a unique stature in his hometown. He made friends in the black barbershops of North 24th Street and in the white boardrooms downtown. But when the NBA star wanted to lay down roots and build a house, he received a harsh reminder that even a man his size couldn't straddle both worlds — solely because of the color of his skin.
As a bitter civil rights battle wages in the State Capitol, Bob Boozer gets a reminder that not even a man of his stature can escape North Oma…
Photos: Scenes of North Omaha
North Omaha is the epicenter of the city's black history and culture. Check out these photos, many of which were taken during the 1960s, to see the neighborhood at the peak of its vibrancy.