DES MOINES — After winning multiple Class A championships together at Omaha Central, Akoy Agau and Tre'Shawn Thurman headed to college with aspirations of playing in the NCAA tournament.
Their journeys have lasted five and six years, respectively, and seen them play for five schools, combined.
Now seniors in their final college days, fate — and the NCAA selection committee — brought them back together at Wells Fargo Arena, the site of first- and second-round tourney games this weekend.
Agau's Louisville Cardinals and Thurman's Nevada Wolf Pack compete in separate regions Thursday two hours from where they starred as high school teammates. That has them both thrilled and surprised.
"This is something that happens in movies or happens in a dream," Thurman said. "Akoy's my guy. I've talked to him several times since we both landed here. It's crazy how things can come almost full circle."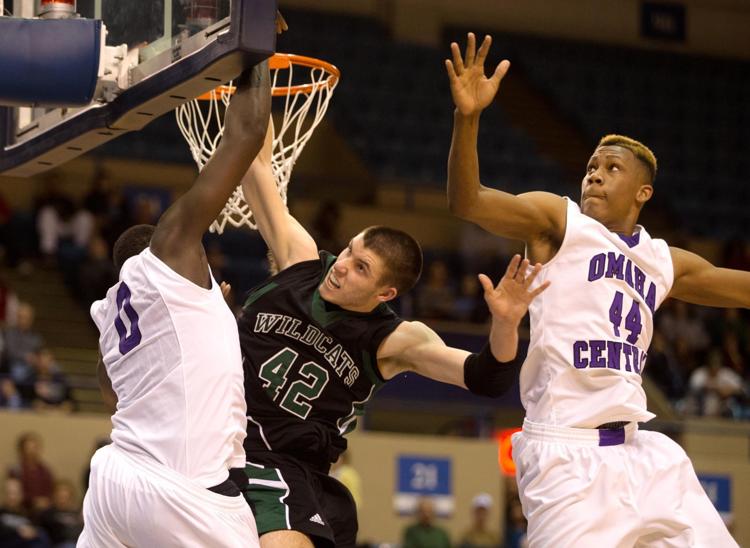 Louisville and Nevada are No. 7 seeds in their regions. The Cardinals take on Minnesota in the East at 11 a.m. Thursday. The Wolf Pack face Florida in the West at 5:45 p.m.
Agau and Thurman, who both wear jersey No. 0, will each be focused on his own game while also pulling for his friend in another. Their teams can't meet until the Final Four in Minneapolis.
"I'm so happy for Tre'Shawn," Agau said. "I'm happy to see him being successful at Nevada, getting (to) play and, obviously, the success of their team. It's ironic that he happens to be in Des Moines, just like I am, two hours from Omaha.
"I'm happy and excited for him and his team. Hopefully, they make a deep run."
Nevada (29-4), which got off to a 14-0 start, has been ranked throughout the season after a Sweet 16 appearance a year ago. Its roster includes seven players — all transfers — who have scored at least 1,000 career collegiate points. Thurman, who racked up 1,164 in three seasons at UNO, is among them.
The 6-foot-8 forward was required to sit out last year per NCAA transfer rules, but has made the most of his one season with the Wolf Pack. His all-around play has earned the praise of Nevada coach Eric Musselman, a former NBA coach who has taken the college program to its highest level of success.
"I think I did a pretty good job of fitting in with these guys," Thurman said. "That (transfer) year was great for me. I was able to learn a lot of things from Coach Muss.
"He's a great coach with a lot of experience that college coaches don't have. It was great that I was able to learn so much from him."
Thurman, who averages 8.3 points and 5.7 rebounds, enters the tournament off a stretch in which he's recorded four double-doubles in Nevada's past nine games. He has always performed well on the big stage. Some of his best games at UNO came on the road against high-major opponents.
"I've always had that confidence," he said. "That was instilled in my high school days with Coach (Eric) Behrens and Central. We were playing guys who are in the NBA or having great college careers now."
This will be Thurman's first NCAA appearance. Agau has been here before, but it's been awhile.
The former top-100 recruit began his college career at Louisville, where he played in a Sweet 16 game against Kentucky in Indianapolis as a freshman in the 2014 tournament. Sitting in the locker room Wednesday, he joked that it was so long ago that Dr. J, Larry Bird and Magic Johnson were still playing.
Injuries have plagued Agau throughout a college career that took him from Louisville to Georgetown to SMU then back to Louisville. The 6-8 graduate transfer obtained an NCAA waiver to get a sixth season after being granted two medical hardship waivers while playing as an undergraduate student.
"It definitely hasn't gone, obviously, the way I envisioned it — the whole picture I had of how college was going to go and how many years I was going to be there," he said. "Having been sidelined with a lot of injuries through this whole process has been very frustrating. But the biggest thing now is getting the opportunity to go to this NCAA tournament again, which I hadn't done since my freshman year."
Agau called his college journey — three schools (including one twice), three conferences and six seasons — a unique experience. He competed against current Louisville coach Chris Mack when he was playing for Georgetown and Mack was at Xavier two years ago. The familiarity brought Agau back to the Cardinals.
"I was in a continuous search of trying to find the right fit, and that dream of getting back to the NCAA tournament was the main goal," he said. "I get that opportunity with this group of guys, who I think have a good chance of making a deep run in this tournament. I'm excited and looking forward to that."
Agau has appeared in 19 games for Louisville (20-13). Playing time this season hasn't been what he was hoping for, but he has come to terms with that.
His hope now is to "go out on a pretty good last ride." He said a national championship — or maybe even just a trip to the Final Four — would trump the hard times.
Upon his arrival Wednesday, he immediately asked about Thurman. He said the two of them, and other former Central players, have kept in touch. They always had a bigger goal in mind.
"We all had this thing about putting Omaha on the map," Agau said. "People think (Nebraska) is not a big basketball state, and it was all football. That was something we carried on our shoulders and kind of always wanted to prove (wrong).
"We took pride in getting our names out there and proving the state of Nebraska had some very talented kids."
Sign up for World-Herald daily sports updates
Get the headlines from Creighton, Nebraska, UNO, high schools and other area teams.