The Vandy Boys are back in Omaha to make some noise, but this time it might be limited to the field.
The infamous "Vandy Whistler" was given two warnings on Sunday to stop his loud whistle or be removed from the stadium. According to MECA and NCAA officials, the whistling stopped.
That's a good thing. The attention at the CWS should be on the Commodores' excellent team, not a fan in the stands. But the whistlers' — there are two of them — nonstop piercing whistling has drawn the ire of fans around the SEC and now the College World Series.
I've received several inquiries from local fans wondering if the whistlers could be removed based on the NCAA's ban on using noisemakers. The answer: well, yes.
MECA official Kristyna Engdahl says one of the list of prohibited items at TD Ameritrade Park includes "bells/whistles/air horns." The whistler fell into that category.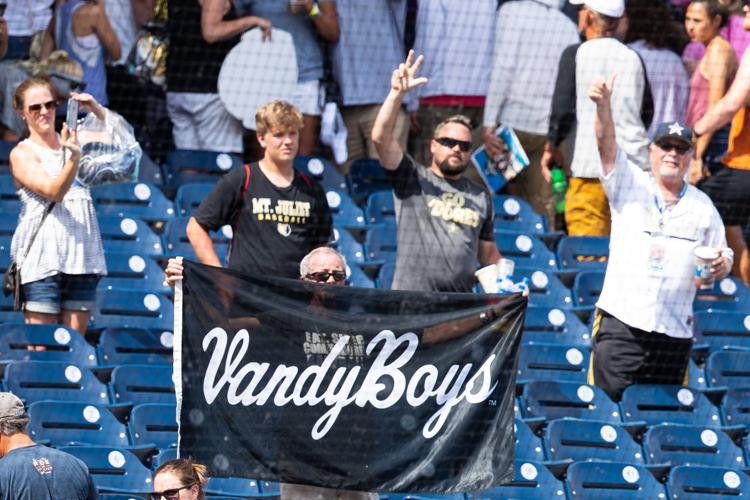 "We received several complaints, online and in person," Engdahl said. "We had people say they were leaving because of this."
Will the whistler persist at the next Vandy game Tuesday? If so, will he get removed? And will both of them show up?
I've written more about whistling than I ever planned. Better the attention goes to Vandy's amazing team, one of the best we've seen at the CWS in a long time. And tonight's starting pitcher, Kumar Rocker, who is coming off a no-hitter in the super regionals.
There's something you can cheer for — with your hands.
Sign up for World-Herald daily sports updates
Get the headlines from Creighton, Nebraska, UNO, high schools and other area teams.
» Can Creighton host a regional or super regional at TDA? The question came up a couple of times in the last month.
The answer is yes — if all other options are exhausted.
Creighton's Big East champs had an RPI in the high 20s this season, but the school did not bid on a regional. That was just fine with the NCAA, which was not excited about having more wear and tear on a TDA field after the Big Ten tournament and with a Major League Baseball game before the CWS.
But when the Jays got to the Corvallis Regional final, the school did bid on hosting a super regional. And at one point it was a possibility: Loyola-Marymount, a No. 3 seed, was close to winning the Los Angeles Regional.
Had Loyola advanced and Creighton beat Michigan in Corvallis, the Jays could have hosted the super regional in Omaha. However, CU and NCAA officials were trying to secure Werner Park as the host field.
It turned out to be a moot point. And while there's no telling how often Creighton will have the caliber of team to host a regional, it's good to know it's possible.
"There's nothing that negates them from doing it," said Anthony Holman, the NCAA's chief administrator for the CWS. "But there are some things that provide challenges, and this year it would have been nearly impossible for them to host.
"They weren't discouraged but we were looking for other options in the area. But we would have never said you can't."
» Holman said there have been no discussions with Major League Baseball about a major league game returning to the CWS next year. And that would jive with what I heard from Royals and MLB officials on Thursday night. That doesn't mean there won't be a game next year. But this year's game was announced last June about this time.
» I'm sure it's no consolation, but Arkansas and Dave Van Horn remind me of Miami and coach Jim Morris in the late '90s. The Hurricanes were one out away from the 1996 CWS title and then Warren Morris happened. The 'Canes returned to the CWS in 1997 and 1998 but didn't get back to the championship game until 1999. And then won it.
Two years later, Morris won his second national title.
See you soon, Omahogs. Your time will come.
» There's already been too much replay at the CWS. Everything doesn't need to be reviewed. Give coaches a limited amount of replays to be used like timeouts. When they're out, that's it. Thank you. We now return you to the CWS.
» My favorite CWS moment happened on Monday, when former Wichita State coach Gene Stephenson visited the Stadium View shop for the first time.
Greg Pivovar's famous sports memorabilia shop has been there for decades — and remains open during the CWS even though the carnival moved downtown. But when you're coaching in the CWS, you don't exactly have time to shop.
Stephenson bought a handful of programs from the 1989 CWS — the year the Shockers won the national title, a ball from 1992 and a 1991 CWS hat.
FYI, Michigan fans: Piv has a hat from the 1984 CWS. Not sure about any Jim Harbaugh cards.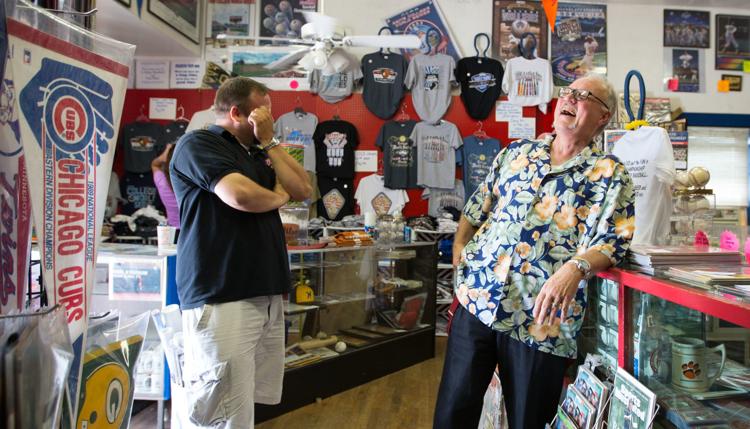 » Some astute readers asked if U.S. Open champ Gary Woodland came to UNO's Sapp Fieldhouse with Washburn University's basketball team. Good thought, but no. Woodland played one year for the Ichabods, in 2002-03, and that was before UNO joined the MIAA Conference (2007).
» The best part of Dirk Chatelain's brilliant series about North Omaha sports legends was the passion Dirk had for the project. That's the best kind of journalism, when the writer has an idea and pursues it passionately and relentlessly. This is a story that should be told to every generation of Omahan and Nebraskan. Our history matters.
» Speaking of history, love the idea of the Pipeline Camp at NU. It feels like a marketing idea by Scott Frost, but recruits need to be told — and reminded — of that tradition. It's a good way for it to be rebuilt.
» One more and I'm outta here: Another familiar face has returned to the CWS. Joslyn Stamp has returned to cover the event for Sports Illustrated Kids. Joslyn, 11, must have done a great job last year — she had her assignment with SI extended this spring. The sixth grader from Fairview Elementary in Bellevue has asked excellent questions for the coaches and players and has been very professional. Next up: She's heading for Kansas City Chiefs training camp later this summer.
Photos: 2019 CWS Day three: Arkansas, Texas Tech, Florida State, Michigan