The Big Ten won't leave, and that's a good thing.
Not to upset our guests from the Southeast, but the College World Series is better with Michigan in the championship series. And college baseball is better when the CWS isn't just a Southern summer picnic, when the Great White North has a reason to believe, a reason to play.
If the Wolverines can finish the job next week, it will rank among the greatest accomplishments in Big Ten history.
You know what might be more meaningful?
If Michigan can keep coach Erik Bakich in maize and blue for the foreseeable future.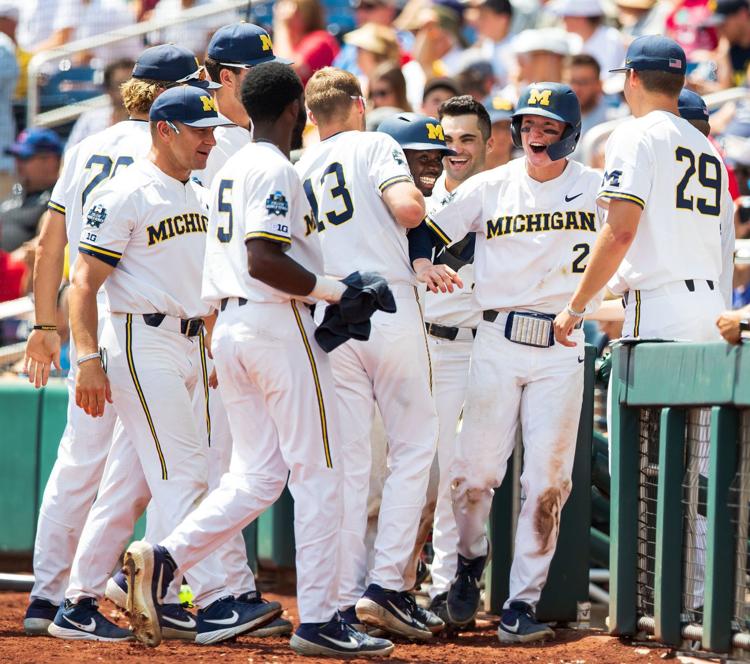 You know the offers are coming. Maybe not at this point in the calendar. But soon.
Bakich, in his seventh year at Michigan, signed a five-year contract in 2017 that raised his salary from $182,327 to $400,000.
Nine college baseball coaches make $1 million or more, so use your imagination on what offers might come and what Michigan will have to do to keep a special coach.
It's a big deal for the Big Ten, because the last time the league had a CWS team — Indiana in 2013 — coach Tracy Smith left for Arizona State the next year.
If Michigan can wrap an anchor around Bakich — who turned down reported offers from South Carolina and Stanford in recent years — it would do wonders for the Big Ten mindset and what the league thinks it can do on the national stage.
Right now, the Nebraska sky is the limit. This Michigan team — Team 154 — is good enough to bring home a national championship.
The Wolverines punctuated that Friday by stomping Texas Tech 15-3. It was the second win over Tech in a week for Michigan, which also beat Florida State. Big Blue has outhit, outpitched and outclassed every opponent.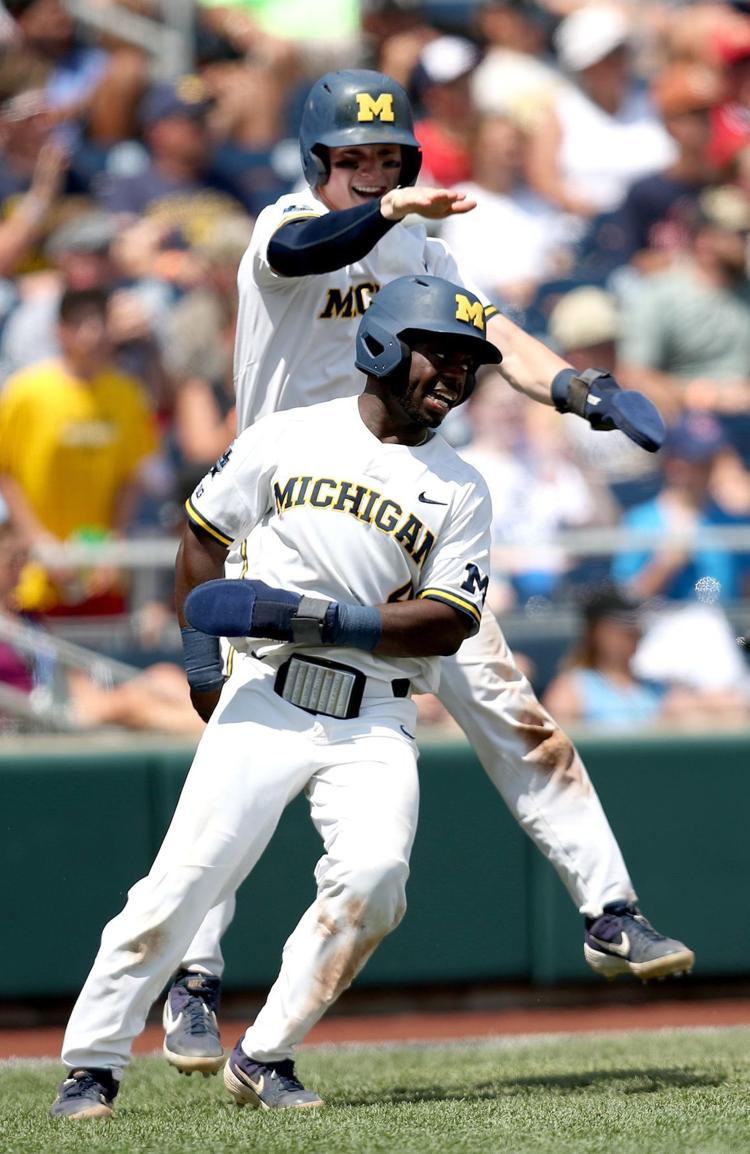 Some athletic directors might want to know what Bakich's secret is. It's simple. Coaching. Fundamentals. And belief.
Talent? Of course. But here's a news flash: Seven of the 10 Michigan starters Friday — including pitcher Karl Kauffmann — hail from Michigan, Illinois or Wisconsin.
If you put the Michigan players in Vanderbilt or Louisville or Mississippi State uniforms, you'd say that looks like an SEC or ACC team. You'd say they look like they belong.
Believe it, Big Ten administrators.
Behold the power of belief. The Snow Belt team didn't have the sun-kissed college baseball résumé. Michigan sneaked into the NCAA tournament. Had to play a super regional at the No. 1 seed. Came to the CWS, and everyone said buy a T-shirt, you'll be home soon.
The Wolverines aren't supposed to be playing for the national title. But all I can think of when I watch them play is why not?
Give the Big Ten poobahs a little assist here. They put the Big Ten baseball tourney at TD Ameritrade Park.
The reason was to showcase Big Ten baseball, give it some CWS and Omaha shine. Who knew that playing the league tourney there might help a member team win the national title?
"I think there's a big correlation," Bakich said. "Today was our eighth game at this park in the last month. I think that's a huge advantage."
Sign up for World-Herald daily sports updates
Get the headlines from Creighton, Nebraska, UNO, high schools and other area teams.
Is the atmosphere at the Big Ten tournament in the same universe as the CWS? No. But if you believe it calms you down and centers the focus, whatever works.
Bakich talks about catching lightning in a bottle, and he's pushed a lot of the right buttons. Including throwing Kauffmann a second time against Tech rather than the No. 3 guy. Kauffmann struggled early but worked it out.
But this Michigan run is mostly about Michigan refusing to feel like a Big Ten baseball team. The Wolverines fell on their faces a bunch in May but never turned fatalistic, never gave up and never stopped swinging.
Well, that and the Kenny Chesney concert.
Go back to May 18. Michigan had lost two out of three at Nebraska and lost the Big Ten regular-season title. The team was going to hang around for the weekend, because the Big Ten tourney began the next week in Omaha.
So, with Saturday night off in Lincoln, several players chose to attend Chesney's concert at Pinnacle Bank Arena.
The next Thursday, as they faced elimination against Illinois and possibly missing the NCAA tournament, a Chesney song was played at TDA.
The Wolverines rallied to win. Though they didn't win the Big Ten tourney, here they are.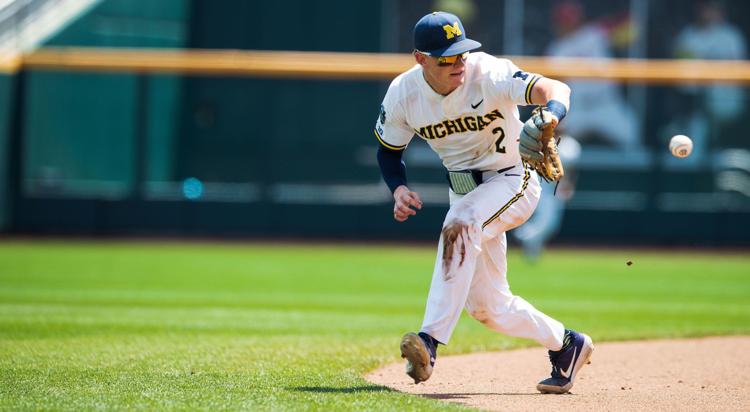 "To play the final two weeks of the Big Ten pressing and tight, playing not to lose, and see how that backfired, how that's not the way the game should be played," Bakich said. "When we did get into the (NCAA) tournament, at first it was relief. Then it was like, what are we doing? This is crazy. It was a light bulb moment.
"The repetition of having adverse moments, and every time we've gotten knocked down, we've gotten back up.
"It's a totally different mindset, and I don't want to change that. I don't want to let the moment get too big. Whoever we face next week is who we face. It's not going to be about any storylines; we're playing another baseball game. If we can make it that simple, that's been a great recipe for our success, and I don't see any reason to change."
Since it will be Vanderbilt, the Bakich-Tim Corbin story will be a major theme. Corbin was an assistant at Clemson when he took over Vandy in 2003. He brought along a 20-year-old graduate assistant to be his first recruiting coordinator and hitting coach. A guy named Bakich.
The Michigan coach says he owes it all to Corbin for taking that chance. Bakich says he wouldn't have met his wife, wouldn't have his kids. He calls Corbin his best friend and mentor. You can hear Corbin in Bakich's words and philosophy.
They built Vandy together, sold the belief to recruits that the private school in Nashville could go to the CWS.
"If this is how we meet, as potentially the last two teams standing, there's probably not a better way to meet," Bakich said.
Michigan is full of cool storylines, not the least of which is red-hot Jimmy Kerr, the first baseman who had four hits and two home runs Friday.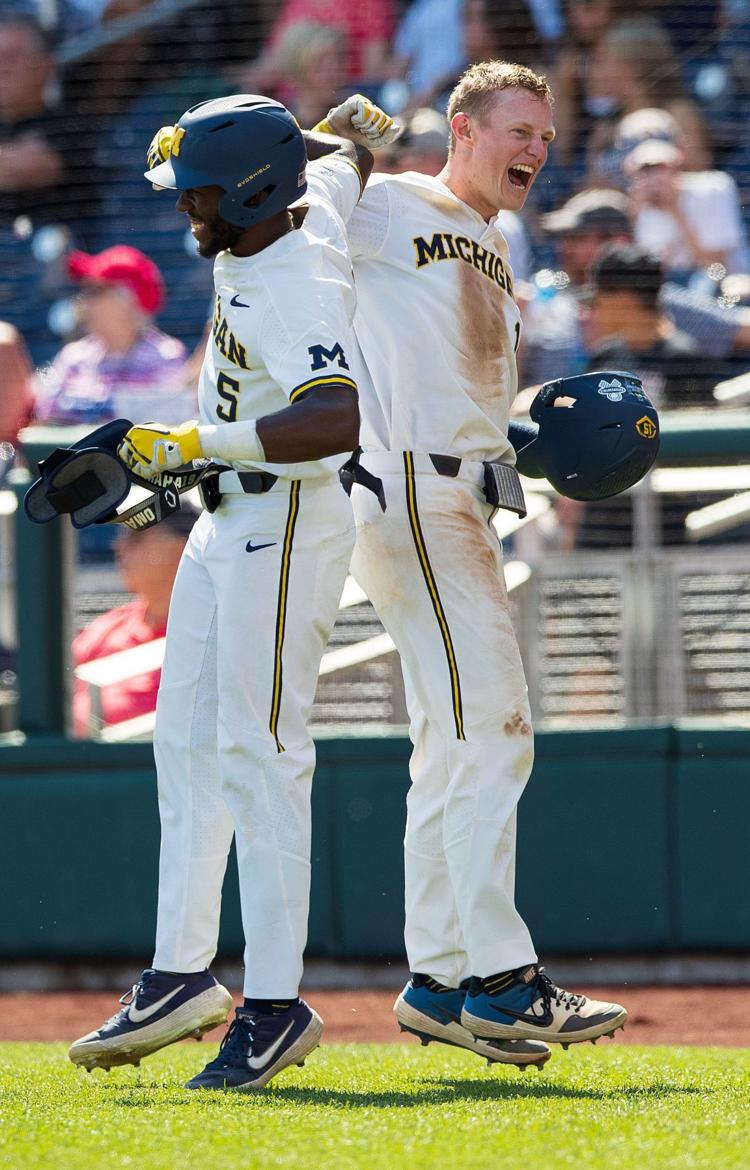 Has there ever been a player like Kerr in the CWS? He's a senior walk-on, the ultimate Omaha legacy. Kerr's father, Derek, played for Michigan in the 1984 CWS. Kerr's grandfather, John, played for Michigan in the 1962 CWS.
The 1962 national champion Michigan Wolverines.
Both Derek and John Kerr were here Friday, and that just added to the blue karma. Jimmy called it "special that they've been on this road with us." They are about to have more company, as many more Michigan fans are expected to hit Omaha by Monday.
Meanwhile, Jimmy had to postpone starting a summer job as an analyst at Goldman Sachs in New York City. He did so with the investment firm's blessing, but now his employer is going to have to wait a little longer.
"They were so nice and happy about it," Kerr said. "We'll see if I ever make it back there."
For Bakich and the Big Ten's believers, this experience is priceless.