I'm old enough to remember when pitching was a dirty word at TD Ameritrade Park.
But after two incredible performances in this College World Series championship series, there are no complaints. Only anticipation of a classic Game 3.
For some Game 3 drama. For some Game 3 history. For a Game 3 moment.
Vanderbilt and Michigan will take college baseball's grandest stage Wednesday night, and you get the feeling something big is about to happen.
The best-of-three series at the CWS started in 2003. There have been 16 of them. It was the right thing to do, from a baseball view. Baseball, they said, is a series sport.
It's worked, but it hasn't produced the classic games or memories that the single title game did.
There was Whit Merrifield's Rosenblatt farewell walk-off hit in 2010. Game 3 in 2016 was memorable because it began at noon the day after a wash-out, and Swim Trials fans were let in free, and of course Coastal Carolina was a fun winner.
That CWS was settled on a decisive play — sort of. Arizona, down one in the ninth with a man on first, had a line drive go into the left field corner. Coastal's left fielder played it so well the Arizona runner had to stop at third. There was no play at the plate. The next batter made the last out.
In 2014, Vandy's first CWS title came when John Norwood hit the winning home run — in the top of the eighth. Virginia loaded the bases in the eighth but couldn't get anyone in.
Last year we had a moment, and 2018 will forever be known as the Arkansas foul ball CWS. Not really a positive memory. That was in Game 2. Oregon State's 5-0 win in the clincher was anticlimactic.
Eight of the 16 three-game series have gone to a third game, and many of them were lopsided.
Not to throw on the jinx, but the stars are aligned for Vandy-Michigan to be different.
This feels like a heavyweight bout, and all those storylines. The coaches are besties, mentor and student. SEC power vs. Big Ten upstart. A Michigan title in the CWS would mean so much. But in the SEC, it always means more.
Haymakers will be thrown, and they will start on the mound.
Again, no complaints. Not after Tommy Henry's gem Monday night. And not after Kumar Rocker's rebuttal Tuesday night.
The Vandy dandy has carved a legend this postseason, and we've had a front-row seat this past week. Rocker has been dominant, and on Tuesday, he had no choice. Win or go home.
Nobody's headed to the airport yet.
That's because Rocker was all things Tuesday. Dominant early, with five strikeouts in the first two innings. Resilient later on, when Michigan got two men on and the tying run at the plate. 
He was 6⅓ innings, 104 pitches, 11 strikeouts and three hits of awesome.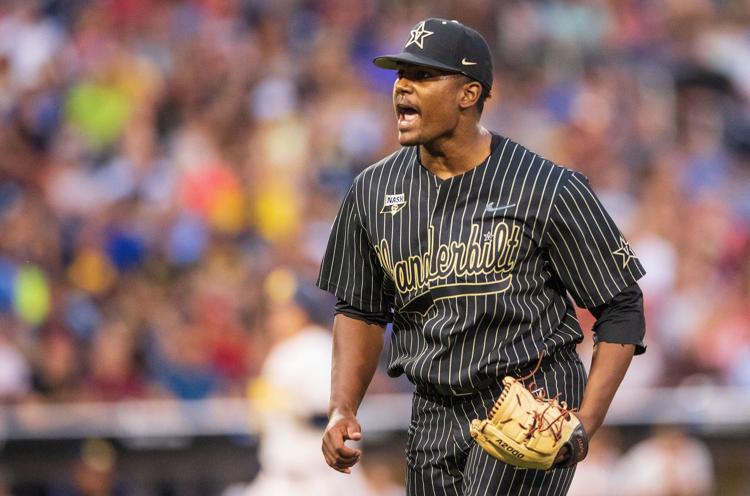 Don't look now, but we might get the best for last.
Game 3s can be a crapshoot with pitching. Johnny Whole Staff, with an ERA of 10.00. But not this time.
Michigan will send out its ace, Karl Kauffmann, with two f's, two n's and two wins in the CWS. Do I hear three?
If Kauffmann can get Michigan into the late innings, coach Erik Bakich will turn to No. 3 starter Jeff Criswell — whom Bakich has turned into a closer.
Criswell threw nine pitches Monday night, but Kauffmann has been off since Friday. He struggled early against Texas Tech but settled down. Michigan couldn't be more set.
Poor Vandy. It has to counter with its No. 3 guy, sophomore Mason Hickman. He's only 8-0 with a 2.08 ERA and 119 strikeouts. Yikes. Hickman has been a brick house for the Commodores, and I apologize, it's getting late at the CWS.
It's been a well-played CWS with a lot of close games, and we might get one more good one. My theory: Go with June 9.
It was back on June 9 during the super regionals that Michigan and Vandy were in this situation. And both responded big.
Before Tuesday night, Michigan's most recent loss had been on June 8, in Game 2 of the UCLA super regional. Michigan had a chance to clinch and let one get away. UCLA had momentum and was poised to take over in Game 3.
June 9: Michigan 4, UCLA 2
Back on that super regional weekend, Vandy dropped the first game to Duke, 18-5. Then Rocker saved the day in Game 2, with a no-hitter. Much like here at the CWS, the Vandy bats hadn't been very noisy to that point.
The point: Both of these clubs have spent the postseason rising to the challenge. Now they're headed on a collision course with history and a trophy at stake.
Somebody is going to remember Game 3 forever. I hope it's us, too.
Photos: 2019 CWS title series game 2