People like beer and learning about the outdoors, Monica Macoubrie says, so the Nebraska Game and Parks Commission Fish and Wildlife Education Division is bringing the two together.
They're holding several educational events at breweries in southeast Nebraska in the coming months.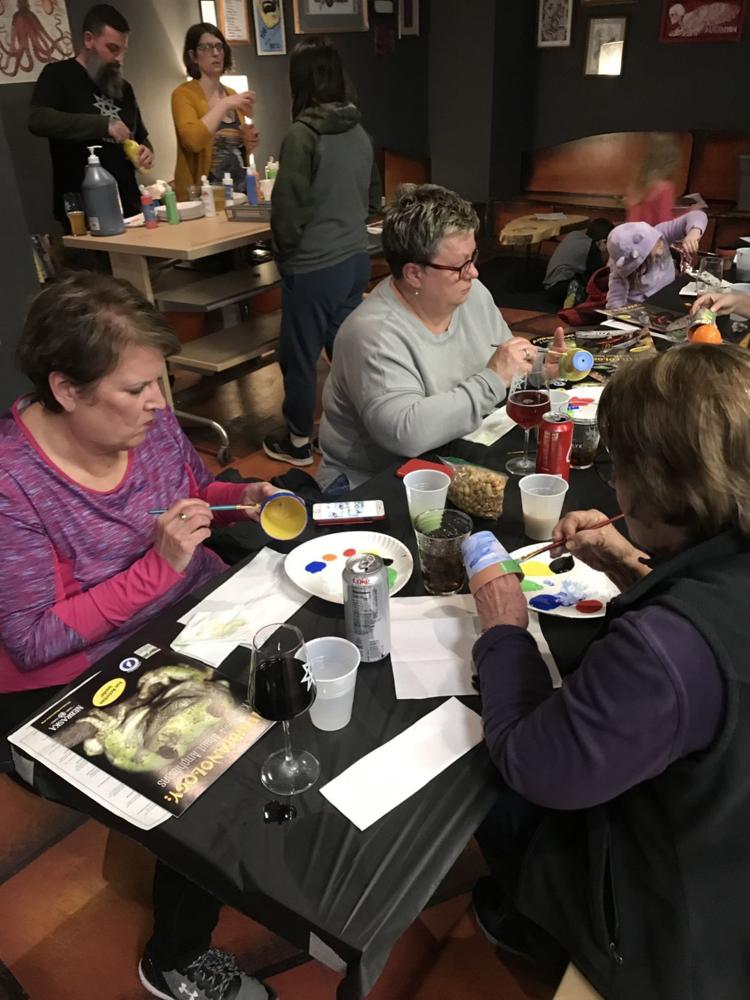 "Why not drink beer and listen to a fun interactive night?'' said Macoubrie, an education specialist. "Hopefully, it brings in more people.''
More than 100 people attended talks on dissecting owl pellets and making toad abodes at Cosmic Eye Brewing in Lincoln.
On Tuesday, in honor of Valentine's Day, educators will discuss the ways animals fall in love at the Kinkaider Brewing Lincoln Taproom.
The talks are in line with the new Education Strategic Plan in which the Game and Parks Commission hopes to reach out to a more diverse audience about Nebraska's natural resources, animals and ecology, Macoubrie said.
"If it all goes well, we'll try to branch out to more places around Lincoln and southeast Nebraska,'' she said.
The schedule, with events free with beer purchase:
» Tuesday: Kinkaider Brewing Lincoln Taproom, Lincoln, 7 to 8 p.m. With Valentine's Day near, it's time to discuss ways animals fall in love, including elegant crane dances and majestic porcupine rituals.
» March 26: Code Beer Company, Lincoln, 7 to 8 p.m. Explore the amazing world of owls. Owl feet, wings and mounts will be on display, with chances for people to dissect owl pellets.
» March 30: Boiler Brewing Company, Lincoln, 7 to 8 p.m. Embrace the weirdness of different animals in Nebraska, from bats and opossums to reptiles and amphibians.
» April 22: The Happy Raven, Lincoln, 7 to 9 p.m. It's trivia night and it's all about nature, with nature-based questions, wildlife songs, bird calls and hands-on props for teams to guess. Prizes will be awarded.
Backyard bird count
Bird lovers of all ages can enjoy learning about the birds of Nebraska, getting outside with family and contributing to science Saturday at the Schramm Education Center's Great Backyard Bird Count event.
The annual citizen science event by participants across the nation counts birds and submits checklists to be used by researchers at the Cornell Lab of Ornithology and the National Audubon Society.
The 9 to 11 a.m. and 12:30 to 2:30 p.m. sessions include instruction on bird identification basics, a feeder watch count and a guided bird hike count.
General admission to the education center is required to participate. Register by calling 402-332-5022, emailing amber.schiltz@nebraska.gov or signing up at the Great Backyard Bird Count at Schramm Facebook page.
» A bull elk tag and a multispecies combination permit will be auctioned off by the Nebraska Big Game Society on April 9 at Wilderness Ridge Golf Club in Lincoln. Tickets are $70 each or $600 for a table of 10. Dinner is at 6:15 p.m. Contact Justin Hertzel at 402-416-3847 or email NBGS11@gmail.com.
» The Nebraska Game and Parks Commission is seeking input on proposed changes to duck zone and goose unit boundaries for the 2021 and 2022 hunting seasons. Game and Parks is proposing boundary changes to several duck zones and two dark (Canada) goose units. Hunters can find more information and provide input by visiting OutdoorNebraska.gov/duckgoosezones.
» Hunting equipment is available for rent by the public at the University of Nebraska-Lincoln's Outdoor Adventure Center. The facility is located at 930 N. 14th St. in Lincoln and is open from 10 a.m. to 10 p.m. Monday through Friday and 10 a.m. to 8 p.m. on weekends. For more information or to make reservations, call the facility at 402-472-4777.
» A total of 122 hunters completed the Nebraska Upland Slam, a partnership between the Nebraska Game and Parks Commission and the Nebraska chapter of Pheasants Forever/Quail Forever that challenged hunters to harvest all four of Nebraska's primary upland game bird species. They received an official certificate and pin and were entered into a grand-prize drawing from Pheasants Forever/Quail Forever. Grand-prize winner Jeff Duffey of Minden, Nebraska, drew a Browning Silver 12-gauge semiautomatic shotgun; Lance Goings of Cherokee, Iowa, won a Pheasants Forever print; and Benjamin Esker of Effingham, Illinois, won an Orca cooler.
Sign up for World-Herald daily sports updates
Get the headlines from Creighton, Nebraska, UNO, high schools and other area teams.
Calendar
» Dark goose hunting season closes in East, Niobrara, Panhandle and Platte River units
» Statewide light goose hunting season closes
» White-fronted goose season closes
» Light Goose Conservation Order hunting begins
» Fisheries public informational meeting, Niobrara Lodge, Valentine
» Valentine's Day Special, Eugene T. Mahoney SP, Ashland. Until Feb. 14.
» Little Saplings Early Childhood Nature Discovery Program, Schramm Education Center, Gretna
» Pollinators and Paperbacks Educator Workshop, Elkhorn Valley Museum, Norfolk
» Live Animal Talk, Kinkaider Brewing, Lincoln
» Birds and Breakfast, Ponca SP, Ponca
» Valentine's Dinner, Platte River SP, Louisville
» Valentine's Day Getaway, Lewis and Clark SRA, Crofton
» Great Backyard Bird Count, Schramm Education Center, Gretna
To share your trophy picture or calendar item, send it to Outdoor Sports, World-Herald Sports Dept., 1314 Douglas St., Suite 700, Omaha, NE 68102 or email the photo and details to outdoors@owh.com. A daytime or cellphone number must be included.
Trophy Board photos: Nebraskans and their trophies
See a photo gallery featuring some local hunters' top prizes from across the Midlands.