Swimming fans can begin purchasing all-session tickets Monday at 10 a.m. for the 2020 United States Olympic Swimming Trials at the CHI Health Center.
While the event is just less than 12 months away — the Trials run from June 21-28, 2020 — tickets have been gobbled up earlier and earlier each time Omaha has hosted the event since 2008.
Mike Unger, USA Swimming's chief operating officer, said no matter how well a previous Trials or any big event has gone, swimming officials never take for granted that future iterations will naturally follow suit.
"There are always trepidations when you start ticket sales for an event like this," Unger said. "We are hoping to meet expectations and have been working hard to make these Trials an even better event. We take seriously all the feedback we get."
Continuous improvement can take place while keeping the family-friendly event affordable. Compared to the prices that those attending the 2020 Olympic Games in Tokyo will pay to watch the swimming events, the 2020 Trials are an economical alternative.
Gold level packages for admission to all 15 sessions are $575 per person, with silver at $475 and bronze at $375. Along with the Victory Row packages at $1,300, these all-session options are the only ones that will go on sale Monday.
Unger said the gold ticket option is around $10,000 for the Tokyo Games. For the 2012 London Olympics, if you were able to get an all-session package, it would have cost $7,600.
"In Omaha this year it will be less than $600," Unger said. "You will get to see a lot of terrific swimming in a very dynamic setting."
Later this year, after monitoring the sales of the all-session tickets, four-day ticket packages and daily and single-session tickets will be made available. Dates and times of those options will be released before sales begin.
When tickets for the 2016 Trials went on sale in the summer of 2015, Unger remembers being surprised by what happened the first day these packages were available to purchase.
"I happened to be in town that day, and there was a line that morning four years ago with about 20 to 30 people waiting to buy tickets," Unger said. "We had never had that happen before.
"That may not be a big number for some people, but to me, that just speaks to how big of an event this has become since it first came to Omaha."
Unger said requests have been coming in for more than a year from Olympic team alumni and others interested in getting tickets as soon as they can.
Other than the traditional presale for national team members' families, Monday is the first time all-session tickets can be purchased.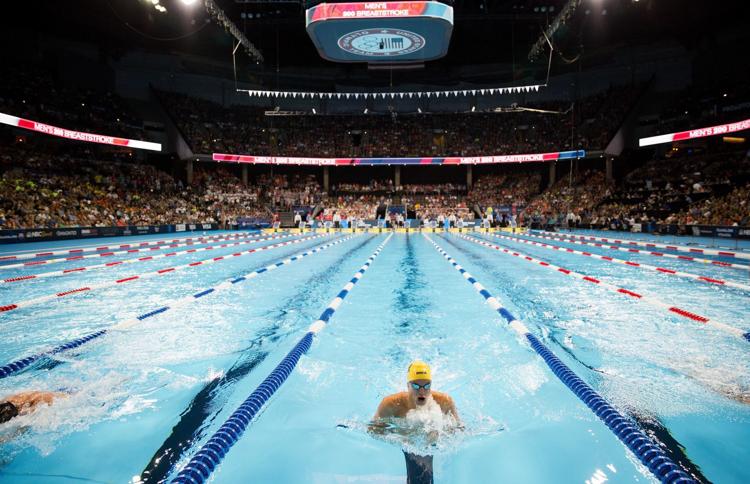 "We already exceeded that block from what we sold for 2016, so that's an early good sign," Unger said. "It's not indicative of anything, it's just a nice sign that there's serious interest. Hopefully interest will be as strong as it was the last time."
The 2016 Trials were a sellout at the CenturyLink Center, with more than 200,000 spectators on hand for the 15-session event. That was a record total that increased the 2012 Trials attendance numbers by 30%.
Unger said the only session that was down in actual attendance numbers was for the finals and the introduction of the Olympic team members on the final day. There were only two events in the pool that evening — the women's 50-meter freestyle and the men's 1,500.
Next year the men's 50 freestyle also will be on the final day, giving fans a chance to see three races along with the presentation of the men's and women's teams.
Two events have been added to the Olympic program: the men's 800 freestyle and women's 1,500 freestyle.