Nicky Lopez got chills when he walked back into TD Ameritrade Park on Thursday.
Those feelings were secondary, however, to what the Kansas City rookie felt later on.
In the iconic moment of the first major league game in Nebraska, Lopez roped his first big-league home run into the right-field bullpen to spark the Royals to a 7-3 victory over Detroit before a crowd of 25,454.
The former Creighton star had played home games in the College World Series stadium 75 times before. The only homer he hit there while in college looked identical to this one. It came in his final home game.
"It was against Nebraska my junior year, and it was the same exact spot that it was today," said Lopez, who had two hits in his return. "It was kind of cool. First game back since I was drafted so it was cool."
The sellout crowd, mostly clad in Royal blue, erupted as the Lopez blast off Tigers starter Matthew Boyd cleared the right-field fence in the second inning. The shot began a big offensive night for Kansas City.
The Royals hadn't won a series in two months and were 0-6 in rubber games of three-game sets this season prior to Thursday. They built a seven-run advantage to take the second of three from the Tigers.
Lopez, an Illinois product who played for the Bluejays from 2014-16, filled the role of the local hero with neither Nebraska native playing in the game. Kansas City reliever Jake Diekman pitched on Wednesday and former Nebraska All-American Alex Gordon sat out after being hit by a pitch during that same game.
"It's unfortunate not to be in the lineup tonight," the Lincoln native said. "Being back in Nebraska, you want to be out there for your fans where you grew up. ... If it were during the season, anywhere else, I wouldn't have played just because of how my shoulder feels right now. I really wanted to play tonight."
Gordon said it was "a smart decision" to sit out. Royals manager Ned Yost took the heat for it, saying he wrestled with the decision from Wednesday night through the morn. He then discussed it with Gordon.
"Alex is a warrior. He's going to want to go," Yost said. "And because we're here, it means a lot to him. I understand that. Quite frankly, Alex is the heart and soul of our team. He's having a phenomenal year, and we need him. I've got to make sure I don't beat him into the ground. I can't. He's too important to us."
Gordon, however, did join Yost, teammate Whit Merrifield and Royals legend George Brett for a press conference Thursday afternoon. Gordon and Merrifield shared their memories of playing in the College World Series prior to the MLB in Omaha game, scheduled to be a lead-in to this year's CWS opening.
Nebraska made its last appearance in the tournament in 2005, Gordon's final collegiate season. His Huskers won their CWS opener 5-3 over Arizona State, then were eliminated by losing their next two.
"To be the only team at Nebraska to win a game at the College World Series was pretty special," Gordon said. "And the fan support was amazing. They made us feel like rock stars out there during college."
Merrifield also had a great experience, one with a storybook ending, in his CWS appearance. His walk-off hit in the final CWS game ever at Rosenblatt Stadium, in 2010, gave South Carolina the first of two titles.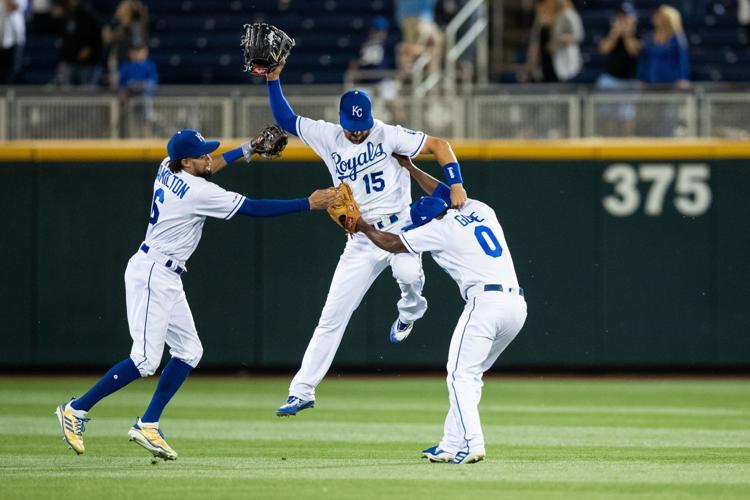 "We brought South Carolina its first national championship in any sport so that was a big deal for us," he said. "As years go by, you kind of reflect on it and you think, 'Wow, Rosenblatt was such an iconic park. To be able shut it down the way we did was pretty surreal.'
"I just remember Rosenblatt being the ultimate college baseball atmosphere. The fans were so passionate. They sort of gravitated toward us, which made it more special. It was loud. It was the loudest thing I'd ever played in. It was a ton of fun."
Merrifield said the final hit at Rosenblatt is still his favorite memory in baseball, even though he's now a bona fide major leaguer and a potential all-star. Last season's American League leader in hits and stolen bases drove in two runs with one of his two doubles on Thursday and scored twice in the Royals victory.
Homer Bailey tossed six shutout innings for Kansas City to earn the win over former CWS star Boyd.
Prior to the game, this year's CWS teams joined the Royals and Tigers on the field for the anthem. Former CWS stars and Hall of Fame members Dave Winfield and Barry Larkin were introduced. And 2018 CWS most outstanding player Adley Rutschman of Oregon State, the No. 1 pick in this year's MLB Draft, was announced as the Golden Spikes Award winner, presented to the nation's top amateur ballplayer.
Gordon was claimed that honor in his final year at Nebraska and has since become a MLB All-Star. He's had a rabid fan base from back home that has followed him throughout his long career with the Royals.
"I've been pretty fortunate to be drafted by Kansas City, which is close to home," he said. "Not only here, but in Kauffman Stadium, I always get Nebraska chants and stuff like that. The love is always there, no matter where you go."
Lopez felt that Thursday from the fans in Omaha as well. The infielder opened the season in the city across town with the Triple-A Storm Chasers, setting a goal to be a big-league player by this game.
The rookie not only fulfilled that dream, he made his return to the ballpark a night he'll never forget.
"I'm blessed and humbled by it," he said. "I can't really put it into words. Walking into this clubhouse ... I kind of got old memories. I remember where my old locker was and where it all began. And now it's kind of full circle."
Photos: MLB makes Omaha debut as Royals face the Tigers