The punishment was two extra classes. Basketball Theory and Football Officiating.
Kent Payne's friends can laugh telling the story because they were there on that day nearly 40 years ago. After an early semester of college that wasn't exactly focused on school, a group of Nebraska Wesleyan basketball players were in the office of their coach, Jerry Schmutte. Apparently, he told them, they needed something to do with their extra time.
But the football course, taught by then-Wesleyan coach Harold Chaffee, caught the attention of Payne. Now the Nebraska native is about to serve as an official in the Super Bowl for the third time in his 16-year NFL career.
"We always joke that he was the one that paid attention," said Paul Baker, a Lincoln East grad who also took the class.
"Kent just ate it up," added Randy Larsen, another former teammate and longtime friend.
The group of Wesleyan players eventually spread across the country but stayed tight. So much so that many this week were willing and able to speak on behalf of Payne, who can't do interviews ahead of the title game according to NFL regulations.
To know Payne is to know "Buckets," the nickname of the sharpshooter who grew up near St. Paul and went to Palmer High School, about 25 miles north of Grand Island. His 2,002 points from a career that ended in 1980 are still good for 27th on the all-time scoring list for Nebraska high school basketball. He's also "Nutties," a moniker borne from a forgotten joke inside the Wesleyan dorms. Maybe it has something to do with his personality, though no one remembers seeing him get angry or overly animated.
Sunday he'll be the down judge for Super Bowl LIV between San Francisco and Kansas City, standing at one end of the line of scrimmage. His jobs include managing the chain crew, setting the line of scrimmage, watching for offside/encroachment and counting offensive players along with more than a dozen post-snap duties.
One friend and past Wesleyan teammate, Greg Peterson, can appreciate his 57-year-old buddy better than most. Now retired in Tulsa, Oklahoma, Peterson completed a football coaching career spanning three-plus decades including 12 seasons at Kansas State with Bill Snyder from 1994-2005. Payne is a master of the rules, Peterson said, and communicates situations well to coaches. A well-timed smile or joke can diffuse some tense moments.
"It's a highly competitive game as we know and emotions run high, but Kent has always been the same guy since I've known him in high school all the way through his rise up the ranks of officiating," said Peterson, a Stromsburg native. "I know we'll be excited, but he has ice in his veins."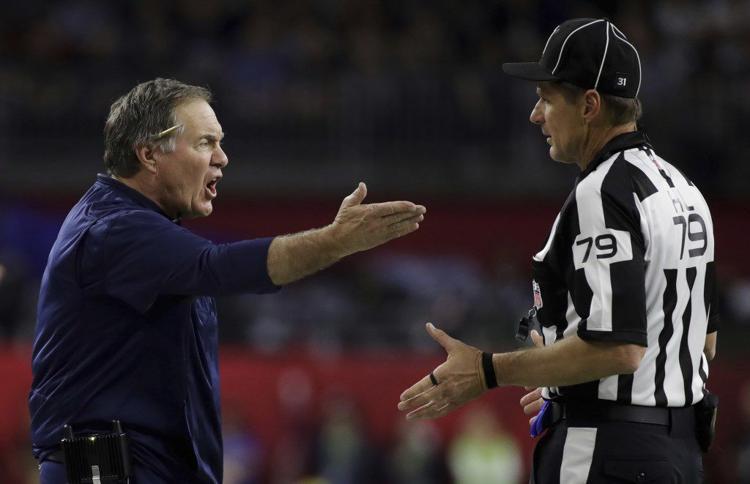 Payne left that class in the early 1980s and began officiating intramural basketball and football at Wesleyan, later transitioning to high school games. When he moved to Denver for a teaching job, a cousin who was an official in the Western Athletic Conference helped him advance to reffing college games in the WAC and the Mountain West Conference. A stint with the Arena Football League led to NFL Europe and eventually the American version beginning in 2004.
Sunday will be Payne's 259th NFL game and third Super Bowl. He shared a sideline with Green Bay Packers coach Mike McCarthy in Super Bowl XLV and with New England coach Bill Belichick six years later, when the Patriots rallied from down 28-3 to beat Atlanta in January 2017.
Officials who work the Super Bowl get rings just like the winning team. Payne's friends have seen the gaudy, diamond-encrusted jewelry their old classmate has, complete with his name and referee number.
"I saw the first one and it's the real deal," said Baker, who lives in Scottsdale, Arizona. "To think that a kid from Palmer, Nebraska, will soon have his third Super Bowl ring is pretty amazing."
Larsen will be at Hard Rock Stadium in Miami attending the game, thanks to Payne. Referees have the chance to purchase four tickets at face value, so Larsen took three at $2,900 each to attend with his two sons in the lower bowl, 18 rows from the field in the corner of an end zone. All live in Kansas City and are Chiefs fans.
Payne's wife, Pam, will also be in the stands. His father, 92-year-old Joe, is set to watch from his living room back home.
The younger Payne didn't expect to be working into February this year. He, like any official, must score near the top of league evaluations to draw the Super Bowl. But even then it is common to rotate in only once every four or five years. Payne is back after three.
"I know he was surprised when he got the call," Larsen said. "He's a pro. He's just really good at what he does. It will be fun to see him at the Super Bowl."
Payne has been on crews this season that have been in line with league statistical norms. His units average 0.74 penalties per game more than average and 6.61 yards per game above the mean. He last officiated two weeks ago in the AFC title game, which included 12 combined penalties and 76 penalty yards. The head referee Sunday is Bill Vinovich, known by many for the blown pass-interference call at the end of last year's NFC championship between New Orleans and the Los Angeles Rams.
Payne's friends know not to worry about their buddy. No one is more even-keeled. Even the worst coach to share a sideline with — Tampa Bay's Bruce Arians swears more than anyone, Payne tells them — is still an opportunity he never thought he'd get.
He'll be back around St. Paul soon, traveling from Denver to help with the family farm. But first there's one more game to referee.
"Like all of us, he was a sports junkie," Larsen said. "This is something that was able to keep him close to athletics, and he's done really well."