On the national scene, Gordie Howe was known as "Mr. Hockey."
But around these parts, the only "Mr. Hockey" was Motto McLean.
McLean, the longtime goodwill ambassador for the sport, died Wednesday at age 93. He was perhaps the most widely recognized person in the local hockey community after devoting almost 60 years of service.
"There's no question that Motto touched a lot of lives," local hockey historian Gary Anderson said. "It's hard to sum up his life, because he meant so much to so many."
Emmanuel Hall Roberts "Motto" McLean was born in Scotland, the youngest of 11 children. He was raised in Canada, where his father moved as a homesteader after World War I.
His fun perspective on life perhaps derived in part from the name of his Canadian hometown, Flin Flon, Manitoba. McLean picked up his nickname as a child after wearing a pair of glasses that reminded a friend of actor Peter Lorre in the "Mr. Moto" detective films.
He tweaked that nickname a little as he grew older, adding a second "T" to Moto.
He served in the Canadian Navy during World War II and got serious about hockey, the game he grew up playing on frozen ponds and lakes. He was talented enough to sign with the Detroit Red Wings organization and came to Omaha in 1947.
Little did he know that city would be his home for most of his adult life.
McLean was a member of the Omaha Knights from 1947 to 1951. After playing for other minor league teams and doing some coaching in Canada, he came out of retirement to play 20 more games with the Knights in 1960.
He finished his career with 239 goals and 500 points, but his true impact on the game was yet to come. McLean helped the city's Parks and Recreation Department establish a youth hockey program in 1960 and later was one of the founders of the Omaha Metropolitan Amateur Hockey Association (O.M.A.H.A.).
In 1986, the United Way of the Midlands honored McLean as its volunteer of the year while recognizing his 26 years of consecutive service and more than 20,000 volunteer hours to youth hockey.
One of the recipients of those volunteer hours was Jed Ortmeyer, who grew up less than a block from McLean's home. He would go on to play for the Omaha Lancers, the University of Michigan and four teams in the National Hockey League.
"Motto would be walking past our house with his dog, and then he'd stop in and talk hockey," Ortmeyer said. "He was like a grandfather to my brother Jake and I."
Because the Ortmeyers' parents worked, McLean often would give the brothers a ride to his summer camps at the rink.
"I can still remember the smell of his cigar," Jed said. "Motto and his poodle would be in the front seat, and we'd be in the back."
Ortmeyer added that McLean's sense of humor always was present, on and off the ice. That was obvious to every young hockey player each year when they first met McLean at the rink.
"Motto would zip around the ice stickhandling like crazy," Ortmeyer said. "The new kids were amazed, until Motto came over and turned his stick upside down to show them that he'd nailed the puck on there."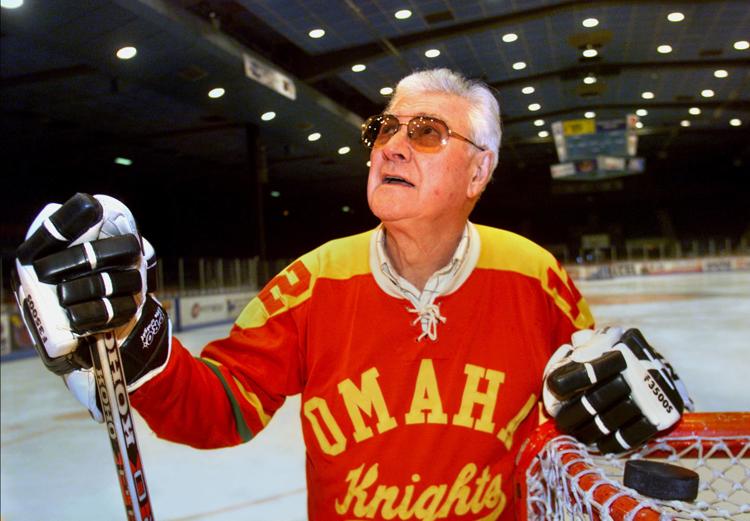 Former Lancers coach Mike Hastings, now the head coach at Minnesota State, said he always was thankful for McLean's influence on his career.
"When I started as head coach here, I was as green as green could be," Hastings said. "But Motto was always very reassuring, and that really helped me believe in myself."
Hastings said his friendship with McLean began when the two met at a camp held at Hitchcock Ice Arena. Hastings was an assistant coach at St. Cloud State at the time.
"I opened a door at the rink, and all of this cigar smoke just came billowing out," Hastings said. "I introduced myself, and Motto said he was happy to meet someone who could make the young kids better."
In 2000, that same arena would be renamed in McLean's honor for the thousands of volunteer hours that he'd put in.
"If you take Motto out of the picture, I really don't know what youth hockey would have been like in this town," Anderson said. "He was the cornerstone of it all."
Anderson added that McLean's decision to remain in Omaha along with other former Knights after their playing careers ended played a pivotal role in the development of hockey.
"They stuck around and built the program," Anderson said. "Motto was the leader, and you can't overstate what he meant to the growth of the sport here."
McLean also had a real job, working 26 years as a factory sales representative for Elliott Equipment Company. He married Omahan Dorothy Gamerl and together they raised three children, Jeff, Bonnie and Guyle.
"He was my father, my coach and my best friend," Guyle said. "We did so much together."
A member of both the Omaha Hockey Hall of Fame and the Omaha Sports Hall of Fame, McLean rarely missed an Omaha Lancers home game as the team's honorary general manager.
"He had a big hand in getting that team started," Guyle McLean said. "He always considered that his baby."
Sign up for World-Herald daily sports updates
Get the headlines from Creighton, Nebraska, UNO, high schools and other area teams.
McLean also enjoyed promoting hockey in other ways, such as at the Cornhusker State Games.
At age 73, he was asked to skate a lap with the torch on the Ak-Sar-Ben Coliseum ice to help start the Games. McLean didn't take the honor lightly and proceeded to race around the ice during his introduction.
He went so quickly that his intro was still going on after his lap, so he decided to take a second lap. But that one didn't go as well. He popped his hamstring, though he continued to finish out his final lap.
"I saw his leg afterward, and it was nasty," Hastings said. "But Motto wasn't going to let anything stop him, and that's always the way he was."
All the love that McLean showed for the people in his community came back upon him in 2010 after the McLeans' house caught on fire. His wife was rushed to the hospital, and there was more than $30,000 damage to the home.
The Ortmeyer brothers and other longtime friends helped organize a fundraiser held at the McLean Ice Arena.
"He had made an impact on so many people's lives," Jed Ortmeyer said. "We all knew that we wanted to help."
McLean's wife, Dorothy, passed away in 2014. He continued to attend games in recent years, but his declining health led to his transition to a nursing home.
He recently suffered a fall and fractured his skull. Not long after, he was gone.
Hastings said that McLean will be remembered for the positive influence he had on so many in the Omaha community.
"In a world that has a lot of bad," he said, "Motto brought 93 years of good."
Visitation for McLean will be Sunday from 2-6 p.m. at the Heafey Hoffmann Dworak Cutler Funeral Home. The funeral will be held there at 10:30 a.m. Monday.
Guyle McLean said friends are encouraged to wear casual attire for the visitation Sunday.
"It's supposed to be really hot, and it could get pretty crowded," he said. "I'll be wearing shorts and tennis shoes, so it's going to be pretty laid back, the way Dad would have wanted it."
The Nebraska 100: Our greatest athletes
The Nebraska 100, originally selected in 2005 and then updated and re-ranked in 2015, came from a pool of nearly 500 names from the ranks of high school, college, amateur and professional sports from the past 140 years. Assistance came from a panel of veteran sports observers from across the state, with the newspaper's sports staff determining the final rankings.