Grant Pavelka and Clayton Stevens from Mid-Plains Community College earned the top prize recently at the 2019 Nebraska B.A.S.S. Federation college and high school state tournaments.
Four teams competed in the two-day college event at Merritt Reservoir. Seventeen high school teams battled for one day.
Pavelka and Stevens had a total of 29.17 pounds. The University of Nebraska-Lincoln team of Jackson Ebbers and Hunter Suchsland weighed in 26.39 to place second.
Zane Liebhart from Oklahoma State caught the biggest fish of the tournament at 5.14 pounds.
Jaron Cooper and Keegan Oettinger repeated as high school champs with three fish at 8.71 pounds. They fish for the Platte Valley Bassmasters club. Kent Priel is the volunteer boat captain for the duo.
Second place went to Breck Miller and Austen Madsen of the Holdrege Dusters club. That duo, first-year anglers, also hauled in a 3.20 bass for the biggest fish.
Both teams will represent Nebraska in the 2020 B.A.S.S. high school national tournament.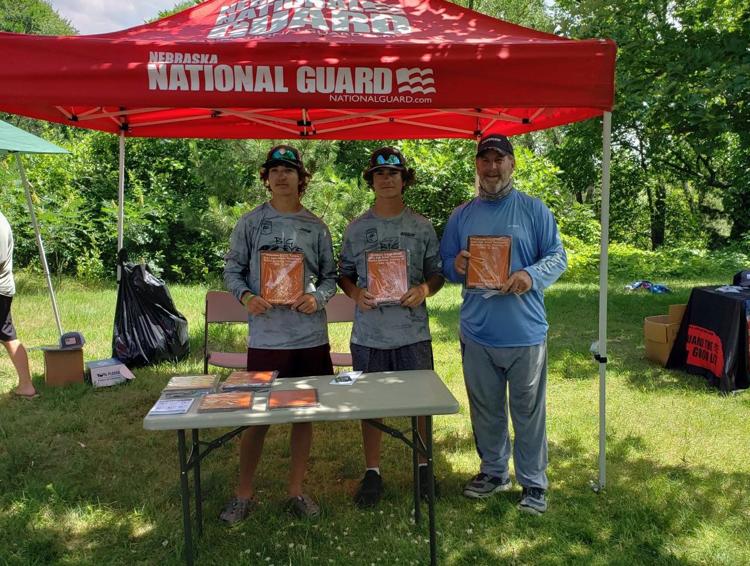 Learn about snakes
The annual "Snakes of Nebraska" event Sunday at Schramm Education Center will showcase all 29 species of snakes found in Nebraska.
Herpetologist Dennis Ferraro of the University of Nebraska-Lincoln will show live snakes during the event.
"Snakes are an integral part of our ecosystem, and this event provides an opportunity for visitors to gain knowledge, see Nebraska's snakes up-close and have fun," Nebraska Game and Parks wildlife educator Lindsay Rogers said.
The live snake exhibits and presentation will run from 9:30 a.m. to 4:30 p.m. Presentations will be in the education center's classroom, accessible through the west entrance. The event is free, though regular admission will still apply for those wishing to tour the new Schramm Education Center. No parking permit is required.
Fishing with Friends
Adults are invited to grab a buddy and join the Nebraska Game and Parks Commission at Omaha's Zorinsky Lake on Thursday for Fishing with Friends.
This adult-based opportunity is a chance for like-minded individuals who have little or no fishing experience to learn some skills. Bait, equipment and instruction will be provided.
Beyond fishing, participants can learn how to clean and cook fish in a healthful manner. In addition, experts will be on hand to teach kayaking and kayak fishing. A vendor will be on-site with information on how to purchase a kayak. Kayaks will be provided. Kayakers must be at least 12 years old.
Fishing is set for 6 to 8 p.m. Look for the fishing trailer near the boat ramp along the south shore. Adults will need a fishing license, which they can purchase at OutdoorNebraska.org. For the complete schedule of Game and Parks' fishing events, visit outdoornebraska.gov/familyfishing.
Sign up for World-Herald daily sports updates
Get the headlines from Creighton, Nebraska, UNO, high schools and other area teams.
Calendar
» Kite Day, Niobrara SP, Niobrara
» Outdoor Explorer's Camp, Nebraska Game and Parks
» Outdoor Education Center, Lincoln
» Community Fishing Night, Benson Lake, Omaha
» Sixth annual Campfire Christmas in July and Campground Decorating Contest, Indian Cave SP, Shubert
» Second annual Crofton's Dam Run, Lewis and Clark SRA, Crofton
» Jingle Bell Junk and Craft Market, Indian Cave SP, Shubert
To share your trophy picture or calendar item, send it to Outdoor Sports, World-Herald Sports Dept., 1314 Douglas St., Suite 700, Omaha, NE 68102 or email the photo and details to outdoors@owh.com. A daytime or cellphone number must be included.
Trophy Board photos: Nebraskans and their trophies
See a photo gallery featuring some local hunters' top prizes from across the Midlands.