Tre'Shawn Thurman may have been the only person in the celebration who wasn't wearing blue and gold. But he wanted to deliver a message.
His hometown team, the UNO Mavericks, had waged a 40-minute war with South Dakota State for an NCAA tournament bid. Thurman had 21 points in the Summit League championship game, but a teammate's buzzer-beating 3-pointer missed and UNO fell short.
SDSU fans rushed the floor. SDSU players received their trophy and cut down the nets. All the Mavs could do that March 2017 night was escape to the locker room and lick their wounds.
"Heartbreaking," Thurman said.
Half an hour passed when Thurman returned to the floor in his winter coat, interrupting the hugs and high fives. He was looking for his rival, Mike Daum, who'd carried the Jackrabbits to the finish line with 37 points. He wanted to shake Daum's hand.
You took it to us. Congratulations.
"I felt like I had to talk to him face to face," Thurman said. "When you go against another great player and they got the upper hand on you, you gotta give respect. He already had my respect, but he earned all of it that night."
"A true show of character and sportsmanship," Daum said. "He didn't say anything to anybody else. He just congratulated me. It was super cool."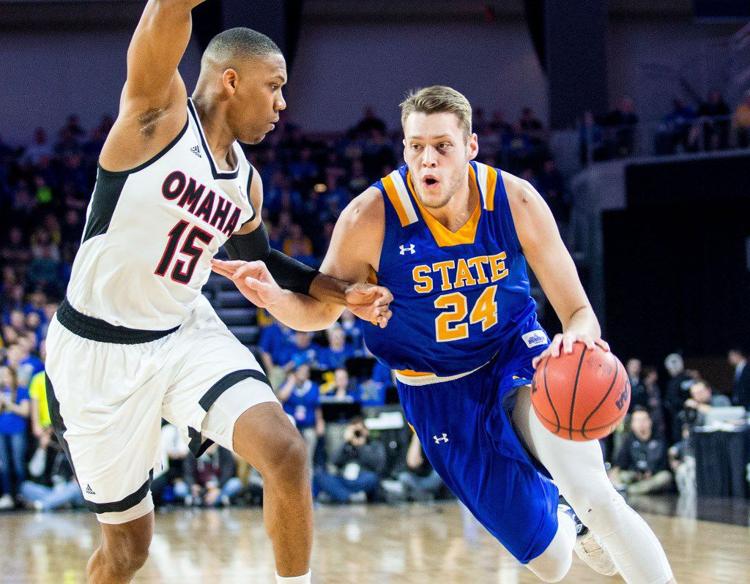 Saturday night Daum and Thurman, two fifth-year seniors who grew up on opposite ends of Nebraska, will meet again in a place that would've seemed improbable back in 2017: Reno, Nevada.
Daum's Jackrabbits are heavy underdogs against Thurman's undefeated Nevada Wolfpack, the No. 7 team in the country. But the fifth-year seniors are happier than ever and anxious to meet again.
When they left Sioux Falls in 2017, Daum, a redshirt sophomore from Kimball, Nebraska, was an emerging star in college basketball. Thurman was wrapping up his junior year, basically anonymous outside the Summit.
If one seemed an obvious candidate for greener pastures, it was Daum. This past spring, he could've declared for the NBA. Or jumped to a major-conference school as a graduate transfer. Instead, Daum re-committed to SDSU.
Thurman, meanwhile, took a chance in the spring of '17. He stunned the Omaha basketball community and transferred to Nevada. Was one season at a mid-major really worth sitting out? If Thurman wanted to leave, why not just go overseas and start playing professionally?
The answer, Thurman said, was development.
UNO wasn't "holding me down," he said. "They did the best they could for me. ... I just felt like inside of me there was more."
Thurman said he found it at Nevada, a hotbed for transfers like him. Last season, he sat out as the Wolfpack made a run to the Sweet 16, upgrading his defense and ball-handling, especially.
"It didn't feel like I was sitting out," Thurman said. "I was basically playing against a top-25 team every day in practice."
This season, Thurman averages 8.8 points and 6.2 rebounds in 27 minutes a game as a starter. Nevada assistant Gus Argenal knew Thurman had the athleticism and skill to help the Wolfpack. But he's demonstrated an "X factor." He makes his teammates laugh, but he sets a disciplined tone on the floor.
"I always say he has an old soul as a player," Argenal said. "He just knows how to play. Guys like playing with him. He can do the things that really separate games. He can make open shots. He can defend essentially one through five.
"Then some of the things you can't put on stats. Like his communication. How he practices every day. ... He's just one of those guys that brings it every day."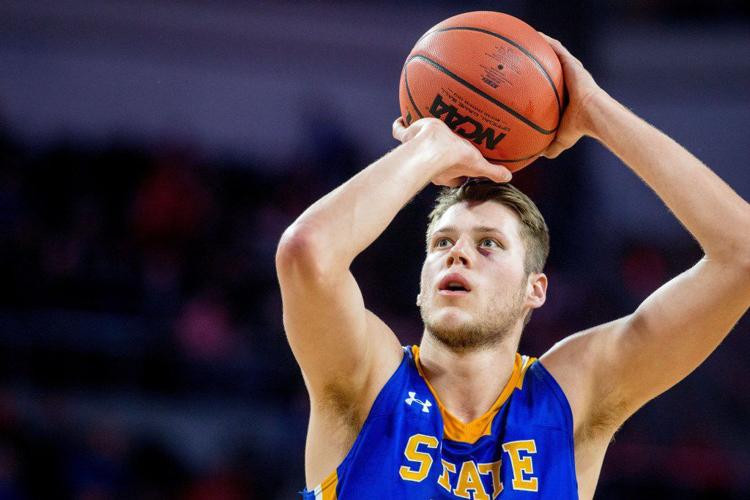 Daum's supporting cast can't match Nevada. But his individual statistics match any player in the country. Daum is averaging a career-high 26.2 points per game and 10.8 rebounds. The past two games, he scored 37 and 42.
Let's say he maintains his average for another 23 games. Daum would finish his career with 3,148 points, just one basket behind Doug McDermott and sixth all-time in Division I.
"I can't lie, it's in the back of my mind for sure," Daum said of 3,000 points. "But it's tunnel vision to the next game and doing whatever it takes to help this team win. I don't really think too much about it."
Daum looked long and hard at the NBA following his junior year and another Summit League title. He wanted to make the leap but didn't receive a scouting combine invitation.
"That automatically kind of set off a flag in my mind to come back," Daum said.
Transferring for his senior year, he said, was never a consideration. He returned to Brookings hoping to refine his body and improve his quickness. If he wants to be an NBA forward, he'll have to defend on the perimeter.
For now, Daum is trying to maximize his senior season with another conference crown and, hopefully, his first NCAA tournament win. Upsetting an old rival would be a big boost.
Thurman and Daum haven't seen each other in person since March 2017, but they stay in touch via social media and text message. They keep an eye on each other's results. Thurman turns 23 Saturday. There's no better time to measure his progress.
"There's a respect level there that will never leave," Thurman said. "We had some great battles with each other. I can't wait to go against him again."