Bellevue West was having a "Throwback Thursday" for its staff and students, and Terry Shelsta went way back.
Shelsta showed up to teach in an Omaha Mustangs shirt, one that was printed for a 2011 reunion. It hearkened to the heyday of the semipro football team from the late 1960s and early '70s.
"Not only had the students not heard of the Omaha Mustangs, there are many, many teachers here who had never heard of the Omaha Mustangs," Shelsta said. "So I had to do a lot of explaining."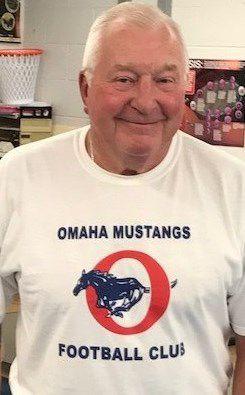 Shelsta, who would go on to an NFL tryout, play in the CFL and coach Omaha Benson to a state basketball championship, slipped into a moment of reflection — of fall Saturday nights at Rosenblatt Stadium and crowds and opponents and media coverage that tied it all into something special.
"It's part of Omaha's past," Shelsta said. "It really is."
A different era and a "semipro" business model that paid the players minimally combined to allow the Mustangs to have a viable home stadium and enjoy a level of sustainability that future outdoor football franchises and leagues in the city would not.
"Maybe it was just our time," said Jack Payne, who left WOWT to be the Mustangs' general manager in 1968 and '69. "We had an all-around good promotion and backing in the community that, I'd say, was what you had to have to make things go."
The football also wasn't too shabby, especially when the Mustangs played in the Continental Football League. The league included players coming off NFL cuts and affiliations with NFL teams and featured occasional big names like Otis Sistrunk, Ken Stabler and Garo Yepremian. And there was enough scouting done of the league to give hope to players with higher aspirations.
Omaha would suit up former Huskers like Frank Solich, Bob Churchich, Lynn Senkbeil, Dan Schneiss, Dennis Morrison and Steve Runty and construct the majority of its roster with players out of UNO or other Midwest schools.
They played the Chicago Owls at Soldier Field. Went against Orlando, Birmingham, Detroit, Las Vegas, Little Rock, Fort Worth and Oklahoma City.
But it was home games at Rosenblatt — played Saturday nights after Husker games back when televised games were few — that stick most with former Mustangs.
"It was probably all just a bunch of cement, and it was 50 years ago, but it was very memorable," said fullback Doug McLaughlin, a retired educator now living outside Asheville, North Carolina. "You felt like, 'Wow, I'm really doing something.' You'd get dressed, come out the dugout and see the lights on and hear the noise up above you … that's a good feeling."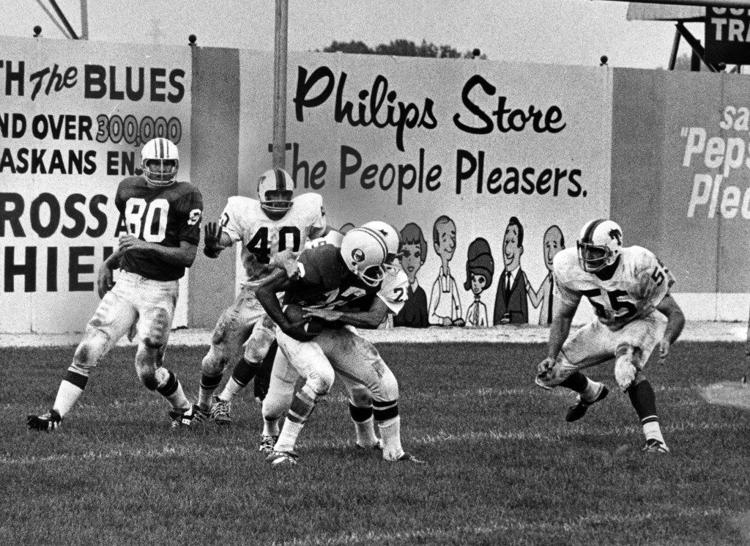 Attendance numbers are sketchy, but several former players remember 4,000 to 8,000 in the good years. Though some turnouts were smaller, a World-Herald report from one 1972 game listed the crowd at 10,017.
"It was loud and it was exciting," said Shelsta, a South Dakota native coming from Dakota Wesleyan. "I was probably a 21-, 22-year-old kid, and I was playing a brand of football beyond college — and a lot of my teammates were major-college players — so I was excited."
After Payne resigned as GM to take a position at KFAB radio, he said Mustangs coach Bernie Berigan wrote him a letter thanking him for his service and for helping build average attendance to about 7,000 a game.
As accurately as some could recall, at one point players were receiving $75 a game and $10 a practice, which were held at Boys Town. Bonus money included $25 if you started and $25 if the team won. The Mustangs helped out-of-town players find work, resulting in long Omaha stays for people like Shelsta, McLaughlin, Schneiss, Rick Kolowski and Mike Denney.
"It's a piece of sports history in Omaha that was real cool for a while," said Kolowski, a Nebraska state senator who previously was principal at Millard West but first came to Omaha out of Lake Forest (Illinois) College to join the Mustangs.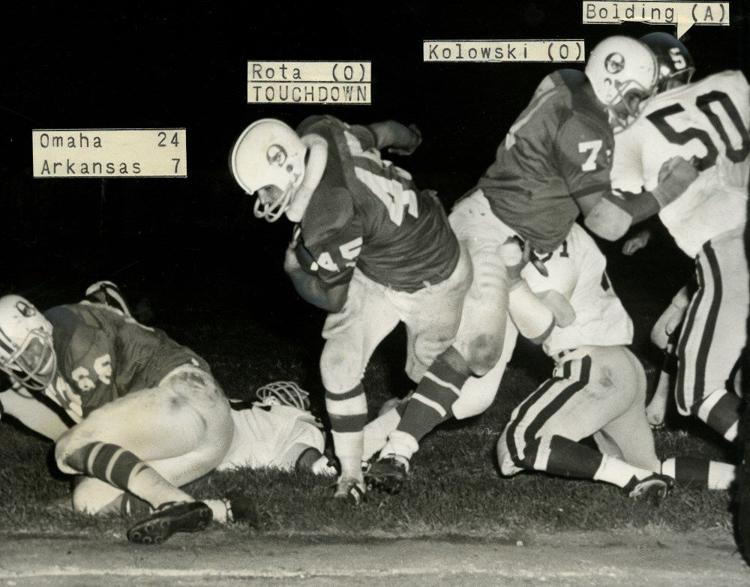 KBON radio broadcasted the games with Frank Scott, and Payne remembers the coverage being strong from The World-Herald and television. Omaha even took chartered flights — limiting its travel roster to make it work — with Mayor Gene Leahy known to sometimes join the travel party.
The Mustangs played five games in 1964 as an independent, then from 1965 to 1967 in the Professional Football League of America, winning a title in their second season. After two years in the Continental Football League, they became more regionalized in the Texas Football League and Midwest Professional Football League between 1970 and '75 — and eventually began playing a summer season and moved from Rosenblatt to UNO's Caniglia Field.
When the team tried to come back after missing the 1976 season, it was short lived and never quite the same.
Denney was one of the longest-tenured Mustangs, playing from 1969 through 1975, including his final three seasons as a player-coach. Denney organized the Mustangs reunion for an Omaha Nighthawks game in 2011 and put together two banners that listed every player in franchise history.
"It flashed me back. It really did," said Denney, who started out teaching in the Omaha Public Schools before becoming the longtime UNO wrestling coach. "I considered it a privilege to play with different generations of teams and until the end."
The United Football League caught lightning in a bottle in Omaha with the Nighthawks in 2010, drawing crowds of 20,000-plus in some of the final events at Rosenblatt before it was taken down. The Nighthawks didn't fare as well at TD Ameritrade Park — and the UFL crumbled by the middle of the 2012 season. Pro football returned to Omaha again in 2014, but hardly anybody bothered to watch the Omaha Mammoths play their only FXFL season.
The Mustangs' takeoff happened during a gap between baseball tenants at Rosenblatt, but the stadium previously had been home to NFL exhibition games and high school matchups. Churchich recalled his Omaha North team playing Omaha Creighton Prep there for a city championship.
Churchich, a quarterback who lettered at NU from 1964 to '66, played baseball in the Atlanta Braves system in 1967 but was working at Mutual of Omaha the next year when Berigan called to ask if he wanted to try out.
"It was nice because quite a few were guys I played with at Nebraska, so it was kind of an old-home week," Churchich said. "And it was more of a pro-style offense, which we definitely didn't run at Nebraska, that made it very interesting to me, too."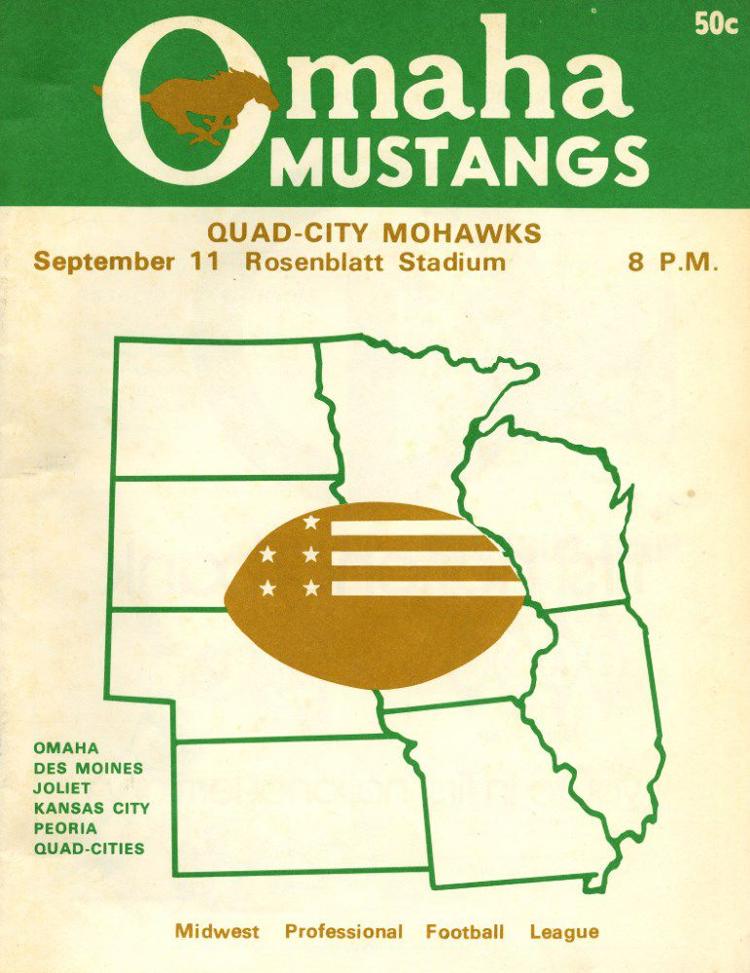 The T-shirt that Shelsta wore was printed for that 2011 reunion, but other memories are as old and faded as the newspaper clippings and game programs that he kept for all these years. Programs included advertisements for long-ago Omaha establishments such as Marchio's, the Check Inn Lounge, Shakey's Pizza Parlor and Rose Lodge, as well as Storz and Falstaff beer.
Some other flashbacks to what started a half-century ago:
»   McLaughlin knew of the Continental Football League, though he grew up in Watertown, South Dakota, before going to Northern State: "I was getting Pro Football Weekly, and they had an article each week on the Continental Football League. I'd read the articles and I'd remember the names from their college years."
»   One of McLaughlin's backfield mates was Johnny Ray, whom Omahans knew well as an ultra-talented teammate of Johnny Rodgers at Omaha Tech. Ray said after signing for his second season in 1972 that he was going to be "too hot to hold," then scored four touchdowns as the Mustangs rolled over the Des Moines Vikings.
"They cannot corral what they can't catch," Ray said in a World-Herald story. "And they can't see what's not there."
Ray transferred from Boys Town to Tech for his final two years of high school, and Rodgers said he "was one of the greatest running backs we ever had at Tech."
»   The Mustangs were affiliated with the Kansas City Chiefs for one season before the Kansas City Steers became the Chiefs' farm team. That one year, however, led to Kolowski playing three seasons as a Mustang after Chiefs coach Hank Stram cut the 12th-round draft pick in 1967.
"Hank told me in his office, 'We got a team up in Omaha ... ,' " Kolowski said. "I was hoping it was going to be good. After the AFL and NFL made peace, it was the next league in the country."
»   Kolowski said one game against Oklahoma City included several players wearing Dallas Cowboys helmets, fresh off being released by the NFL team. Churchich said kicker Bud Allison came to the Mustangs after being released by Dallas, a "soccer-style" kicker whom the Cowboys weren't quite sure how to coach or use.
»   Shelsta, an offensive guard, played the 1971 and '72 seasons with Omaha before catching the attention of a San Diego Chargers scout. After signing with San Diego, his roommate during training camp in 1973 was future NFL Hall of Famer Dan Fouts, a rookie who was going to be a backup until Johnny Unitas got hurt.
A few days after being one of the Chargers' final cuts, Shelsta signed with the Toronto Argonauts and played three seasons in the CFL.
»   Omaha beat the Joliet (Illinois) Chargers by about three touchdowns one season at Rosenblatt, only to lose to the same franchise a few weeks later by three or four scores. The difference? Joliet had some players from the local correctional center who could play home games but weren't allowed to travel.
"I can remember Mike Denney telling me, 'You wait until we go to Joliet, you'll see a different team,'" Shelsta said. "And, oh my goodness, they had some really great athletes."
»   Solich played the 1967 season while coaching at Omaha Holy Name. The former Husker fullback then left for Lincoln Southeast.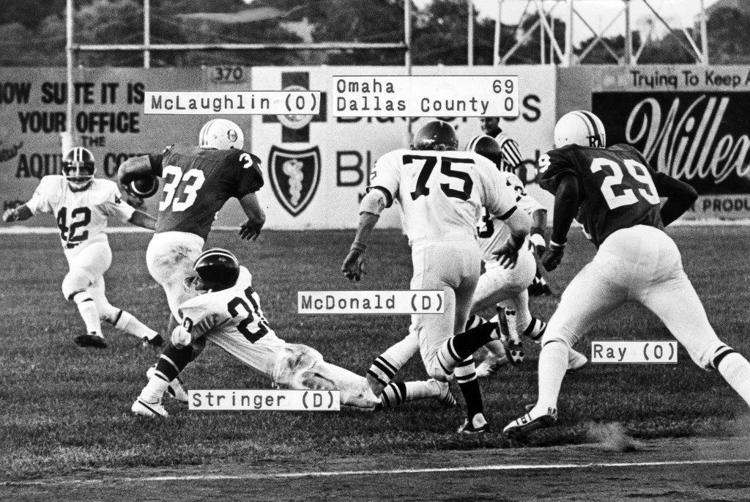 »   The field ran north-south for Mustangs games after Rosenblatt previously had been aligned east-west for high school football or NFL exhibitions. During one game when the Omaha Royals' season was not yet over, McLaughlin recalled the mound not being fully shaved down and receiver George Anderson tripping over it as he ran a deep pattern.
A Mustangs program for that season, by the way, would tell you that Anderson was a 9.2 sprinter out of Southern University.
»   The low point in Mustang history came when linebacker Glen Hepburn took a hard knee to the facemask and suffered a brain injury at Detroit in 1968. He died from complications five days later. Hepburn was a Boys Town graduate who had helped form the Mustangs several years before.
"That was devastating," Churchich said. "It made a lot of us think about, 'What are we doing?' "
»   Team owner Bob Adwers between the 1969 and '70 seasons told a group of local business leaders at the Blackstone Hotel that without $150,000 pledged in season tickets (roughly 5,000), he would "recommend ceasing the operation of the Omaha Mustangs." Red ink to that point had totaled $96,000, according to The World-Herald, with just over half absorbed by stockholders.
»   As the Mustangs recruited players to come to tryouts or play, they helped with finding employment for those who stuck and signed. Some landed teaching jobs at OPS (like Denney and Shelsta) or Boys Town (Schneiss and McLaughlin) or other local school districts. Kolowski taught and coached at Paul VI High School for his first year.
"We came here thinking, 'One or two years in Omaha,' now we've been here 50 years almost," Shelsta said. "I would not be in Omaha if not for the Mustangs. I came and never left."
»   Team sponsors on occasion offered discounts to Omaha players after wins. Especially pleased with the Mustangs beating an Alabama Hawks team that featured many Crimson Tide and Auburn players, Kolowski said Nebraska Furniture Mart granted 50 percent off everything, and Omaha players filled the store that next Monday night.
»   An old game program included an "Omaha Missouri River Front Development Project" that revealed plans for a possible 15,000-seat "covered" stadium to be "built for as little as five million dollars." The stadium, according to the description, "would adequately serve the Omaha Mustangs, the other football teams in the City of Omaha, and other events, such as track, basketball and hockey."
»   Payne said the Omaha South band would often come over and play during the games and at halftime.
"Just my opinion, but I think south Omaha loved the Mustangs, and the cost of tickets wasn't overly high and people could afford to go to the games," McLaughlin said. "People in south Omaha loved their football."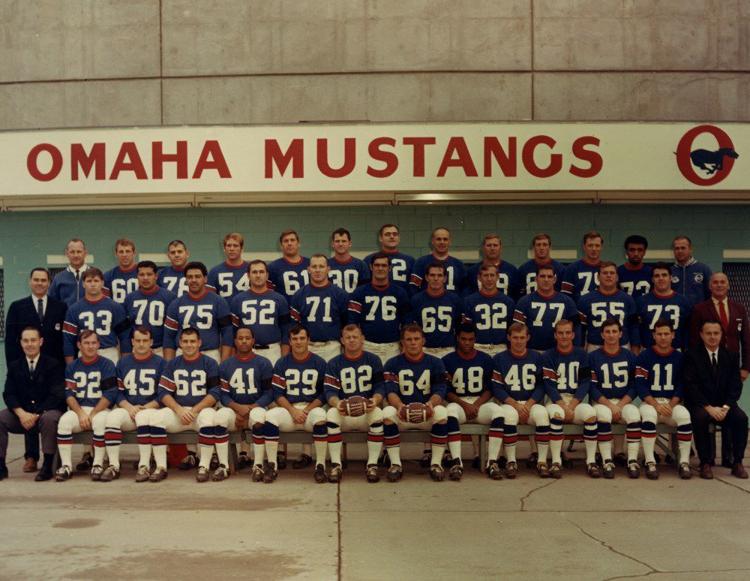 McLaughlin had been in contact with Pittsburgh coming out of college and said the Steelers suggested he go to the Continental Football League. Along with a player such as Shelsta getting an NFL opportunity, it hinted at how close some players were to making it and the product that Omaha and other teams put on the field.
"The reason I was there was because I wanted to get a chance to go to the NFL," McLaughlin said. "The Continental Football League starting out was a lot of guys who were getting cut from NFL training camps, and others who were hoping to be seen and make that next step.
"As time went on, it just became more one of those camaraderie things and you didn't want to quit playing. By the time it was over, I really was just there for the guys."
The Omaha Beef have enjoyed a long run since the team was started in 2000, but the Beef play indoor football and have lacked the step-below-the-pros level of the Nighthawks and Mammoths. Shelsta said he was pulling for those franchises to succeed — and for people to go to the games — because he knew what playing for the Mustangs meant to him.
The Mustangs simply found a niche in time.
"I'm not sure this would work now," Shelsta said. "It was before so many games were on television. It was before big colleges were playing at night. ... I think that the market now is just so saturated with football."
The local attachment wasn't limited to the players, either. Among the coaches involved were Don Leahy, Noel Martin, Dallas Dyer and Don Fleming, and even Al Caniglia in an advisory role.
Denney said he stuck around because it was hard to let go.
"I loved playing with those guys," Denney said. "I'd have to say, there was a time when I wouldn't want to be anywhere but out there playing."
Photos: Nebraska's history with professional sports teams