NEW YORK — One British welterweight star fell short on Saturday. Now another wants his shot.
Knowing that the other welterweight champions fight for advisor Al Haymon on rival networks of ESPN, which has exclusive rights to Top Rank boxers like Crawford, Brook said he's set to fight the Omahan next.
"Al Haymon's guys have the titles," Brook said. "Amir and I are under contract with the same promoter. Hopefully, we can get the fight, though. I want a guy which wants to come and fight, which is Crawford."
Brook's statement was both a challenge to Crawford and a shot at Khan, whom he was reportedly in line to fight in a high-profile domestic battle back home that could define the legacy of both boxers.
Sign up for World-Herald daily sports updates
Get the headlines from Creighton, Nebraska, UNO, high schools and other area teams.
But when Top Rank approached Khan about a potential fight with Crawford, he left any talk of a bout with Brook behind. Brook wasn't happy about that. Now he wants Crawford instead.
The 32-year-old from Sheffield, England, owned the IBF belt for three years. Brook (38-2, 26 knockouts) was an unbeaten champion when he moved up two weight classes to challenge for Gennady Golovkin's middleweight crown, as Khan had done against Saul "Canelo" Alvarez. He, too, was beaten by knockout.
Brook returned to welterweight in 2017, then lost his title to Errol Spence Jr., his mandatory challenger. He has been in the ring twice since, both as a junior middleweight, but is willing to return to 147 pounds.
A championship bout between Crawford (35-0, 26 KOs) and Brook is better than many of the other options Top Rank may have if the bout it wants — against Spence — can't be made in the near future.
Brian "BoMac" McIntyre, Crawford's head trainer, started a "We want Spence" chant at the postfight press conference, but said they'll take "whoever wants to get on the chopping block," including Brook.
"That's fine. Kell Brook can bring his ass over here," he said. "He was over here tonight."
Arum said he's fully committed to making the fight with Spence, who like Crawford is an undefeated champion, first and foremost. He said he'd call Haymon to start talks about a deal, but he isn't hopeful.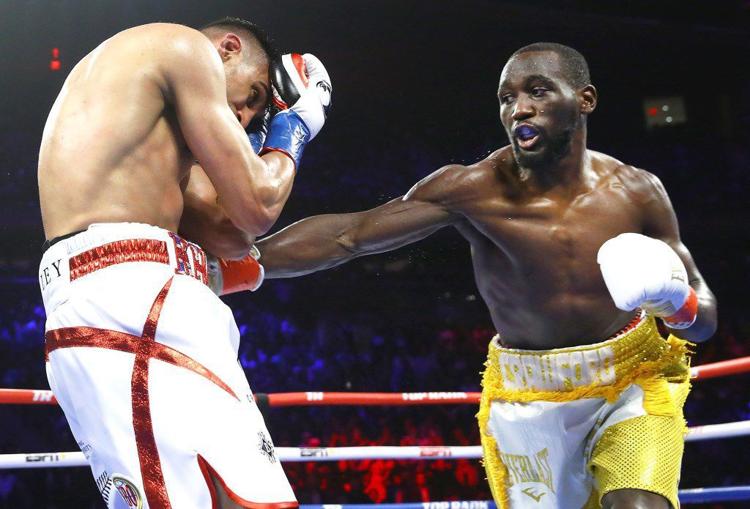 "I don't believe that he thinks that Spence is going to beat Crawford," Arum said. "Now some people think Spence is going to beat Crawford, and Spence thinks that he can beat Crawford. I know that for a fact. But Al Haymon doesn't believe that Spence will beat Crawford, and so he won't do the fight."
The Spence fight is the one — and only one — that Arum seems willing to work with Haymon on, even though there are other welterweights in his Premier Boxing Champions stable — Keith Thurman, Shawn Porter and Manny Pacquiao — who currently hold titles. The PBC also has Danny Garcia, a former champ.
"The other guys that Haymon has, I'm not really interested in," Arum said. "Porter isn't a real fight for Crawford, and Garcia is not a real fight. And Thurman isn't. The fight that's a real fight is Spence."
A bout between Crawford and Spence would certainly be placed on pay-per-view while any other fight involving Crawford may not. And that will impact the Omaha champion's schedule for 2019. Arum said if a pay-per-view is next, Crawford would have one more fight. If not, there is a potential for two.
Arum believes there are a lot of guys out there who'd be interested, including the one who spoke up.
"Kell Brook has said that he wanted to fight Terence," Arum said. "And that'd be fun."
Photos: Terence 'Bud' Crawford defeats Amir Khan in Madison Square Garden
Check out a collection of photos as Omaha native Terence "Bud" Crawford retained his WBO welterweight title after a sixth-round technical knockout of Amir Khan.