The overwhelming success of unbeaten three-division world champion Terence "Bud" Crawford, the current WBO welterweight titleholder, has brought myriad opportunities to B&B Boxing.
Stablemates Steven "So Cold" Nelson and Kevin Ventura have signed contracts with major promotional companies. Head trainer and manager Brian "BoMac" McIntyre has landed a broadcasting gig with Top Rank Boxing. And other pro fighters have begun to come to Omaha attempting to boost their careers.
None of those things happens without Crawford's ascent to the top of the sport.
McIntyre never foresaw becoming an analyst for many of Top Rank's ESPN broadcasts, but he envisioned success breeding more success when he and Crawford first opened the doors at B&B Boxing. Their gym remains an academy for youth in north Omaha, but it is quickly becoming much more.
"I want B&B Promotions to be a major player in the sport," McIntyre said. "I want to be able to change some things in the sport down the line. And I know that takes time, energy, money and patience."
McIntyre began building a stable of pros by signing two boxers other than Crawford to manage — former Junior Olympic national champion Johnny Determan and MMA fighter Brian Houston — a few years ago. Local fighters Abel Soriano, Treven Coleman-Avant and Guy Smith came aboard soon after.
Omaha natives Nelson, Ventura, Raul Chavarria, Kevin Nauden and Duane Johnson joined later, as did Genaro Hernandez from Chicago, Minnesota-based Ugandan Ismail Muwendo, 2012 U.S. Olympian Jamel Herring and, most recently, St. Louis welterweight Kent Cruz. Muwendo, Herring and Cruz boast a combined 50-3-1 record. Herring, from Cincinnati, is training in Omaha for a Sept. 14 bout.
"When it comes time to fight, that's when they come in to train," McIntyre said. "They come in at least seven weeks before the fight. The team accepts them well. We all stay together. We all train together."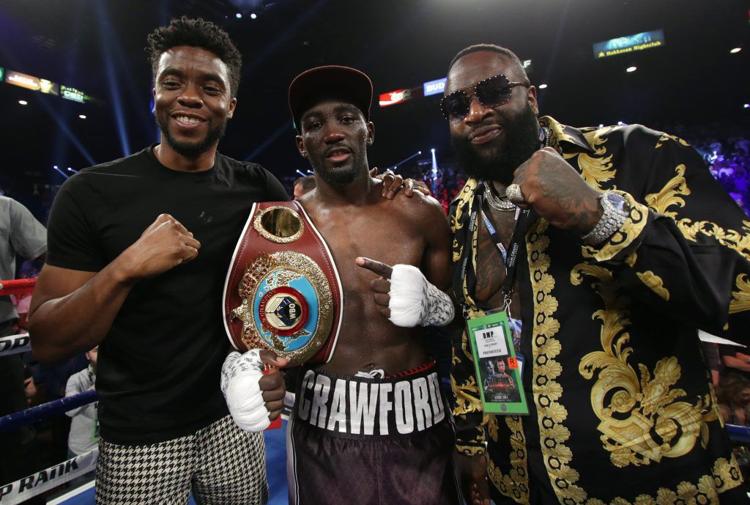 B&B's head man gets around five calls per week from people wanting McIntyre's team to work with their fighter.
McIntyre prefers the boxers he already has fight just before or after Crawford — if not on his undercard — to help with training schedules. If a fighter is in camp, either he or coaches Esau Dieguez and Jacqui "Red" Spikes is with that boxer at all times, with Crawford always remaining the team's top priority.
"Once he's in camp, the total focus has got to be him," McIntrye said. "I don't mind one or two guys in camp with him, like Steven Nelson. He's always going to fight on Terence's card. I'm going to keep him and Terence together. ... And if one of our other guys is fighting, I send a coach and nutritionist with him the week of the fight and I'll come in the last day.
"I'll stay with Terence up until it's time for me to go."
Crawford purchased a house in Colorado Springs to give his team a home base for training camps. The group had been renting a place in Colorado in recent years as Crawford prepared for upcoming bouts.
"It's lovely now," McIntyre said. "We don't have to worry about where you're going to stay at or how far you're going to be away from the gym. Now, everything is within five miles of each other."
Training is always going on in Omaha. But it shifts to Colorado Springs for the more experienced boxers as a bout approaches. Those newer to the pro game have been building their résumés near home, which is something Crawford couldn't do after his amateur career. His success has given others those luxuries.
B&B's July 21 show at Ralston Arena was its fifth in Omaha. McIntyre is planning on more. He hopes to build local cards to a level that draws television interest that will turn his city into a boxing hotbed .
"I want B&B Promotions to become like a pro sports team," McIntyre said. "I want to get to the point where I can bring in ESPN, HBO or Showtime instead of other promotional companies bringing them in."
His ultimate goal is to make B&B into a brand that will be around after he and Crawford are done.
"I want people outside of Omaha to see it," McIntyre said. "We're an Omaha-based company, and we're putting out these fights. I want this to be here 20 years after I'm gone. That's what I'm trying to create."