Gil Hanse couldn't give up, didn't give up, on the land of cap rock and chop hills.
The rim of the Snake River Canyon begged to have a top-end golf course. And the noted course architect, whose work includes the 2016 Olympic course in Rio de Janeiro, gets to do it. Finally.
Work has begun on The Ranch Golf Club — an 18-hole private course southwest of Valentine, Nebraska. It will be next door to the acclaimed Prairie Club along Nebraska Highway 97.
John Schuele of Omaha, president and CEO of Waitt Co., formed an investors group that bought the land last year from rancher Cleve Trimble and retained Hanse and design partner Jim Wagner to lay out and build the course.
The Ranch will have eight holes on the canyon rim and 10 in the sandy "chop hills." The canyon will be on the right for holes on the front nine and on the left for holes 15-18.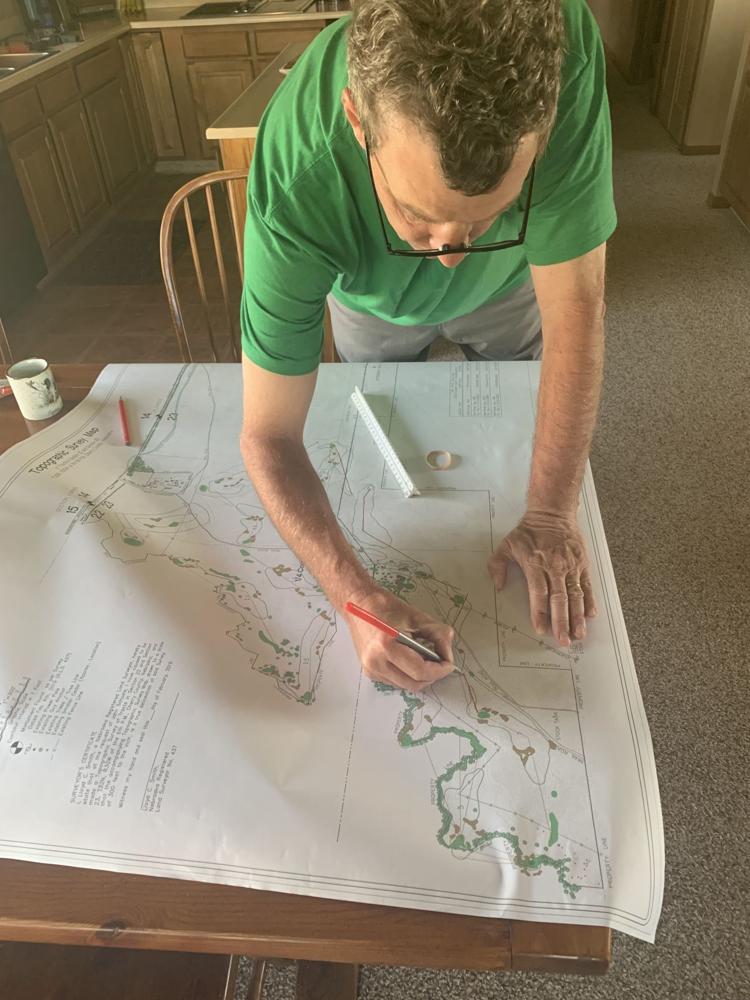 "Cleve has called this my unrequited love, and we're out there and doing it, which is great," Hanse said. "It's a property I loved from the moment I walked on it.
"The stars have aligned."
Schuele said the project, expected to cost between $17 million and $18 million, is debt-free. It was approved Monday by the Cherry County Board of Commissioners.
"We have raised all the money with 11 founders and we wrapped that up last month," said Schuele, the managing partner.
Membership will be limited to 60 from Nebraska and South Dakota and 120 from outside the state. The club will have 48 bedrooms in 10 cottages and a "bunkhouse cottage." There will be a reception building for when golfers first enter the property and a clubhouse that overlooks the canyon.
First on the site in August 2001, Hanse said he's never had another course take as long to get off the ground. "Either it's finished by now, or it never happened."
His excitement for this course stems from the uniqueness and fragility of the land. Part of it is high dunes — or chop hills — once featured in National Geographic magazine in 1978. There also is a transitional area, through which remain the ruts of the Fort Sidney-to-Fort Pierre wagon trail, along with specimen trees and plenty of yucca, to reach the vistas provided by the canyon rim. The tree-lined canyon drops 200 feet to the river. Cap rock — a layer of hard rock that "caps" other geologic formations — is exposed in many places.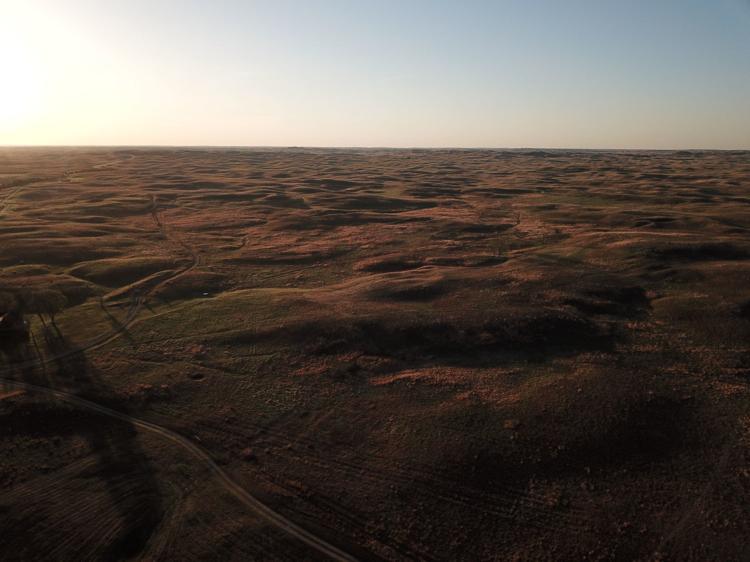 The plans were dormant until about three years ago. Hanse and Trimble had remained friends, and Hanse called in 2016 after completing the Rio course about trying again.
The conduits to Schuele, a former tennis player at Nebraska who became a club champion at Shadow Ridge, were Omaha businessman Greg Stine and Bill Kubly of Lincoln-based Landscapes Unlimited. Trimble knew Stine through the renowned Sand Hills Golf Club, the first course in the Nebraska Sand Hills that whetted the appetite for more minimalist golf destination courses in a sparsely populated area of the state.
Schuele said he and his wife, Mary, had been looking at ranchland and ultimately decided "why not build a golf course and have something fun to do?"
He met Trimble on Sept. 27.
"A couple people knew Cleve was ready to sell the land, and as soon as I walked it with him, I said, 'OK, I'm doing this,' " Schuele said. "I'm a pretty conservative guy, but as crazy as that sounds, this was too neat a piece of land and we could combine with the ability for Gil to work on it.
"I'm a big pro-Nebraska development person. My dad grew up in Boone County, which isn't the Sand Hills, but it was back in the '30s and '40s as bad as the ground was there, and my uncle had a ranch up by Pine Ridge. So I'm not just a golf guy, I'm a Sand Hills guy with it in my blood who loves golf."
The course will create jobs for Cherry County, perhaps 30 to 40. A caddie program is proposed. The membership intends to fund at least $40,000 annually in scholarships to local high school seniors.
Hanse said he first met Schuele when Schuele and Stine flew to Tulsa, Oklahoma, for dinner with him and Wagner while they were completing renovation work at Southern Hills, a major championship course.
"They assured us they were excited to do the best job possible," Hanse said.
Trimble, who described his role as a "respected elderly consultant," said he's pleased he's been included in the decision making.
"My skill set basically carried us to where we are," said Trimble, who's in his late 70s. "But for a facilitator in finance and construction and operations, John is the man. He's taken it over beautifully.
"I'm getting along in age. I wanted somebody who could follow through. I'm delighted with John. He follows through on everything he says. He's focused, he's purposed, he's good."
The architects' Caveman Construction firm is building the course in conjunction with Landscapes Unlimited. Hanse said between seven and 11 holes could be seeded this season, but there's no set timetable for the course to open.
"What we're adamant about is we're not going to rush," he said. "This land is too good and too important not to get it right."
Course notes
Some design details about the new Hanse-Wagner golf course on the rim of the Snake River Canyon southwest of Valentine, Nebraska, with comments from Gil Hanse.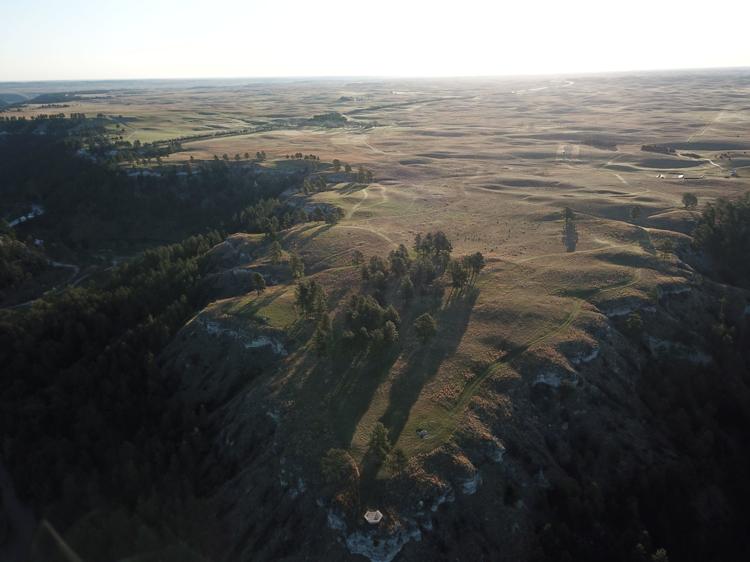 Par will be 71 — five par-3 holes, four par-5s and the rest par-4s. The back tees play to 7,015 yards, the forward tees 4,700.
The 18th hole will be a long par-3 over the canyon rim to one of the most dramatic green sites Hanse said he's been presented. "The founding group was fairly strong in their opinion the clubhouse should be looking into the canyon, so we changed some of the routing to accommodate, and they were accepting the 18th hole would be a par-3. In our mind, it was the best way to finish the golf course."
Holes 4 through 10 and part of the 11th are on the land purchased from The Prairie Club next door.
Hanse said he's as excited about the inland holes in the "chop hills" as those around the canyon rim. The course goes into gentle rolls and builds up into some of the "heavier" hills. "We touch three very distinct landscapes within the 18 holes, and I can't think of any other Sand Hills courses that do that."
The course has shorter loops — one is six holes — that can be played without being far from the clubhouse. Golfers might not want to play a second 18 in a day, but don't want to go in, either.
The course will have riding carts, but there are to be caddies and "we're working hard to make sure it will be easy to walk."
Photos: New Nebraska Sand Hills golf course