This is one of those weeks for Creighton and Nebraska that could stand out in a month.
That's the reality for two teams that are set to face talented opponents as they sit just outside first place in their league title races, with the prospect of at-large NCAA regional berths very much in the long-term picture.
The Jays and the Huskers are doing their best not to think about that, though. There is indeed a set of looming tests that could define their respective 2019 campaigns.
But the two rivals will face off Tuesday at TD Ameritrade Park with their minds centered on the season series rubber match — and that's it.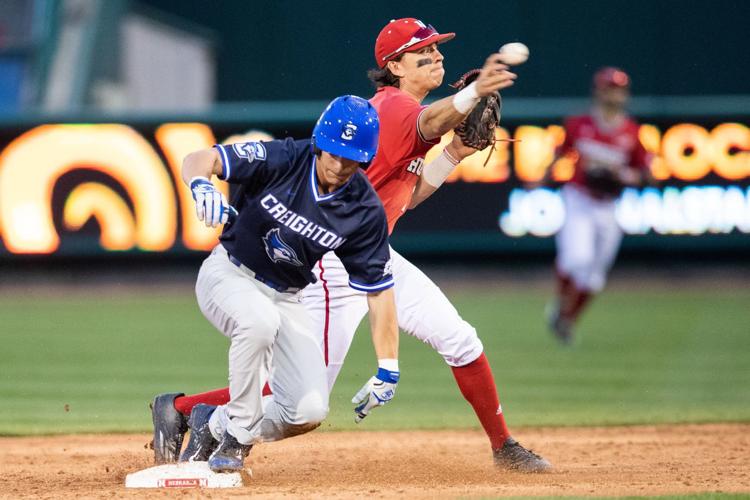 "Just play each game when it's on the schedule. Let's not get too far ahead. Let's not play the what-if game," CU coach Ed Servais said. "I think it's easy to start getting ahead of yourself at this time of year. ... We're just trying to keep them grounded at this point."
Because there's plenty of reasons for Creighton and Nebraska to start daydreaming about what could be possible down the road.
The Jays (22-8, 5-1), who haven't made the NCAA tournament in seven years, checked in at No. 17 in the RPI rankings Monday. They're two wins behind first-place Xavier in the Big East standings — and the Musketeers (16-23, 7-1, RPI No. 70) travel to Omaha for a three-game series this weekend.
But CU's also about to play 10 games over a 13-day span. The depth of its pitching staff, which has shown signs of improvement lately, will be challenged. Plus, finals week is approaching, so there's added pressure off the field.
NU returned home Sunday after going 1-2 at Iowa over the weekend. After one off-day, it'll bus up Interstate 80 for Tuesday's game against Creighton. Then Nebraska hosts Illinois (25-13, 6-6, RPI No. 26). A road trip to Northwestern is scheduled at the end of finals week.
Sign up for World-Herald daily sports updates
Get the headlines from Creighton, Nebraska, UNO, high schools and other area teams.
"It's a brutal time of year for a baseball player in college," Nebraska coach Darin Erstad said. "But like I tell them, this is what you signed up for. You don't get to pick and choose. I'm all about giving what you've got every single day in every part of your life."
The Huskers lost a series at Iowa and dropped from No. 33 in the RPI to No. 41. They are still just a few percentage points out of first place in the Big Ten standings. But their remaining schedule is the eighth-toughest nationally, according to opponent winning percentage.
At least on Tuesday, though, they'll be thinking about one thing: beating Creighton. They expect the Jays to have the same approach.
Said Erstad: "It should be a great experience and a very good challenge for us because they're a very good team."
The CU-NU season series is tied at 1-1. The Jays swept Nebraska last year. It's been 26 years since Creighton won the season series against the Huskers in back-to-back seasons.
Photos: Nebraska-Creighton baseball series since 1999
Creighton and Nebraska first played baseball against each other in 1902, and the rivalry has only grown over the last century. Have a look at photos and every result between the two teams since 1999.