IOWA CITY — Work? Oh, Mekhi Sargent will work.
Has since he was a kid. Picked Spanish limes and mangoes and sold them by the bag for his first job. He interned for his best friend's dad in construction, and for the city of Key West, Florida, too. He cut grass, raked rocks, shoveled, dug holes.
So it wasn't hard for the 5-foot-9, 212-pound Sargent to work toward becoming Iowa's starting running back. Even if he didn't join the Hawkeyes until last summer. Even though two other backs wanted that role, too. Give Sargent a job, he'll work at it. Give him a starting job and 20 carries, and he figures he'll get better as the game goes on.
That's how it was at Iowa Western, where in 2017 Sargent ran for 1,449 yards and 14 touchdowns, nabbing juco All-America honors. Among the many Reivers who had memorable careers, Sargent's one season in Council Bluffs was among the best.
The work wasn't the hard part. The waiting for a scholarship offer? Hard. Especially when he was 1,600 miles from home, going through Midwestern winters. That first winter, he had one thermal jacket.
"That was not enough," Sargent said. "I had to get a couple jackets. I actually couldn't afford one, but one of my buddies there, he loaned me a jacket. I was very thankful for that."
And Sargent, growing up, wasn't the type to ask for help. But, away at college, there was a "money problem, a food problem, a transportation problem." And, for several months after that spectacular season, top schools weren't offering a scholarship.
"Like, 'Oh, we like him, but we're not going to offer him, because we don't have room for him,'" Sargent said. "I just questioned it."
Until Iowa, last June, came through with an offer. That changed his life. While he had to compete with Toren Young and Ivory Kelly-Martin for playing time, Sargent quickly showed himself to be the most versatile back of the three. There were ups and downs — just six carries against Wisconsin, just 27 yards rushing against Northwestern in his first start — for much of the year, but, by the final two regular season games, he'd earned the trust of his coaches.
He rushed for 121 yards against Illinois. Then, against Nebraska — and behind an Iowa line that dominated the Huskers that day — he had a career-high 173 yards. Scored two touchdowns, as well. His family, who lives in Key West, got to see him play in the Outback Bowl when Iowa beat Mississippi State in Tampa.
Sargent finished the season with 745 yards rushing and nine touchdowns. He wasn't satisfied. He wants 1,000 yards. He'd like more long runs, too.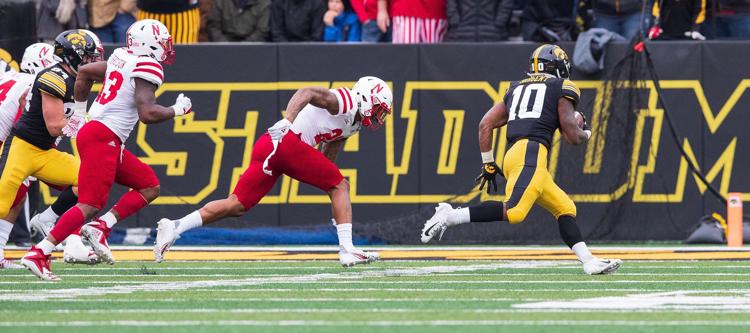 "I have a lot left in the tank," Sargent said. "Whether I'm starting or not, I have experience. I have more knowledge. I'm continuing to learn. I have a lot more left to offer, whether it's out of the backfield, running the ball, blocking, special teams. I'm an all-around guy."
A leader, too, according to teammates. Iowa picks eight captains for an offseason competition. Those guys are usually seniors. Then the coaches appoint each captain with a lieutenant. Sargent is one of those.
"I have a lot of respect of that dude," said senior linebacker Kristian Welch, who has Sargent as his lieutenant. "I don't like to say lieutenant. He's my co-captain. His performance shows on the field, but his dedication off the field? Same thing. He's class, top to bottom. It's all there. I can't say enough about him. Great dude. Somebody you want in your locker room."
Welch acknowledges Sargent has "been around" the tough part of college football. The uncertainty, the waiting. And Sargent can, too.
"I was definitely stressed out," Sargent said. "It's hard being a juco football player."
Sign up for World-Herald daily sports updates
Get the headlines from Creighton, Nebraska, UNO, high schools and other area teams.