LINCOLN — Check out the all-tournament teams from the Nebraska high school boys basketball tournament.
All-class: Frankie Fidler, Bellevue West; Chucky Hepburn, Bellevue West; Hunter Sallis, Millard North; Tyson Gordon, Omaha Skutt; Cam Binder, Auburn.
Class A: Frankie Fidler, Bellevue West; Louis Fidler, Bellevue West; Chucky Hepburn, Bellevue West; Hunter Sallis, Millard North; Jadin Booth, Omaha Westside.
Class B: Tyson Gordon, Omaha Skutt; Luke Skar, Omaha Skutt; Taiden Red, Omaha Roncalli; Jack Dotzler, Omaha Roncalli; Jasiya DeOllos, Scottsbluff.
Class C-1: Cam Binder, Auburn; Josh Lambert, Auburn; Carter Brown, Ogallala; Cale Jacobsen, Ashland-Greenwood; Justin Bubak, Lincoln Christian.
Class C-2: Lucas Vogt, BRLD; Dylan Beutler, BRLD; Jaxon Johnson, BRLD; Trey Knudsen, Yutan; Isaac Herbek, Grand Island Central Catholic.
Class D-1: Noah Schutte, Laurel-Concord-Coleridge; Evan Haisch, Laurel-Concord-Coleridge; Ty Erwin, Laurel-Concord-Coleridge; Clayton Berry, Southern Valley; Jack Heiss, North Platte St. Patrick's.
Class D-2: Tyler Witt, Falls City Sacred Heart; Jamie Stice, Falls City Sacred Heart; Jacob Hoy, Falls City Sacred Heart; Trevor Pfeifer, Humphrey St. Francis; Jamie Juncal, Lincoln Parkview.
Just happy to get to play today
Omaha Skutt coach Kyle Jurgens obviously was happy that his SkyHawks captured the Class B title Saturday.
He also was thankful his squad even got a chance to compete.
"I have to say that I'm very grateful to the NSAA for taking the proper precautions to make sure everybody was safe," he said. "But at the same time, keeping in mind that it was a weekend to allow these players to finish their goals."
Senior guard Tyson Gordon agreed.
"I also want to thank the NSAA," he said. "Especially after seeing all the cancellations going on around the country."
Gordon does it all
It's been quite a senior season for Skutt's Tyson Gordon, who was a member of the SkyHawks' championship football team in the fall and title-winning basketball team this winter.
He was the starting quarterback and scored a team-high 16.4 points in basketball.
If spring sports are played, he also will compete in baseball.
When asked by a reporter what position he played, Gordon said shortstop and center field.
The way his phenomenal season is going, he might figure out a way to play both positions at the same time.
All those faux fans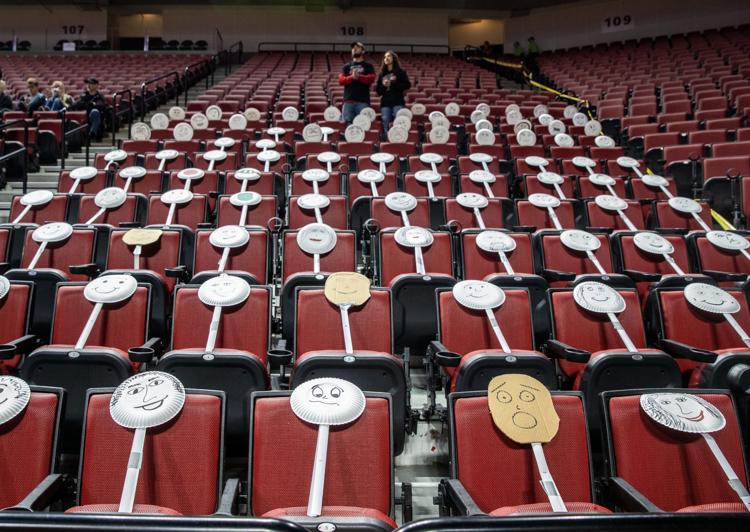 Mention was made Friday of the faux fans created by Auburn fans to beef up their ranks, and even more of those fans — made of paper plates and window blinds — showed up for the Class C-1 final Saturday.
The numbers grew from three rows to several rows over two sections.
Those pretend fans — along with the real ones — apparently helped. Auburn captured its second consecutive state title.
It was a tough way to end the season for Southern Valley, which lost 76-31 to Laurel-Concord-Coleridge in the Class D-1 final.
The Bears were hot from the start, scoring 26 points in the first half. They led 48-11 at halftime and opened that advantage to 40 in the second half, which triggered a running clock.
Despite the loss, coach Tylor Fincher tried to remain upbeat after the game.
"We just kind of got shell-shocked," he said. "Laurel came out with confidence and you could see it from the opening tip."
He added that he was happy his players even got the chance to compete.
"We're one of the few states that are actually playing," he said. "I'm sure that maybe tomorrow we'll start realizing how special of a moment this was."
Sign up for daily headlines from NEPrepZone
Get a daily roundup of game recaps, player features and more in your inbox.
Cheering them on
With attendance limited this tournament because of coronavirus concerns, the number of fans cheering for each team has varied.
That was the case in the D-1 final as Laurel-Concord-Coleridge seemed to have a larger student section than its rival, Southern Valley.
But principal and athletic director Ken Swanson said it was all on the up and up.
"They're all family members," he said. "We've got a list and we made sure people were on it before they were admitted."
Swanson said a few fans who showed up Saturday morning to cheer the team had to be turned away because they weren't on that list.
"It's a tough deal," he said. "But we're following the rules."
Photos: 2020 Nebraska boys state basketball championship games