This interview was years late, so I decided to show up a few minutes early.
At the Millard North office, they tried to find Fred Petito. They called. No answer. Try the gym.
I should have just looked for the Chicago White Sox logo.
There he was, and there it was, checking in students for P.E. class. Petito wore a white T-shirt with a green "Sox" logo. Yes, the shirt had sleeves.
He led me to the boys locker room and the football coach's office. There was a desk and some plaques on the wall and photos of former players covering every spot of the walls. There was a couch. A window that looked into the weight room. Your typical high school coach's office.
But hardly a typical coach.
Petito is a local icon, an institution. That means he's good at what he does. It also means he's been a constant, over four decades. Petito first showed up here in 1981, before Millard dreamed of being Millard, when west Omaha was cornfields. He was an assistant for two years, then took over as coach in 1983. He was 31.
He's 67 now, entering his 39th season. Only Mark Wortman at Elkhorn High (entering his 40th) has coached longer. What a career. Thirty-eight seasons (including two at Omaha Cathedral), 266 wins, five Class A championships.
What an impact: countless former players — some big names who played college football — but mostly young men who went on to become husbands, fathers, doctors, businessmen, firemen, yes, cops, too.
Petito wanted to be a Chicago cop. He's still the son of Chicago's South Side, the son of an electrician and a nurse, son of the six-day work week, where your sleeves are always rolled up. Maybe that's why he wears those sleeveless shirts.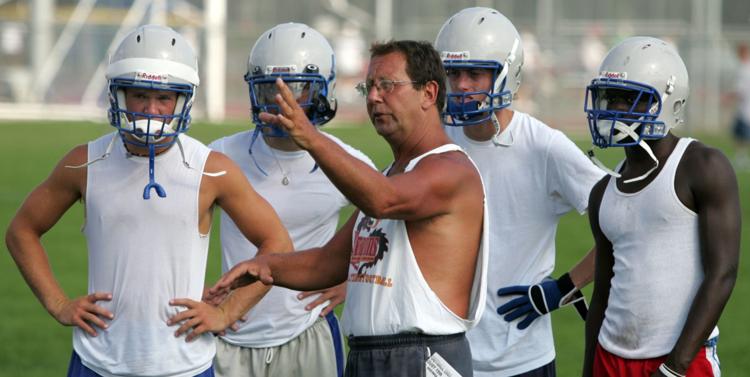 There aren't many items on my career bucket list, but this was one of them. I spent 45 minutes chatting with Petito, a character with character. I wish I'd had two hours:
Q: What was it like growing up on the South Side?
A: "I thought it was the best place. It's not west Omaha, let's put it that way. We had to lock our doors. It was what I knew. It wasn't a war zone. But a mile or so down the street was another story. Being street smart always helped you.
"I thought Gary, Indiana, was a great place. That should tell you something.
"I remember the summer of 1968. It was a crazy time around there. Martin Luther King and Bobby Kennedy were killed. There were riots, a lot of tension around us. Our spring football was canceled. Curfew was at six.
"I was going to be a cop. But back then, your parents made the decisions for you. You're going to be what? Let's see if we can get you in college."
He was a regular at Comiskey Park. Favorite White Sox player? Luis Aparicio. Favorite Chicago sports memory: going to the 1963 NFL title game between the Chicago Bears and New York Giants — at Wrigley Field.
Q: Did you ever go to Wrigley for baseball?
A: "Yes, to watch the National League stars play."
Q: How did you get to Nebraska?
A: "My high school coach was a roommate of the coach at Hastings (College). They recruited me and offered. My parents dropped me off in 1969. I looked around and said, this is another world I haven't seen. I had friends come visit me. Hey, this is pretty nice. You don't have to lock your doors."
Petito played outside linebacker for Hastings coach Jim Frazier and then Wendell Maupin. His friendships there would change his life. One led him into coaching, at Western Kentucky University. Then a friend in Omaha called and said he could have the Cathedral High coaching gig if he wanted.
That was 1980. Petito coached Cathedral for two years. Then he got a call. Millard was opening a second high school, way out on 144th Street. They needed an assistant. Money was good.
Q: What was this area like back then?
A: "You had Boys Town out here and cornfields everywhere. There were about 1,200 kids; by 1990 it was 2,000. People were moving out west. They call it suburban sprawl. On the South Side, we called it something else.
"High school football back then was something else. It was hard-nosed. Some powerful teams. Creighton Prep was a powerhouse. Lincoln Southeast. Gene Suhr at Papio. That used to be the game. Those were great days. There used to be 10,000 people in the 'Snake Pit.' "
Q: Did Millard North ever consider building a stadium?
A: "Yes, at one time, there was a guy who came in, from Grand Island. He wanted to build a stadium, right behind here. He presented it to (Millard School Board). They just weren't interested. It disappeared."
Q: Did you ever think you'd win a state title?
A: "By 1990, we had a good team. We hit a good string. For a while we were finishing second or third. It was like, 'OK, let's get better.' The kids always played hard.
"We were banging around. We were so close. Had great players. I remember telling someone, I'd really like to win one. Just give us one. We had a heartbreaker on the goal line against Lincoln Southeast. The next year we punched through.
"Then you kind of get it going. I told (Omaha North coach) Larry Martin wait until you get it going and you win more than one. Then it won't be good enough.
"A few years ago we were 10-1 and lost in the playoffs and we were pouting around. I said, what are we doing? It's not your main focus. I always say you got to play with honor, you got to train that way, then if you feel good about that, we'll see what happens. Just give ourselves a chance."
This next story is as Omaha as it gets.
"I used to pour cocktails around town," Petito said. "I used to do that back in Chicago, at the banquet halls. My first bartending job was at 15.
"In coaching, sometimes you need more money, you find another job at night. I tried telemarketing. There were all these cubicles with people on the phone. They all smoked. I said, 'This isn't going to work.'
"I worked at the Holiday (Lounge) for Pat Foley. Susan Crouch was a waitress there. That's how I met her. We became friends. She and Eric lived on the other side of the district. He was going to go to Millard South. But she sent him to Millard North because she knew me."
Q: The time that Eric came to see you, when everyone thought he was leaving Nebraska — what was that from your perspective?
A: "He just wanted to talk. That was selling a lot of papers. I just told him, I went down there to see practice. I saw Bobby (Newcombe) play. I see you play. I thought (Crouch) was the better player. I said, 'Stay and it will play out.' "
At this point, a Millard North player knocked on the door and Petito asked him to come in. The coach pulled a Scheels bag from under his desk and gave it to the player. The kid was very thankful.
It was a pair of football shoes. The kid didn't have them and wasn't able to get them.
"These are all good kids, and some don't have everything," Petito said. "I like to help when I can."
Q: Going back to Crouch. That did draw headlines. But it's a regular thing today.
A: "Now kids leave all the time. Kids leave here. I had a kid leave in the middle of the season, after a JV game. He was upset because he wasn't playing, said he was leaving. I won't compromise for that. What's the saying? The best 11 don't play, it's the best 11 for the team."
Petito pointed to a sign in his office that reads, "I won't sacrifice integrity for talent."
Q: How have youth sports changed all that?
A: "Youth sports is a business thing. Used to be firemen and policemen who coached you would do it for nothing. Now there are all these facilities, training facilities and they're in competition with the high schools. It's a business.
"There's open enrollment now. I've never been to a junior high game. I don't compromise. Kids come in here and we tell them what we want you to do. We don't do personal trainers. We train as a team. We invest as a team. Then guys say, 'I want to go my way.' Good luck. But we also get kids who want structure."
Petito said he's a second-chance coach.
"If they get in a jam, we'll be behind them. There was one kid I was really proud of. He was in a detention center. But he really straightened himself out. You can't save everybody, but you got to give it a shot.
"I've seen a lot of kids who didn't make it but were very talented guys. They made some bad decisions. But sometimes you're around people that you can't trust. We think we can help them."
Two years ago, the coach needed help. He lost his longtime loving wife and best friend, Angela, to an illness. Their four daughters and son rallied around him. So did the Millard North community.
They say coaches' wives are saints. And as Petito recalled, they can also call the plays at home.
"One year North Dakota State wanted to hire me (as an assistant)," Petito said. "My wife says, 'We moved from Hastings to Bowling Green (Kentucky) to Omaha. And now we're going where? No, we're not.' So that was that."
He had a tough year last year, but Petito says North will bounce back. Some say his run-based offense is too old, but Petito says he spreads it out, too. He says he's able to get a lot of big linemen, so why not run?
Petito still runs a couple of miles a day. He's not looking to stop anytime soon.
"I still like the relationships we have, watching these guys make the decisions they make, watching them grow up," Petito said. "Things are not falling off. We have a good system. Guys develop. The numbers are back, after the concussion scare. It's pretty rewarding."
OK, one more. I couldn't leave without asking about the tape on the helmets.
"It goes back to the '80s," Petito said. "We had 'Bike' (brand) helmets and they had the four-prong chin straps. The top of the chin straps always came loose, so we put tape on there to hold them down.
"That became our thing. We used to have a decal on there, of a horse, a mustang. But the kids wanted to put tape on them."
Next time, I got to ask him about those no-sleeve shirts.